Recently updated on August 4th, 2023 at 07:17 pm
In recent years, the field of construction has witnessed a notable transformation, with a shift towards creating intricate structures using more suitable materials like concrete. However, the arduous task of breaking concrete manually is a challenge known best to construction workers. Fortunately, they now have the option to optimize their efficiency and reduce overall costs with the use of a demolition hammer.
A demolition hammer is specifically designed to swiftly eliminate surfaces made of wood, steel, and concrete, accomplishing the task in a fraction of the time it would take multiple workers to do the same job manually. By employing this powerful tool, construction workers can not only enhance their productivity but also streamline the construction process, making it more time-efficient and cost-effective.
What is a demolition hammer?
Drilling through and demolishing thick concrete walls require specialized equipment to make the overwhelming job significantly easier. Demolishing hammer is a power tool that is used for bringing down tough surfaces, including concrete, which otherwise may not be possible manually. They tend to work faster than what a human would and help save a lot of time at construction sites.
In modern times, construction work, especially in India, has evolved much more than basic brick walls to tall and broad concrete structures fitted with a ton of steel. Depending on the machine variant, a demolition hammer can also be used for doing some precise drilling or chipping using a variety of bits available for these hammers.
How to decide which one to buy?
Usage and Required Impact Energy
Depending on the kind of usage, you will have to choose the demolition hammer that is right for you. For example, a heavy-weight hammer wouldn't work in situations where you need to chisel or demolish walls. Similarly, a hammer with lower impact energy would not be able to screw through thick concrete surfaces. In case most of your work requires you to bring down softer surfaces like wood or steel, then you can get away with a machine offering lower impact energy. It would also be considerably lighter to enable working on walls.
Chisel/Bit Type
Once again, depending on the kind of work you intend to do with a demolition hammer, you may choose the primary bit it comes with or alternatively invest in spare chisels to expand its capabilities. Almost all hammers allow replicability of the bit, with some being easier to interchange than others. Most of the machines come accompanied by a point bit which is designed for breaking only, while there are numerous more bits available for different purposes.
Vibration and Fatigue
It is necessary for an operator to be able to work with the demolition hammer throughout his/her work shift without feeling much fatigue later on. The motor used in the demolition hammers can sometimes cause a severe level of vibration that will ultimately have an adverse effect on the operator after using the hammer for long. An ergonomically designed hammer can help prevent this situation with a combination of a better motor and handles offering a comfortable grip.
Choose the Right Brand
Bosch, Makita, Dewalt, and Hitachi are some of the biggest names in the power tool industry and you simply can't go wrong with any of these. Besides, these, there are several local brands offering similarly good products at a much lower price, but you will need to be a lot more vigilant before picking one. Make sure to check for the BPM and impact energy offered by the hammer you're interested in and ensure that spare parts for it are readily available from the manufacturer.
Top 10 Best Demolition Hammer in India
1) Bosch GSH 11 E Demolition Hammer

The Bosch GSH 11 E is ideal for more precision work like scraping both on concrete and brick.
Pros:
Fairly lightweight, you can use this hammer for almost all kinds of demolition works even on walls. This is made possible also by the ergonomic design that Bosch has incorporated which not only makes it easier for the operator to make a firm grip but also makes tearing down faster.
Being a Bosch product, this machine has been designed to keep fatigue levels low for the user besides keeping the load under check. This 1500W hammer offers impact energy of up to 25J with a speed of 900 to 1890 BPM.
Cons:
This model shouldn't be used for extreme heavy-duty work.
Check Price: Amazon
---
2) JCB Asma DH16KP Demolition Hammer

The JCB Asma DH16KP is ideal for medium breaking work both on concrete and brick.
Pros:
While consuming just about 1240W of power, the hammer can offer improved impact energy of 45J, which can be of significant difference. The included pointed bit, along with the machine's 15Kg weight, makes drilling through hard stuff like concrete effortless.
JCB has made it even easier for the operator with the inclusion of soft handle bars that are ergonomically placed to offer maximum grip and comfort. The operator can manually rotate the side handle 360-degree as per convenience.
Cons:
If you are intending to do some kind of precision work then this particular model with the supplied bit wouldn't work.
Check Price: Amazon
---
3) Makita HM1306 30mm Demolition Hammer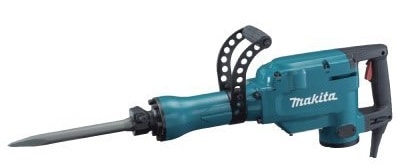 The Makita HM1306 is ideal for medium breaking work both on concrete and brick.
Pros:
This Makita hammer offers excellent performance with minimal power loss even while doing rigorous work with its bit. The overall durability of the machine is fine for handling rough tasks and will last much longer. Both its handles have been positioned in a way to provide maximum comfort with minimum fatigue. The side handle is adjustable and the package includes oil supply and a wrench to change the bit.
Cons:
Its side handle may not be the sturdiest one out there and isn't likely to withstand all the vibrations generated while hammering. Aside from breaking concrete surfaces, this point bit wouldn't work the best for other tasks.
Check Price: Amazon
---
4) Dewalt D25580K Hex Demolition Hammer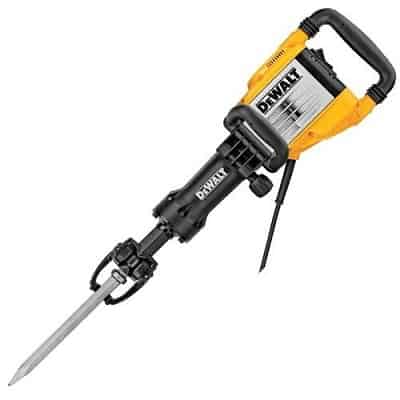 The Dewalt D2580K Hex is ideal for some light breaking work both on concrete and brick.
Pros:
With its weight of just about 5Kg, the hammer allows easier manoeuvring by the operator for working even on walls. The provided point head drills holes like a hot knife in butter with the hammer consuming just about 1050W of power. It provides an impact energy of 8.8J while running at 3600BPM. Its lower power is beneficial if you will be doing certain kinds of works that require precision.
Cons:
Suitable only for light work, you cannot expect it to do an extreme job. Considering this limitation in power output, this product seems a bit pricey when compared with similar models.
Check Price: Amazon
---
5) CUMI CCH08 Chipping Hammer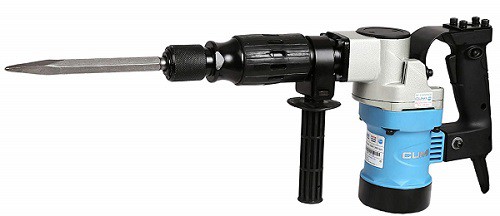 The CUMI CCH08 is ideal for some light breaking and chipping work both on concrete and brick.
Pros:
This model from CUMI is just perfect for the people willing to invest in an entry-level hammer with minimal impact on their pockets. Chipping off plaster from old walls is best done by this hammer using the included chisel bit that can be replaced using the in-box tools. It comes with an ergonomic carry case for taking it to your work sites.
Cons:
Made out of nylon, with minimum metal used for the outer shell, it is not the sturdiest hammer out there. Besides this, the low capacity of this machine wouldn't work for those looking to do heavy-duty demolition work.
Check Price: Amazon
---
6) King Demolition Hammer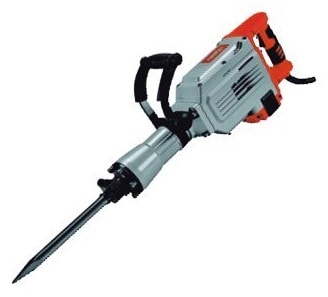 The King Demolition Hammer is ideal for medium breaking work both on concrete and brick.
Pros:
Demolishing both wall and floor made out of concrete is a job done easily by thing King hammer that offers a significant power output. It weighs about 16Kg which is fine for operating it on the walls and shouldn't cause much fatigue. The point bit gets the job done while the machine itself is quite sturdy ensuring a longer life.
Cons:
The workers looking for doing a work that requires precision then this product will disappoint you as it is designed for demolition purpose. A 6-month warranty cover will leave you with a limited time of coverage from the manufacturer if anything goes wrong.
Check Price: Amazon
---
7) iBell IBL DH45-66 Demolition Hammer

The iBall IBL DH45-66 is ideal for medium breaking work both on concrete and brick.
Pros:
Packed inside a compact body, the hammer weighs just about 11Kg despite being fairly powerful for many heavy-duty demolition tasks. The included side handle has a full radial and axial adjustment allowing you to hold the hammer firmly irrespective of the working angle. The lockable switch enabled sustained operation for longer durations. With the use of stepless hammering, this machine can bring down almost any kind of material.
Cons:
A polycarbonate outer shell cannot compare with a metal housing in terms of sturdiness, which may cause the machine to break down during the rough usage at construction sites. Vibration may lead to fatigue on prolonged use.
Check Price: Amazon
---
8) Dongcheng DZG02-15 Demolition Hammer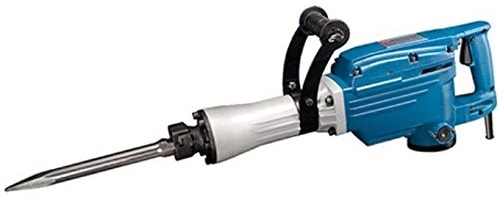 The Dongcheng DZG02-15 is ideal for light to medium breaking work both on concrete and brick.
Pros:
Dongcheng has designed a demolition hammer that consumes power as little as 1010W and still manages to offer a performance level that is ideal for most kinds of works. Its parts are made from steel making them extra durable and long lasting. Weighing about 11Kg, this hammer ensures stable output power even under heavy load.
Cons:
Inside the box, you will only get a point bit while you will have to separately invest in more bits if your work requires such versatile usage. Plus, you might not be able to use it for extremely intense jobs.
Check Price: Amazon
---
9) Makita HM1205C Demolition Hammer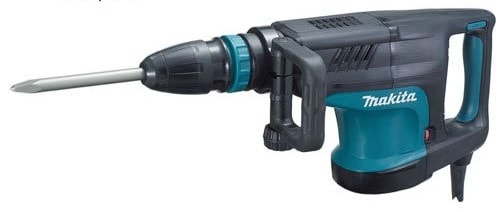 The Makita HM1205C is ideal for medium breaking work both on concrete and brick.
Pros:
Besides being one of the lightest demolition hammers in its segment at 9.7Kg, this model offers probably the quickest performance among any product on this list. It consumes 1510W of power to provide 950-1900 impacts per minute, which should be fine for most hard stuff including concrete.
Installing and removal of the bit are fairly easy with a sliding mechanism and it can be adjusted in up to 12 positions adding to the convenience for the operator. A speed controller helps you get the maximum possible performance and the soft grip handles are ergonomically designed for improved hold.
Cons:
Pricier than other products without offering many additional benefits.
Check Price: Amazon
---
10) Bosch GSH 27 VC Professional Demolition Hammer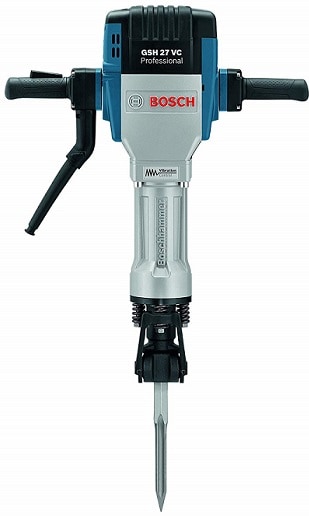 The Bosch GSH 27 VC is ideal for heavy breaking work both on concrete and brick on the floor.
Pros:
Coming from a brand like Bosch, you should stay assured that the product quality is of the highest standard. Designed to work in extreme conditions, this professional hammer can demolish almost any material, no matter how thick it is. Its motor is capable of providing an impact rate of up to 1000BPM, which is great for a hammer of this size. The side-mounted twin handles make its operation easier and less impacting for the user.
Cons:
Being a heavy-duty demolition hammer and weighing about 30Kg, it isn't meant to demolish walls and picking it up to that level isn't recommended at all.
Check Price: Amazon
---
Also Read:
1) Best Running Shoes for Women 
2) Top 10 Best Bluetooth Audio Receiver
4) Best Low Priced Room Heaters