As the holiday season arrives, so does the opportune time for gift-giving. For gamers, this translates to enticing discounts on new gaming gear.
Today, we present a curated list of gaming keyboards tailored to those seeking a cost-effective solution without compromising on quality. Whether you're a budget-conscious gamer, a beginner venturing into the world of gaming, or simply looking for an affordable gaming keyboard, we have you covered.
Best Gaming Keyboards Under 2000
 1.  Redragon K630 Dragonborn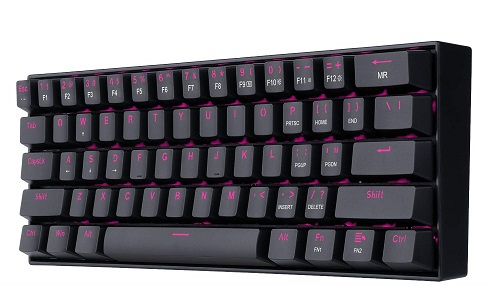 Space-saving Design: The 60% layout of the Redragon K630 Dragonborn keyboard allows for a compact and minimalistic design, freeing up valuable desk space. This is particularly beneficial for gamers seeking a clutter-free setup.
Hot-Swappable Brown Switches: The keyboard features tactile brown switches that provide a soft bump without the audible click of Blue switches, ensuring a quieter gaming experience. These switches are also hot-swappable with other Redragon switches, enhancing the longevity of the keyboard.
Vibrant Pink Lighting: The single-color pink lighting adds a touch of simplicity and style to the keyboard. It offers a visually appealing aesthetic without being overly flashy. The plug-and-play functionality eliminates the need for additional software installation.
Reliable Anti-Ghosting: With 100-percent anti-ghosting, every key press is accurately registered, even during fast-paced gaming sessions. This ensures that your in-game actions are precisely executed, without any missed inputs.
FPS Gamer-Friendly Design: The keyboard's straight placement on the desktop eliminates any obstruction for the mouse, providing ample space for smooth and uninterrupted mouse movements. This feature is particularly advantageous for first-person shooter (FPS) gamers seeking precise and unhindered mouse control.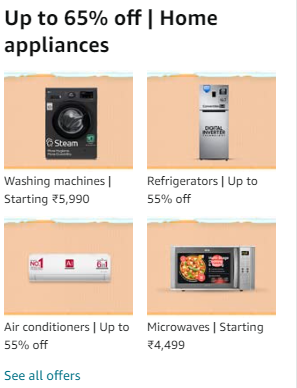 Pros:
Space-saving 60% layout for a clutter-free setup.
Hot-swappable brown switches for a quiet and durable typing experience.
Attractive and vibrant pink lighting without the need for additional software.
Cons:
Limited lighting customization due to the single-color design.
Lack of additional programmable macro keys or dedicated media controls.
Wired-only connectivity, which may limit flexibility for certain setups.
Check Cheapest Price : Amazon
---
 2.  Cosmic Byte CB-GK-27

1) The main selling point of the CB-GK-27 is its full size 104 Keys Blue Outemu Switch Mechanical keyboard.
2) It has a 1.8 meter long braided cable with USB Interface.
3) All-Key Anti-Ghosting.
Also Read : 10 Best Laptop Under 60,000 in India
4) The mechanical keys are Blue Outemu Switches which provide tactile & audible feedback while typing, gives you a satisfying feeling.
Pros-
50 Million Keystrokes key life is pretty admirable.
20 Backlight Effects and 8 Game Modes
Cons-
Note :
Outemu blue switches possess tactile and clicky characteristics, which contribute to a more deliberate typing experience, reducing the likelihood of accidental keystrokes.
However, when it comes to gaming, Outemu Blue switches may not be the most suitable choice. The pronounced tactile feedback and audible click can impede rapid key tapping, demanding more effort and concentration on each keystroke.
But considering the cheap price, it can be opted for.
Best Buy : Amazon
---
3. Redgear Manta MT21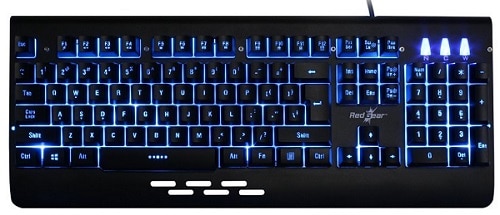 1) The Manta Blaze is the best budget gaming keyboards for this price range.
2) It has full aluminum build with 3 colour LED backlight. It has floating keycaps for mechanical key-like feel. It has 19 anti-ghosting keys with a Windows Key Lock.
Also Read : Best Gaming PC Build Under Rs. 2,00,000 in India
3) It has been tested for 10 Million keystrokes.
Pros-
Build is pretty good.
Floating keycaps help provide a mechanical like feel.
Cons-
It is somewhat heavy.
Less visible keys.
Good for mild gaming only.
---
4. Circle Battle Pro

1) This is a basic gaming keyboard with 19 Anti-Ghosting keys and 11 Multimedia Hotkeys.
2) It has Semi-Mechanical keys with different height keycaps for better gaming feel. It has an independent Windows Lock Key too.
3) It has a waterproof conductive film, almost 6 feet braided cable, and is tested for 1 Million Keystrokes.
Also Read : 10 Best Gaming Headphones Under Rs 2000
4) It has 7 colour LED backlight to match every setup.
5) Overall, this is the best bank for your buck keyboard.
Pros-
Good RGB customization options.
Waterproofing is present at this price.
Varying heights keycaps make gaming easier.
Cons-
Build quality is mediocre.
Only 1 Million keystroke testing.
Best Buy : Amazon
---
5. Ant Esports MK1000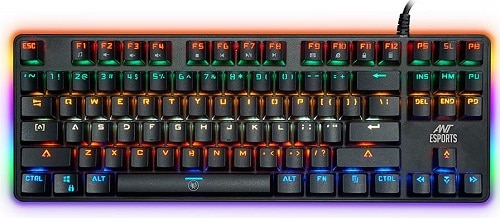 1) When you have a full mechanical keyboard with blue switches , then typing will be a joy.
2) It comes with anti-ghosting 104 Keys. N-key rollover, which allows multi-keys to work simultaneously with high speed and accuracy.
Also Read : Best Budget PC built Under Rs 25,000
3) Although it's not an RGB keyboard but it does have 7-color backlight (each row has a different specific color), 6 preset lighting effects.
4) The switches are clicky Outemu Blue switches which deliver accurate, responsive key commands when typing and gaming.
5) Overall it is a very good deal for the price.
Pros-
Highly durable.
50 Million keystrokes life.
Mechanical Keyboard.
Cons-
Not RGB , though lights up well.
Loud clicks ( But maybe that's what you need)
Best Buy : Amazon
---
6. Cooler Master Devastator 3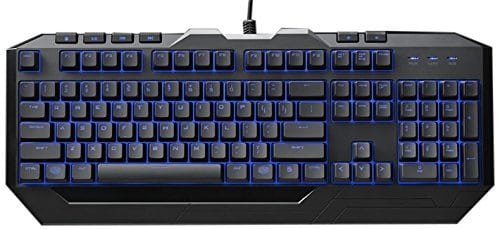 1) A known brand in computer peripherals, the Cooler Master Devastator II is a USA imported "Mem-Chanical" keyboard. It means that it has "Mechanical Feeling" Membrane keys.
2) It has a 125Hz Polling rate, with extra multimedia keys, and approximately a 5 feet cable.
Also Read : 10 Best Gamepads Under Rs. 10,000
3) It has a 7 Colour LED backlight. Keys are tactile keys for improved feedback. While the keycaps on the keyboard are laseretched and gripcoated for minimal wear and optimal functionality.
Pros-
Tactical keys feels good.
Cons-
---
7. Havit HV-KB371L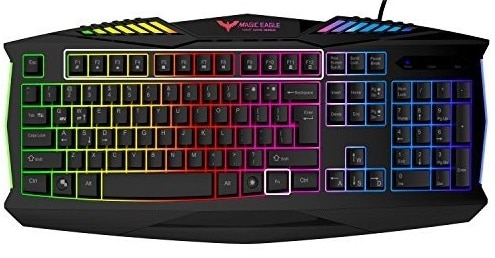 1) The HV-KB371L is the younger brother of the HV-KB414L.
2) It has a Splash-resistant design with drainage holes in the back.
3) Its keys have a life of 10 Million keystrokes with interchangeable WASD keys and a Windows Key Lock.
Also Read : 10 Best Mechanical Gaming Keyboards Under Rs. 10,000
4) It has 19-Key Anti-ghosting, and 12 multimedia keys. Also a 5 feet cable.
5) A good option.
Pros-
Splash-resistant design with drainage holes.
Swappable keys are appreciated.
Cons-
LED lighting customization isn't available.
Best Buy : Amazon
---
8. Night Hawk NK102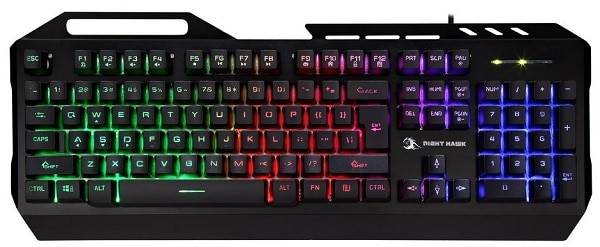 1) The NK102 is a keyboard specially designed for FPS gaming. It has Rainbow colour LED backlighting.
2) Its keys are of metallic structure which complement the LED backlight pretty well. It is quite ergonomic too.
Also Read : 10 Best Gaming Laptops Under Rs 70,000
3) Though it is noteworthy that some customers received a dead keyboard.
Pros-
Excellent build quality.
Somewhat ergonomic.
Cons-
No RGB customization is there, you are stuck with one pattern.
Best Buy : Amazon
---
9. Zebronics Transformer

1) One of the best things about this keyboard is the built quality , metal top and plastic base. It is as sturdy as it gets.
2) Although this is not a membrane keyboard , but raised keys are tactile membrane keys.
Also Read : Best Gaming PC Assembled Under Rs. 80,000
3) The cable is braided and quite long , with a good sturdy USB connector.
4) On mouse you can turn off the LED feature if you long press the DPI key. Also the mouse is quite comfortable to use.
Pros-
Raised Keycaps.
Tactile membrane.
Non slip design.
Cons-
Only 3 light modes plus one off mode.
Best Buy : Amazon
---
10. Perixx PX-1800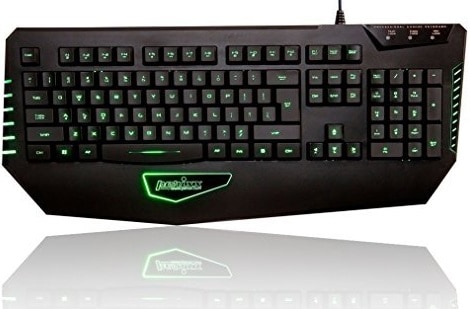 1) This is a USA imported gaming keyboard. It comes with 19 Anti-Ghosting Keys, integrated palm rest, LED backlight, etc.
2) It has various hot key combinations and useful functions like Windows Key Lock to reject accidental Windows Key press while gaming.
3) It has 6 feet braided gold-plated USB cable.
4) It comes with 8 interchangeable keys, media control keys, etc.
5) Overall it seems a good keyboard.
Pros-
Good build quality.
Ergonomic
Comes with palm rest and interchangeable keys.
Cons-
No Warranty in India.
Very less information provided for an international branded keyboard.
Best Buy : Amazon
---
There may be many other options available, but these are the better ones. This list is compiled merely on the on-paper specs.
---
Also Read:
Best Gaming PC Assembled Under Rs. 80,000
Top 10 Best Professional Gaming Mice Under Rs. 2000