There are times when a usual iron is not an ideal solution for getting rid of wrinkles from your garments and you need something better, such as a garment steamer, that can perfectly take care of your delicate clothes.
Ironing not only takes up extra space with an ironing board but can also damage your clothes with the direct contact of the heated ironing plate.
Handheld garment steamers offer a perfect solution that is considered ideal for clothes that need some extra care. Moreover, steamers take very less space and are perfect for people living in compact houses and need to save every inch of space.
With these steamers, you can even iron your clothes while they hang inside your cupboard. Below mentioned is a list of some of the best handheld garment steamers available in the market.
Best Handheld Garment Steamers in India
1. Wistec Techne Direct Handheld Garment Steamer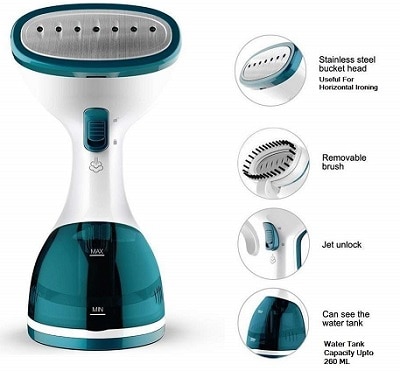 1) Suitable for both horizontal and vertical steaming, this product from Wistec is truly versatile with what all it can do.
2) For an improved performance while in horizontal mode, the company has included a stainless-steel plate on the steaming head that can also be used for ironing.
3) A removable brush head is also included, so is jet unlock that throws more steam.
4) Its see-through water tank can hold up to 260ml of water that is necessary to keep the steamer running for long without needing a refill.
5) Wistec claims that steam can start coming out within 40 seconds and can run continuously for ironing about 5 to 7 shirts.
6) Thanks to its compact size, you can store it with ease and can even carry it while on a trip.
Check Price : Amazon
---
2. Sokany 1200W Garment Steamer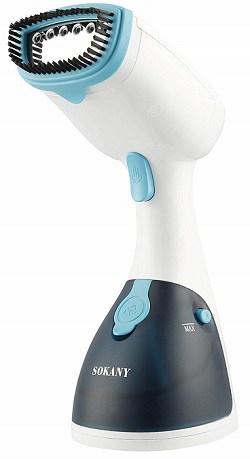 1) Targeted at the budget market, this garment steamer is not only pocket-friendly but is also much more powerful than conventional solutions with its 1200W of heating capacity.
2) This much power means that the steamer will start generating steam within 15 seconds while many other products take several minutes to give similar results.
3) It has an inbuilt 260ml water tank that is removable to easily refill water.
Also Read : Best Chopping Board in India
4) Its large steaming head means a larger portion of the fabric is steamed in one go without you having to move it around several times.
5) The company has made it extremely lightweight allowing you to easily move it, while it comes with a flat base to let it sit on the table.
6) In addition to removing wrinkles from your garments, this will also get rid of bacteria build-up.
Check Price : Amazon
---
3. TaoTronics Upgraded Garment Steamer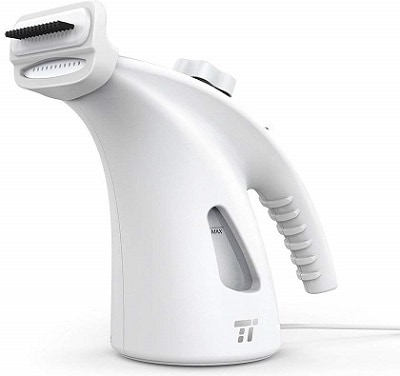 1) Coming with an ergonomic design with an easy-to-use handle, this garment steamer from Taotronics is the best product currently available in the market.
2) The company has designed its spout in a way to not allow any extra steam to escape or prevent it from leaking, all this while keeping you safe from the hot steam.
3) Its 200ml storage tank can provide a continuous steam flow for about 10 minutes.
Also Read : Best Shower Gels for Men in India
4) There is an indicator to let you see the water level and the product also features low water protection.
5) Heating the water takes not more than 2 minutes allowing you to start ironing almost immediately.
6) TaoTronics has also included a protective glove inside the box which you must wear on your other hand to protect it from the steam.
Check Price : Amazon
---
4. Inalsa Handy Steam 600W Garment Steamer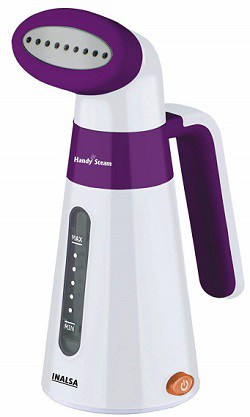 1) Inalsa is quite a popular brand when it comes to household appliances and this garment steamer is no different.
2) The vertical steam release from this steamer helps remove wrinkle from your clothes really quickly, while a detachable heat-resistant brush head makes the process easier.
3) Being a 600-watt machine, the steam production is ample to take care of multiple clothes in one go.
4) For your safety and ensuring the longevity of the product itself, Inalsa has included overheat protection along with boil dry protection.
Also Read : 10 Best Refrigerators in India
5) An ergonomic handle is placed on the steamer's side beside a water level gauge.
6) The company has included a warranty of 2 years with this product, which is double of what other brands generally offer.
Check Price : Amazon
---
5. Philips GC 330/45 Garment Cleaner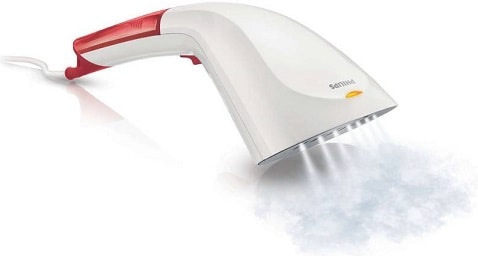 1) Philips doesn't need an introduction when it comes to consumer electronics as the brand is probably the most popular one in the segment.
2) The garment cleaner from Philips is a premium product that offers an excellent set of features that are well above the quality level set by other products.
3) With a strong steam output, the product, besides ironing out wrinkles, also gets rid of bacteria build-up and odours.
4) Specially designed like any other iron, this steamer can be used for both horizontal and vertical steaming that is aided by an electric pump for an even steam flow.
5) A detachable water tank has been included in this steamer that makes it much easier to refill water which can then heat up really quickly within a few minutes to give a steady steam flow.
Check Price : Amazon
---
6. Lifelong LLGS01 Handheld Garment Steamer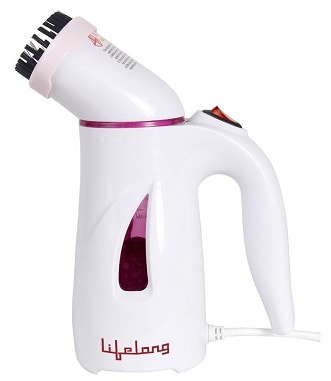 1) If you are looking something on a budget, then look no further as Lifelong has a perfect solution for your needs.
2) This is a travel-friendly steamer given its compact size and the company has also included a lint removing brush to make the fabric look cleaner and extend its life.
3) It is ideal for all kind of fabric, be it the gentle ones that need extra care.
Also Read: 10 Best Kitchen Chimney in India
4) This Lifelong steamer comes with a standard warranty of 1 year and is durable enough to last much longer than that.
5) The included water tank is easy to refill and should last between 8 and 18 months.
6) For your safety, the company has included an automatic shut-off feature that prevents the unit from running idle for long.
Check Price : Amazon
---
7. Philips GC310/07 Handheld Garment Steamer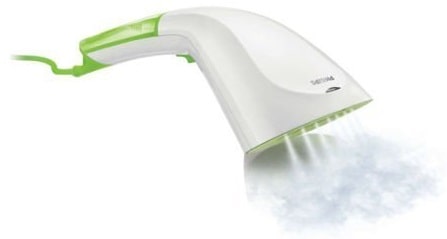 1) Priced slightly lower than the previously mentioned Philips garment steamer, this product carries the same quality level as other Philips products.
2) This is a powerful steamer with an operating capacity of 1000W allowing it to produce the required amount of steam much faster to efficiently remove wrinkles.
Also Read : Best Electric Shaver in India
3) Its handheld operation makes it much easier to use and travel with.
4) Automatic continuous steam means you can iron out your clothes much more quickly and the steam will be released for a longer duration.
5) The water tank is detachable helping you fill it up without spilling water on the product itself.
6) A mechanism has been included to prevent water dripping and Philips is including a warranty of 2 years, which again is double the industry standard.
Check Price : Amazon
---
8. Usha Techne Direct 1000W Garment Steamer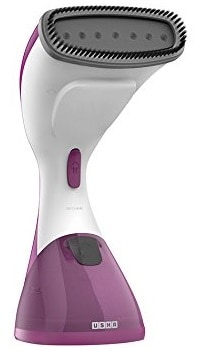 1) An elegant design of this handheld garment steamer not only makes the product look great but is also functional allowing for a better grip for the user.
2) This design from Usha also makes vertical steaming possible for an easy operation while ensuring a steady steam flow at up to 21 g/min.
3) The brushing head is detachable and helps remove lint from your clothes.
Also Read : 10 Best Table Top Wet Grinders
The combination of powerful steam and an option for vertical steaming is effective for even the toughest wrinkles.
Thanks to its lightweight design, you can even carry it in luggage bags while traveling to remove wrinkles on the go.
Overheat shut off feature keeps you safe and the company is including a warranty of 2 years with this steamer.
Check Price : Amazon
---
9. Stvin Handheld Garment Steamer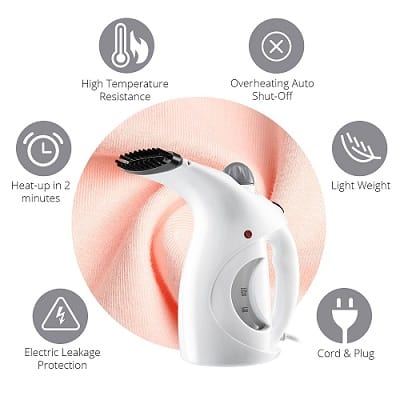 1) If everything in this list is out of your budget then we have an entry-level product that should meet your needs.
2) This compact steamer is not only travel-friendly but is also ideal for usage in home and elsewhere.
3) Coming with a power capacity of 800W, you can expect it to perform really well in day to day chores and its 1.8m long cable helps it reach every corner of the garment.
4) Refilling the water tank is as easy as just opening the knob provided on the top, while it can be operating using a single button.
5) Steaming starts within 2 minutes so that you don't need to wait for long.
6) The company has included a range of safety features like resistance to high temperature and auto shut off when overheated.
Check Price : Amazon
---
10. Smiledrive Portable Garment Steamer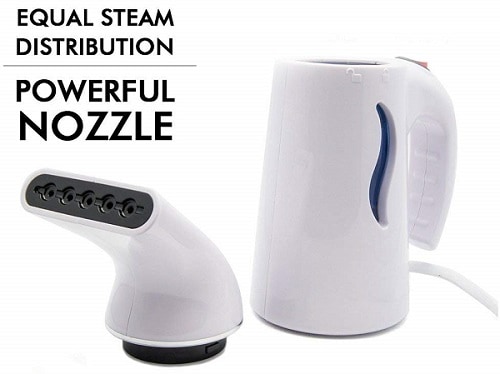 1) Another budget product in the market is this one from Smiledrive that has been designed keeping portability in mind.
2) The company has included a 130ml water tank which is claimed to last for at least 10 minutes of ironing, during which you can easily iron about 2 to 3 shirts in one go.
3) Its wide spout helps distribute the steam evenly at the intended area of the garment.
4) You can easily remove the nozzle which will also be helpful in refilling the water tank placed below it.
5) With that, the company has also included a long 8-foot cable, so that you don't need an external extension cord.
6) The product comes along with a standard warranty of 6 months that covers any manufacturing defect.
Check Price : Amazon
---
Also Read:
1) Top 10 Best Ice Cream Makers in India
2) 10 Best Front Loading Washing Machines in India
3) Top 10 Best 1.5 Ton Energy Saving Split Air Conditioners
4) 10 Best Electric Hand Blenders