A monopod is a smaller version of a tripod which allows you to steady your camera while taking self-portraits or long exposure shots. Now, you might ask why do you need a monopod if it is just a smaller version of a tripod? Well, the answer is quite simple.
A monopod will be more compact and easy to carry around than a tripod and will certainly be a better companion during trekking trips than a tripod.
Another major reason for choosing a monopod is that it can also support larger lenses while being easily portable. However, it is not easy to choose a monopod as there are so many factors and features to consider.
Well, this guide will make it easier for you in choosing the best suited monopod for yourself.
Best Monopods in India
So, now that you know a little more about monopods and how to choose them, here is a list of monopods to choose from. Make sure that you consider all the above factors before making a choice.
1. PowerPak Mono-x10

PowerPak is yet another amazing monopod to attach to your DSLRs or video cameras. It has a small and compact design and at a weight of just 995g, it is extremely lightweight which makes it easily portable.
However, despite being lightweight, it is quite stable and allows dynamic shooting with your equipment.
Also Read : 10 Best Instant Cameras in India
And it is both easy to set up and use which makes it a great experience for newbies who are looking for convenience and efficiency.
With its wrist strap, you can carry it hands free while the comfortable hand grip allows you to keep your camera steady while shooting. It also features 4 leg sections along with rubber twist locks which allow you to adjust the height quickly at a maximum of 57 inches.
Pros:
Lightweight and easily portable
Stable and sturdy
Easy to set up and use
Hands free carrying
Cons:
Cheap plastic used for construction
Best Buy : Amazon
---
2. AGARO Monopod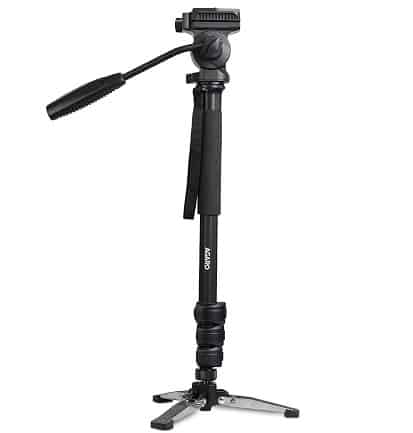 A strong and sturdy monopod from AGARO , suitable for wide range of applications. It supports both video and still cameras.
This monopod has 4 leg sections extendable up to 57-inches and it can hold upto 4kg of weight. Which is good as most of your DSLR equipment should be covered in this weight range.
360° swivelling & 15° tilting base , so you can smoothly shoot all angles and take all the b roll shots with ease. It is made of Aluminum , make it lightweight and easily portable.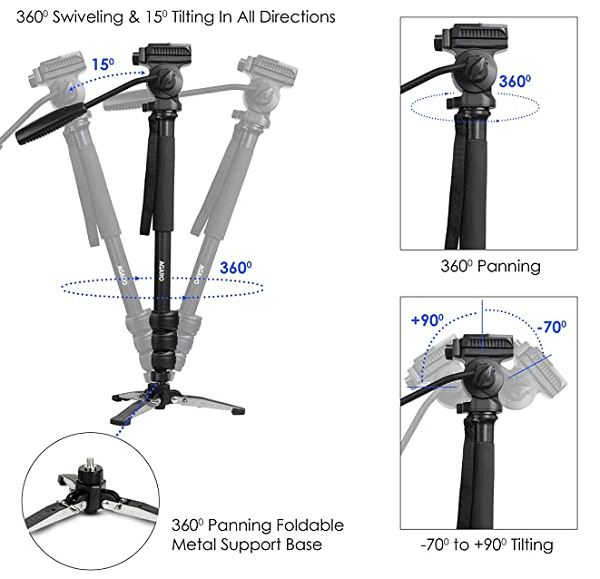 The grip is well cushioned and wrist strap is quite adjustable , this monopod comes with the carrying bad and smartphone holder.
Highly recommended if your looking for a not so costly monopod , which fits all devices easily and is easy to carry then this is for you.
Pros:
Load up to 4 kgs
360° panning and +90° / -70° tilt
extendable up to 57-inches
Lightweight
Cons:
Check Cheapest Price : Amazon
---
3. Sonia Monopod Pro 501

Another great monopod which is affordable and Convenient to use is Sonia Monopod Pro 501.
This monopod also includes self-standing legs which offer more stability to your equipment and can easily take a load of 5 kg.
It is lightweight and compact and can be extended to a height of 5 ft. 6 inches and can be collapsed to a height of 2 ft. 3 inches with great ease.
Also Read : Best Travel Mugs Under Rs. 1000
It also features a fluid video panhead which allows a smooth transition during videos. The quick release plate and bubble leveler makes this monopod easy to set up and pack up.
Pros:
Lightweight and compact
Maximum height: 5 ft. 6 inches
Fluid panhead for smooth transition
Cons:
Best Buy : Amazon
---
4. Manfrotto Compact

Manfrotto MMCOMPACT-BK is a perfect monopod for compact cameras which don't weigh more than 1.5 kg.
It is lightweight and extremely portable and great for newbie photographers. It features a wrist strap and an ergonomic grip which help you in keeping your camera protected.
Also Read : Top 10 Best Travel Cameras
One thing to remember is that if you are using an entry-level DSLR then you should connect the monopod to the standard kit lens. This will provide you maximum output with your camera. It is also quite easily affordable and makes a great choice as your first monopod product.
Pros:
Lightweight and easily portable
Affordable
Offers safety and security
Great for entry-level DSLRs
Cons:
Cannot hold more than 1.5 kg
Best Buy : Amazon
---
5. Benro Adventure MAD49A

One of the best monopods in the market is Benro Adventure MAD49A which is both sturdy and lightweight due to its aluminum construction. It features high quality flip locks which can be easily adjusted for durability and improved stability.
Also Read : 10 Best Luggage Bags For Travel in India
And the 5 section aluminum tubes can be extended to a height of 75.2 inches, making this monopod the tallest product currently available on the market. With its threaded mounting plate, you can attach both video head or a camera directly to the monopod and can use it for both location and studio shoots.
With a weight of just 567 g, it can easily hold camera equipment up to 18 kg which is way higher load capacity than other monopods in the market.
Pros:
Maximum height: 75.2 inches
5 section tubes for height adjusting
Stable and durable
Lightweight
Holds 18 kg equipment
Cons:
Best Buy : Amazon
---
6. Vanguard AM-264 TR

Vanguard Monopod VEO AM-264 is a little expensive compared to other products in this list but with this monopod, you get high durability and stability which makes it worth it. This monopod is perfect for both photography and videography and is also compact in size.
Also Read : 10 Best Camera Bags for Travelers
It has 4-section legs along with flip locks which allow you to adjust the height while making sure that your camera stays stable during shots. The built-in ball joint allows you to take smooth multi-dimenaional shots while the soft rubber handle allows you to hold the monopod firmly and securely. It is both easy and convenient to use and can be set up in just a few seconds.
Pros:
Multifunctional – Works for both photographs and videos
Compact and durable
Flip locks for stability
Ball joint for different angle shooting
Rubber handle offers great grip
Cons:
Spring of the legs can break easily
Best Buy : Amazon
---
7. CAMTREE Proaim Meebo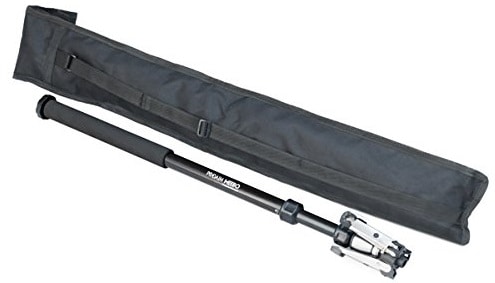 Made out of aluminum, Camtree Proaim Meebo Aluminum Monopod is extremely lightweight yet sturdy and features a 2- stage telescopic structure which allows you to adjust the height of your monopod according to your shooting needs.
Also Read : Top 10 Best Camera Straps
However, the best feature of this monopod is that it can be converted into a tripod and a table tripod making it a great long-term investment. Also, you can increase its height up to 5.5 ft. and use it for equipment which weigh up to 5 kg.
Pros:
3-in-1 with monopod, tripod and table tripod features
Easy to set up and carry
2-stage structure for easy height adjustment
360 degrees ball head
Cons:
Slight heavy for a monopod
Best Buy : Amazon
---
8. Manfrotto MM290A4

Manfrotto MM290A4 is one of the top monopods to invest in these days. Due to its aluminum construction, this product is lightweight and easily portable while also being capable of taking a load of 5 kg.
It features 4 aluminum legs which are easy to set up and collapse and will keep your equipment steady when shooting.
Also Read : 10 Best Rucksacks for travel
Apart from that, you will also get a wrist strap and legwarmer which will make this monopod even more convenient to use and carry around. And the best part is that you can attach any equipment to it with the help of the universal attachments that are included with this kit.
Pros:
Lightweight and easily collapsible
Stable and protected
Takes a load of 5 kg
Cons:
Best Buy : Amazon
---
---
9. Unifree YT-1288-A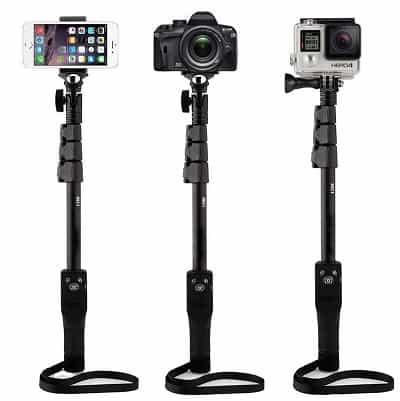 If you are searching for a monopod that can be transformed into a selfie stick and which will easily hold both your DSLR and smart phones then Unifree YT-1288-A Monopod is the ideal product for you.
This monopod is really elegant and includes a Bluetooth clicker remote which allows you to take photos on your smartphones too.
Also Read : 10 best travel adaptors in India
With its thumb screw locks and adjustable heads, you can easily shoot at different angles while the strap amd the rubber handles ensure protection of your shooting equipment.
It also has aluminum tubes and 4 leg sections which can be extended to a maximum height of 48.4 inches while keeping your equipment stable and secure.
Pros:
Extemely affordable
Compatible with Cameras and smart phones
Easy to adjust the angle
Maximum height of 48.5 inches
Cons:
Not compatible with all smart phone models
Best Buy : Amazon
---
10. Digitek Platinum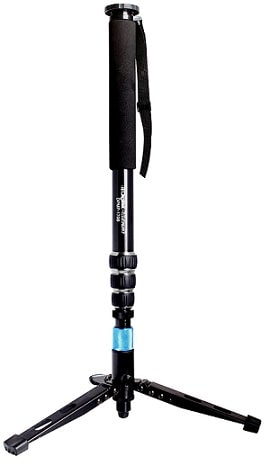 With a minimum height of just 26.57 inches and a maximum height of 66.9 inches, Digital platinum monopod is a great product for travelers and professional photographers.
It weighs around 1.3 kg which makes it easy and convenient to carry but is quite sturdy at the same time.
Also read : 10 Best Handbag for Women Under Rs. 500
It features 3 legs bass with twist locks, making it easier to adjust the height and position and the ball head makes it super convenient to set up this monopod.
Pros:
Compact and lightweight
Sturdy and durable
Easy to set up
Cons:
Best Buy : Amazon
---
11. miliboo MTT705A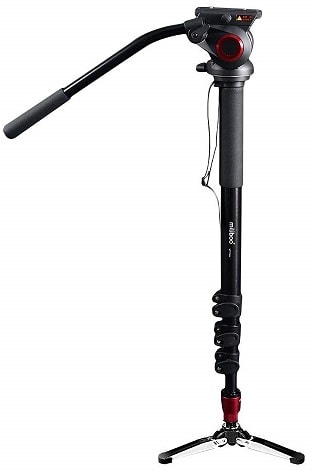 One of the best monopods for professional travel photographers, miliboo MTT705A monopod is durable and sturdy.
It can be extended to a maximum height of 72 inches and can easily take a load of 10 kg, allowing you to use your heavy camera equipment with great ease.
It can be collapsed to a height of 30.42 inches and weighs over 6 pounds which make it slightly unfit for day trips.
Also Read : Best Multiport USB Wall Chargers in India
Also, you can lean it at 90 degrees in any direction which allows you to take photographs from different angles and perspectives too.
Pros:
Holds up to 10 kg
Maximum height is 72 inches
Smooth and gliding head
Cons:
Best Buy : Amazon
---
Tips for Choosing a Monopod
Here are a few factors that you should consider when looking for a monopod for yourself.
Consider the Weight of your Photography Equipment
The first factor to consider is the maximum weight that you would need your monopod to hold. For this, you will need to determine the weight of your biggest lens along with the camera body. This is crucial to know before you buy the monopod because if you choose a wrong monopod then you could risk damaging your camera equipment.
If you neglect this essential factor then you might up end up paying a lot in order to assuage the camera damage.
Consider the Height of the Monopod
The next thing that you need to determine is the height of your monopod. Do you want it towering over you or would an eye-level height work for you? It all depends on the kind of photography that you are likely to do with your camera.
Unless you are taking shots or crowds or groups, you really won't find any use for a monopod which is taller than you. So, determine the height of the monopod according to your photography needs and then start looking for a model.
Check the Construction of the Monopod
One of the most important things to look out for when purchasing a monopod is that it should be sturdy and durable. You don't want a monopod which isn't able to handle your camera equipment or shakes too much while photography. So, make sure that your monopod is built out of good quality material and not a cheap material.
Avoid selecting a monopod which is made up of cheap and flimsy quality. Sure, these monopods will look good to you but they would be easy to break as well. A good quality monopod will be slightly heavy but it is going to last for a long time.
Choose Between Latches or Screws
Many people don't realize this but an important feature to consider when buying a monopod is how its height can be extended. Does it use screws or latches to adjust the height? While both are equally good, you have to consider your photography subjects while making the choice. If you love taking photographs of animals on your travels then you might want to buy a monopod with screws. This is because you can easily increase the height of the monopod by rotating the screws and since it would be silent, it won't scare off the animals.
On the other hand, latches ensure that your camera stays locked in a position. But they can often make a lot of sound when you are trying to open the legs to a greater height.
So, weigh the pros and cons for both the types of monopods and choose the one which fits your photography style the best!
---
Also Read:
1) Top 10 Best Travel Adapters
2) Best Camera Straps Under Rs. 500
3) 10 Best Camera Bags for Travelers
4) Top 10 Best Tripods in India