Recently updated on July 15th, 2023 at 05:14 pm
A handbag can not only work as a fashion statement but is also a great way to keep important items with you while traveling to another place. You can keep your makeup, accessories, stationery, etc. in it and not feel helpless when you are out.
But with a plethora of designs and brands available in the market, it is slightly difficult to choose a good handbag for yourself. Isn't that correct?
Well, lucky for you, we have prepared this guide to help you choose the best handbag for yourself without going over your budget.
Top 10 Best Handbag for Women under 500 INR
You can compare the following handbags and choose the one which works the best for you.
1) Naaz Bags Collection Women's 3 Buckle Hand Bag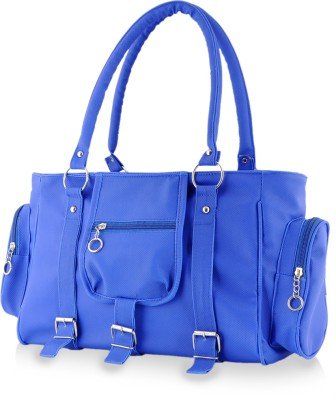 Naaz Women's 3 Buckle Hand Bag is definitely one of the best handbags in the market as it is not only cheap but checks off all the major features of a good bag.
The sophisticated 3-buckle design makes it good for both party and casual use. And the use of non-leather material makes this handbag quite lightweight and durable.
Also Read : 10 Best Luggage Bags For Travel in India
It features 5 compartments out of which 2 are main compartments and the other can be used to store your water bottles, cell phones, keys, etc. And the double straps allow you to fit the bag comfortably.
Pros:
Affordable
Stylish and versatile
Lightweight and durable
Extra storage
Cons:
---
2) Don Cavalli Women's Handbag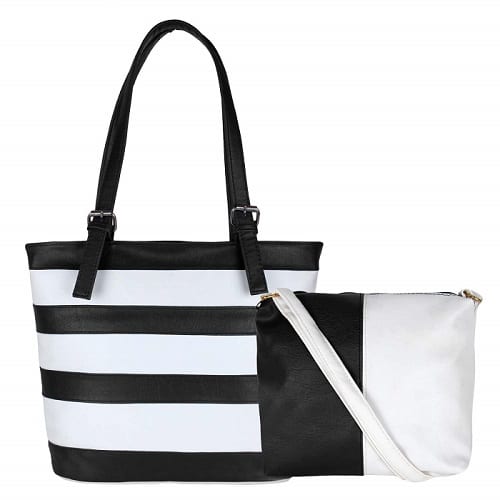 One of the best handbags in the market, Don Cavalli Women's handbag has an elegant design which makes it good for parties and office use.
This handbag is made up of synthetic faux leather along with polyester lining which makes it durable and sturdy for use.
Also Read : 10 Best Camera Bags for Travelers
It features two main compartments for storing your cosmetics, accessories, etc. and has a zip closure to ensure complete safety. Apart from that, it also includes 1 pocket inside and 1 at the back to store your keys, money, wallet, etc.
It is light and comfortable to carry and also available in 2 colors – black & white and blue & white so you can choose accordingly.
Pros:
Color availability
Elegant and simple design
Spacious and includes pockets for accessories
Durable and sturdy
---
3) Womaniya Women's Handbag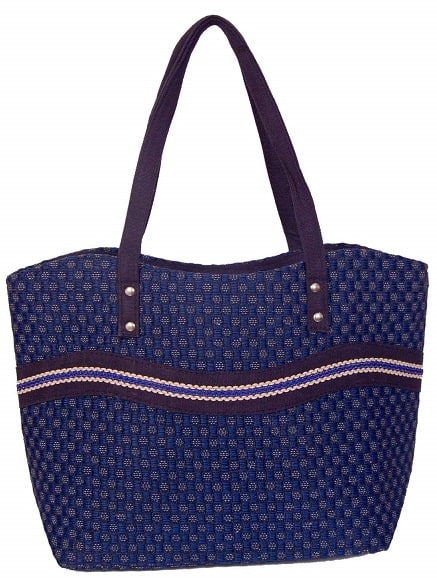 One of the cheapest and must-have handbags for women is Womaniya Women's handbag which has outer material as jute and inner material as canvas.
This makes this handbag lightweight and durable and its stylish design makes it perfect for casual and everyday use.
Also Read : Best Travel Mugs Under Rs. 1000
There are different colors available in this handbag design, offering you options to choose from. It is lightweight and easy to carry and has two main compartments along with pockets to store all your belongings safely.
And since this bag has a zip closure, you don't have to worry about your stuff falling out of your bag too.
Pros:
Lightweight and durable
Easy to carry
Perfect for casual use
Different colors available
Zip closure
Spacious compartments and several pockets
---
4) Gracetop Women's Handbag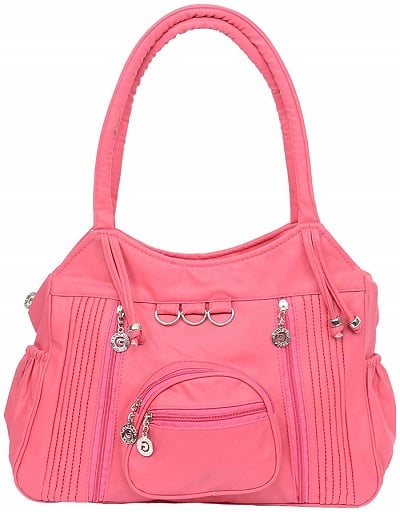 Another amazing handbag for women under 500 INR is Gracetop Women's handbag which is both sturdy and comfortable.
The bag is made up of quality PU leather with an inner lining made up of fabric making it durable and light.
Also Read : Top 10 Best Travel Cameras
It also features removable and adjustable shoulder straps and is large enough to hold your laptop, iPad, wallet, cosmetic, umbrella, etc.
It has a main compartment along with several small zippered compartments for storing your bottles and accessories.
Pros:
Affordable
Durable and sturdy
Comfortable
Removable shoulder straps
Large storage
Cons:
---
5) Typify Casual Shoulder Bag Women & Girl's Handbag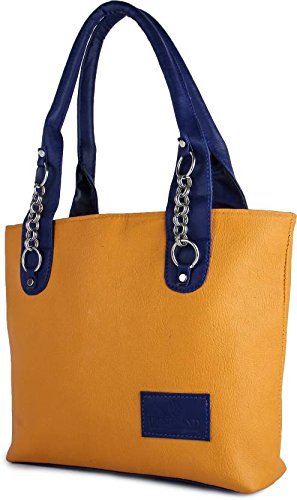 Typify Women's handbag is another top-notch bag to consider if you are into simple yet elegant bag designs.
This handbag has a stylish design which works well with most outfits, including casual and work wear.
Also Read : Top 10 Best Camera Straps
It features a main compartment for storage along with an inner zip closure and two straps to evenly distribute the weight of the bag.
There is also a separate zippered compartment at the back of the bag where you can store your keys, mobile, etc. without having to worry about them falling down.
Pros:
Good design
Works with most outfits
Two straps for even bag weight distribution
Zippered compartments for proper storage
Cons:
---
6) Kanvas Katha Women's Handbag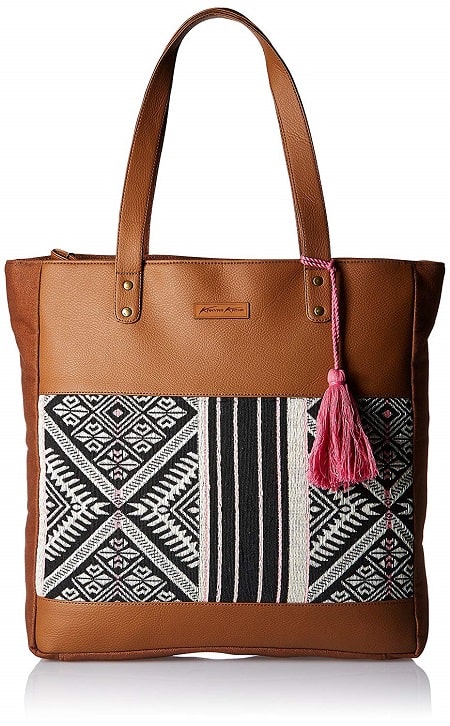 Another beautiful handbag which is made up of faux leather materials and is quite spacious is Kanvas Katha Women's handbag.
This handbag is perfect for office use and weekend getaways and comes in a tan color which easily matches most outfits.
Also read : Top 10 Best Travel Pillows in India
It features a zip closure and 2 handle bags which make it easy and comfortable to carry around this handbag.
As it has a simple design, there is only 1 main compartment and 1 pocket to store your belongings like phone, keys, money, etc. One thing to keep in mind is that this bag should be only hand washed and shouldn't be exposed to the sun.
Pros:
Simple and elegant design
Easy to carry
Versatile
Cons:
Color fade is exposed to too much sun
---
7) Kawtra Women's Pu Handbag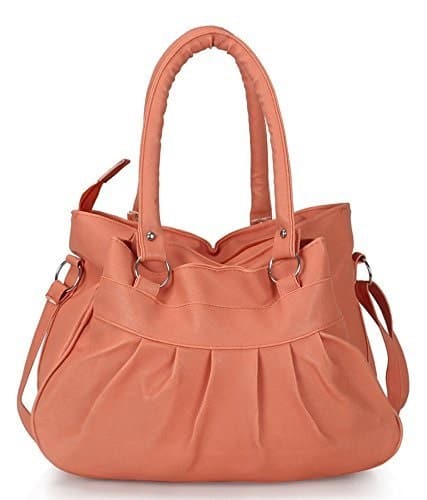 An attention-grabbing handbag which is bound to make everyone jealous of you is Kawtra Women's peach handbag.
This trendy handbag is highly durable as it is made up of high-quality materials which also make it quite attractive to look at. And with its twin handles, you can carry it on your shoulder or wrist with amazing ease and comfort.
Also Read : Best Multiport USB Wall Chargers in India
It also features spacious compartments to store your belongings and several pockets to hold your smaller belongings. And the best thing is that you can use this handbag both for college and office purpose, making it extremely versatile.
Pros:
Beautiful design and color
Durable and attractive
Easy and comfortable to carry
Spacious compartments for storage
Can be used in both college and office
Cons:
---
8) Bizarre Vogue Women's Stylish Handbag (BV973)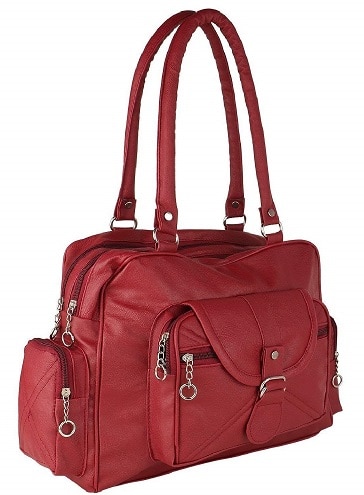 For women who want a handbag suited for mainly office use then Bizarre Vogue BV973 Handbag is the perfect choice.
The handbag is made up of PU material and is available in 4 different colors so you can choose the one which suits you the most. It is stylish and will definitely work well with most of your outfits, including everyday wear.
Also Read : Top 10 Best Tripods in India
It also features sturdy and padded shoulder straps which make it comfortable to carry this handbag on day trips or any casual outings.
The multiple bag compartments and zippered pockets offer you sufficient storage space for your belongings while ensuring that nothing falls out of your bag.
Pros:
Available in 4 colors
Stylish and versatile
Comfortable and easy to carry
Spacious compartments and pockets
Cons:
A difference in color from what shown online
---
9) Jovial Premium Quality Fashionable Women/Ladies Handbag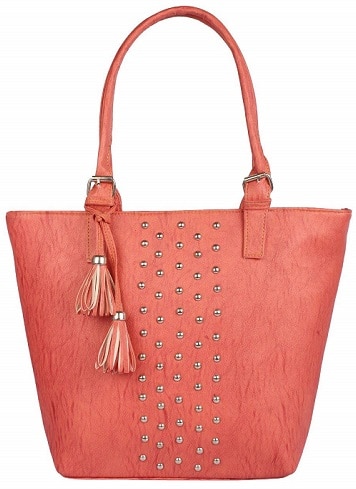 Yet another perfect handbag which looks amazing for parties is Jovial Women's handbag which comes in pink color and is quite easy to maintain.
Also Read : 10 Best Monopods in India
The trendy design of this handbag makes it good for casual use as well. The outer material of this handbag is PU material while the insides are made up of satin.
You also have an option in orange color for the bag. The two main compartments and inner and back pockets are sufficient to store your belongings and keep them safe.
Pros:
Trendy and stylish
Available in orange and pink color
Spacious
Cons:
Fades easily when exposed to the sun
---
10) Regalovalle Women's Handbag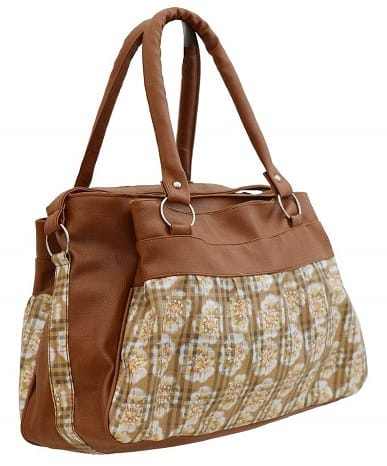 The Regalovalle Women's handbag is another good choice for storing your accessories and other essential items. It is made up of non-leather material with a simple look and is available in 2 colors.
Also Read : 10 Best Instant Cameras in India
The handbag is durable and soft to touch and quite easy and comfortable to carry as well.
With its 2 main compartments and 2 pockets, you can store and keep your items organized, making it easily accessible. This handbag is perfect for casual use and will great for day outings.
Pros:
Light and durable
Simple look
Easy to carry
2 main compartments, 2 pockets
Cons:
Not to be exposed to extreme heat
Tips for Choosing a Handbag
Here are a few tips to consider when choosing the best-suited handbag for yourself or someone else.
Consider your Body Type
When it comes to handbags, it is always better to go for a shape that is a complete opposite of your body type. Make sure that you carry and check the handbag from all the angles before purchasing it.
Also Read : Best Sunscreens in India To Protect Your Skin
For women who are tall and thin, a handbag which is short and slouchy is the best choice. If you purchase a handbag with a short strap then you would look even taller. So, stick to handbags which are wide and short.
Petite women should avoid large handbags as they can dominate your body. Also, avoid shoulder bags with a long strap if you don't want to look tiny.
For heavy-set women, it is best to carry large and boxy handbags to make it look natural. A small handbag will make you look even larger so, steer clear of them.
Choose a Handbag which is Comfortable
Once you have figured out the style of handbag which is well suited to your body type, you have to check the comfort level provided by the handbag. Make sure that it doesn't keep sliding off your shoulder and fits perfectly under your arm.
Also Read: Best Lacto Calamine Products in India
This means you will have to try the handbag and see if the design and style feel comfortable to you or not. Don't go for a handbag which feels uncomfortable because you will start resenting it pretty soon.
Consider the Weight of Your Bag
Another important thing to consider is the weight of your handbag. You want a handbag which would be light and easily manageable and won't feel like you are carrying another human being.
Also Read : Best Facewash For Oily, Acne, Sensitive & Dry Skin
So, be careful if you are looking for a leather bag or a bag with metal detailing as it can weigh you down in long durations.
Look for a Handbag with Sufficient Pockets
Next thing you need to determine is the number of pockets that are available in the handbag. The pockets will help you in organizing your handbag's content and will make it easier for you to access the items when you need it.
Also Read : 10 Best Sunscreen Lotion in India
So, make sure that your handbag has a sufficient number of pockets both outside and inside to make it easy for you to keep your items segregated.
Make Sure that it Zips up Completely
Of course, you don't want your bag contents slipping out unexpectedly, right? So, it is important that you choose a handbag which can be closed up completely with a zip or buttons so that you don't have to worry about things falling out of the bag.
Look for a Versatile Handbag
If you are a bag collector then you might have a separate handbag for every occasion. But if you are a person who just has a single everyday bag then it is important to choose a handbag which can be used on different occasions.
Also Read : Best Hand Creams in India
Make sure that it matches your work attire but is casual enough for casual outings. And do pay attention to the color and choose a handbag which will match most of your outfits.
Consider the Color and Design
Lastly, choose a handbag which will be aesthetically pleasing because only then you are going to use it regularly. If you choose a boring color or design then you can rest assured that it won't see the light of day for more than a couple of days.
Also Read : 10 Best Electric Toothbrush in India
So, choose the design and color carefully. Make sure you choose a color which will match most of your accessories and outfits. You can choose a plain design but the color is what gives it the oomph factor. However, if you go for a black handbag then make sure it has a good design because a plain black bag is just dull and boring.