If you're looking for a hygienic and infection free way to wax at the comfort of your home, then these exclusive gold wax strips are for you. These YLG wax strips are first in India which are sugar and rosin free.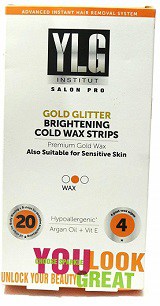 These are designed for Indian skin, with hypoallergenic which can be used on sensitive skin as well. Although, personally if your skin is too sensitive then first do a patch test and if you your skin is itchy, it is recommended to not use further.
You should do this practice with other products too in order to avoid any allergies.
---
Important Note
Use the longer strips for arms, legs and back and short pieces of strips for facial skin and sensitive bikini line. If the longer strips are used on the face, it can leave wax residue.
Also, don't forget to rub the strip from both sides, before separating the two layers and then apply on body.
---
Conclusion
These YLG wax strips remove hair from the roots and give you a long lasting smoothness for about 4 weeks, with a shining golden glow skin.
All of this and much more at the comfort of your home.
Available at – Amazon
Author

Shivani Goel
---
Also Read:
6 Best Hair Conditioner in India
Best Facewash For Oily, Acne, Sensitive & Dry Skin