We all know that to take proper care of our hair, we need to wash it regularly to keep it free of oil, dirt, and other impurities. But a lot of us often neglect using a hair conditioner which is essential for the nourishment of our hair.
A hair conditioner is an essential hair care item which should be used regularly. Why? Because it helps in keeping your hair healthy and glowing. However, choosing the right conditioner for your hair can be a tricky process, especially with so many new and amazing options in the market.
So, to reduce the struggle for you, I have listed down some of the best hair conditioners for you. You can read through our buying guide to understand what all you need to check in order to find the best hair conditioner for your hair.
So, let's get started and let's help you find the most suitable hair conditioner for you.
Best Hair Conditioner in India
1. Best for Curly Hair – Tresemme Keratin Smooth With Argan Oil Conditioner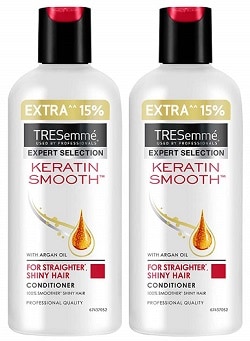 Now, if you are one of those people who have curly hair and find it a struggle to wash your hair then this one is for you. Tresemme Keratin Smooth with Argan Oil Conditioner is the right product for you as it not only controls your hair frizz but also deeply nourishes it. As a result, it is easier to manage and comb your hair and you don't have to struggle to make them look good anymore.
This hair conditioner contains keratin and argan oil which keeps your hair nourished and frizz-free for 3 days after use. So, you get to flaunt your wonderful hair for the next 48 hours without worrying about them getting dry or frizzy. It also uses a low sulfate formula, so it works wonderfully for chemically treated hair as well.
So, if you want a good hair conditioner to nourish your curly hair and smoothen it then Tresemme Keratin Smooth with Argan Oil Conditioner is definitely the best choice
---
2. Best for Dry Hair – The Body Shop Rainforest Moisture Conditioner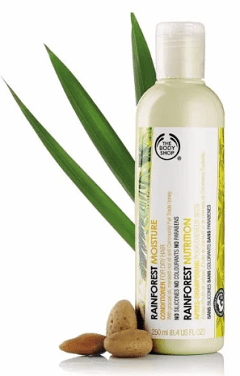 A great hair conditioner choice for people with dry hair, The Body Shop Rainforest Moisture conditioner is a little on the pricier end but it is great for retaining moisture in your hair. And the best part about this conditioner is that it is lightweight, so it would never weigh your hair down.

Free of parabens and silicones, this hair condition consists of babassu oil, pracaxi oil, coconut oil, manketti nut oil, and honey. As a result, it properly moisturizes and hydrated dry hair while adding a beautiful shine to your tresses. The only problem with this product is that it doesn't smell good and it is expensive.
But if you don't find the fragrance repulsive and don't mind spending on a good hair conditioner, then this is a really good choice for dry and damaged hair.
---
3. Best Natural Hair Conditioner – Khadi Natural Herbal Hair Conditioner

One of the hair conditioners which I really like a lot and often use myself is the Khadi Natural Herbal Hair Conditioner. What I love the most about this rinse-off conditioner is that it contains aloe vera and green tea extracts. As a result, it has antioxidant properties and is a great product to protect your hair from the sun's UV rays damage.
Also, it doesn't contain both SLS and paraben so it is really safe for your hair and it is not greasy, so you can apply it to your scalp as well. And you will find that after every use, your hair is soft, silky, and extremely easy to manage. It is also quite affordable and will properly nourish and moisturize your hair.
So, if you want a good, natural hair conditioner which is SLS-free and paraben-free then Khadi Natural Herbal Hair Conditioner is the one for you.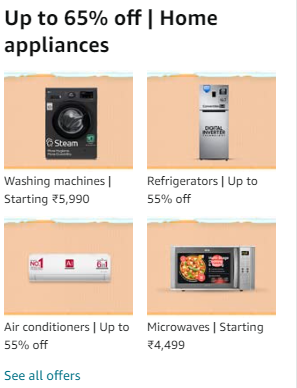 ---
4. Best for Damaged Hair – Pantene Pro-V Total Damage Care Conditioner

This is undoubtedly one of the best hair conditioners for damaged hair and can easily help you get your healthy and shiny hair back after a couple of washes. What I love the most about Pantene Pro-V Total Damage Care conditioner is that it not only repairs the hair damage but also nourishes your hair shaft. Plus, it offers protection to your hair cuticles too which helps in making your hair strong and healthy.
Apart from moisturizing your hair and repairing the hair damage, it also makes your hair shiny and easy to manage. And it keeps your hair hydrated for a long time so they will remain soft and smooth for a long time as well. Honestly, you start seeing results with this conditioner just after a few uses.
Plus, this conditioner is super affordable so you can get your amazing hair back without worrying about the price.
---
5. Best for Normal Hair – Garnier Fructis Long and Strong Strengthening Conditioner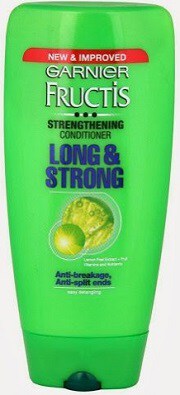 Garnier Fructis Long and Strong Strengthening Conditioner is one of my personal favorites as it leaves my hair soft and fresh after every use. Again, it is quite cost-effective and the active fruit concentrates help in strengthening your hair from the roots. Plus, as I said, it makes your hair really soft and smooth from the first use.
Also, since it doesn't make your hair greasy or weigh it down, it is perfect for both people with normal and oily hair. Another benefit of using conditioner is that it reduces the split-ends and the hair fall. So, you don't have to worry about hair thinning and since the conditioner has a fruity smell, your hair smells fruity and fresh as well.
So, if you are looking for an affordable hair conditioner to make your hair soft and strong then this is the conditioner for you.
---
6. Best Oily Hair – L'Oreal Paris Extraordinary Clay Conditioner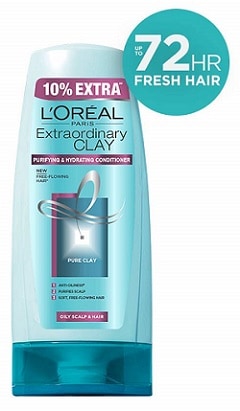 One of the best hair conditioners for oily hair which my friends swear by is LÓral Paris Extraordinary Clay Conditioner. Because not only does it remove the excess oil and impurities, it also keeps your hair hydrated for the next 72 hours.
And it contains clay extract which helps in deep cleaning your hair and detangling it. Trust me, after using this hair conditioner, you won't have to worry about oily scalp or dry hair again. Plus, your hair will feel really soft and shiny after every use so you will fall in love with your hair after every wash. And finally, since this hair conditioner is really affordable, you can get it without thinking twice.
So, if you are looking for a hydrating hair conditioner for your oily hair which won't turn it greasy then LÓreal Paris Extraordinary Clay Conditioner is the right choice for you.
How to Choose the Best Hair Conditioner for Yourself
Before you start looking at the products, make sure that you check out these factors so that you can choose the best product for yourself.
Select a Hair Conditioner Based on Your Hair Type
First and foremost, you need to determine your hair type before you start looking for an ideal conditioner. This is because different hair types have different requirements so not all hair conditioners work.
Straight Hair vs Curly Hair
Depending on the texture of your hair, you could have straight hair or curly hair.
If you have curly hair, then you are likely to suffer from dry ends and excess sebum in the scalp. This is because the sebum gets trapped at the roots due to the curly hair and doesn't reach your hair ends. So, you need to find a hair conditioner which will keep your hair nourished and hydrated.
You can choose products with fatty acids which trap the moisture in your hair strands and makes it appear less dry. And do go for a lightweight conditioner, else your hair will be weighed down or your scalp will become oilier.
For people with straight hair, any moisturizing conditioner with volumizing property works. This way, your hair stays shiny and soft while not looking limp too.
Thick Hair vs Fine Hair
Another important thing to consider in hair types is whether you have thick hair or fine hair. Thankfully, people with thick hair don't have to worry about the volume and can actually choose a normal conditioner. However, if you suffer from dryness then you can opt for a nourishing hair conditioner.
And if you have oily scalp, then choose a lightweight conditioner so that the excess sebum creation doesn't make your hair greasy.
If you have thin or fine hair then you will need to buy a conditioner with fatty alcohol ingredient. Since atty alcohol is made up of heavy molecules, it doesn't evaporate quickly and allows your hair to stay moisturized for a long time.
Oily Hair vs Dry Hair
Now, if you have oily hair then you might often be skipping the conditioner as it turns your hair greasier. However, if your oily hair loses its shine and glow, then it is important that you use a good hair conditioner to control the oil production in your scalp.
Choose hair conditioners which are volumizing and lightweight. Don't select conditioners which are smooth or moisturizing as these are usually for curly-haired people and can add too much moisture to your hair, making them limp. Also, when you are using the conditioner, don't apply it to your scalp and just use it on the hair strands and ends.
On the other hand, people with dry hair should opt for hair conditioners which are hydrating and moisturizing. They will add a little moisture without weighing your hair down. But if your hair is really damaged then you need to go for frizz control, hair repair, and strengthening conditioners. They protect your hair from heat damage and makes your hair look healthy and nourished.
Determine if You Should Select a Rinse-Out Conditioner or Leave-in Conditioner
Another important factor to consider is whether you should choose a rinse-out conditioner for your hair or a leave-in conditioner?
A rinse-out conditioner is a regular conditioner which gets rinsed out of the hair which helps your hair retain the moisture. It can also help in detangling your hair and makes them look shiny and lustrous. It is usually perfect for people with normal or oily hair as it doesn't weigh your hair down too much.
However, if you have dry or damaged hair then you will need to opt for a leave-in conditioner. As the name suggests, this type of conditioner is left in the hair while washing the hair so that it can daily moisturize your hair. This way it can continuously repair the hair damage and protect your hair from further damage as well. Plus, it is quite lightweight, so your hair won't look limp after using it.
Apart from people with dry and damaged hair, curly and wavy-haired people can benefit from this type of conditioner as well.
Read the Ingredients on the Conditioners
Another important step in choosing the right conditioner for yourself is to check out the ingredients in the conditioner as well. If you read a lot of unfamiliar terms, that means that the conditioner uses a lot of chemicals which could damage your hair in the long run.
Always opt for conditioners which have more natural ingredients and will offer proper nourishment to your hair.
Consider Purchasing a Cleansing Conditioner
Finally, if you are suffering from too much hair breakage, then you can select a cleansing conditioner for yourself. This type of conditioner acts both as a shampoo and a conditioner and reduces hair fall due to the hair wash.
It is designed to gently cleanse your hair and not to strip it of the moisture in the scalp so that your hair looks shiny, healthy, and strong.
Also Read: