One of the most essentials items in your daily life that you often don't pay attention to is a desk lamp. A table/desk lamp is not only useful in studying at night but can also be useful for working on other stuff while not putting too much pressure on your eyes in dim light.
And there are a lot of different desk lamp designs also available in the market like USB powered desk lamps, clamp stand desk lamps, LED desk lamps, and so on.
So, we have prepared this guide to help you choose the ideal table/desk lamp for your home. In this guide, we will be covering a few important things to consider when purchasing desk lamps and a list of the top 10 table/study desk lamps that you can consider for purchasing.
Things to Consider When Purchasing a Table or Study Desk Lamp
Here are a few essentials things that you should consider when looking for the perfect study desk or table lamp for yourself.
Consider the Size of the Lamp
One of the most important things to consider is the size of your desk lamp. Now, the size of your lamp depends majorly on the size of your desk. If you have a large desk, then you would need a bigger lamp whereas a smaller desk will require a small and sleeker lamp.
Also Read : 10 Best Pedestal Fans in India
Another thing that you can do is measure the height of your PC or laptop and use that measurement to find an ideal desk lamp size.
Consider the Types of Lamps
The next thing that you need to consider is that there are different types of desk lamps available in the market for different uses. There is adjustable arm lamp, gooseneck lamp, clip-on lamp, and banker lamp.
An adjustable arm lamp is perfect for large desks as it allows you to adjust the light source by moving it closer or farther away from you. On the other hand, a gooseneck lamp has high neck flexibility and can be rotated and moved in different positions to throw some light.
Also Read : 10 Best 1.5 Ton Split Air Conditioners
Then, there is a clip-on lamp that is extremely handy and convenient to use. As the name suggests, the lamp comes with a clip-on that allows you to attach it to any workspace with great ease. So, if you are short on space, this could be a lifesaver for you and it can be easily stored in a drawer after use as well.
Finally, there is the banker lamp that is a classic lamp type. This lamp comes with a green glass lampshade, a pull chain switch, and it is supported by a single brass stand.
10 Table/Desk Night Study Lamps in India
1. Philips 61013 Air LED Desklight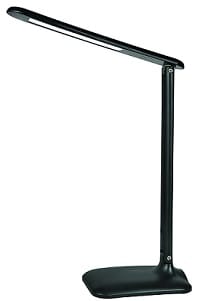 Philips 61013 Air LED Desklight is a flexible and compact desk lamp that can be easily folded as well.
As a result, this is a good product for home, office, and to use while traveling as well.
The LED light bulb in this desk lamp produces 250 lumens of light in a cool shade.
Also Read : 10 Best Pedestal Fans in India
Since it has a color temperature of 6500K, it resembles the natural daylight and makes it extremely easy to read or work under this lamp.
Apart from the features, this desk lamp also has a modern design so it will look great in your room.
And since it can be folded and stored, you can save space as well so it is perfect for use at small tables and desks as well.
Also Read : 10 Best Smart LED Bulbs in India
Finally, since it is made out of plastic, it is lightweight and easy to travel around with this desk lamp.
---
2. Wipro Garnet LED Table lamp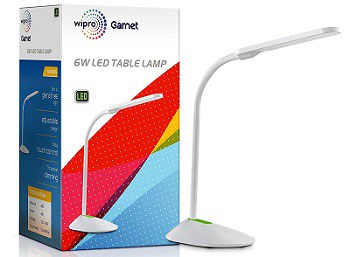 A luxurious desk lamp from Wipro that has the ability to change light color is the Wipro Garnet LED Table Lamp.
So, you can easily change the color range from warm to neutral to cool with the help of a single touch button.
That's not all, you also have the option of dimming the light by 3 levels to match your mood and use.
Also Read : Best Handheld Garment Steamers
This desk lamp features a flexible gooseneck so you can adjust it to any convenient angle for yourself.
Also, it provides soft, glare-free light and doesn't take up much space so it can be used while traveling as well.
Sure, it is slightly expensive but its features more than make up for the high cost.
---
3. DP Portable 30429 Rechargeable LED Emergency Light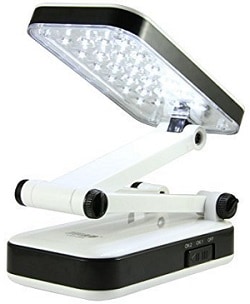 Another perfect desk light for frequent travelers, DP Portable 30429 LED Emergency Light is a small, lightweight, and easily foldable desk lamp.
Since this is a battery-operated desk lamp, you can easily recharge it and the plastic body of the lamp makes it lightweight.
One of the best things about this lamp is that it comes with a variable brightness setting so you can choose the appropriate brightness for your lamp.
Also Read : 10 Best Table Fans For Home & Office in India
Since the battery is stored at the base of the lamp, the base is heavy and offers stability to the desk lamp.
And the foldable design ensures that this product takes minimum space so you can easily store and carry it with you as well.
Most importantly, it is one of the most cost-effective desk lamps that can be used at home and while traveling.
---
4. Wooum Rechargeable LED Desk Lamp
Wooum rechargeable LED desk lamp is another great USB-based desk lamp that can be charged from a laptop, power bank, or an electrical outlet.
This desk lamp features a touch button that can turn on/off the lamp and can even dim or brighten the light.
Also Read : Earphones Under Rs 200
It offers 3 dimming modes and provides night light that offers eye protection as well.
And the neutral color produced from this lamp is perfect for studying, reading, office work, and so on.
The lamp also features a silicone hose that allows you to adjust the angle for the best results.
---
5. Power Plus Base E125 Swan Lamp
An extremely flexible LED desk lamp, Power Plus Base E125 Swan Lamp can be adjusted at any required position or angle for convenient use.
It also comes with a touch-sensitive button that can be used to power on or turn off the lamp along with adjusting the brightness of the desk lamp.
Also Read : Best Wireless Earphones Under Rs. 1000
And one of the best features of this desk lamp is that it retains the last brightness settings whenever you turn on the desk lamp again.
This desk lamp features dual power supply as it can be powered with AAA batteries and using the USB cable as well.
The only drawback is that since it has just 60 lumens, it doesn't offer a good light source and can be used for limited tasks only.
---
6. Smartone Rocklight Table Lamp
Smartone Rocklight Table Lamp is a rechargeable LED light that comes with another free USB portable light that can be successfully charged with a laptop, a power bank, and an electrical outlet.
This desk lamp is perfect for students and book lovers who need to read at the dead of the night.
Also Read : 10 Best Earphones Under Rs. 2000
Both the desk lamps are lightweight and extremely portable and the free USB lamp barely takes 2 hours to get completely recharged.
The table lamp also offers 3 dimming options with the touch button and both the lamps are perfect for using for longer durations as they don't emit blue light.
So, if you want two amazing desk lamps at the price of one, then this is the product for you.
---
7. Lovelyhome Clip LED Reading Light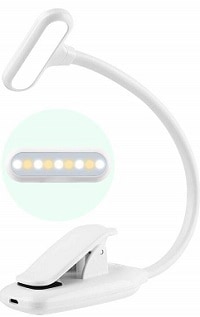 A clip-based lamp, Lovelyhome Clip LED Reading light is perfect for book lovers and students as it allows you to read or study at nighttime as well.
This lamp can easily be fixed to a book, laptop, desk, etc. due to the clip design and is quite lightweight as well.
Plus, it is a battery-operated lamp that can be recharged with the help of the USB port available.
Also Read : Bluetooth Earphones Under 2000 in India
It takes barely 2 hours to recharge and works for 40 hours after that and the overcharge protection feature prevents overcharging making this energy efficient.
With the help of the touch-based power button, you can manage the brightness of the lamp and can choose cool, warm, or neutral light at wish.
---
8. Wipro Deco Table Lamp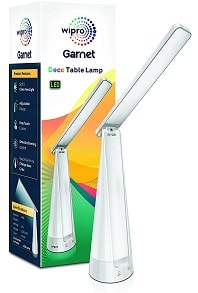 Wipro Deco Table Lamp has a smart, adjustable design and can be moved in 360 degrees direction to focus the light on your desired area.
You also have the option to adjust the brightness of the light according to your needs and have 3 dimming options available.
Also Read : 10 Best Over-Ear Headphones Under Rs 2,000
Moreover, the light produced from this lamp is soft, non-flickering, and eye-friendly so you can enjoy what you are doing while using the lamp. And the touch button allows you to easily manage the brightness and the color of the light produced.
---
9. Bulfyss Rrimin Clip-On Desk Lamp
If you have a smaller surface area to keep your desk lamp and are looking to save some space, then Bulfyss Rrimin Clip-On Desk Lamp is the perfect product for you.
This desk lamp has a flexible design and comes with a flexible hose that can be adjusted at different positions and angles to use conveniently. It is USB powered as well so you can take it with you while traveling too.
Also Read : Best Earphones Under Rs 8000 in India
The LED light bulb in this lamp produces a warm light that is perfect for reading or using the laptop at night.
And the clip-on design makes it easier to attach the desk lamp to your desk, keyboard, or screen, taking up minimum area in your workspace.
The only issue with this desk lamp is that the lamp hose is not strong and can end up sagging a little. However, this desk lamp is perfect for people who are traveling frequently.
---
10. SaleON Rechargeable Led Desk lamp
Perfect for bachelors and students with limited living space, SaleON LED Desk Lamp is a small, compact, and lightweight desk lamp.
This is a rechargeable desk lamp that has a USB port to charge the lamp and takes around 3 hours to get fully charged.
Also Read : 10 Best Earphones Under Rs 10000
That's not all, you can use the desk lamp while charging it as well so you don't have to wait for it to get fully charged.
This desk lamp features a flexible stem that allows it to bend in any direction while the light dimmer option gives you to choose the desired light brightness.
The touch-based button allows you to manage the light dimness and switch on/off the lamp as well.
Choose the Lighting Type
Once you have decided on the type of desk lamp, it is time you choose what kind of light source will it have. You should always choose a light bulb that will help you concentrate on your work without harming your eyes.
LED and halogen light bulbs offer the clearest and brightest light. However, halogen light bulbs can become very hot and might not be suitable for long periods of usage.
Also Read : 10 Best In Ear Headphones Under Rs.3000
Then, there are Fluorescent light bulbs (CFL) that offer a high-quality, natural light but they cannot be dimmed. Also, since it uses mercury vapor, one has to be quite careful while throwing away the bulb as it can be dangerous.
Finally, there are Incandescent light bulbs that provide you better color definition and uniform source of light but they have a short lifespan, of just 1000 hours.
Consider the Brightness and Light Power
Another thing you need to consider is the amount of light produced by the light source. This is known as lumens. Avoid purchasing a desk lamp based on the watts and instead, look for the lumens rating for the lamp.
Also Read : 10 Best Smart LED Bulbs in India
A lamp with more lumens will provide more light than a lamp with fewer lumens, regardless of their wattage rating.
Check the Power Supply Type
You also need to determine the power supply of your table lamp and choose accordingly. You can select a USB powered desk light that can be plugged into an electrical socket or into your laptop/PC to produce light.
Although the light power will differ, depending on whether you use an AC adaptor or an electrical outlet. However, this is a handy option for those who travel a lot and need an easily portable desk lamp.