24 Amazing Movies That You Probably Haven't Seen Yet
 1 

 Midnight in Paris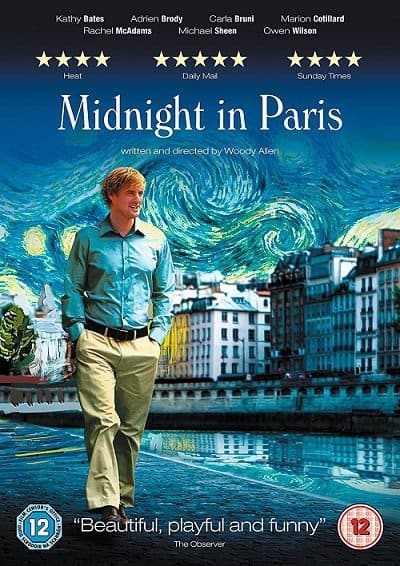 "Midnight in Paris" is a beautiful display of what movie magic can truly create, a sense of wonder long gone from contemporary cinema.
This is a movie that entertains, teaches, and wears each one of its elements, like Paris bewitches us with every light, every facade, and every heartbeat of its music.
That said, Allen's rendition of those ideas feels fresh this time. Midnight in Paris is a sweet, fun romp through the art world of France.
This light comedy may not have some of the heavier messages about adultery and art that previous Allen films have had, but Midnight in Paris is, nonetheless, an enjoyable exercise in allusion to the Lost Generation and artists of the 1920s.
"Do you think it's possible to love two women at the same time"? asks our protagonist Gil Prender to a tour guide discussed Auguste Rodin's love for his mistress and his wife.
Like that's the first time we've heard that question in a Woody Allen movie. Infidelity, gorgeous women, and neuroticism are some of Allen's favourite motifs, so it's really not too much of a surprise that they all appear in Midnight in Paris.
It's a fun-filling movie. Must watch with you family and friends.
Also Read:
---
 2 

Let the Right One In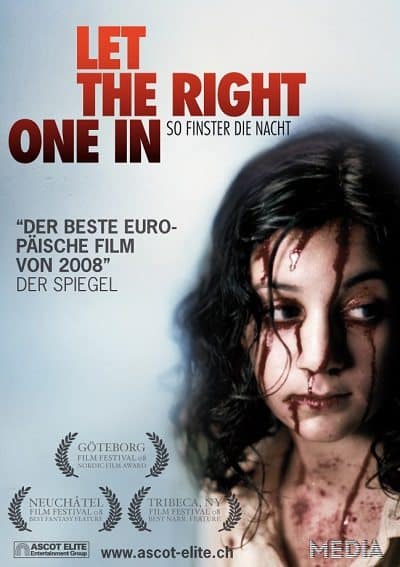 "Let the Right One In" has a storyline which, although it reveals some secrets early on, is best left as a surprise. So this will necessarily be one of those rare reviews in which the less said about the plot the better.
12-year-olds Oskar (Kare Hedebrant) and Eli (Lina Leandersson) meet one snowy afternoon at a jungle gym in the courtyard of Oskar's housing complex outside Stockholm. Their young, tender attraction for each other is apparent right from the start and we think we know where their relationship is headed.
But there is a deep dark secret to be discovered here and when it's revealed the audience is both repulsed and curiously fascinated at the same time, in a similar fashion as when yellow crime scene tape brings us closer rather than warning us away. Suspense is not over yet. Go and watch this movie.
---
 3 

The Man From Earth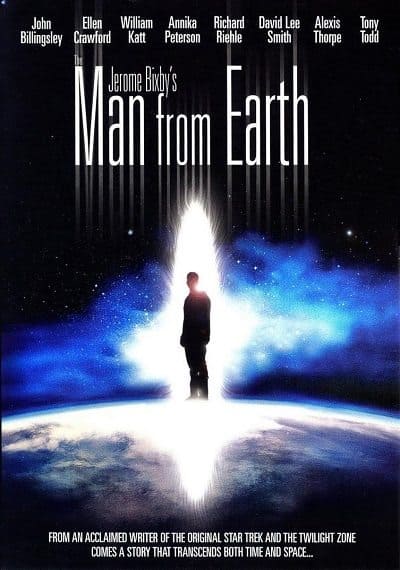 This movie "The Man From Earth" represents the true art of science fiction. That said it is probably not for everyone. If you don't want yours believes challenged, you should probably stay away from this one.
The film is all about the characters and their dialog, it is what makes or breaks the film. Every character in this movie performed very well. If not the "best" science-fiction film ever made, Jerome Bixby's Man from Earth is certainly one of the most thoughtful.
This movie reminds me of Close Encounters of the Third Kind. Not with spaceships and effects, but with intelligent characters and exceptional dialogue.
---
 4 

Waking Life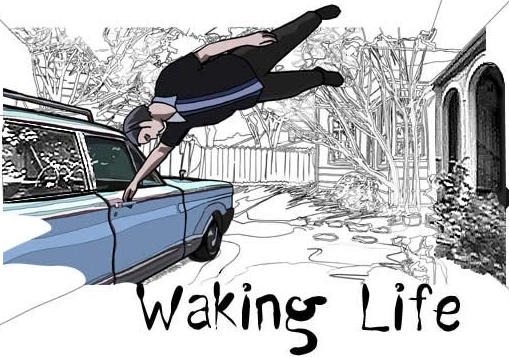 Waking Life is an amazing, visual, and completely original work of art from filmmaker Richard Link later. It is not only one of the very best films to be released in 2001, but also one of the most thought provoking films.
Watching it is an amazing experience in itself. Its visual style is stunning. Digital animation is put over live action actors in a style that every scene is like some kind of a post-modern painting that you would see in an art gallery.
The story follows a young man by the name of Wiley Wiggins and his encounters with many interesting people. He listens to their thoughts and theories, but doesn't really understand why. He is in an on-going lucid dream that takes him to odd, but fascinating encounters with people and places.
You will absolutely love this film. It is one of those rare films that takes you away from your seat and into a world that you are placed right in the middle of and when it ends, the only thing you can say is, `Wow!'
---
 5 

Closer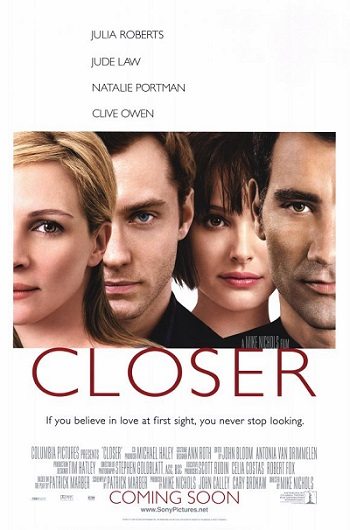 Have you ever seen a human heart? It looks like a fist wrapped in blood…. Only in the film Closer can the universal symbol for love and devotion be brutally manipulated into a tool, one whose sole purpose is to express men's vile and barbaric proclivities.
But this isn't your ordinary love story, in fact when viewing Mike Nichols newest drama, you can throw everything you thought you knew about modern relationships out the window. In Closer, your best bet is to expect the unexpected.
If you are searching for a traditional romance of sorts, this isn't the film to turn to. If you are searching for a film to bolster up your Holiday spirit in anticipation for the Christmas season, then have a Jimmy Stewart marathon.
But, if you are open to the idea of seeing a film thick with hostility, brutal honesty and dizzying intellect… then this could be a film that could satisfy your expectations. Let it be said, that at the very least this is a film to be marvelled.
It is such a well-crafted production, that you can't help but appreciate the obvious talent that went in to making this movie look as glossy and stylish as it does.
The story basically revolves around four characters and the ensuing relations between them. It is a very slow moving film driven entirely by the intelligent, cynical and piercing dialogue that spills out of the character's mouths.
---
 6 

The Diving Bell and the Butterfly (Le Scaphendre et le Papillon)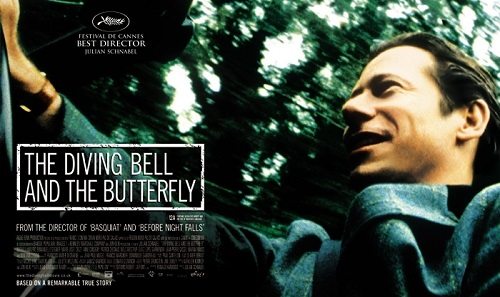 THE DIVING BELL AND THE BUTTERFLY is a jewel of a French film with a story that impacts an audience with an appreciation for life (the butterfly) and for the despair of what may happen if a tragedy might befall you (the diving bell) with the beautiful landscapes of France as a backdrop.
The lighting and photography enhance the film, and the faces of the French women are wondrous to behold as the story unfolds on the screen. This film deserves all the accolades that it has received in a story which is spellbinding and emotional.
The cast is superb, the scenes that depict the father and son are very real and show the importance of acceptance of father for son, which is carried down to his own children, and the final scenes leave you with a great respect for the writer and his story. Merci beau coup, Ronald Harwood, for delivering this story to the screen.
---
 7 

Sin Nombre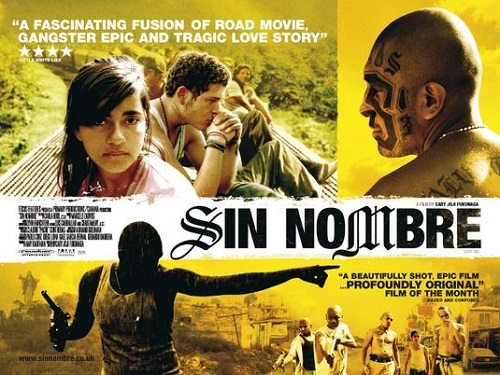 It reflects a life so mean, so violent, that the lawless Tijuana is a Nirvana compared to their home slums of Honduras and Guatemala. So first they come to Mexico, then ride the trains to the ultimate goal, America. In doing so they run a gauntlet of dangers that could only be conveyed in a dramatization such as this.
Empathy, compassion to all in our society, is a luxury for those born into a world where such emotion is the norm. Even in America's imperfect society, the rule of law predominates and the random violence is still newsworthy.
The people in this film, especially the gang members had no such choice. These gangs provide a circle of affection and caring, but it is defined by the contrast between those who are their "homies" and the outsiders, the other gangs, for whom cruelty has no limits.
---
 8 SNATCH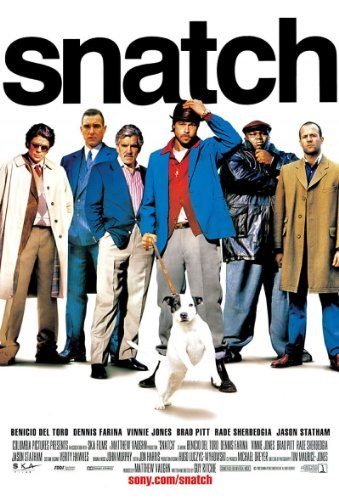 "Snatch" is fantastic; and not least because it demonstrates emphatically that the British movie industry is capable of rivalling even the best of what Hollywood can offer.
"Lock, Stock and Two Smoking Barrels" was one of the funniest movies released in recent years, and "Snatch" takes everything that "Lock, Stock…" did so well and does it even better.
Back are the cleverly intertwined plotlines, the hilarious one-liners, and the simultaneously intimidating and comedic London villains. So is the skilful editing, and often original cinematographic style. This time however, it all looks somewhat slicker and better funded, and alongside the British regulars are the odd American celebrity (Brad Pitt, Benicia Del Toro).
Everyone in the film puts in an excellent performance, but Pitt stands out as a charismatic and near-incomprehensible Gypsy boxer. Want to know more about this movie, you need to watch this movie.
Like Ritchie's earlier film, this one takes a little while to find its feet, but once it does the pace doesn't slacken until the finale. One scene featuring three guys and a squeaking dog in a stolen car stands out particularly, and left the audience at my local cinema almost weeping as punchline after punchline was uttered.
---
 9 

Spirited Away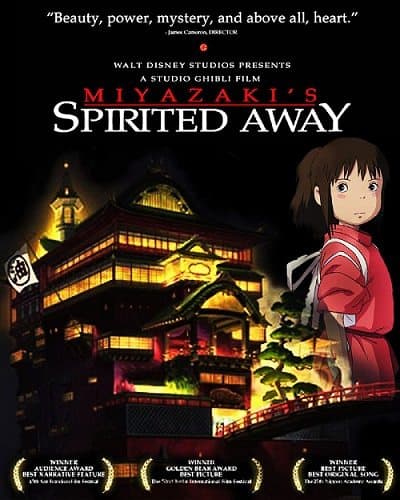 'Spirited Away' is a simply a modern masterpiece, easily one of the Top 10 films of the new millennium. It works on a multitude of levels; a social commentary on Japan, an homage to ancient Japanese/Russian mythology, a moral film for both children and adults.
But most importantly, it is a simple story brilliantly told by a great filmmaker who appears to be at the top of his game. 'Spirited Away' works much like a relaxing journey. Pop in the DVD; leave this world for two hours and when you will be almost certainly enriched and ready to take the trip again.
This is a film about boxing, diamonds, gangsters pretending to be Jews, a fat getaway driver, a rather vicious dog and man eating pigs. Guy Richie has followed the success of Lock, Stock with an equally stunning and ambitious return just as Tarantino did with Pulp Fiction.
The characters are so colourful they jump right off the screen, the dialogue so snappy you want to learn it by heart and the acting simply wonderful.
Vinnie Jones reveals he can act and Brad Pitt shows that he is far more than a pretty face and could well win a best supporting actor Oscar for his role as Irish Mickey.
Must watch this movie!!!
---
 10 

The Descent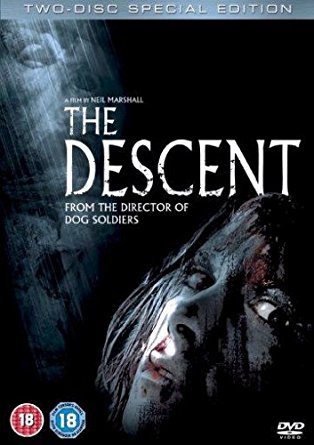 The descent is purely terrifying. It will provide you with an experience that relates entirely to those of the characters on screen. Each one is trapped, isolated and alone. In that theatre, you will understand the fear of having no escape.
The film, like it's big brother 'Dog Soldiers', takes British horror to it's deserved glory. Unlike such films as 'Creep', which was a complete mess, The Descent is a chilling experience that places believable characters into a situation that is strangely real, despite the obvious fiction.
After a quarter of the film has passed, you pray for the character's escape as, in a way, you will also be saved from the mental onslaught that drives into your mind throughout.
---
 1
1 
Once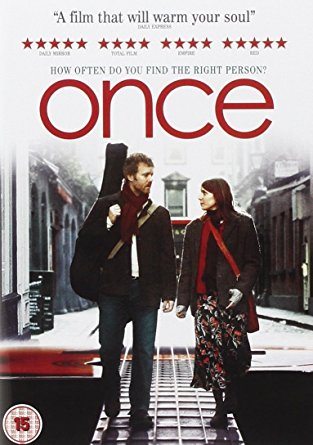 This is a wonderful, fun and touching movie. At a screening at Sundance 2007 the director described it as a musical, and it really is. The primary actors are musicians and their songs tie the movie together and tie you to them.
Although the primary cast aren't actors as a first profession, they are very natural together and the film flows very well because of it. Everyone involved in this film has a great passion for music, and it is very infectious. It is one of the few films I have seen in 7 years at Sundance that received a standing ovation.
From the Sundance film guide: "A Dublin busker, who ekes out a living playing guitar and repairing vacuum cleaners for his dad's shop, meets a young Czech immigrant who sells roses on the same street.
She likes his song, and what's more…she has a broken vacuum cleaner! They soon find themselves playing music together in a nearby music store (since she can't afford a piano, the owner lets her play his floor models). Over the course of a week, they form a musical rapport and, newly inspired, decide to record an album.
---
 12 

Oh Brother, Where Art Thou?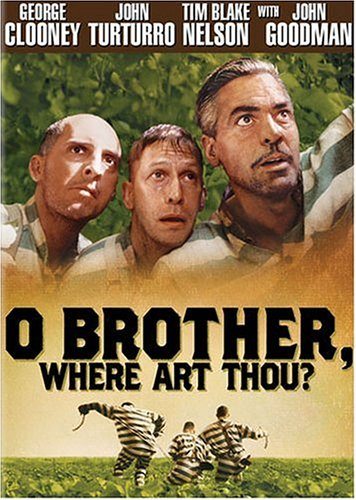 The Coen Brothers have truly outdone themselves in this wonderful saga of three escaped convicts. Though it is based on "The Odyssey," the ancient work of Homer, you do not have to have read "The Odyssey" to be able to follow the story.
The brothers Coen have woven a tapestry of celluloid and aural delights! The soundtrack is intrinsic to the film, indeed it is as though the soundtrack is the product and the film is wrapping paper.
Each character is wonderfully exploited and harkens back to the days of old when films were rich with character actors whose very appearance in the film adds richness, texture and authenticity.
George Clooney is magnificent as the grease haired Everett Ulysses McGill, a honest con on the run whose pompous linguistics and vocabulary are comical and endearing. O Brother, Where Art Thou is easily the best Coen film to date as well as Clooney's best effort.
Clooney is good enough to warrant a best actor nomination as is Tim Blake Nelson's portrayal of the dim-witted friend Delmar, while the film itself is deserving of a Best film nod.
---
 13 

Punch – Drunk Love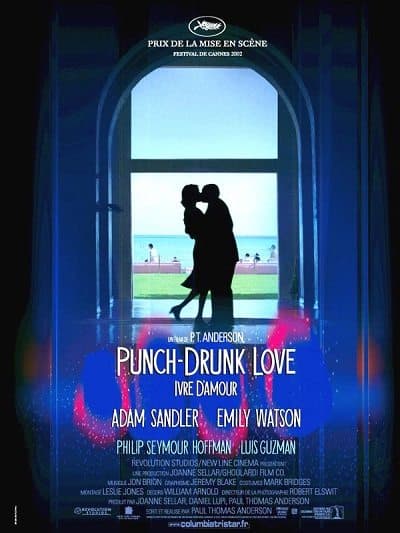 This is a wonderfully directed film. There isn't an extraneous moment. The visual style and pacing are particularly great.
There's an interesting subtext in the film about communication – enormous background noise while characters are on the phone, Barry Egan's sisters' voices create this wall of noise (all voices making fun of him), telephones figure predominantly, the opening scene is completely bereft of background noise or music.
There are a lot of interesting things to consider when it comes to the theme of communication and how sound is handled in the film.
---
 14 

Boogie Nights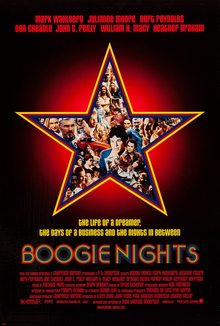 The main themes in Boogie Nights are the obvious ones relating to a film of this genre; pornography, drugs, sex, betrayal, violence and music. Boogie Nights deals with the pornography theme with some control.
It is not overplayed and the sex scenes are surprisingly minimal, but mentally explicit when they take place on screen.
Throughout the film cocaine is abused enormously, and the film's setting, Los Angeles 1977-1983, reflects the popularity of the drug at that time, which the film captures perfectly.
However, Boogie Nights does not promote cocaine, as there are some scenes involving addiction and overdoses. For example, at Jack's party, they find a girl who has recently, and graphically, overdosed; blood pours from her nose and she begins an unconscious fit.
The film, before this scenes, has been fairly upbeat and comic, but from this point it foreshadows the darkness that it will occur.
The music scenes are executed brilliantly, from superbly-staged disco scenes to a down-and-out Dirk singing terribly in his new music career. The soundtrack too is excellent, featuring tunes from The Emotions, ELO, The Beach Boys and the unforgettable Sound Experience.
---
 15 

The Fountain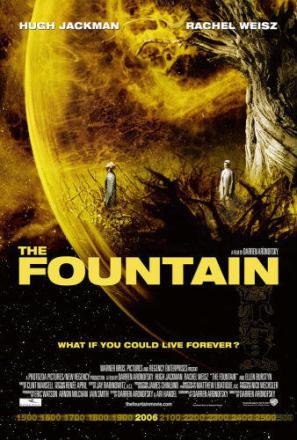 Fantastic in every sense. This film is indeed poetry, and a beautiful testament to love and the cycle of life, and the impermanence of death.
The musical score by Clint Mansell is absolutely, completely and utterly gorgeous. It's minimalist (serves as quite a polar opposite to the profoundness of the film itself) but extremely intense.
It is a score that perfectly emulates the feeling, emotions and mood of the film. It's the perfect type of score, and the melody itself is extremely appealing to the ear, with extensive and almost exclusive use of string instruments.
Overall, this movie is layered in intriguing elements.
---
 16 

The Closet (Le Placard)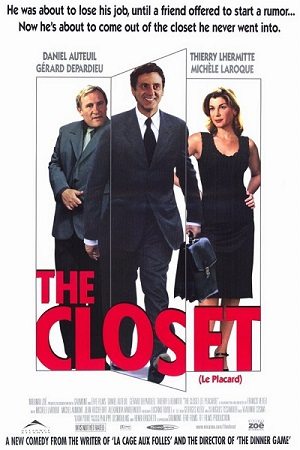 This is a delightful character study and social commentary masquerading as a broad farce. It is very, very funny. They avoid cheap "queer" jokes and cheap "homophobe" jokes even as they bluntly portray attitudes about homosexuals.
Even though they use very real language to illustrate the attitudes. There is some great acting throughout. Each of the characters is a study in itself.
The homophobic character (Depardieu) emerges as intriguing and sympathetic, where it could have been two dimensional. The relationship between Auteil and Aumont almost brought tears in the eyes of audience.
The transformation of the lead character is believable, despite the improbable context that the film creates. The final scene with his ex-wife is powerful.
---
 17 

Mystery Men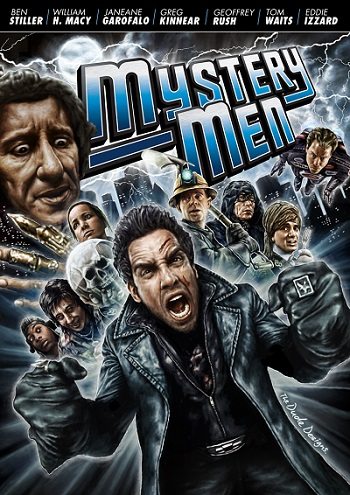 This movie is a lot of fun. What makes it great especially are two things: one is the straightforward way the characters embrace the stereotypes, with discussions of their costumes and superpowers.
There's an endearing earnestness to the parody that's very appealing; the second is basic sweetness of the characters and the quality of the chemistry.
Claire Forlani deserves particular note as the object of Mr. Furious's desires. There's a boatload of talent here.
Mystery Men was definitely not a high-effects, tension-filled action flick, it was a comedy. And on that basis, it was a success. It had everyone in the small theatre laughing, and got applause and laughs right through the final scene. Stiller and Garofolo are hilarious together, as always, and Azaria adds just the right touch of craziness.
If you haven't seen this movie yet? It's the right time to watch this fantastic movie.
---
 18 

Rubber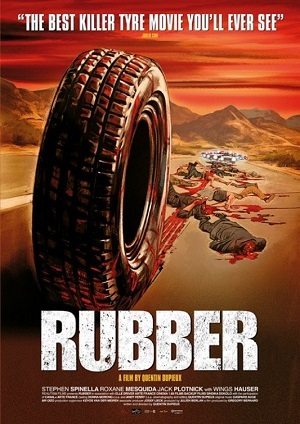 Rubber is a "horror" film about a black rubber car tyre that kills people by making their heads explode.
Rubber is a "horror" film about a black rubber car tyre that kills people by making their heads explode. With telepathy. And when I say "horror" I do of course mean "side-splittingly funny, pitch black, absurdist comedy."
The opening scenes of Rubber are a deliberate assault on the separation between the audience and the film. Normally the opening sequence of a film seeks to bring you into the world of the film; the audience is encouraged to step through the silver screen and forget about the real world for the duration of the story. Rubber perverts these expectations.
The film comes crashing through the screen, into the world of the audience. It reminds us at every turn that we are watching a film, and indeed that the very act of our watching is what makes the film happen.
If you love horror movie, you must watch this movie because you won't find better movie than this.
---
 19 

Kung Fu Hustle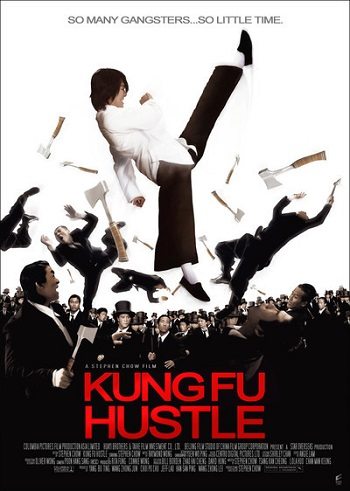 Kung Fu Hustle was one of the most visually imaginative and unique movie.
Like most Stephen Chow films while the concept is simple to describe, the execution is far more complex. Kung Fu Hustle tells the story of Sing, a wannabe gangster attempting to join the famous Axe Gang (who during some of the early scenes seem to spoof Gangs of New York – look for a firework visual quote).
A legion of black suits responsible for a series of gruesome murders and complete dominance over a 1940s Hong Kong. Sing's reasons for wanting to join the gang are simple: bad guys are cooler.
His arrogance causes a war to break out between a poor housing complex that secretly holds a number hidden talents and the murderous axe gang.
What starts as a relatively small skirmish (and I mean relatively) explodes into a war of Miike's "Dead or Alive" proportions.
---
 20 

Magnolia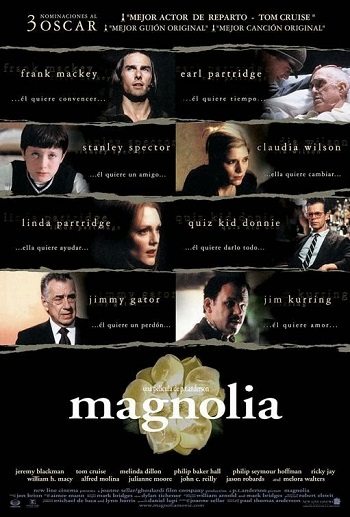 Magnolia is a film of epic proportions. A film that is our generation's. It's about real life, real people and real coincidences. These things happen, this is happening as Stanley Spector states.
Magnolia is as perfect a film as you will see these days. P.T.'s camera acts as the protagonist, and the ensemble cast is one of the most solid in film history. Told in 24 hours, set up by a remarkable prologue and finished with a beautiful epilogue, Magnolia finds beauty in the darkness of life.
In the redemption of the filth life sometimes brings us. It shows us that we are all connected through pain and suffering and sinning and yet, it does not give us this pessimistic view.
Certain films cannot be described, they must be viewed and everyone should view this masterpiece!!!
Did you miss this movie? Watch now and have fun.
---
 21 

12 Angry Men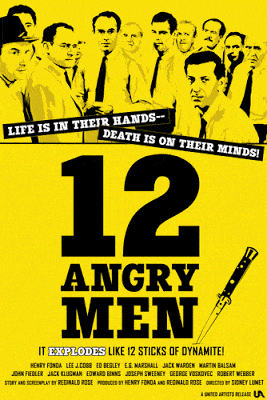 12 Angry Men is an outstanding film. It is proof that, for a film to be great, it does not need extensive scenery, elaborate costumes or expensive special effects – just superlative acting.
The twelve angry men are the twelve jurors of a murder case. An eighteen-year-old boy from a slum background is accused of stabbing his father to death and faces the electric chair if convicted. Eleven of the men believe the boy to be guilty; only one (Henry Fonda) has doubts. Can he manage to convince the others?
The court case provides only a framework, however. The film's greatness lies in its bringing-together of twelve different men who have never met each other before and the interaction of their characters as each man brings his own background and life experiences into the case.
The twelve angry men are the twelve jurors of a murder case. An eighteen-year-old boy from a slum background is accused of stabbing his father to death and faces the electric chair if convicted. Eleven of the men believe the boy to be guilty; only one (Henry Fonda) has doubts. Can he manage to convince the others?
Watch this movie to know the suspense…
---
 22 

Enter the Void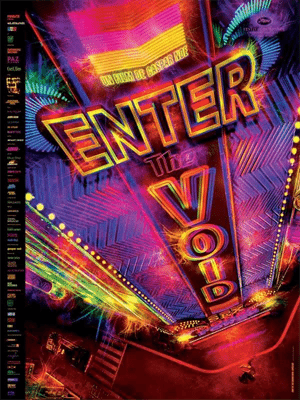 Enter The void is a movie that every one would not like. This movie did start off slow. But you start getting more into the movie after ever scene. Every scene has you wondering what's going happen next.
The story in the movie concerns a brother and sister (Oscar and Linda) who have a childhood trauma and end up moving to Tokyo in their late teens where they become involved in a heaving underworld.
Tokyo's nasty underside, seen primarily through the eyes of Oscar, a heavy drug user, whose sister Linda is a stripper. Oscar also has flashbacks to his childhood when trauma upends the siblings. Want to know more? Go, watch and have fun with your family and friends.
---
 23 

Cashback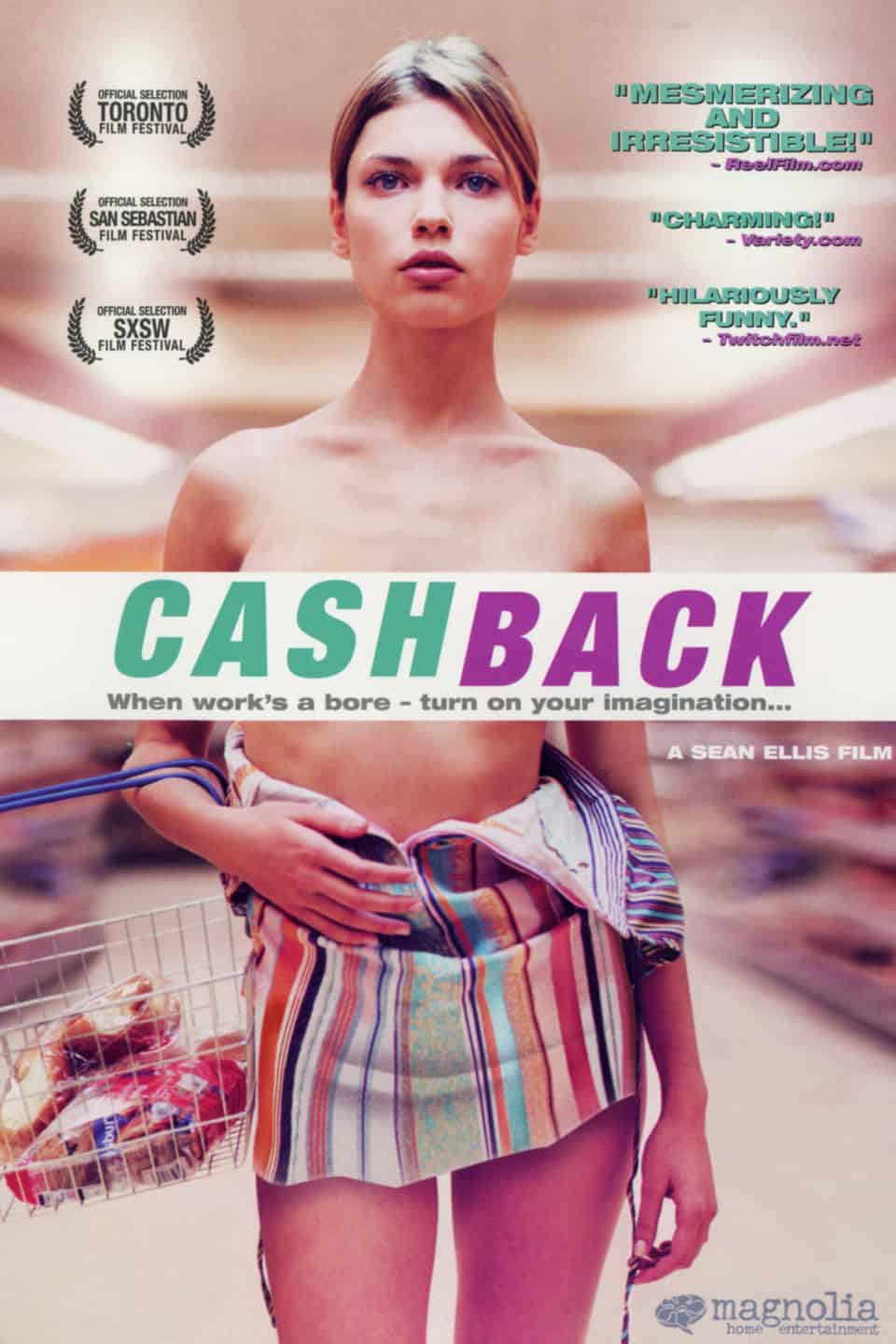 What an intense and creative film this is and what a treat it was to have the charming Sean Bigger staff present it at the Stockholm International Film Festival.
He is proud of 'Cashback', and rightly so – for you will be pressed to find a prettier fantasy or funnier characters in a film this yea
'Cashback' is director Sean Ellis' debut feature and he recreates the atmosphere of his same-titled short film with deft strokes, breathing life into a fantasy movie masking as a romantic comedy.
---
 24 

The Big Lebowski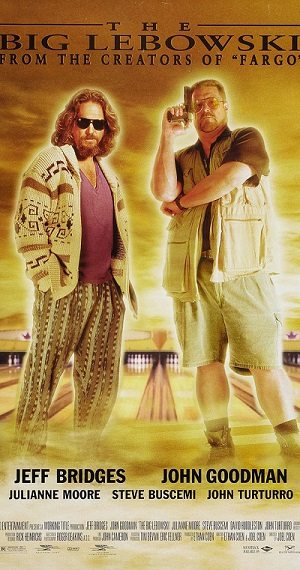 The Big Lebowski is the type of movie that is so funny, and so clever, you want nothing more but to meet the Coen brothers, congratulate them personally for their unique talent, and get inside their heads and find out what makes these two geniuses "tick".
The main characters are Jeff Bridges (who plays such broad roles like The Muse, The Contender, and Sea Biscuit), John Goodman (who should have won an oscar for best supporting actor for his character, Walter Sobchak) Juliane Moore (Maude Lebowski) and Steve Buscemi (who is unique in every Coen Brother movie).
The story is actually kind of simple. Want to more about this movie?
---
---
Also Read: