The Ant Esports MK1000 is one of the best budget mechanical keyboards available in India right now. In the review we will be talking about its build quality, switches, keys, lighting effects and other features it offers.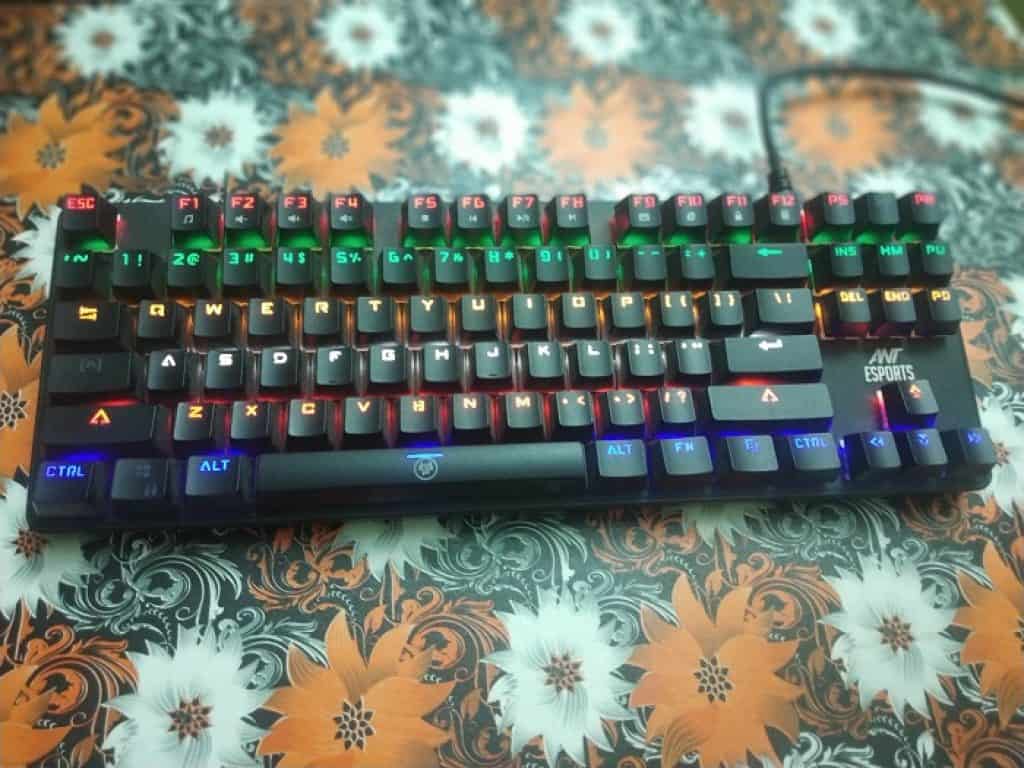 There are 3 types of modern keyboards available namely membrane, chicklet and lastly Mechanical. Both membrane and chicklet ones provide little to no physical feedback to the user. This can get tiresome for someone who has to type a lot and here comes the Mechanical keyboards. Mechanical keyboards work on a switch system underneath each key which contains a spring. As such they provide great physical feedback and can be customized as well. Mechanical keyboards are also for those who are struggling to type fast and are unsatisfied with the flat gaming experience they're getting. Once you get used to typing on a mechanical keyboard, you'll start noticing the actual press of each key. You'll also have a good understanding of where your fingers are resting and whether a key is pressed or not.
Mechanical keyboards are also very popular for gaming as they're more tactile, durable and stronger than their non-mechanical counterparts. They also last longer, more precise and comfortable. But the biggest point is that mechanical keyboards are highly customizable which can be used to create lots of effects and you can fit them into your setup very easily.
But there are a lot of options in this area and all of them may seem very overwhelming. Also, if you're a newcomer and are looking for a good mechanical keyboard then your options are limited since great quality keys don't come cheap. However, over the past few years some brands are making budgets keyboards which are surprisingly also good and durable. One such brand is Ant Esports and today we're reviewing their MK1000 numpad-less gaming keyboard which not only performs great but also doesn't put a hole in your pocket.
Also Read: Best Gaming Keyboards Under 2000
---
Build Quality
The whole keyboard is made up of plastic but even then, it feels durable and strong. Thankfully the plastic used is really strong hence there isn't any flex in the keyboard. Also, one advantage of this keyboard is its weight. It weighs 820g which is quite less. This alone makes this very portable if you need to feel the need to carry your setup around. The only nitpick is that the font of the keycaps aren't easily visible when the backlit is off so we recommend keeping it on even if at the lowest brightness. Also, the rough grain plastic used is quite attractive to dust and oily hands. Hence it is recommended to clean it regularly to maintain its look.
The keyboard has a fixed braided cable which is quite sturdy and durable. The back of the keyboard also has retractable stands which are always welcome for a keyboard at this price. All in all, the build quality of this product is solid for the price you're paying here.
Also Read : Best Gaming Headphones Under 5000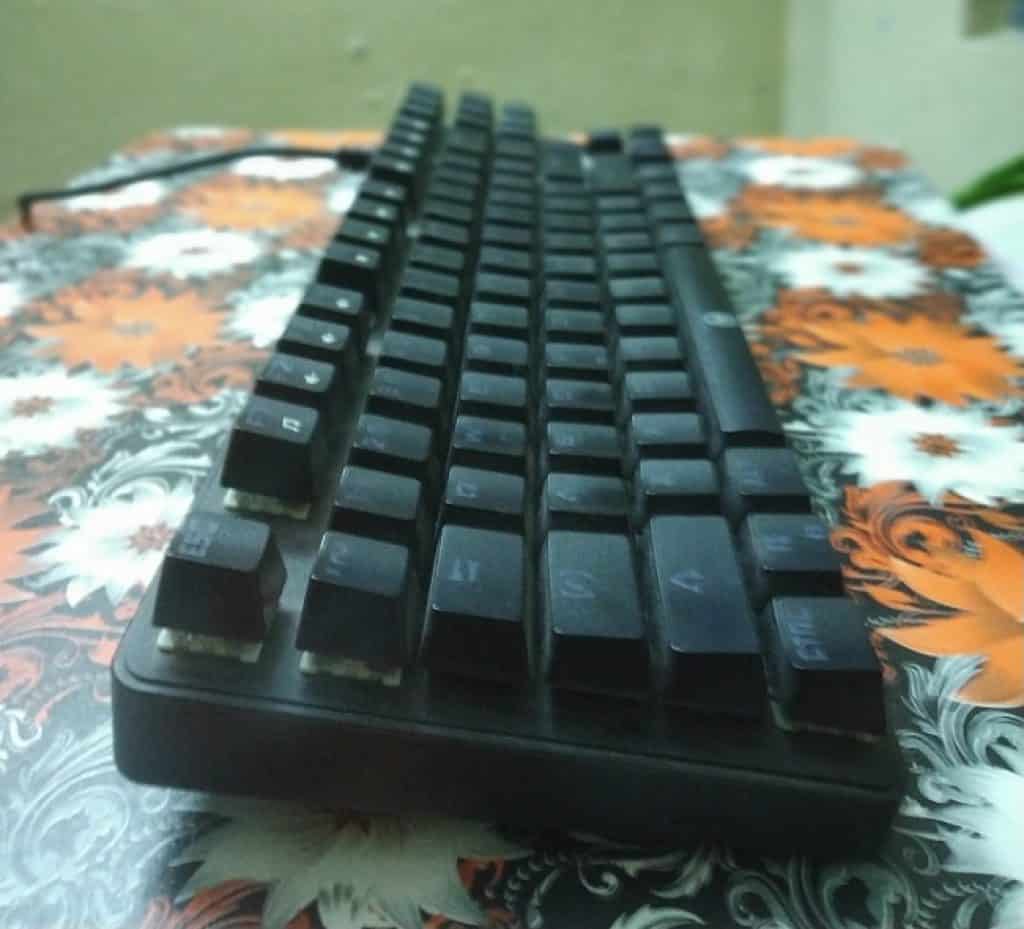 Switches and Keycaps
The keyboard used are made of double shot plastic which enhances the lifespan of the printed letters on the keycaps. This keyboard uses Outemu Blue switches for its keystrokes and they are based on Cherry mx blue switches which are found on more expensive keyboards. These are very tactile and loud. Keystrokes are registered with a satisfying clicky sound which is great for typing and gaming. The only obvious annoyance is that these noises may be irritating for someone who is living with you or your family members. Otherwise, they get your job done very well and the tactile feedback is also excellent. The keys are also anti-ghosting and have full N-Key rollover so simultaneously pressing multiple keys will have no problem here. The keycaps are sturdy but their finish isn't that great.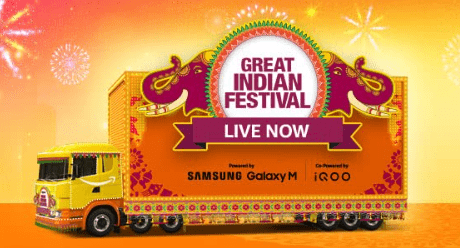 Another thing to note is that this keyboard doesn't feature a numpad which might sway some hardcore typist away who cannot live without it but for regular people and gamers this shouldn't be much of a problem.
Also Read : Best Mechanical Gaming Keyboards Under 10,000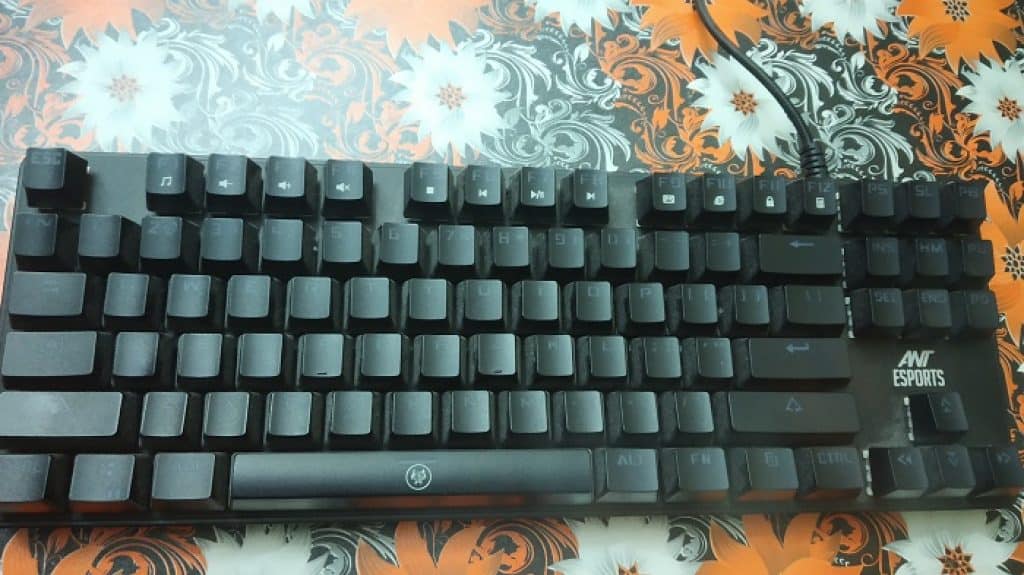 Lighting and RGB
This keyboard does feature some sort of RGB but it's more of a backlit LED with visual effects than an actual RGB customizable experience. All keys are backlit but each row and key feature the same color and cannot be changed. The backlight LED is however customizable in many types so you may want to check out which suits you most. It is done by pressing FN+INS. You also have selection for the backlight brightness which can be very useful in situations where you might feel the lighting is too much. In technical terms it features 6 color backlight ,9 preset lighting effects and 2 slots for assignable lighting effects. Overall, it is OK in this aspect. If you prefer a minimalistic look then you might like it more.
Also Read : Best Gaming Keyboards in India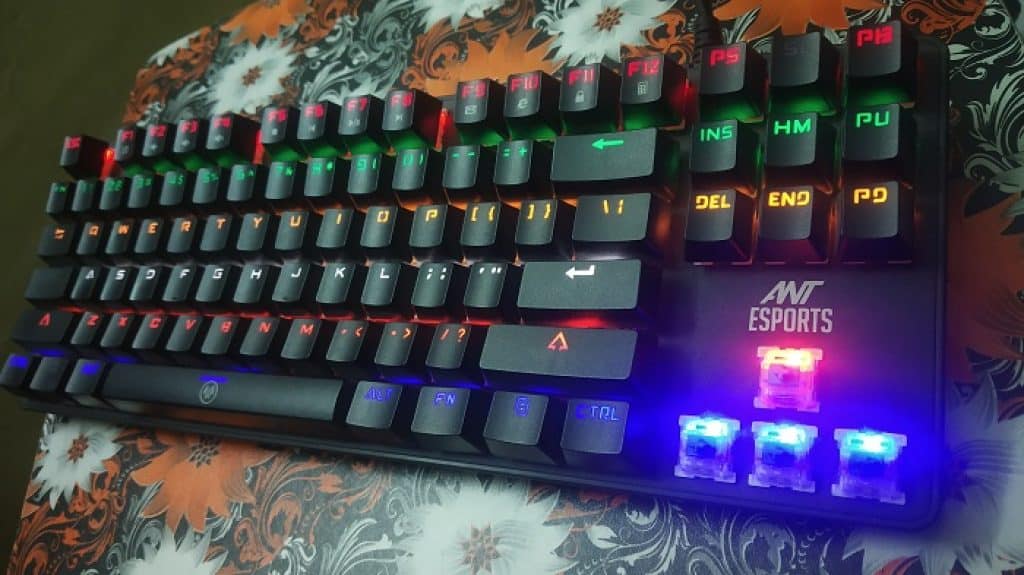 Other Features
This keyboard features a useful windows lock option by pressing FN+WINDOWS so that you are not forced to windows by accidentally pressing the button during gaming. It also features multiple media control buttons like mute, volume up/down and many others. You can also lock full keyboard by pressing FN+F11 if you ever need.
Pros-
1. Very compact and portable. Hence it takes less space on the desk.
2. Sturdy build quality despite its plastic build.
3. Good keystrokes which feel really good to type and game.
4. Affordable pricing as compared to other mechanical keyboards which can cost up to 10000 or more.
Cons-
1. Can attract a lot of dust and smudges.
2. Font used on the keys aren't great.
3. Lighting is not fully customizable and you are stuck with the same color on the entire row.
Pricing and Final Verdict
We feel that at the price of 2200 this is a very good product and is one of the best budget mechanical keyboards around. Hence if you don't want a numpad, also want your keyboard to be compact, small and lightweight then this product might be for you.

Rs.

1,899

Rs. 4,999
2 new from Rs. 1,899
in stock


Rs.

2,699

Rs. 3,790
2 new from Rs. 2,699
in stock

Also Read : 
Best Monitor Arm Stands in India
10 Best Laptop Cooling Pads in India
Best Professional Gaming Mice Under Rs. 2000
Ultrawide Gaming Monitors in India
 Best Budget PC built Under Rs 25,000