As we leave 2020 behind and hope for a better year ahead of us, some of us are still stuck having to do our work from home. Schools and colleges have opened in certain places but not everywhere and the pandemic still persists. So for the people who want to build a decent budget PC to work from home or for their children so they can attend online classes, we have a build for you. This build is mainly focused on delivering enough power to handle day to day tasks like browsing the web, working on MS Office, Video calls on Zoom, creating notes or writing articles.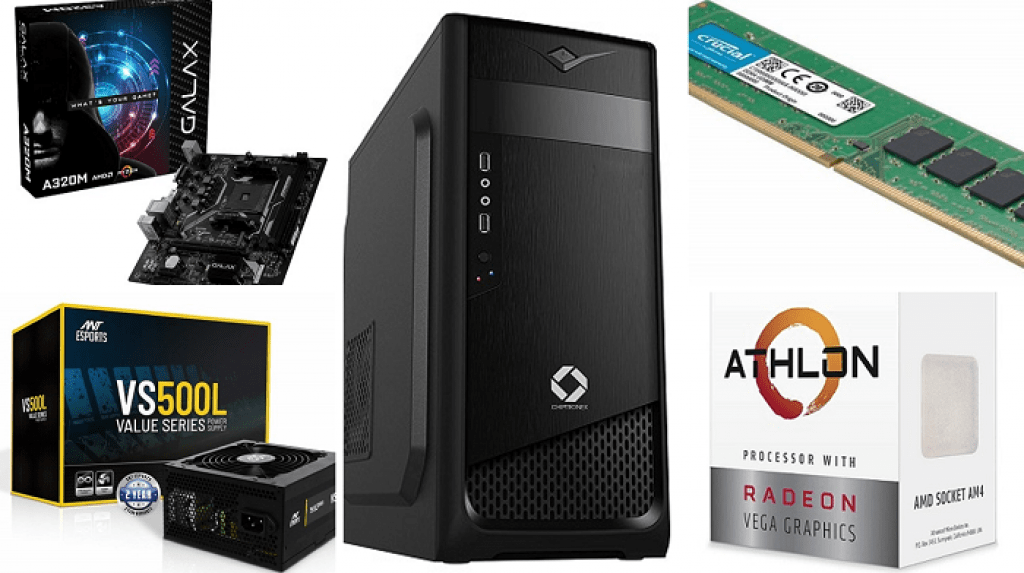 One thing to keep in mind with this build is we're going to focus on extremely essential components and will skip out on some for the sake of budget. This is not going to be a build with any sort of gaming in mind but will have enough room to be turned into a decent budget gaming PC but again that is not our focus with this build. As always prices are prone to change and you can opt for different components if you so choose. So let's start with our build then.
Also Read : Best Budget PC built Under Rs 25,000 in India
Processor: AMD Athlon 3000G
Starting off our build with the heart of our PC build and we're going with the Athlon 3000G. You wouldn't be wrong to think the Athlon series is obsolete with all the new ryzen processors flooding the market out there but you'll be surprised to see how much this processor can still deliver to this day. It has 2 cores but does come with simultaneous multithreading support which essentially provides you with 4 threads to work with so it handles multitasking quite well and it's base clock is 3.5ghz. This might not sound enough when compared to it's ryzen brothers but will easily handle all your basic tasks without any hassle.
Also Read : Best Ryzen 5 Laptops in India
Another reason we went with this processor is because it comes with integrated Vega 3 graphics, don't expect to try any sort of high end gaming on it although it might be able to handle some older games but definitely not recommended to go with this processor for gaming. With integrated graphics you won't have to spend extra on a discrete graphics card but you can opt to add one later on if you so please.
Notable Features:
Support for Simultaneous Multithreading
Compatible with AM4 Socket
Integrated Vega 3 Graphics
---
Motherboard: Galax A320M Motherboard
Now for the motherboard we went for the Galax A320M. This has an AM4 socket so you can upgrade to a Ryzen CPU later on if you want to, moreover it comes with a number of IO ports including USB 3.1 ports and an HDMI and Display port. It has 2 RAM slots which supports upto 3000Mhz and about 32GB of DDR4 dual channel RAM but we won't be going anywhere near that with our build and stick with 8GB RAM.
It also has a M.2 slot which is great for our build as we're opting for an M.2 SSD in our build for storage. It has all the bells and whistles that you can use and might come in handy in the future and you're really missing out on any significant feature with this motherboard.
Notable Features:
AM4 socket supports all generation of Ryzen processors
Slot for M.2 SSD
USB 3.1 Gen 1 ports x 2
In built HDMI display port
---
Also Read :

Best Gaming PC Cabinets Under Rs 5000

10 Best Ultrawide Gaming Monitors in India
RAM: Crucial Basics 8GB DDR4 RAM 2666MHz
8 GB RAM is going to be very essential for this build and since we only have 2 RAM slots in our motherboard we'll go with a single stick of 8GB RAM.
8GB is the bare minimum required to run windows 10 smoothly these days as it hogs on the memory even when idle because of all the bloatware that comes installed with it and you'll likely not going to be messing around with it to debloat it so 8GB is the sweet spot for us and also handle browser with multiple tabs open and other tasks like Video calls and text editors. Another reason to go with a single stick is to leave room so you can add another stick if you'd like but we'll go with one to stay on our budget.
We could've opted for a faster 3000mhz RAM but our choice of processor will not be able to completely take advantage of that so we chose a 2666mhz one and also because it was perfect for the budget.
Notable Features:
Support dual channel
Can operate at max of 2666MT/s
10 Year warranty
---
Storage: WD Green M.2 SSD
For storage we're going with a 240GB M.2 SSD from Western Digital. Western digital is a well known brand when it comes to storage solutions and it's likely your current hard drive is from western digital so you can't go wrong with their products.
Since our motherboard comes with a M.2 slot, it's best to utilise it with an M.2 SSD. It'll fit right into your motherboard saving you a SATA slot and you'll have one less cable to deal with.
The reason we chose a 240GB SSD over a 1TB hard drive is because an SSD will provide a way better, faster and snappy overall software experience and performance especially for Windows 10, they seem like a necessity for Windows 10. It runs much worse on a hard drive so better to go with an SSD rather than upgrading to one later on. And transferring files or opening new projects and apps will feel so much better when the OS is installed on an SSD. Also since you'll likely won't be downloading huge files and games since you'll be using it for office work or homework so 240GB will suffice.
Also Read : Best AMD Ryzen Processors Under ₹15,000 in India
If you feel you're running out of storage then you can add a higher storage hard drive later on, they're quite inexpensive these days.
Notable Features:
Read speed upto 545mbps
2.5″/7mm fits in most cases
3 year warranty
Caching boost tech improves performance
Power Supply: Ant Esports VS500L Power Supply
It's okay to cheap out on any other component on this list, you can even buy any of them from an unknown brand or second hand and it should work fine but it's recommended not to cheap out on a Power Supply. This is why we chose Ant Esports 500W power supply.
It's a known brand so you get high quality components within it, a 120 mm fan which operates on a very low noise, Ant claims it's a silent fan which does seem to hold true under low stress conditions, it also has a 6 pin PCIe connector which comes in handy if you want to add a graphics card which requires external power from the 6 pin adapter. 500W might seem overkill for this build but then again it will suffice if you decide to add more components later on like a powerful processor or a graphics card.
Notable Features:
500W certified Power Supply
120 mm silent fan
2 year warranty
---
Also Read :
Cabinet: CHIPTRONEX R1 Mid Tower Cabinet
Finishing off our build with this cabinet from CHIPTRONEX, this is a mid size case perfect for our build with ample space for more additions and has a nice design with a mesh on the front for enough room to provide nice airflow.
It comes with a power supply but don't use that and go with the one recommended in that list as the provided one might not be very reliable and you don't want to lose your precious components. It is an all black design which looks sleek and has 2 USB ports at front and a mic and audio port as well. This will make your setup look that much more professional and won't cost much either.
Notable Features:
Front mesh for better airflow
Ample space for future upgrades
Sturdy cabinet with professional look and appeal
This was the guide for just the PC itself now for the rest of the components we have a few suggestions so you can take a look if you'd like. These parts are not considered in the PC build budget , but are extra accessories.
Monitor: LG 22MK600M
It's a great budget monitor which comes with a 22inch IPS panel and 75Hz refresh rate and 5ms response time. The 3 sided almost bezel less display gives it a sharp look and the matte finish on the display will take care of any unwanted glare on the screen and it's quite slim as well. It has 2 HDMI ports and a VGA and display port so it's compatible with almost all display connectors and usually goes on sale frequently so you can get it for around 7 to 7.5k
---
Keyboard & Mouse: HP Slim Wireless Keyboard and Mouse
Good keyboard and mouse go hand in hand with a great PC setup and make your experience worthwhile. HP has always been reliable when it came to low budget keyboard and mouse that's why it was a no brainer to go with them for our keyboard and mouse needs.
The slim wireless keyboard and mouse combo has a nice texture on both keyboard and mouse with a sturdy feel that does not feel cheap by any means. The full length keyboard with nicely spread out keys provide a comfortable typing experience for prolonged typing and the lightweight mouse with switchable dpi with a direct DPI switch allows 800/1200/1600 DPI.
The wireless strength is about 10 metres and battery life is claimed to be around 11 months but that depends on the usage.
Webcam: Gizmore Giz W08
A work from home setup is not complete without a quality webcam as you want a decent one for all the online classes, conferences and meetings. It's easy to overspend on webcams promising several features that you might even not need. This is why one should go with a very basic webcam that does it's job well and that's why we chose Gizmore Giz W08. This fairly inexpensive webcam has a nice 720p camera which is suitable for all your video call needs and a 110° wide angle view as well.
It does say it comes with an inbuilt mic but we recommend to use your own mic that comes with any basic earphone or headphone. You shouldn't go out of your way to buy a webcam that has a good mic and should just use the one that comes with earphones.
This concludes our Work/Learn from home PC build. As said it is a very basic build that is plenty enough for just basic day to day use and will last you quite long though if you want to upgrade it later on you can definitely do so, we've definitely build a foundation that can be enhanced and upgraded upon so we hope you'll like it.
---
This Article is Written By Anshuman Jain
I'm a college student pursuing computer science and indulge myself in tech and video games. I'm great at nitpicking and pointing out even the smallest flaws. Instagram
---
---
Also Read:
1) Best Gaming PC Build Assembly Under Rs. 1,00,000
2) Gaming PC Assembled Under Rs. 80,000
3) Best Gaming PC Assembled Under Rs. 50,000