The GPUs these days aren't just plenty powerful but also look stylish as well, but maybe you do require more power and want to go for an SLI build. Maybe you want to vertically setup your GPU and when you're spending almost half of your pc builds budget on that fancy GPU with 3 fans amd RGB then you wouldn't be wrong to set it up vertically and display all it's glory but to do that you'll need to be cautious about certain factors. But without any further delay let's dive into our list of top GPU riser cables.
Best GPU Riser Cables in India
1. ASUS ROG Strix Riser Cable 240mm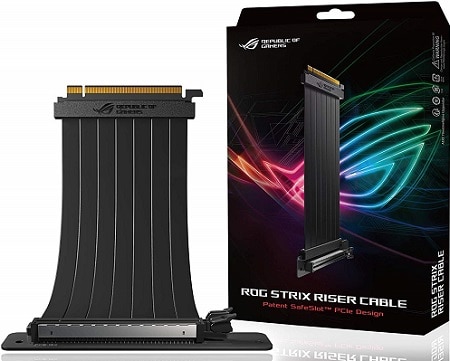 Strong PCBs
Superior Quality cables
Minimal to no signal failure
Expensive in it's category
ASUS' Republic of Gamers brand has made a name for itself in the gaming industry as they have consistently provided us with some really good quality products so this shouldn't come as a surprise that our top pick is also coming from ASUS. The Strix riser cable has a really nice flexible and bendable flat cable design for which is great for any setup. It feels durable and a quality product and it's built on Safeslot PCI E manufacturing process which provides more durability to the connection points. The connection is quite sturdy and you won't experience any signal loss or interference with this one so if you're planning to go with nothing but the best then this one's your pick although it is an expensive choice but that it's only major downfall.
Notable Features:
EMI Shielding
Safeslot PCI E for enhanced durability
Strengthen Protection to avoid any signal loss
---
2. Thermaltake TT 200mm Riser cable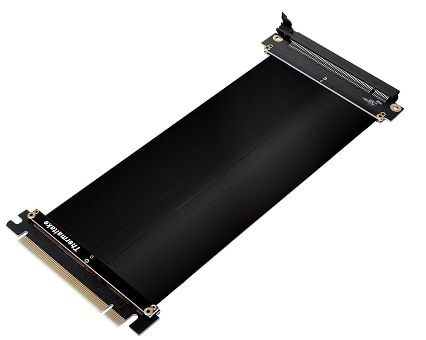 Performance without loss
Great Bandwidth speed
Well built
This is a non nonsense option coming from Thermaltake. It's a quality product but doesn't cost a lot and also you won't be missing out on the connection stability and EMI shielding. It's also a flat black minimal design so setting it up shouldn't be a hassle neither should it consume too much of space but it's a little shorter on the cable length but if you don't have use of longer cables or your cabinet doesn't have enough space then this one's for you.
Notable Features:
Designed for better compatibility
Will work with most cabinets
Minimal design
---
3. Deepcool PEC 300 250mm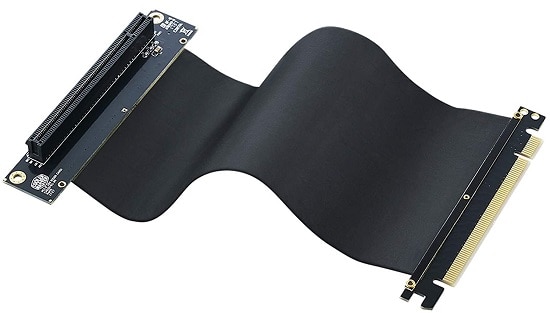 Compatible with PCI express gen 4
Protection to reduce ribbon tear
250 mm long length
PCI express gen 4 connection is not always stable
Deepcool is a renowned brand in the PC industry and their products are known to be durable and reliable over the time. So it's no surprise that they have their own GPU riser solution and this seems to be an overall winner especially when it comes to long term usage. Deepcool has provided this riser cable with metallic protection on the socket to reduce and tear over time on the ribbon. Even the ribbon itself consists of non oxidised copper wire and layered with anti EM Shielding and fiber protection for sturdy connection, minimum loss and maximizing the durability of the cable. Another great thing is the support for the latest PCI express gen 4 so people who just bought the latest motherboards will be able to enjoy vertical GPU configuration. It's a decent product providing overall great value for money.
Notable Features:
Metallic Protection on Sockets
Anti EM Shielding layer
Non Oxidised copper wire cable
Well built
---
4. Corsair Premium 300mm

Individual Ribbon cables
300mm long length
Great Bandwidth speeds
Extremely expensive
Thick and rigid cables
Corsair's Premium GPU riser cable comes with a generously long 300mm length making it the longest in our list but still it's our least favourite option because of its high price. The bandwidth speeds and performance are great and you won't be compromising on the speed with the longer length of this cable. It has a 90° female connector which allows for an easy installation on the PC and you will also have less stress on the cables. The cables have a EMI shielding as well and the cables are individual and not braided together that means you can adjust them a little better according to your own liking but the rubber on the cables feels thick and not easy to bend pushing against the GPU. There's not a lot to say when talking about riser cables but this one does prove to be a decent option if you're looking out for a longer cable.
Notable Features:
90° female connector to reduce tear on cables
Bandwidth speeds of 15.75 Gbps
5 individually adjustable cables
Things to keep in mind for vertical setup:
Not all cabinets allow to set up GPU vertically, most of them don't have the space and setting up your GPU vertically can be a tedious effort.You need to align it in a way that it doesn't effect the other components of your motherboard and you get a proper output for your graphics card.
You also need to know that if your Motherboard comes with multiple PCIe slots for SLI then having your GPU vertically may block these slots, so if you were not planning on using them anyway then you shouldn't have a problem.
You also may end up blocking air flow within your PC, this is one of the main reasons people hesitate to stack their GPU vertically. This may lead to higher temperatures so ensure that your GPU alignment isn't blocking airflow.
The performance might get slightly affected but that is a very minor difference along the lines of 2% or less at times. Shorter cable is better for stable performance, do keep that in mind.
---
This Article is Written By Anshuman Jain
I'm a college student pursuing computer science and indulge myself in tech and video games. I'm great at nitpicking and pointing out even the smallest flaws. Instagram
---
---
Also Read :
Best Power Supply Units For PC in India
Budget PC built Under Rs 25,000
10 Best Gaming Headphones Under Rs. 5,000
Best Gaming Laptops Under Rs 50,000
Best Gaming Desks Tables In India
7 Best Flight Game Controllers in India
Gaming Monitors Under Rs 20,000 in India
Best Internal SSD for Laptop/PC in India