A Fantastic, Sleek and Reasonably Priced Gaming Monitor.
As the world hurtles through the rough first year of the new decade, gamers find more and more time in their hands to do what pleases them the most: hit quad-feeds in Call of Duty, pull off clutches in Counter-Strike and score goals in Pro Clubs.
| Aspect | Description |
| --- | --- |
| Monitor Name | Samsung C24FG70 |
| Panel Type | VA (Vertical Alignment) with Quantum Dot technology |
| Refresh Rate | 144Hz (Overclockable up to 156Hz) |
| Resolution | 1080p (1920×1080) |
| Response Time | 1ms (GTG) |
| Color Accuracy | 125% sRGB spectrum coverage with Quantum Dot technology |
| Stand | 2-arm pivot stand with wide range of movement |
| Connectivity | 1 x Display Port, 2 x HDMI 1.4, Audio Out |
| Additional Features | Arena light (LED) under the bottom bezel, customizable OSD, black equalizer |
| Gaming Experience | Excellent performance in games like CS:GO, COD Warzone, AC Odyssey |
| Price | Initially priced at 25k INR, available for around 17k INR on Amazon (may vary) |
| Conclusion | Highly recommended for its color accuracy, performance, and overall value for money |
| Notable Issue | Strobing in the fastest response time setting can strain eyes with prolonged use |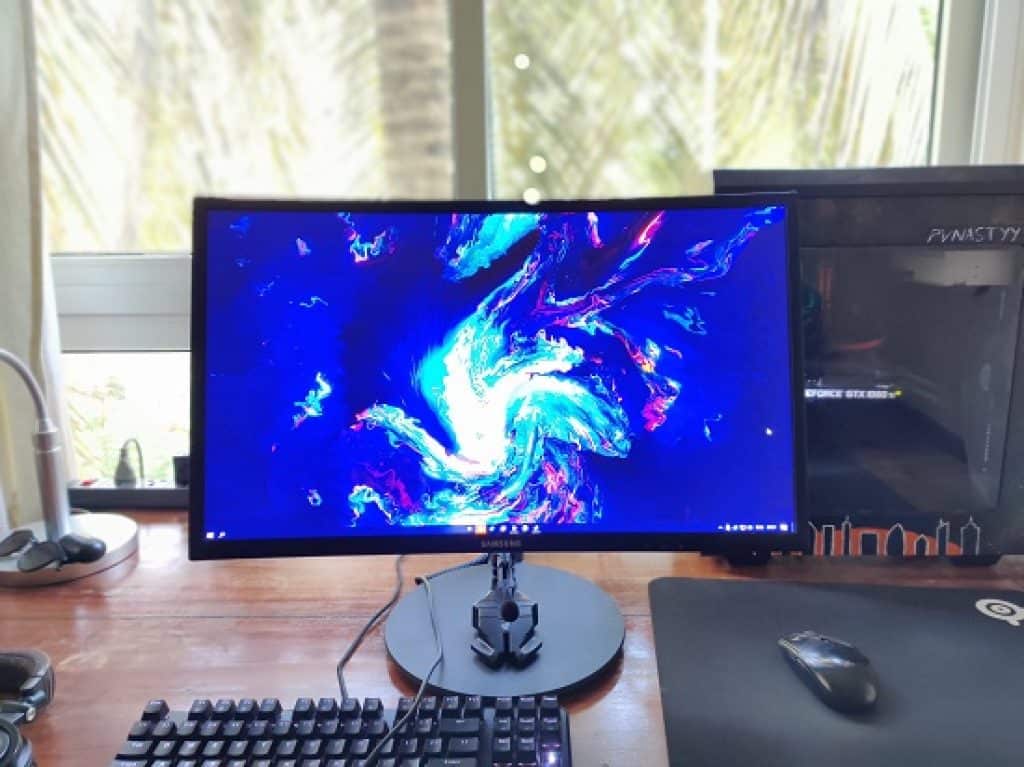 This being 2020, the average gamer finds himself in need of a more performing monitor. Gone are the days of 60Hz, as the performance of many typical consumer computers are significantly better than what they would've been in 2015. Gamers all over rejoice as the low to mid-range of Graphics cards find themselves easily hitting 144+ frames per second in most esports titles, and even some triple A games.
Considering all of this, consumers in the gaming market find themselves either looking for a higher resolution monitor to squeeze every amount of performance for a higher visual fidelity, or a higher refresh rate monitor, for that ultra-smooth and tearless competitive gaming experience. It's not only gamers however, as most companies are now responding by offering existing monitors with 144hz refresh rates for much cheaper.
In 2020, one could get a brand new 144hz monitor for as little as 11k (INR) on amazon. This was practically unheard of even in 2016, where most low end 144Hz monitors would cost upward of 25k! This is fantastic news for gamers, as now the often heralded smoothness of 144Hz could now be experienced by virtually anyone for a cheaper and less performance demanding requirement.

Also Read : Best Ultrawide Gaming Monitors in India
However, as in most industries, the amount of money a product costs is usually proportional to quality, and though gamers in India can get their hands on a cheap, 144Hz monitor, like the ACER GN246HL, there's no denying that the performance may leave some people wanting more.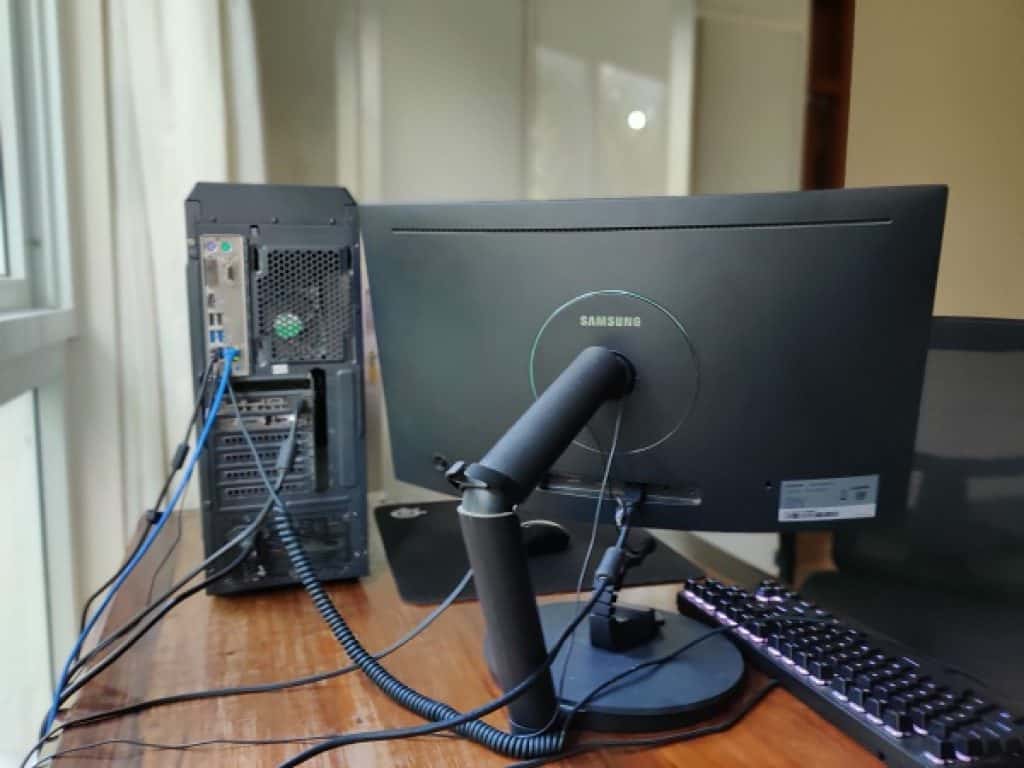 Typically, at the lower end of 144Hz monitors, companies outfit their products with TN panels which offer higher factory refresh rates and lower response times than an IPS or VA panel (it's definitely achievable on the latter types but will fetch a much larger bill for the same specifications.) However, there is one significant trade-off: Color Accuracy. TN panels were never known for good color, and the issue continues even in their 144Hz counterparts.
Granted, this isn't as big of an issue for esports titles, where color doesn't really impact the game as much as the framerate does, but for the casual gamer, or even the gamer who enjoys a scenic, single player experience in a game like The Witcher 3 or the upcoming Cyperpunk 2077, TN panels fail to display the color accuracy and vibrance that the game's developer would've intended. Furthermore, any kind of editing/production work would be virtually impossible due to poor viewing angles and color.
Also Read : Best Gaming Monitors Under Rs 20,000 in India
The only solution, therefore, is to step it up and get an IPS panel. However, those kinds of monitors with 144Hz refresh rates would have astronomical prices, barring it for most average gamers. I feel this pain, as not too long ago I was on an Acer GN246HL, which only costed me 10k but was a horrible, blurry and bleak experience.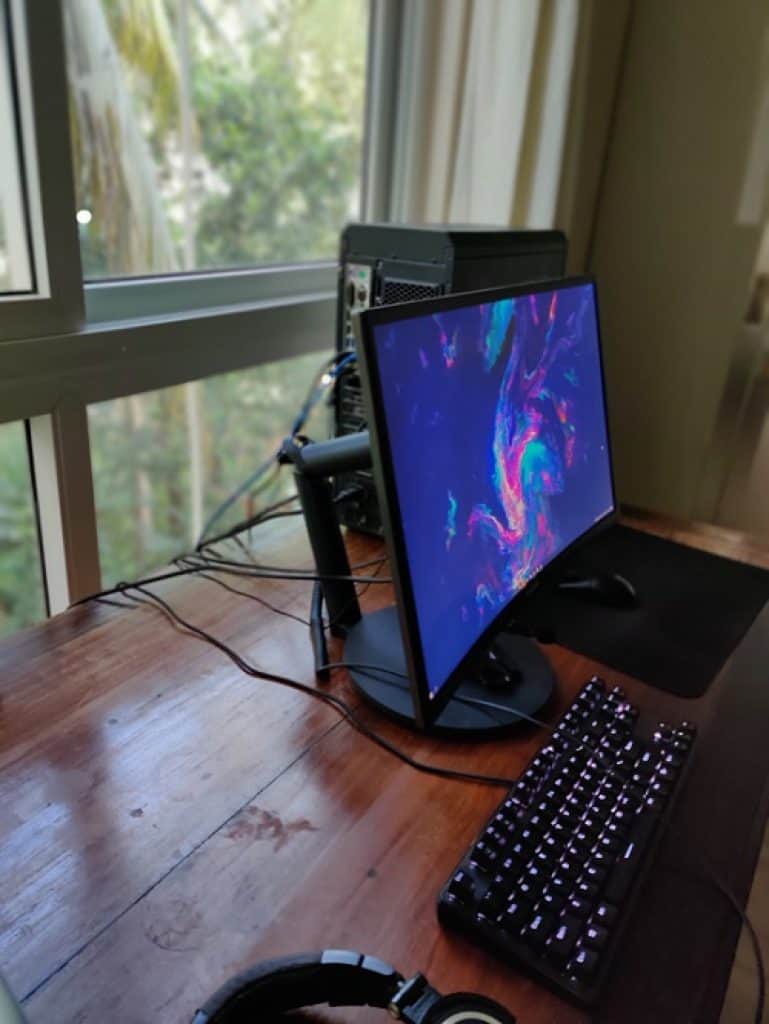 All hope is not lost however, as Samsung have recently cut the price down on one of their VA 144Hz panels: the C24FG70. This monitor was initially priced at 25k but can be found for as little as 17k on amazon (when there's stock) and potentially lesser in physical stores.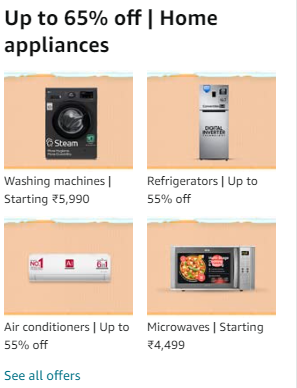 I snatched one of these as soon as I can and hope to convey to you why I think it was a good buy. In this review, Ill go over the physical aspects, the connectivity, the panel, the gaming experience and finally my final thoughts.
Also Read : Best Monitor Arm Stands in India
Physical Aspects
I've always despised companies and their annoying Letter based name designations. To make my life easier and this review a little easier to read, Ill refer to the C24FG70 as the C24. Despite its forgettable name, the monitor itself is very sleek and professional looking. It is curved (1800R) and has a Black stand with the monitor being a mix of plastic and Aluminum. The styling is very reminiscent of the old iMac G4, with a large monitor being held up by a 2-arm pivot stand. It has an unusually large base, but I supposed that's required when the monitor weighs just above 4kg.
The bezels are not super thin at around 2 cm thick but not at all disturbing or detracting from the whole experience. I found the fact that its curved to be a little odd, because at only 24" it's not like consumers would find themselves craning their neck to look at the extremes of their screen. In fact, I thought it would make it harder to use, as most curves introduce distortion at the very ends, which can stretch out details in games. This curve however was unnoticeable when sitting in front of the monitor. The curve is so inconsequential at this size of monitor that it felt like a regular flat screen in front of me. Does it look cool? Most definitely.
It's also got a little bit of sex appeal as curves are normally found on very high-end monitors, but its definitely not a selling point and is more gimmicky if anything. The monitor is also wedge shaped, with the bottom being thicker than the top. This gives it a very iMac kind of looking that I personally find attractive.
Under the bottom bezel lies 3 buttons which are used to quick switch between profiles (covered in User experience) and a small blue LED indicating status. At the very bottom of the monitor lies a large blue LED dubbed the arena light by Samsung.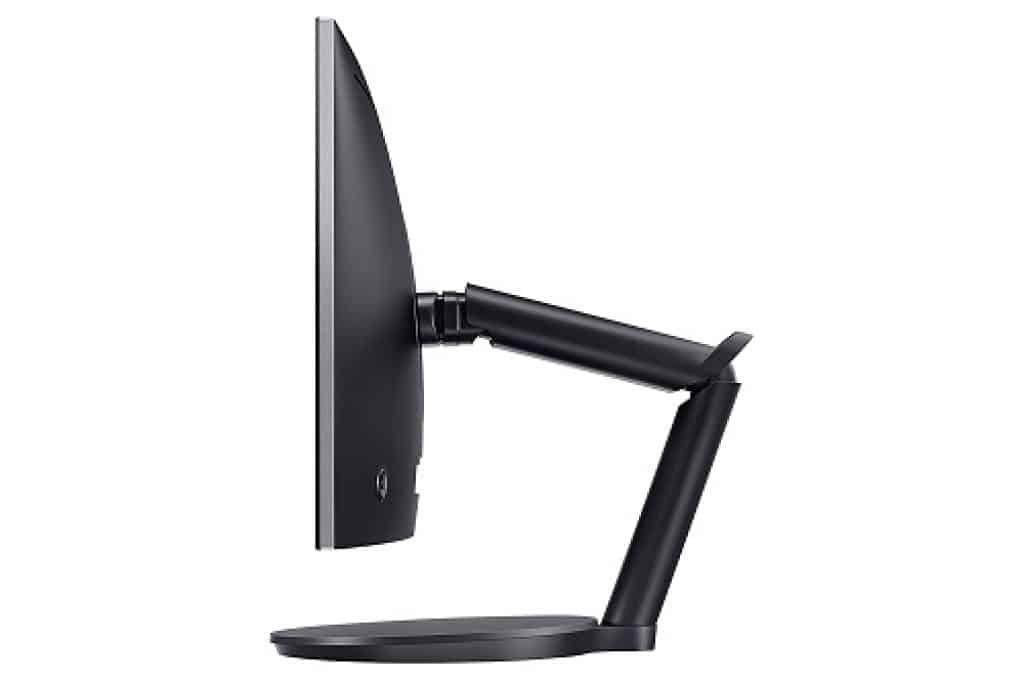 Again, a very inconsequential gimmick as it merely blinks when you turn it on or off. Its apparently music reactive, but if you have headphones plugged into your computer then it simply has no input to react to. On the Back of the monitor, there's a 4-way joystick used for navigation the on-screen menu, a large cutout for the proprietary stand (there is vesa support included) and your I/O.
Despite the monitor looking amazing in its own right, the stand is easily the most striking aspect of this product. It's essentially a crane arm holding your monitor and any angle you'd want it. It's beautiful and has a small raceway to route your cables through that also doubles as a headphone holder. It has a wide range of movement. You can push the monitor up or down to a max height of 1 foot and swivel it 45 degrees to the right and left.
Also Read : 10 Best 4K Monitors in India
Apart from that you can also rotate the monitor by 90 degrees, but only in one way. The monitor can also be tilted about 10 degrees upwards, and nearly 20 degrees downward. This was a gripe of mine, as I play with my monitor a little lower than usual with it facing up towards me, and I could've used a little extra upward tilt. All in all, I like the stand, and if you don't there's always support for other VESA ones.
There is one glaring issue with this stand however: its massive. It takes it far too much space on the table and some users may not even fit on the table as the arm extends backwards away from the monitor slightly. The Base is about 22 cm in diameter and is much larger than my hand. Ensure that it fits on your table, and other than that the physical stature of the monitor is quite good.
Connectivity
As far as gaming monitors go, this C24 is quite standard in terms of connectivity: 1 Display Port and 2 HDMI 1.4s. There is also an audio out. As far as my unit is considered, all the ports came functioning and the included DP and HDMI cable were very high quality and worked perfectly. 144hz can only be used over the DP however, as the HDMI version is only 1.4, so one would be limited to 120Hz over that medium.
For consoles however, that's more than fine. The connectivity is decent at this price point, and users should have no problems with it. The power in is included in the cluster, and it's important to note that this monitor has a power brick that's embedded with the plug, again highlighting the need for space with this monitor.
Also Read : Best Gaming Laptops Under Rs 70000 in India
The Panel
And now, we come to easily the most important part of the panel. I won't go too much into the technicality of this monitor as I simply don't know enough of the technology behind it, but I can say decisively that this is a fantastic monitor for gaming, work, media consumption and even editing. This is a VA panel from Samsung themselves, and boasts a technology called Quantum Dot which promises a 125% score on the SRGB spectrum. I'm not exactly sure as to how the technology works, but my god does it deliver. The colors were rich, vibrant and deep.
The OSD is extremely customizable and even includes a black equalizer, which is important to gamers as it dictates the depth of your blacks (think shadows.) You'd think that this was professional editing monitor, and the colors were better than even some IPS panels I've used in the past. All in all, the color experience was a 10/10. It should be noted that the out of the box settings wasn't very good, and I did have to calibrate it and change my digital vibrance in NVidia control panel as well.
Also Read : 10 Best Gaming Laptops Under Rs 50,000
I won't show my settings as that's entirely subjective and I believe that you should tinker and figure out what works best for you. But as far as basic RGB goes, fantastic. The whites and blacks were also brilliant, being crisp and stark and not tinted by any other color. It should be noted that you can still change the warmth in the OSD.
As for the refresh rate, the panel does deliver a true 144Hz experience, and I could overclock mine all the way up to 156Hz. There's no ghosting or anti ghosting, and there's no blur due to it being a perfect 1ms gtg. There is one significant issue though.
To minimize the input lag and response time, Samsung, in the fastest setting, strobes this monitor by interlacing black frames to minimize trailing and keep the image crisp. This lowers the brightness but most importantly, this can severely strain your eyes.
I seldom use that mode as I find the default input response time to be good enough. I advise to not have the monitor on this mode all the time as you may actually damage your eyes. Coming back to the positives the monitor had a 178-degree wide viewing angle and other than that issue with the strobing, I had no concerns with the panel.
Also Read : Gaming Laptop Buying Guide: How To Choose the Right Laptop?
The Gaming Experience
Finally, the exciting part of the review. I have no knowledge of video editing, but I do play games. In order to put the monitor through its paces, I tried the games ranging from casual multiplayer, competitive and single player. To represent these categories, I played CSGO, COD Warzone and AC Odyssey. These were all played on my computer with a 1080Ti and a Ryzen 5 3600.
To start with, the Experience in CS is fantastic. Not once did this monitor let me down at all kinds of brightness and resolutions. At native 1080p, the game was crisp, and I found no artifacts or blurring. The colors were great, and there was no trailing or tearing in the image. At my more competitive resolution, stretched 4:3 1280×960, the results were the same, and the game still felt ultra-responsive. Here are some pictures of the monitor in action in Aim Botz:
Warzone
In warzone, my computer doesn't always hit 144hz, but whenever it did, the experience was fantastic. Even with my fps being around 130 on average, the game felt ultra-smooth. Here the black equalizer is essential as there are many shadowy regions in the map. I have a gamer profile that has a lower black ratio so my visibility increased significantly. Here are some stills from the game:
AC Odyssey
I first played odyssey on my older Acer monitor, and I had no idea how beautiful the game actually was. It is a sin to play this game on a monitor that does not have good color accuracy and I apologize to the gaming gods for going halfway through the game on that pathetic monitor. On the C24 however, the game is stunning.
As I travelled through the ancient cities, vistas and valleys of Greece, the scenery and lighting were beautiful. The grass of central Lakonia was a beautiful lively lime green and the sand of Mykonos were white and slightly tinged yellow, I detail I hadn't noticed on my older monitor. I'll try to show you through my camera, but you really have to experience it to believe it. This monitor has 100% made my gaming experience better.
Also Read : Best Gaming Laptop Under Rs 90,000
Final Verdict
I can't believe I got this monitor for 16k. It's actually insane. For a monitor that's this premium, I would've been happy to pay more than 25k. This is hands down the best VFM 24-inch 144Hz 1080p monitor on the market due to its brilliant color accuracy, crisp and clear picture with no artifacts at higher refresh rate settings and a versatile albeit large 2 hinge designed monitor stand.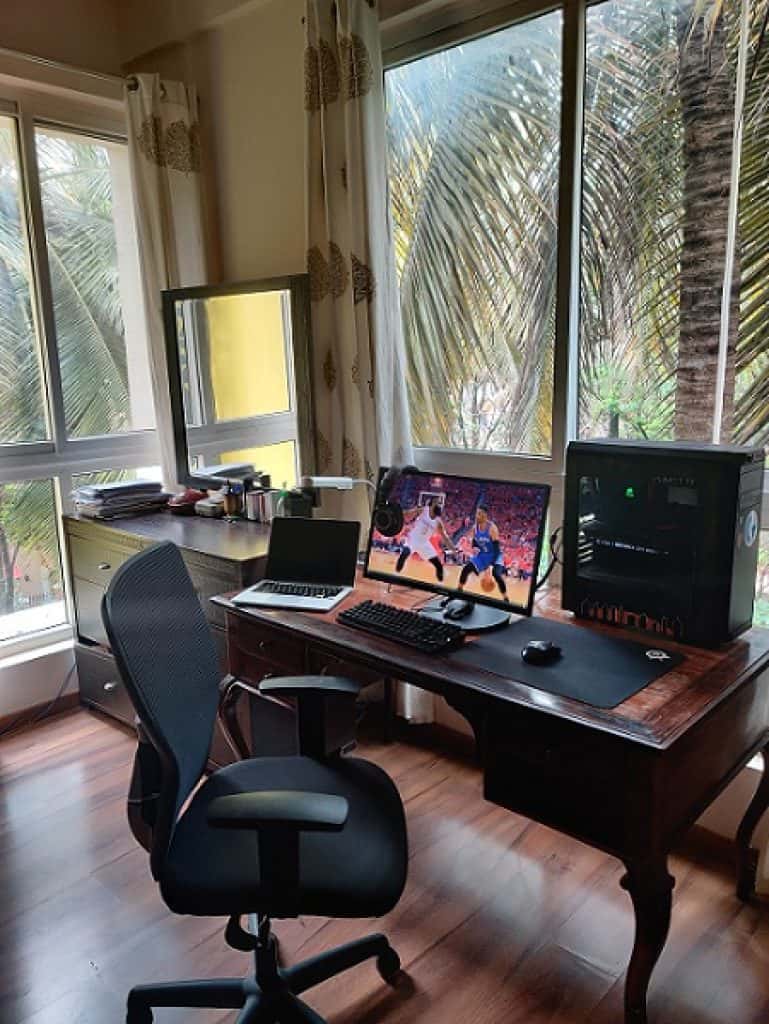 The biggest issue with this monitor is the strobe when it is set to the fastest response time possible, but that is an issue that plagues most pro gaming monitors as well like the BenQ XL2411. It does is job but can be strenuous at extended durations.
I'm no Linus or Jayz, but I hope I was able to effectively communicate what a great monitor this is, and why it's worth your consideration.
---
This Review is Written By : Pranav Viswanathan
Having been brought up and around technology, Pranav is extremely passionate about all the latest happenings in the computer sphere. When he's not writing articles, you can usually find him shouting at his teammates in counter strike!
---
Also Read :

10 Best Gaming Headphones Under Rs 2000

Best Gaming Mouse Under Rs 2000 in India