Finding a good blanket for your home is important if you want to enjoy a cozy and comfortable sleep every time. It should not only protect you from sweating too much but should keep you adequately warm at the same time.
Well, it can be a challenge to suit the best blanket for your home which is why we present to you the 6 best blankets that are soft, comfortable and quite cozy too. These blankets would not only make you comfortable but would work well with your bed sheet as well and are quite moderately priced too.
Although choosing the perfect blanket for yourself will depend a lot on your needs and requirements, we are sure that you would find our list useful for comparison.
How We Picked the Best blanket for Your home ?
One of the most important things to do when looking for a blanket for your home is to test out several products before you decide on one. This means that you should check out the online reviews or go to the shops to test and feel the blankets before you make the purchase.
Here are a few things that you should definitely consider when you are looking for the perfect blanket for your home.
---
A warm and comfortable polar fleece blanket
Cloth Fusion Glacial-Polar Fleece Thermal Soft Brush Fabric Single Bed Blanket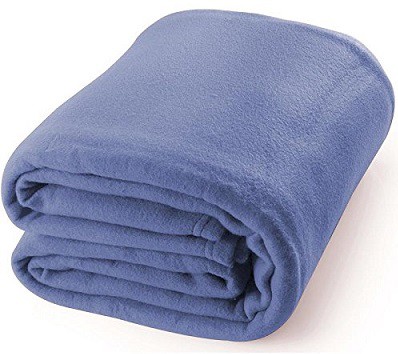 One of the best blankets in the market to ward off the winter chills is the polar fleece blanket by Cloth fusion bedding brand. This blanket is made out of synthetic wool fibers which are often used in making hoodies, jackets, etc. As a result, this blanket is soft and warm and is also quite easy to maintain.
Also, this blanket has a 2-sided pile so you can enjoy softness and comfort from any side and since it is packed with 250 GSM, it is lightweight and easy to carry around. It also features double-needle stitching on its hems which makes it more durable and a good choice for winter backpacking and camping trips as well. This single bed blanket is also affordable and available in 4 different colors so you can easily match it with your interiors while watching your TV and enjoying comfortably with your family.
---
A set of multicolored woolen blankets at affordable price
SRS Wool & Wool Blend Multicolor Single Blanket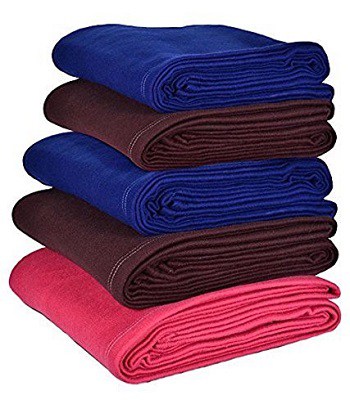 For extreme cold, SRS Woolen multicolor single blanket is the best choice as it is made up of fine acrylic fiber which offer a lot of warmth. With this product, you get 5 sets of woolen blankets at a really low price but that doesn't mean that you would have to compromise on the quality. The blanket is thick and plush while being extremely comfortable and lightweight so you can take them on your travels as well.
One of the best things about this blanket is that you can machine wash numerous times and is highly durable as well. As a result, you will often find these blankets being used in most hotels as it is suitable for all seasons and AC rooms as well. You have an option of choosing between 5 available colors to match your room décor and wall color which helps in making your house look even more attractive.
---
A lightweight blanket for mild-winters
Divine Casa Luxor Abstract Microfiber Single Comforter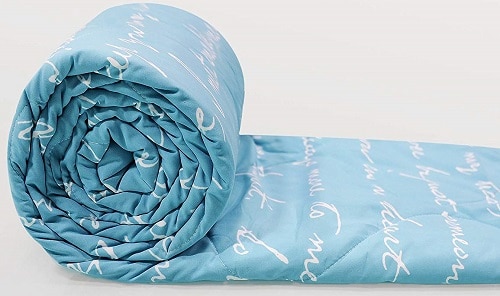 If you are looking for a lightweight blanket for this winter then Divine Casa Luxor Microfiber Single comforter is the best product for you. This comforter/blanket is packed with 100 GSM hollow polyesters which keep you cozy and comfortable in winters and air-conditioned rooms. It can easily maintain a good amount of heat, making it perfect for mild-winters and is lightweight at the same time so you can use it daily.
Since this blanket has a microfiber surface, it feels extremely soft and rich and it is reversible as well. It has a blue background with a white design and a white background with a blue design which looks amazing with your bed. Also, this blanket uses diamond stitching so the fillings are even and there is no chance of feeling lumps or bumps when you cover yourself with this comforter.
---
A thick and plush Mink blanket for extreme cold
Goyal's Polyester Single Bed Mink Blanket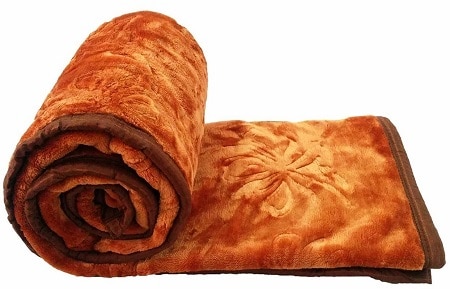 There are several mink blankets available in the market but this one is by far the best because it looks and feels luxurious while keeping you warm at the same time. This rust-colored mink blanket is thick and soft and looks soothing and vibrant at the same time. It does add a nice look to your bedroom and provides you with adequate warmth and comfort even in the winters.
Mink blankets are usually known for their lightness and softness and that is exactly what this blanket offers you. Due to the higher piles, this blanket has a better cushioning effect and offers more comfort than other winter blankets. Since it is also made up of polyester, it doesn't wrinkle soon and is also not prone to shedding which makes this blanket highly durable. And the best part is that you have other color options to choose from like purple, brown, maroon, etc. to match your bedding and room interiors.
---
A handcrafted Jaipuri Cotton Blanket for All Seasons
Jaipuri Cotton AC King Sized Blanket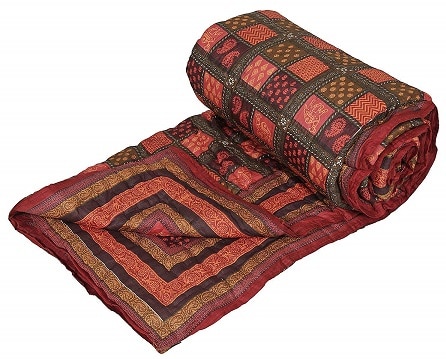 One of the most beautifully handcrafted cotton blankets which are multicolored and works well as an AC dohar as well is the Jaipuri Cotton AC King Sized Blanket. This blanket has a traditional Rajasthani sanganeri gold print which looks absolutely gorgeous and works well with almost all bedrooms. And since this blanket is made up of cotton fabric, it is quite durable and breathable while being warm and comfortable.
This soft and dry blanket absorbs humidity to ensure that you are dry and comfortable and sleep peacefully. Also, since it uses cotton batting and is made out of 100% cotton both on front and back, it is quite light to carry and really easy to maintain as well. You can dry clean it or hand wash it and let it dry, after which you can neatly arrange it on your bed for a nice look and feel.
---
A Finely Woven Cotton Blanket for Summer
Style Urban Cotton Multicolor Single Blanket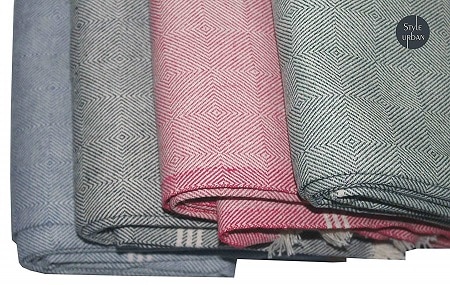 Finally, if you have a sensitive skin or suffer from any breathing issue then you would want to avoid mink or other synthetic based blankets. In such a situation, Style Urban cotton single blanket is the best choice for you as it is made up of 100% cotton which is natural and skin-friendly. It has a traditional weave which is strong and durable and doesn't lose fiber as well so it is safe for use for asthmatic patients as well.
They are slightly heavy but work well for both summer and winter time, keeping your comfortable when you are sleeping. In summers, it keeps you cool and avoids any sweating while in winters, it protects you from cold and keeps you toasty throughout the day. Another great thing about this product is that you get a set of 2 blankets for a decent price which you can gift to your family and relatives as well.
Other Blanket Competition
UP Khadi and Handloom Woolen Blend Blanket is also a good choice as a woolen blanket but it is expensive compared to the SRS woolen blanket and it can also be slightly scratchy. Also, this gives a really unattractive look to your bed and is not as soft and comfortable as other woolen blankets.
Divine Casa 100% Polyester Single Dohar is a lightweight and cozy blanket which has a nice and elegant design as well. It is also easily affordable and is quite durable but it requires a lot of maintenance which can make it a lot of work to use. You have cannot dry clean, bleach, etc. and have to always use low settings for cleaning and drying this blanket.
SRS Plastic Floral Double Bed Blanket is another mink blanket, perfect for king size bed, which is best known for its warmth and lightness. However, this blanket tends to smell a little and is prone to damage so you might see the weave coming off or a few holes on its surface.
Divine Casa Polyester Comforter/Blanket/Quilt is also a good blanket for home at 999 INR which is soft and lightweight but doesn't keep you as warm. It is slightly overpriced for the warmth that it provides so it might not be a good option for people who are looking for a blanket for extreme cold.
Taj Blanket Pepringo Double Bed Mink Blanket is a great blanket to cuddle under which can be taken outdoors also to enjoy on your couch and camping as well. However, it is thin and overpriced and doesn't even include a cover in its price which is why it might not be the best blanket choice available.
Generic Sneha Polar Fleece Single Printed Bed Blanket is a good and affordable option for customers who are looking for a soft and comfortable blanket for winter use. However, the quality of this fleece blanket is not as good as other products in this list and is actually too thin so there is a chance of easy damage as well.
Sparsh Handloom Single Cotton Blanket is an affordable, textured blanket which is made up of cotton and works well for summer heat. It is soft and light which makes it good for traveling use but it can get easily snagged which is why it is not such a popular blanket for home.
Choose a Warm and Breathable Blanket
The first thing to look out for when choosing a blanket is that it should be comfortable and cozy. It should keep you warm but shouldn't be uncomfortable at the same time.
So, if you are looking for a blanket to be used during winter with a comforter then a blanket made up of cotton or wool is a good choice. These blankets are also highly breathable and won't make you sweat while sleeping.
Apart from those, you can also go for mink and fleece blankets which tend to be soft, warm and are quite lightweight as well. However, they aren't as breathable as the other materials.
Look for a Durable Blanket
A blanket is a long-term investment so you should look out for a product which won't wear down easily. Make sure that the material used will easily withstand multiple washes and rough handling; especially if you have kids or pets at home.
Avoid blankets who has a loose weave or which are too thin as they will get easily damaged. Make sure you choose a high-quality blanket material which would last a long time and won't get unraveled in just a few days.
Consider Your Budget While Looking for a Bed Blanket
An important thing to consider when purchasing a good blanket is to decide on a budget and then look for products in your budget range. While you will have to spend a minimum of 300-500 INR for a good quality blanket, you have you make sure that it isn't overpriced.
In this article, you will find that all blankets are of good quality and reasonably priced between 250 and 1500 INR.
Choose an Easy-to-Maintain Blanket
Another important thing to consider is the ease of maintenance for your blankets. If you tend to dirty your blankets soon then a cotton blanket would be a wise option as it can be washed in all water temperatures and is quick to dry as well.
Woolen blankets can be slightly fussier to wash but they might not need cleaning for a considerable amount of time. And synthetic blankets are easy to clean at home but usually require washing at a lower temperature.

Rs.

1,669

Rs. 4,999
2 new from Rs. 1,669
in stock


Rs.

4,899

Rs. 6,499
4 new from Rs. 4,899
in stock

Also Read:
1) Best Bed Comforters for Home in India
2) 10 Best Handbag for Women Under 500 INR
3) Top 5 Best Most Reliable Orthopaedic Mattress in India 2019