Recently updated on December 7th, 2023 at 08:23 am
If you are looking to buy yourself a new pair of earphones, then this is the best time. Truly wireless headphones and bluetooth earbuds are available at such reasonable rates that it has become very accessible for almost everyone to try and experience it.
The convenience of using a wireless earphone is without a doubt the primary reason why you should consider buying one. Simple day to day listening becomes a luxury as you do not have to worry about tangled wires to take care of.
Since there are so many options in the market, it may be confusing to choose the best earbuds for you. For people looking for a budget pair, we have selected a great product for you to consider.
In today's article,we will be reviewing the Boat Airdopes 121v2, which is the latest variant in the budget oriented series of Boat products.
| Feature | Details |
| --- | --- |
| Playback Time | Up to 3.5 hours |
| Total Playback with Case | 14 hours |
| Case Battery | 380mAh |
| Drivers | 8mm |
| Bluetooth | 5.0 Support |
| Color Options | Black, Blue/Gray, Cherry Blossom |
| Build Material | Plastic |
| Earbud Weight | Lightweight |
| Additional Tips | Two extra pairs of different sizes |
| Case Size | Pocket-friendly |
| Case Features | Battery indicator, smooth finish |
| LED Indicator | Earbuds state, case battery level |
| Sound Quality | Bass-heavy, balanced mids and trebles |
| Volume Distortion | Occurs at max volume, EQ recommended |
| Battery Life | Rated 3.5 hours, observed around 3 hours |
| Asymmetrical Battery Drain | One earbud may lose charge earlier |
| Overall Battery with Case | Up to 14 hours |
| Sound Adjustments | EQ needed for metal/rock tracks, podcasts |
| Case Scratching | Scratches easily, especially with car keys |
| Case Display | Bright battery level indicator |
| Earbud Controls | Button for playback control, no touch sensitivity |
| Controls | Single press for play/pause, double press to skip |
| | Hold for 5 seconds to turn off, mono earbud option |
| Price | Very reasonably priced |
| Pros | Budget-friendly, battery level indicator, sound quality |
| Cons | No water resistance, lack of touch controls |
| Recommendations | Great budget buy, entry-level wireless earbuds |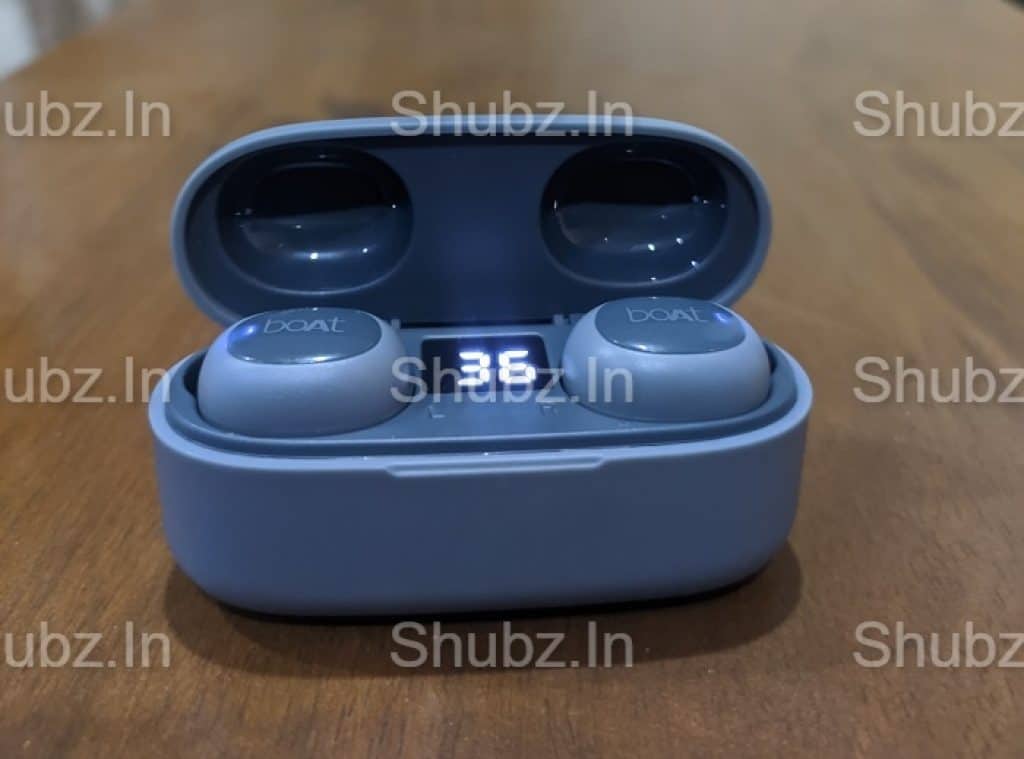 Main Features:
Upto 3.5 Hour Playback
Total Playback of 14 hours with carrying case
Carrying case with 380mAh battery
8mm drivers
LED Battery Indicator
Bluetooth 5.0 Support
Comes in three distinct color options, Black, Blue/gray and Cherry Blossom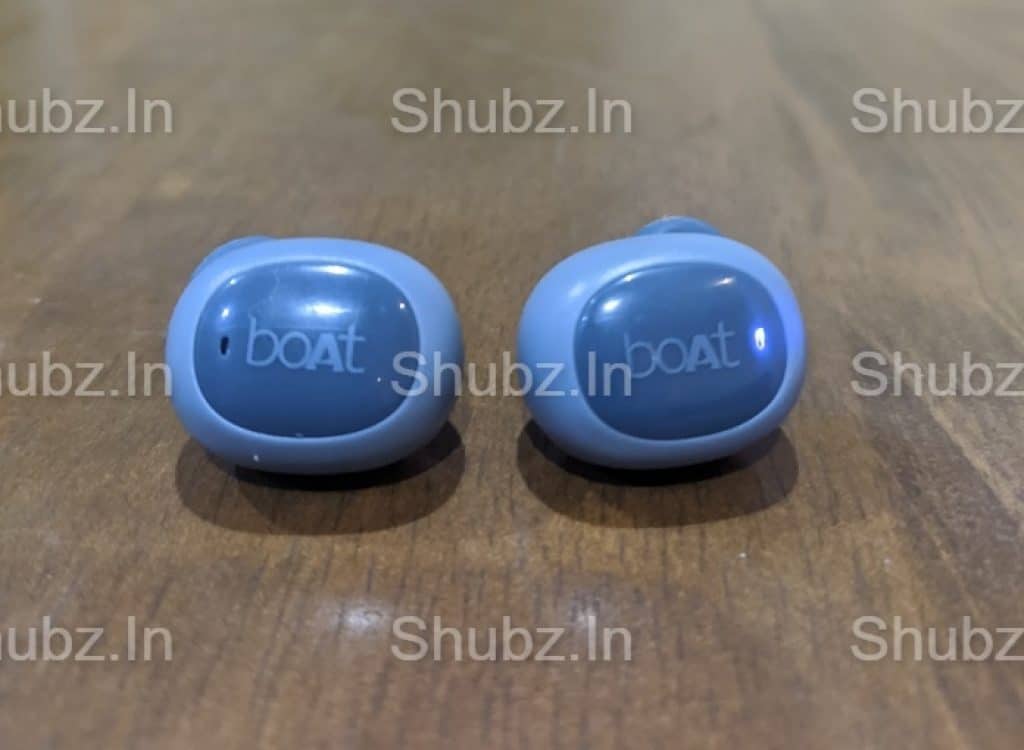 Build:
The Airdopes 121v2 earbuds are completely made of plastic, which works great to keep the weight of the earbuds really lightweight. The silicon tips are decent, and there are two extra pairs of different sizes, if the default one is not compatible with your ears. The earbuds have a very smooth finish and the button for controlling the earbuds is made of plastic too. There is a small gap for LED lights to indicate the state of the earbuds when you take them out of the case
Speaking of the case, it is also made of plastic and is wider than you would think. It perfectly fits in the pocket so there are no complaints there. It has a similar smooth finish over its entire body. The top lid opens easily and has a satisfying click when it closes. Inside the case, you get the usual earbuds holders and in the middle you have a battery indicator, which is one of the stand out features of this particular Airdopes earbud.
The LED indicator is decently bright and doesn't scratch easily. The same cannot be said for the body of the case however, since small scratches were caused by car keys when kept in the pockets, so bear that in mind.
Also Read : Best Bluetooth Earphones Under 2000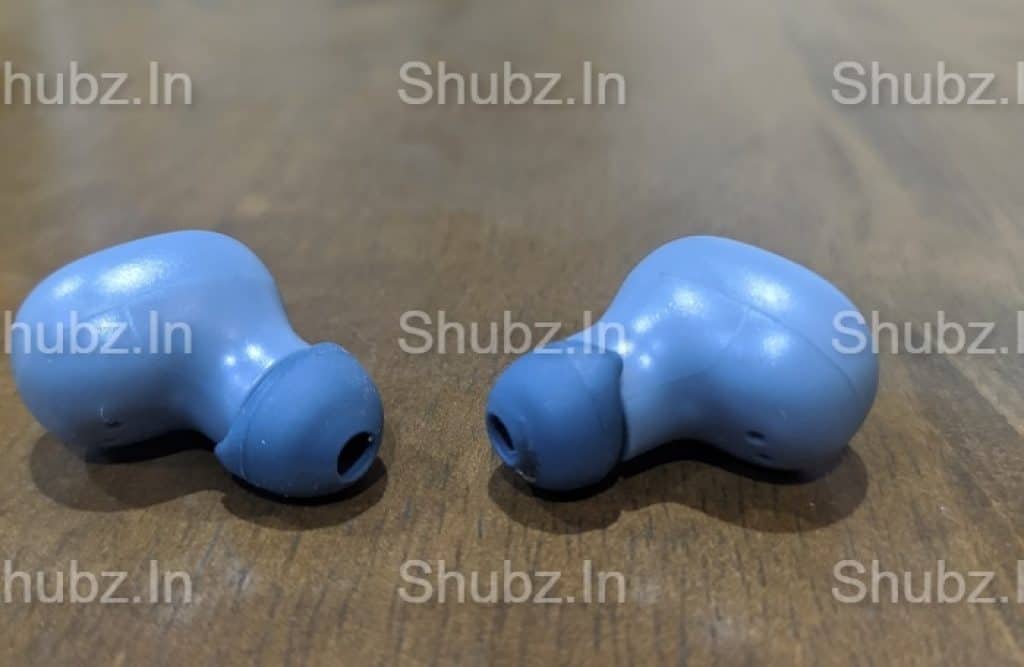 Sound:
The earbuds have a bass heavy sound, and it is very apparent from the moment you start listening. But at 70% to 80% volume, the mids and trebles are not overpowered by the bass. Only at max volume, we found that the bass was too boomy and there was a bit of distortion. In electronic tracks, the bass was even and punchy. For classical tracks with lots of cellos and violins, the mids and trebles were good and had decent sound staging.
For metal and rock tracks, the drums were a bit muddy and overpowered the vocals at higher volumes. The sound was fixed after we EQ'd it, so you might have to do it too if you are a metal/rock listener.
When listening to podcasts, the bassier voices are a bit overpowering but they can be EQ'd easily.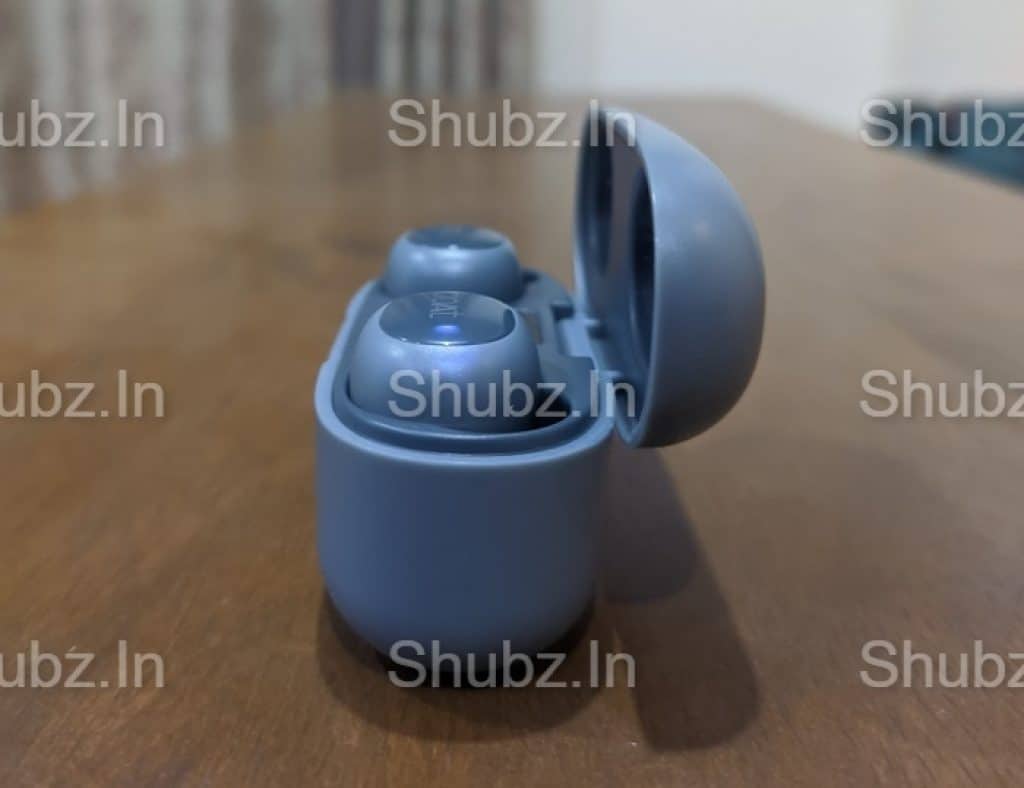 Battery Life:
The earbuds have a rated battery life of 3.5 hours and in our testing, we got around 3 hours of battery life. Although we found it odd that sometimes one earbud would lose its charge earlier than the other. But the battery life was satisfactory overall.
When paired with the carrying case, it easily lasted the whole day and sometimes two to three days in a row. Total battery life along with the carrying case is 14 hours, which is more than adequate for most people. We used it for around 4 to 5 hours each day and were never left out of charge.
Also Read : Best True Wireless Earphones Under Rs 5000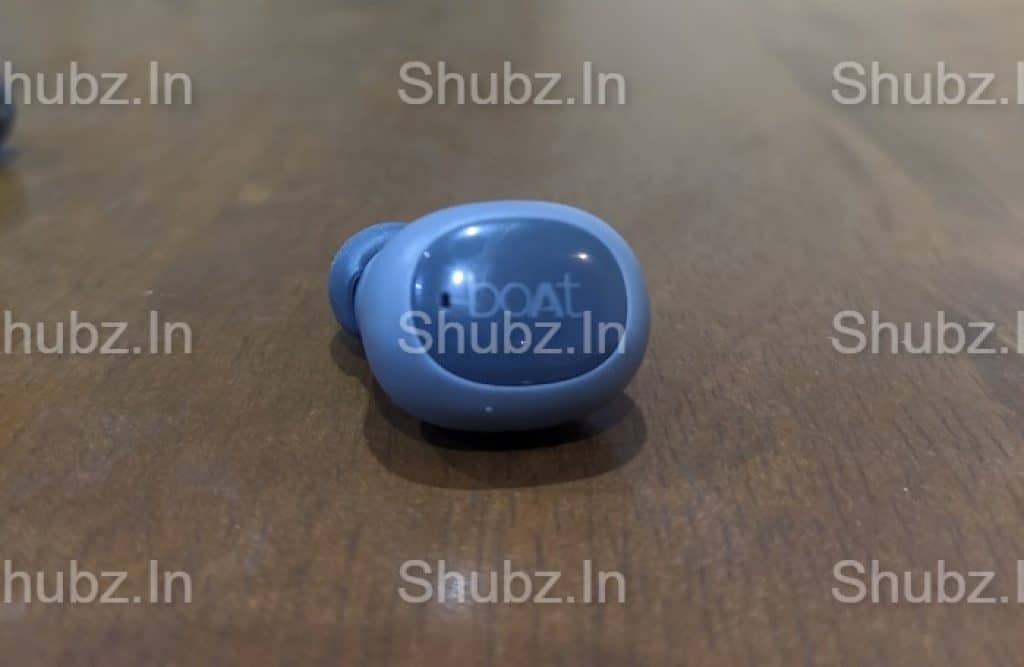 Other Features:
Another handy feature in the carrying case is the Battery level indicator. Whenever you open the case, you get the battery level of the earbuds and is very useful if you want to plan when to charge your earbuds. The display is decently bright and was visible even during the daytime.
The controls on the earbuds are very straight forward. The earbuds have a button that you have to press to control playback. While it is a good feature, we did notice that sometimes if we pressed hard, then it would hurt the inside of our ears. The button could have been touch sensitive, making it much more convenient.
You press the button once to pause or play the current track and double press for skipping tracks. Holding down the button for 5 seconds will turn off the earbud, and you can use a single earbud in mono if you choose.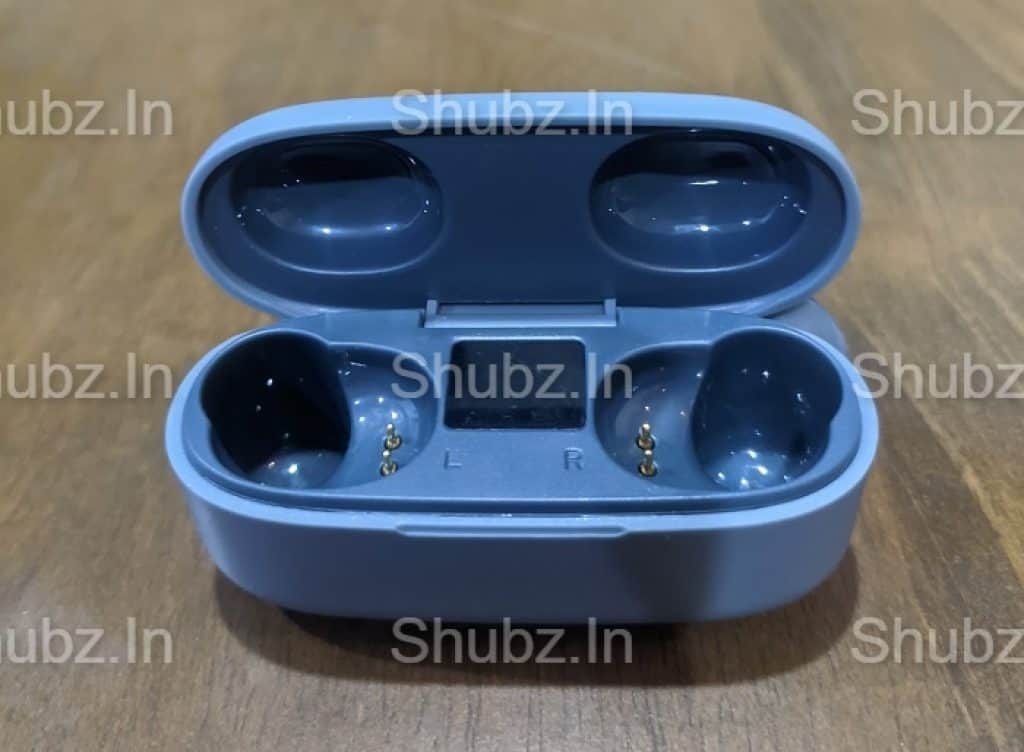 Verdict:
The Boat Airdopes 121v2 Earbuds are a great budget buy if you are looking to enter the wireless earbud life, which is far more convenient than the old days of wired earphones. For such a low price, it is a great entry point and delivers awesome features. We do wish some features like touch controls and water resistance were present though, but these are generally found in more expensive earbuds.
Pros:
Very reasonably priced
Battery Level Indicator in case
Decent Sound Quality
Cons:
No water resistance
Touch controls would have been preferred.
Also Read:
11 Best Wireless Earphones Under Rs. 1000
Bluetooth Earphones Under 2000
Wireless Earphones Under Rs. 20,000