Oppo is a brand synonymous with popular mid-range camera focused phones and weird experimental phones like the find X. Recently they have been stepping their legs into the earphone segment with a lot of wireless offerings. They have a lot of TWS earphones and they are usually regarded as the best in the segment simply because of Oppo's excellent audio pedigree.
Oppo in the past has made audio accessories that cater the audiophiles and their past experience definitely shows. Enco M31 is an excellent neckband offering from Oppo and might also be the best in the segment but it does come with a few trade-offs which you might find quite annoying.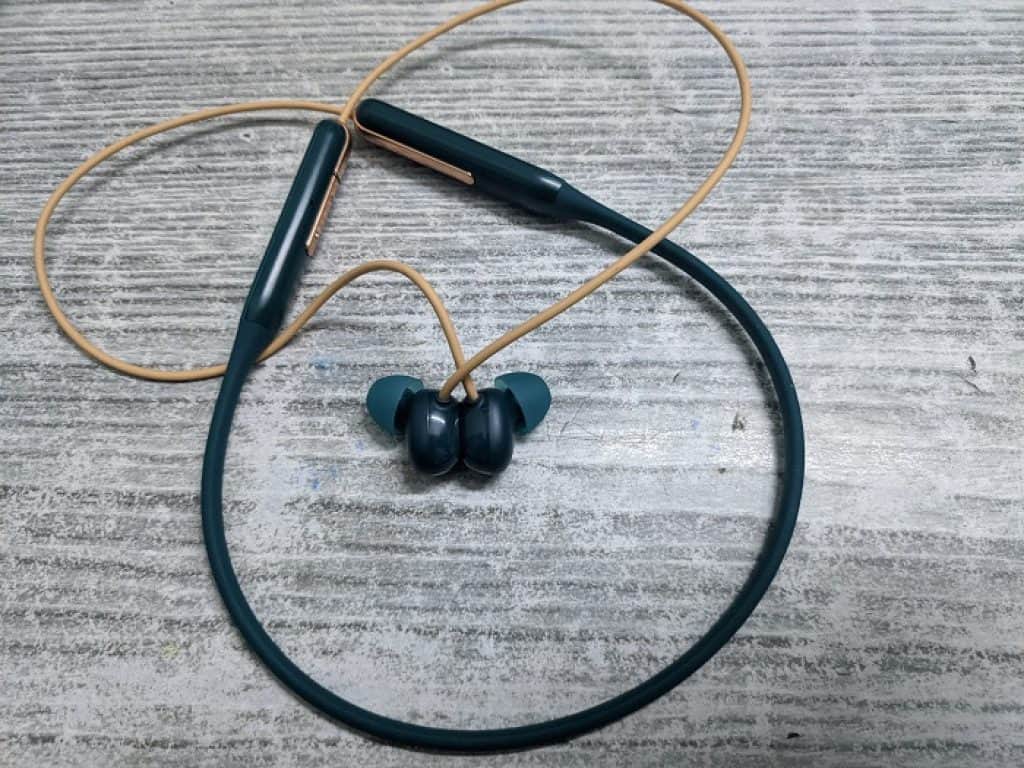 Neckband or TWS:
So, a lot of people might have this question whether to go for a neckband or true wireless (TWS). There are valid arguments on both sides but I prefer neckband style earphones. Let me tell you why.
First: Neckband earphones have much better battery life (by which I mean continuous listening time) than most of the TWS earphones. You have to charge TWS earphones at regular intervals which I find quite annoying.
Second: Neckbands are more comfortable than the TWS earphones. As the battery and other components are located in the neckband portion the earbuds themselves are very light and don't have comfort issues over long sessions of listening. TWS earphones have all the components located in the earbuds themselves which leads to higher weight and might be uncomfortable for a lot of people.
Third: Good sounding TWS headphones cost much higher than the similarly sounding neckbands. For example, the Enco W31 costs higher than the Enco M31 but the M31 has much better sound quality than the W31.
Four: If you are someone who goes to the gym or does workouts with earphones on the neck bands are a much better option. Even if the earbuds fall out due to rapid motion, they have the neckband to hang on which is not the case with TWS earphones.
But TWS also have their advantages like much smaller form factor which helps in portability and TWS do not have any wires which might also be good for durability as the wires in the neck bands are prone to damage.
All that said if you have a higher budget for your earphones it's better to go with a TWS as the compromises get lower when you move up in price.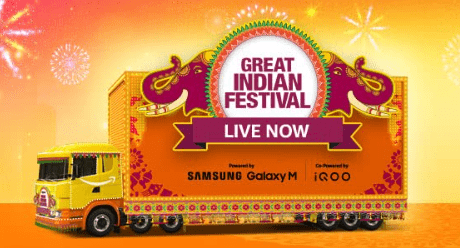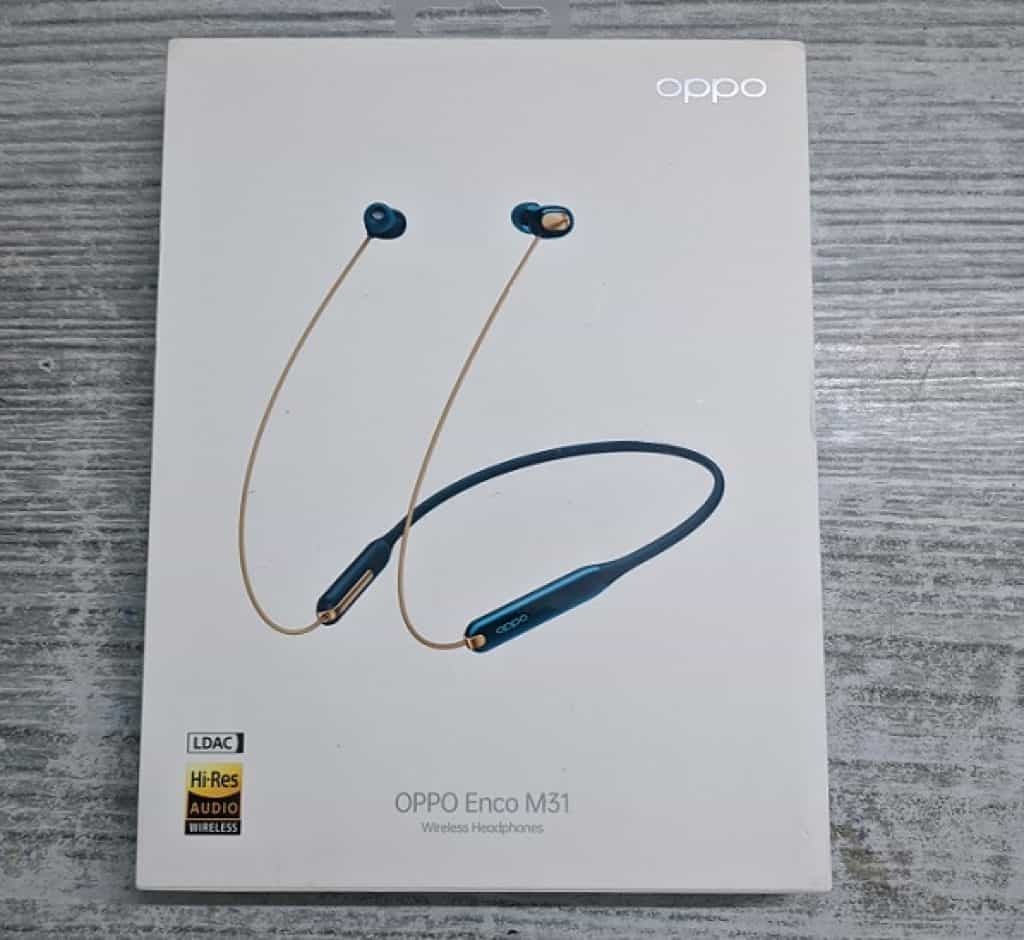 Packaging:
Packaging is pretty simple with a sleek looking box. Upon opening you get the earphones, additional ear tips and the warranty booklet. It also comes with a Type-C charging cable.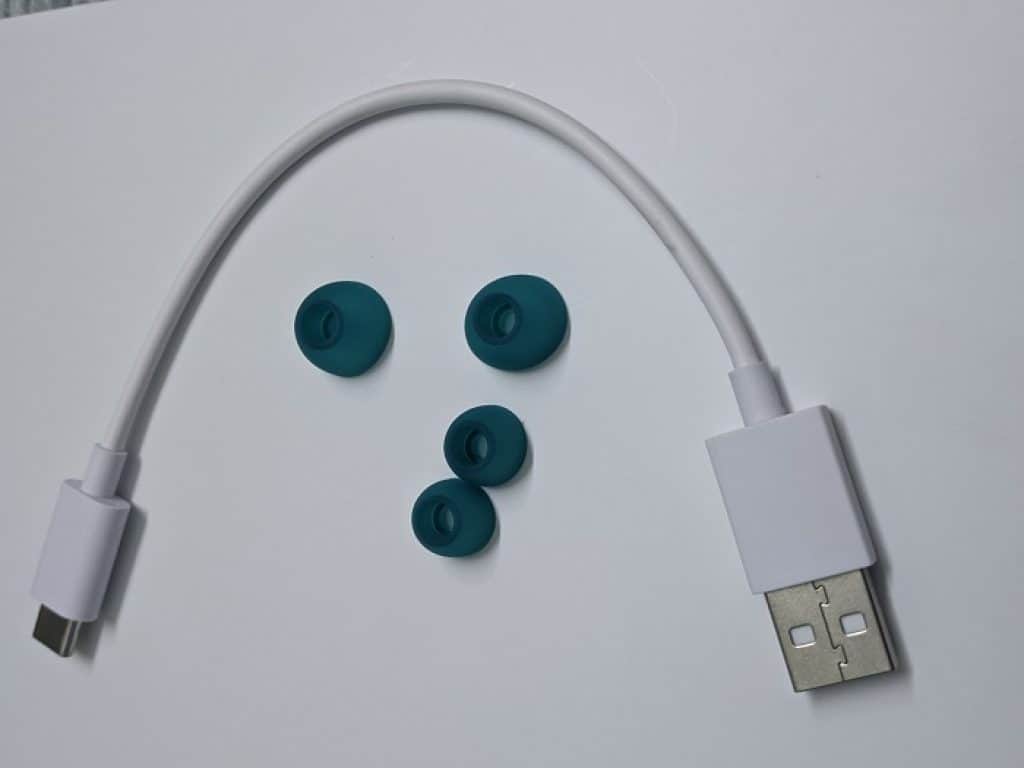 Design and Build Quality:
Design is one of the strong points of the M31 as it looks very sleek with a two-tone blue and gold finish. The neckband is also very slim and doesn't cause discomfort over longer periods of listening. The earbuds themselves have a two-tone matte and glossy finish and sit flush within the ears. This means that you could also wear them while you are sleeping as there are no protrusions from the earbuds.
Build quality is pretty good. It is a completely flexible neckband with rubber coating and it feels good. The part that contains buttons is made up of good quality plastic and buttons too have good feedback but the position of the buttons can be a bit awkward.
My concern is with the wires that connect the neckband and earbuds. Though they are of good quality the wires are on the thinner side and might pose a problem for users who are rough with their earphones. The wires are not tangle free so they get tangled up quite a bit which might damage the wires in the long term.
The earphones come with IP X5 rating which means it can take sweat and occasional water splashes without any issues but it doesn't have any dust resistance.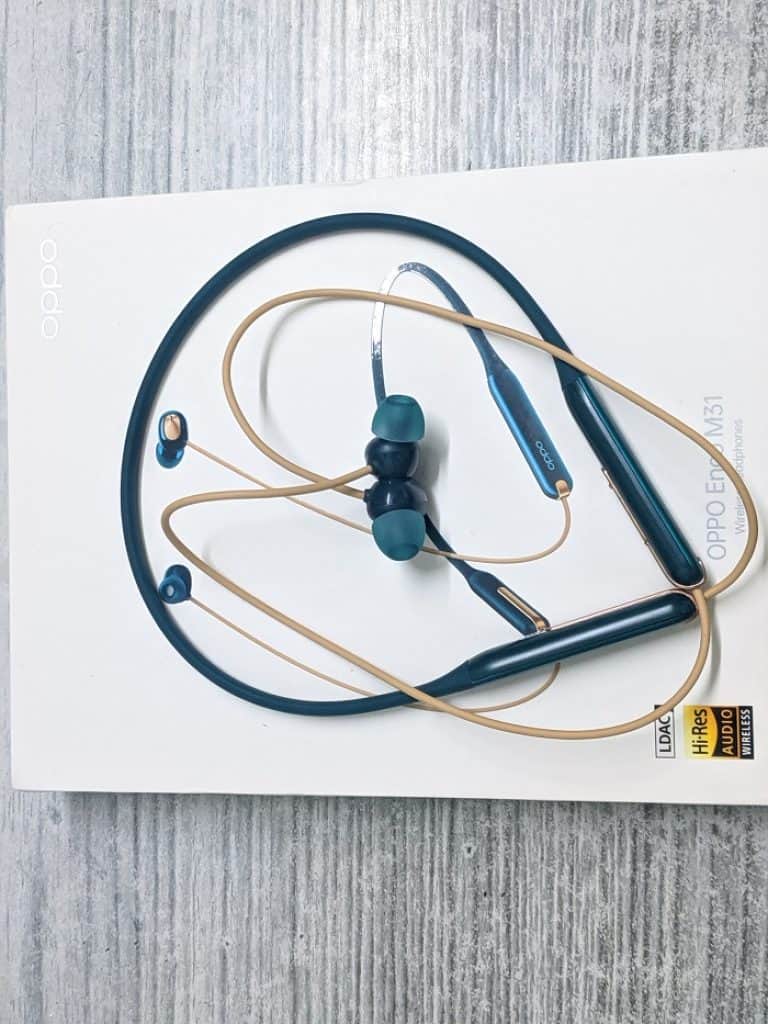 Functionality:
There are some useful additions to the M31. There are 3 buttons. Volume buttons and a multi-function button. The volume buttons can also be used for skipping tracks. M31 also supports switching between two devices. It is not as seamless as you would expect but it's a handy feature.
You have to hold volume +/- buttons together for 3 seconds and the earphone disconnects and connects to another device. This process might get a bit clumsy if you have more than 2 devices connected to the earphone.
There are also two modes for listening. Balanced mode and Bass mode which can be switched between by double tapping the multi-function button.
The earbuds attach magnetically and the earphones get disconnected from the device once they are attached. The earbuds reconnect to the device once the earbuds are separated. The whole process is seamless and is a very convenient feature.
Wearing the earphones for the first time can be a bit tricky but the earbuds are labelled as left and right which comes in pretty handy.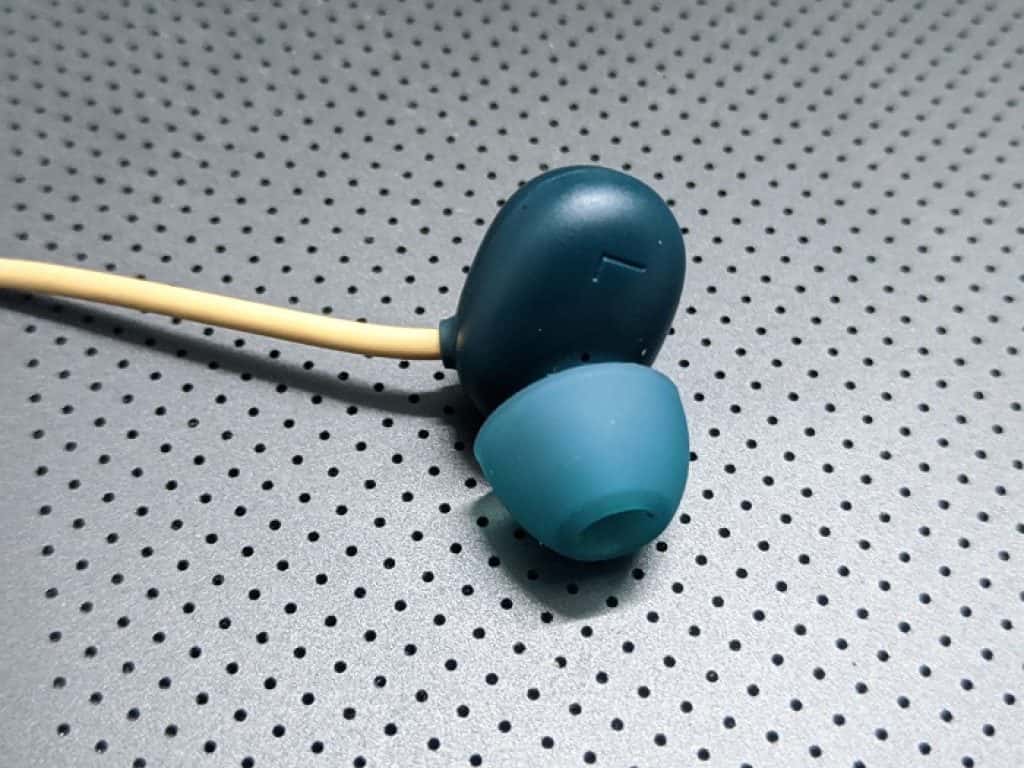 Sound Quality:
The key selling point of M31 is its excellent audio quality. For starters it has LDAC and Hi-Res wireless audio support which is capable of transferring up to three times the audio fidelity at 990kbps where other formats such as APTX-HD support only a max of 576kbps. But you need to have LDAC files for optimal listening experience but most of the streaming services support a max bit rate of around 320kbps and don't allow for LDAC level streaming. You can buy premium streaming services like TIDAL which provides you with LDAC audio files.
I have listened to some LDAC files and each file is around 30-40 MB. LDAC definitely brings out the finer details to life such as the mellow instruments. It is noticeable if you are a keen listener. Other times playing normal content over LDAC doesn't impact the audio quality in any way or form.
LDAC consumes more power than other audio codecs so you can also switch it off to squeeze in a bit more battery life. But I would personally not advise you to do so as turning off LDAC comes with 1 compromise.
Now let's talk about sound quality. It is simply great. It has an extremely balanced sound signature.
The bass is really precise in a way it doesn't leak into vocals and just comes when it is needed. The instruments are well separated and the vocals are very clear which makes it an excellent choice for vocal heavy tracks and even greater choice for movies.
Most of the earphones hurt my ear with high tones but this handles the high tones very well without any distortion or harsh notes.
If you need a bass heavy sound signature you can double tap the multi-function button to go into the bass mode. It really enhances the bass but it sacrifices some audio fidelity as the bass leaks into other parts of the music.
Bass mode introduces reverb (sort of echoing effect) when it is used in any other mode than LDAC. My phone with LDAC support works perfectly fine with bass mode but when I connect it with my windows laptop that doesn't have LDAC support there is a very noticeable amount of reverb which might get quite annoying over long listening sessions.
I'm not an audiophile but I can spot differences between earphones. For a spot of context, I have used mi neckband and realme neckband quite extensively. The difference is audio quality is quite stark as both the mi and realme neckbands put extreme emphasis on bass and do not provide much clarity to the vocals and other stuff where the enco M31 provides a much more balanced sound without emphasis on a particular part of music.
As it is an in-ear design it sits flush within the ear. Even though the earbuds seal is decent it still lets in most of the background noises. The earphones get adequately loud for most of the environments and most users will find the sweet spot at around 50-60% volume.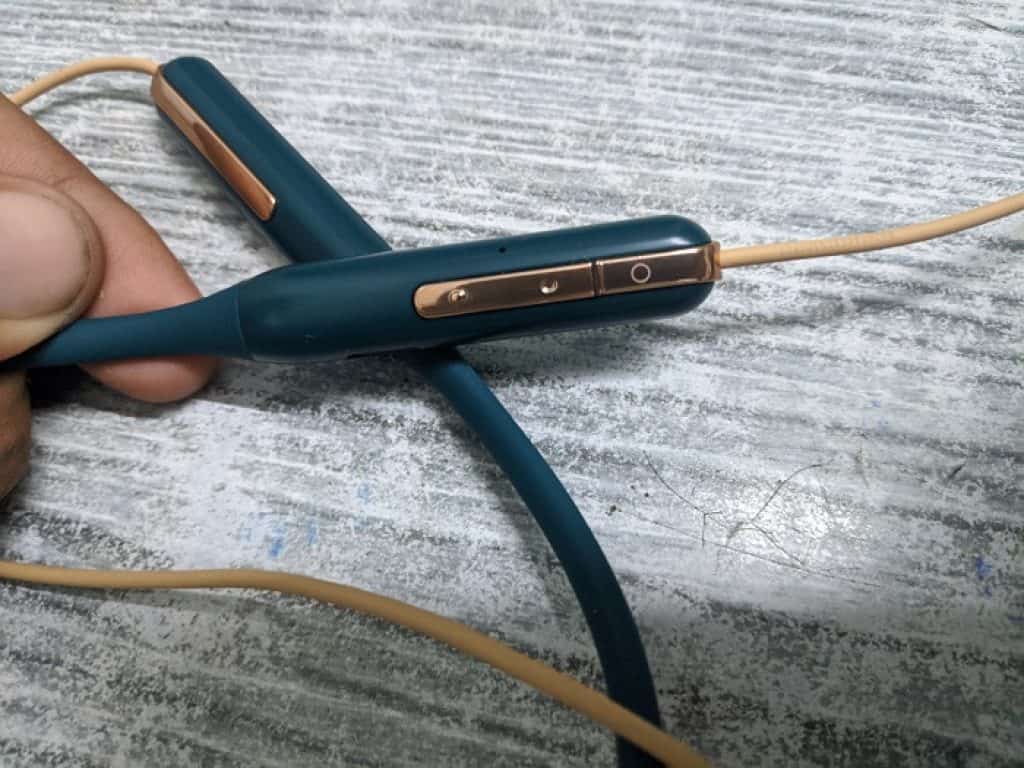 Microphone Quality:
I was pleasantly surprised with the microphone quality as it was able to pick up my voice even when I spoke at very low volumes. This might be due to the position of mic near to the mouth. The receiver on the other side of the call said that my voice sounded perfectly clear.
Oppo also claims to have AI noise cancellation for calls. I did not find any significant differences with the mic quality even with the claimed AI noise cancellation.
Bluetooth Range and Gaming:
There are no problems while watching YouTube videos and movies except for maybe a tiny bit of delay when you look out for it closely. Enco M31 is not targeted towards gamers as it doesn't have any low latency mode for gaming but the latency is decent for casual gaming.
I played a few games such as RDR2, Celeste with the earphones and the latency was not that noticeable. But for online multiplayers the latency might be higher than ideal.
My first unit of M31 had some serious connectivity issues. The Bluetooth range was fine but every now and then there was a tiny crackle in the audio which was very annoying. I have replaced the unit and the new unit has no such problems. So, if you find the same problem with your earphones make sure to replace it out.
The Bluetooth range is fine and stays fine for around 2-3 rooms at max but the range could go up quite a bit if you don't have any interruptions between your audio source and earphones.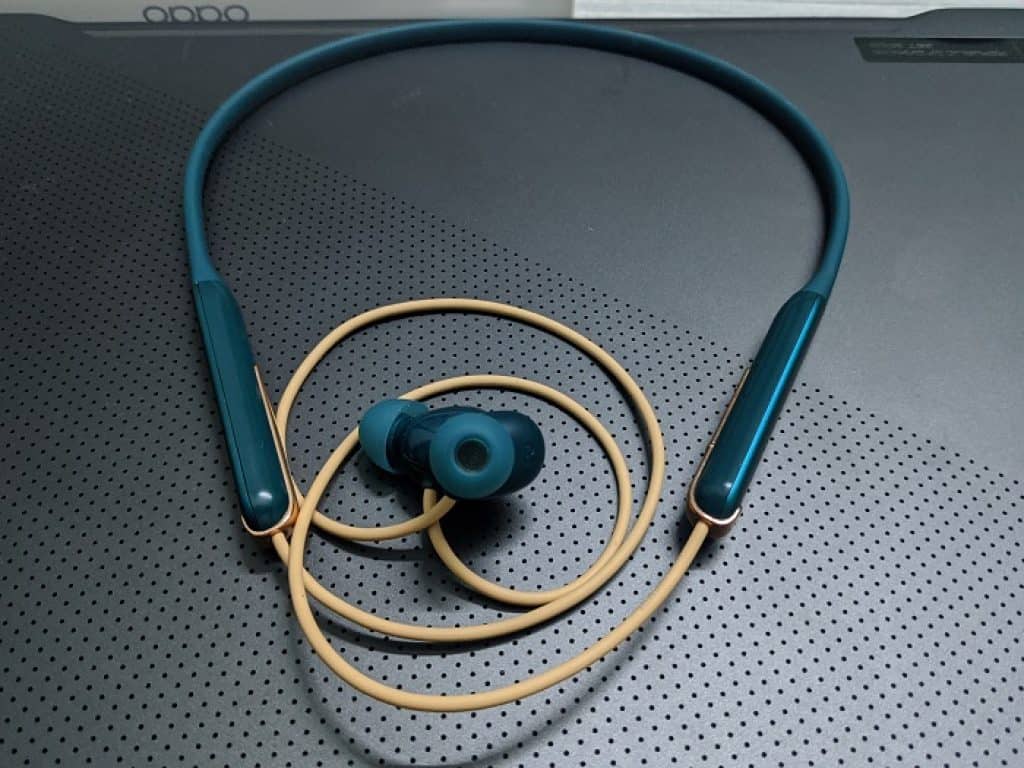 Battery Life:
Battery life on the Enco M31 is just average. I used the earphone between my phone and laptop which means the LDAC was not on all the time and I got around 8-9 hours of battery life. The battery life figure could go even lower if it is constantly on LDAC mode. To extend the battery life you can turn off the LDAC mode.
8 hours is a low battery life figure in the world of oneplus neck bands that get up to 20 hours of listening time. I would happily trade better sound quality for lower battery life so it was not a deal breaker for me.
Thankfully the charging times are very low and the full charge just takes around 40-50 mins. Quick charge of 5 mins can also get you a few hours of listening time. The earphones charge with a type-C connector which is a bonus.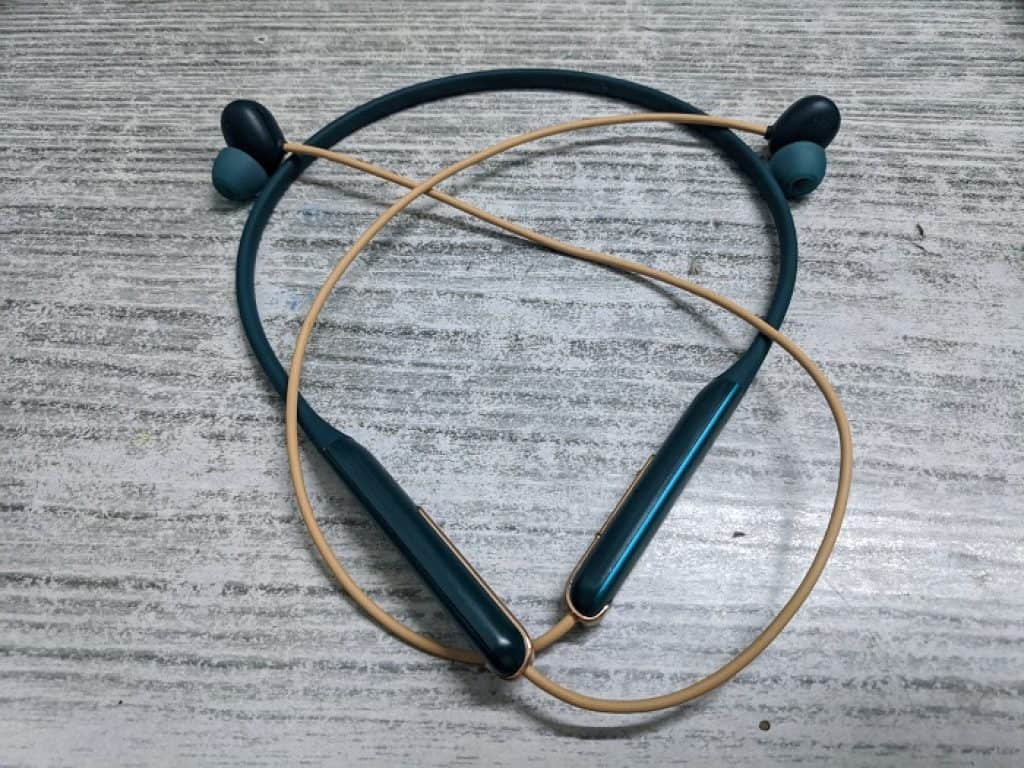 Verdict:
Should you buy the Oppo Enco M31?
Yes, you should buy the Enco M31. It has better sound than the earphones that cost even twice as much. It is safe to assume it is the best sounding earphones under 5K INR from the mainstream brands. It also transforms into a different sounding earphone with just double press of a button.
It is a better offering than both the realme neckband and the oneplus bullets wireless z except for the fact that the M31 has a lower battery life than the other two.
Coming in at 1,999 Rs the Enco M31 is an excellent choice for people looking to buy a neckband.

Written By – Nirunjan Kumar Infinite monkey theorem. I love how things work. Tryna make things work! Instagram