Breast pumps in the modern era have become a valuable asset for women balancing their professional lives, enabling them to nourish their newborns with breast milk without compromising personal or work commitments.
Even for stay-at-home mothers, these pumps play a crucial role by allowing them to allocate extra time from their busy schedules. Since every woman's circumstances vary, it is essential to select a breast pump that caters specifically to individual needs.
To assist you in making the right choice, here is a comprehensive guide on selecting the ideal breast pump for you.
Types of Breast Pumps and Which One Is Ideal for You
1. Manual
As their name suggests, a manual breast pump requires you to manually express the milk out. These kinds of pumps use different suction mechanisms depending on the variant you have chosen and all of them differ on the comfort level. Mostly cheap, manual pumps can work in places where you may not have access to power, like when travelling.
Pumping manually may be tiring and takes a lot of time when compared to their electric counterparts and they should be considered only in settings when you'd be expressing milk occasionally. They should be avoided if your use is any frequent or you are working.
2. Electric
To help you get the job done without much fatigue while taking minimal time, an electric breast pump will be your best bet if you are always in a hurry to leave for your office. Electric pumps are powered by either batteries or through a power outlet, which makes the latter more efficient but with its own shortcomings.
Being tethered to a wall socket, an electric breast pump won't be portable, while a battery operated one is inexpensive and can be used anywhere and anytime, though they are considered a little slow. If you pump often, then an electric pump should be your only choice.

Also Read:

Best Convertible Baby Car Seats
Best Manual Breast Pumps
1. Philips Avent Manual Comfort Breast Pump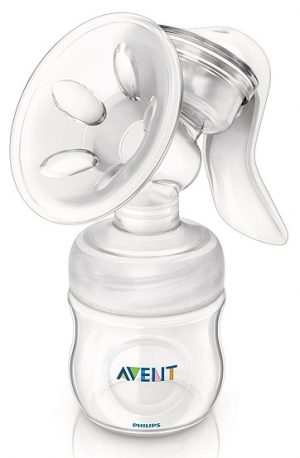 Pros:
You cannot go wrong with a Philips breast pump that comes packed with a range of features.
This model is an all in one unit used for expressing, storing, and feeding the milk. Assembling and disassembling it is quite easy allowing you to effectively clean it after every use.
The milk container is BPA-free for the safety of your child and is also dishwasher safe. It is designed keeping your comfort in mind.
Cons: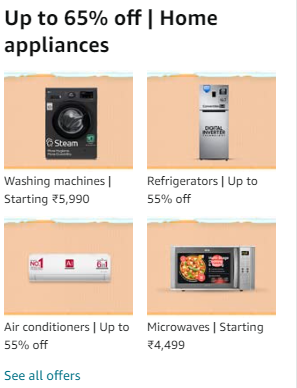 None.
Check Price : Amazon
---
2. Trumom Manual Comfort Breast Pump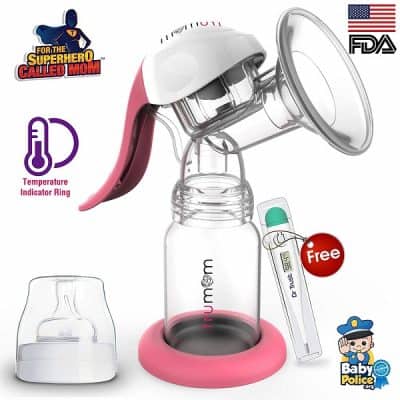 Pros:
One of the better-known brands in this industry, Trumom allows you to control the pressure level as per your comfort.
There is a temperature indicator included with its 180ml storage bottle, which itself is made out of medical-grade material to give you peace of mind as far as the health of your child is concerned.
It supports dual-suction modes to mimic a baby's natural suckling.
Cons:
Some moms have complained about it less than optimum pumping capacity.
Check Price : Amazon
⇒ Top 10 Best Baby Carrier in India
---
3. R for Rabbit First Feed Manual Breast Pump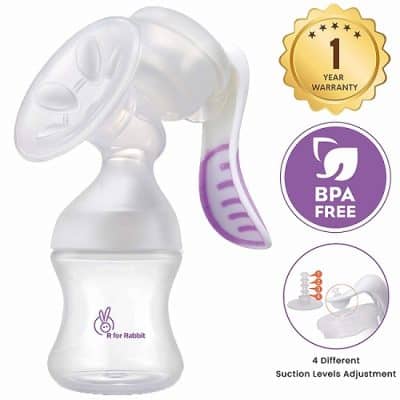 Pros:
Coming with comfortable breast pads that are made out of soft silicone to give you maximum comfort while pumping the milk, this R for Rabbit product has proven to be quite popular among moms.
It is designed to give a better sitting position and offers 4 suction levels. Its leak-proof container can hold the expressed milk for long and a soft nipple cap can be attached too.
Cons:
None
Check Price : Amazon
---
4. LuvLap Manual Breast Pump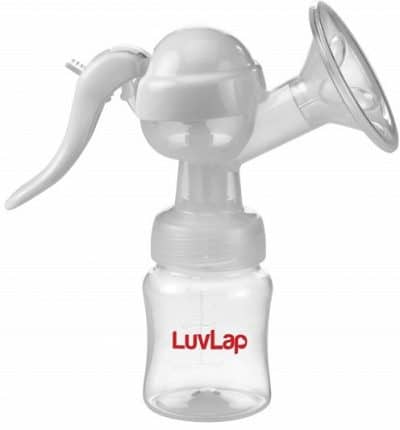 Pros:
To maintain the hygiene of this pump, you can sterilise all its part, given its ergonomic design that is compact enough to carry it around.
Its handle is positioned to make the pumping easier for the mother and a comfortable massage cushion helps in that process.
An extra container will come included in the package along with a carry pouch.
Cons:
Silicone cushion unable to hold its place after a few uses.
Check Price : Amazon
⇒ Also Read : Best Baby Strollers in India
---
5. Medela Harmony Manual Breast Pump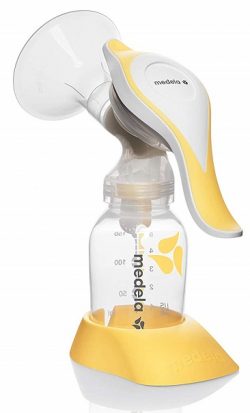 Pros:
An established brand—Medela—makes some of the best breast pumps globally and their products are available in India as well.
Made out of high-quality material, you can rest assured about your baby's safety and health.
A 150ml bottle has been included as the milk container that comes with multiple lids to choose from. The manual pump ships with a 24mm breast shield, though you can choose a different size.
Cons:
None.
Check Price : Amazon
⇒ Also Read: Best Convertible Baby Car Seats
---
Best Electric Breast Pumps
6. Medela Swing Maxi Double Breast Pump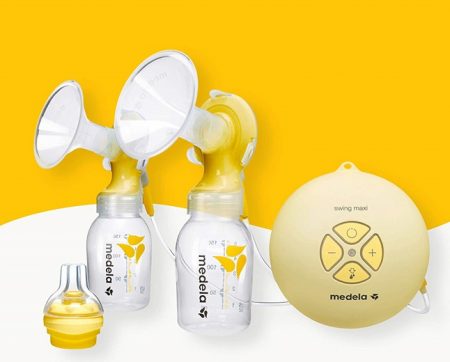 Pros:
In the world of breast pumps, Medela makes some of the best products and this double breast pump makes your life easier and saves a lot of your time.
Besides the time-saving feature, this pump also claims to express 18 percent more milk than a conventional single pump.
The entire assembly is easy to use and clean, while an attached controller helps you change settings with ease.
It runs on 6 AAA batteries offering a 2-hour battery life.
Cons:
The prices are too high.
Check Price : Amazon
---
7. Trumom Rechargeable Single Electric Breast Pump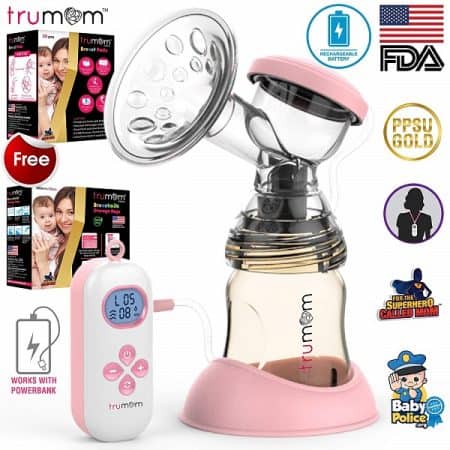 Pros:
Made available by a global brand in India, Trumom's electric pump is one of the most reasonably priced one in its category.
It comes with a rechargeable battery which can last for about 2 hours. The machine uses a complex method of milk suction under several stages to follow a process similar to the natural one.
The attached controller has a display to show relevant information besides a few buttons.
Cons:
As per some moms, the suction capacity is a little low when running on battery power.
Check Price : Amazon
---
8. Meditive Single Electric Breast Pump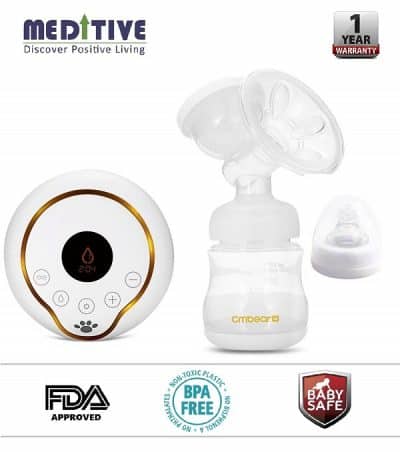 Pros:
Meditive breast pump offers you convenience with its rechargeable battery that can be juiced up using a normal mobile charger as well! On a single charge that takes just 1 hour, the machine can run for over 4 hours. It offers 9 adjustable suction levels with dual modes while included BPA-free containers for your child's health and safety.
Cons:
The included breast pad may loosen its grip in a couple of months.
Check Price : Flipkart
⇒ Best Diapers For Baby , Adults and Pets
---
9. Philips Advent Single Electric Comfort Breast Pump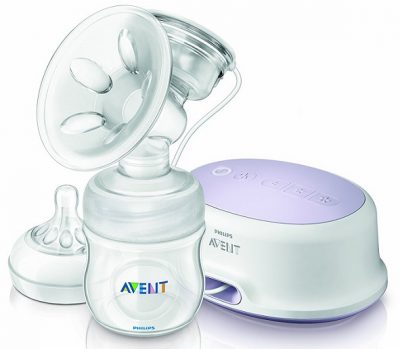 Pros:
The electric variant of the Philips Avent series of breast pumps offers an incredible set of features to the users while being covered with 2 years of warranty.
It is ergonomically designed to maintain your posture and includes 3 pumping settings besides a soft massage cushion for your ease.
Cons:
Its high asking price may trouble some people.
Check Price : Amazon
---
10. Medela Mini Electric Breast Pump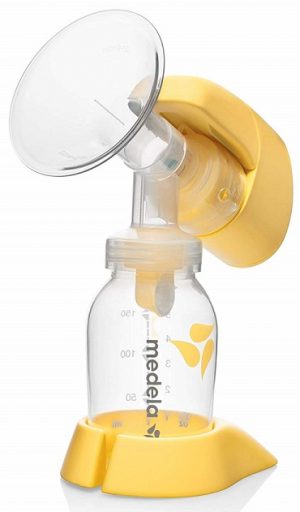 Pros:
People looking for a more compact version may find this Mendela single breast pump easy to use and carry.
Everything is contained in a single unit that also includes its rechargeable battery.
It is small enough to be operated with a single hand and supports adjustable suction levels. It is backed by a 6-month warranty.
Cons:
Given its set of features, it is still priced considerably high. Some users have raised concerned about its longevity. Additional controls are lost with its compact size.
Check Price : Amazon
---
Features to Consider While Buying a Breast Pump
Suction Settings and Fatigue
For any breast pump, electric or manual, there should be an option to adjust the suction pressure to keep your breasts at ease and comfortable while expressing milk. The best one mimics a baby's natural suckling rhythm to maximise the milk flow while allowing you to fill the bottle quickly. For manual ones, you must note if you're required to use both or one of your hands to pump milk.
Power Supply
If you plan on expressing milk on the go, make sure to take note of your pumps power supply as not all of them will be able to work in all conditions. Battery-operated ones will be just fine for use in a car, while a tethered one must include an adapter to attach it to a cigarette lighter in your car. This choice will depend on your particular situation and will differ for everyone based on their needs.
Double Pumping
Available as an electric variant, double pumps just work as advertise and will save a lot of your times. Using a single machine, you will be able to express milk from both your breasts at the same time and you will be ready to go within minutes. Besides saving time, they are also considered much more efficient in extracting milk. Double pumps are ideal for working women but they tend to be expensive and your own need may justify its price.
Weight and Carrying Case
Some mothers prefer carrying their breast pumps with them to use them while riding to work, while in their workplace, or even when travelling. This makes it necessary for the pumps to be light in weight, especially the electric ones that come with additional equipment. Plus, there should be an included carrying case that makes handling the pump more comfortable.
Milk Container Insulation
Continuing from the previous point, you might also want the mil container to be insulated when you are pumping on the go. The breast milk wouldn't stay good for long without adequate cooling and it stays fine for a few hours when refrigerated. While you don't have access to a refrigerator to store the milk, the container included with your pump must be insulated to store it in the meantime.
Safety Tips for Using a Breast Pump
It is always a bad idea to go for pre-owned pumps meant for personal use. You can never be sure if the pump's internal parts and tubing have been properly sterilised or not. If not, this can expose your baby to several severe health risks, including infections and contagious diseases.
Thoroughly clean the breast pump after every use to maintain the hygiene of the machine. If it isn't possible while you are in the office or for any other reason, make sure to clean it at least once every day.
For cleaning the internals of your pump, especially an electric one, you must look for cleaning instructions in the manual that might have come along with it. This can better guide you on cleaning the internal tubes out as each manufacturer has a different arrangement for the same.
An incorrect flange size of your breast pump can even render the machine unusable. Make sure to find the perfect fit for your breasts to create a perfect seal that doesn't hurt you in any way. If the area around your nipples shows any sign of irritation or change in colour, then it is time to get a better fitting pair of flanges.
Also Read:

Best Convertible Baby Car Seats