It can be an exhausting task to feed your toddles, especially if your child is proactive. Thankfully, high chairs exist that make it easier and more convenient to feed your baby with considerably less amount of mess.
A high chair will keep your child securely strapped in a position so that they aren't able to move or run around.
However, choosing the perfect high chair for your baby is not an easy task. So, to help you out, we have made a list of the 10 best baby high chairs that are available in the market.
Best Baby High Chairs in India
1. R for Rabbit Marshmallow 7 Levels Smart Feeding Table High Chair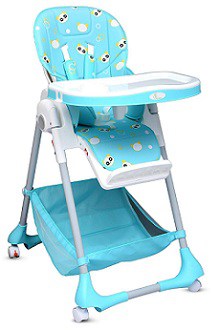 If you are looking for a safe high chair for newborn babies and toddlers then R for Rabbit Marshmallow Feeding Table High Chair is the perfect choice for you.
This chair can be used up to 5 years of kids and features a smart folding function that allows you to store it and make use of your limited space. It also features an adjustable meal tray that can be used in 3 positions and is dishwasher safe so it is easy to clean it as well.
You can also adjust the height of the chair to 7 positions as your baby grows or to match the height of the table. There are also 3 recline modes available and a 5-point harness system that allows you to keep your kid comfortable and safe at all times.
---
2. BAYBEE Little Miracle Convertible Baby High Study Table Feeding Chair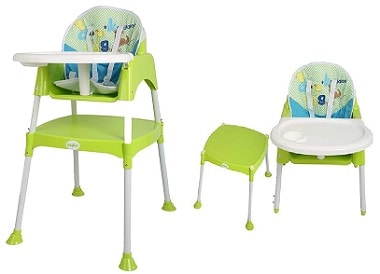 Another amazing convertible high chair by Baybee is perfect for people who are on a budget and is perfect for both infants and toddlers. This high chair meets the EU standards for safety and can be easily converted into a table and chair so that you can use it as a desk.
With the non-slip and anti-tipping design, you don't have to worry about the chair slipping as it will remain stable at all times.
Read : Best Diapers For Baby
It also features an optimal backrest design which allows your child to sit comfortably and eat their meals. This durable high chair also features a 5-point harness for the safety of your child and can be easily assembled at home. You can use the instructions manual to assemble this high chair at home and then convert it to a desk whenever you want.
---
3. SYGA High Chair for Baby Kids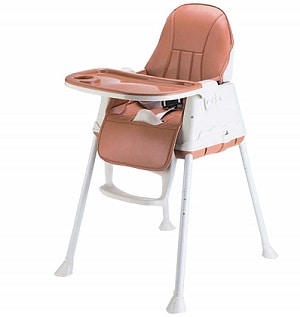 SYGA high chair is another great product that uses a metal frame and PP plastic table for its construction. This foldable chair is portable and easy to store and can be easily converted into a low chair and a portable booster chair by adjusting the height of the chair.
The food tray can also be adjusted in 4 positions to accommodate your kid's growth and can be used for both dining and playing.
Also Read : 10 Best Baby Carrier in India
Also, it is easy to clean this high chair as the tray is dishwasher-safe and the booster seat is stain-resistant and easy to remove. So, anytime you want to clean it, you can simply remove the seat and wipe with a damp cloth.
---
4. Kurtzy Kids Foldable High chair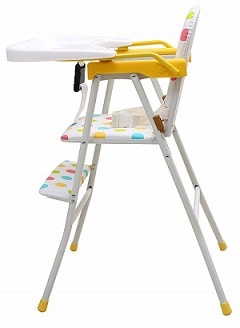 Made of aluminum, Kurtz Kids high chair is easy to assemble and requires you to just lock the leg buttons before use.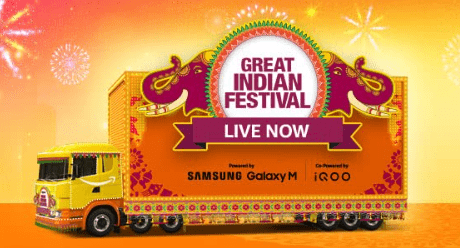 This high chair is perfect for babies and toddlers and can easily take up to 50 kgs at a time. The removable tray with this high chair makes it easier to clean the tray and sanitize it after every use.
Also, you can fold this high chair to store in small spaces. This high chair also features adjustable straps to keep your child secure on the chair. One of the best things about this high chair is that it uses a soft fabric that is durable and suitable for sensitive skin as well.
---
5. LuvLap 4 in 1 Convertible High Chair Cum Booster Seat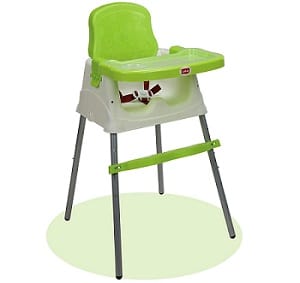 Another top product by LuvLap, this 4 in 1 convertible high chair can be used as a low chair, low seat with a tray on the floor, and a booster seat.
This high chair features detachable adjustable legs so you can adjust the height of the chair to suit your baby's needs. The 3-point safety harness keeps your baby secure around the waist.
Read: 10 Best Baby Strollers
Also, with the adjustable 3-position dining tray, you can remove the tray to clean and can adjust it to fit your baby's belly. Most importantly, the chair can be folded compactly for storing in limited space.
---
6. LBLA Portable Baby High Chair for Feeding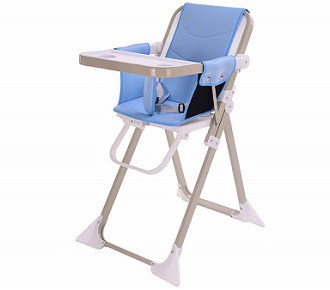 LBLA Portable High Chair is flexible and versatile and can be easily converted to a toddler's chair and a dining chair, making it perfect for children of all ages.
Made up of durable steel, this high chair is strong and long-lasting. It also features a 5-point harness system to keep your baby secure and comfortable.
Also, the chair is equipped with a stain-resistant cushion that is easy to clean. You simply need to wipe the seat to clean the spills. Plus, since the cushion is waterproof so any spills will get absorbed easily.
---
7. LuvLap 3 in 1 Convertible High Chair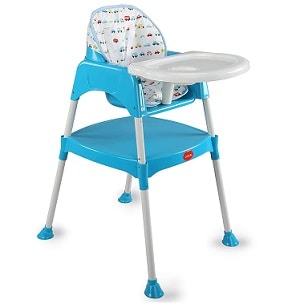 One of the top high chairs in the market, LuvLap 3 in 1 Convertible High Chair can be used as a low chair, a high chair, and a study table & chair. As a result, it is a very convenient and good long-term investment for your child. This convertible high chair can easily be used by children that are between 6 months and 36 months old and can take a maximum weight of 20 kg.
Certified as EU standard, this high chair includes a 5-point harness for the security and the safety of your child. The non-slip and anti-tipping leg base ensures that the chair maintains balance and doesn't slip while you can adjust the height of the chair to feed conveniently.
Also Read : 10 Best Baby Wet Wipes in India
Also, this multipurpose high chair is quite affordable and is easy to clean with its removable and washable dining tray, seat pad, and safety belts.
---
8. Fisher Price 4-in-1 High Chair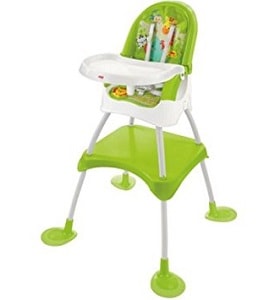 Although a little expensive, Fisher Price 4-in-1 High Chair can be easily converted to a feeding chair and stool. You can further remove the tray and fold the chair legs to convert into a toddler booster seat.
With a compact size, machine-washable seats, and a dishwasher-safe tray, this high chair is extremely convenient to use as a feeding chair and can be cleaned quite easily as well.
This foldable high chair features a 3-point harness that secures your baby and allows you to store your baby's bibs, toys, etc. in the high chair for easy access as well. And if you convert it into a booster seat, you can easily attach it to most chairs so that your little one can enjoy it with you.
---
9. BabyCenterIndia 4 in 1 High Chair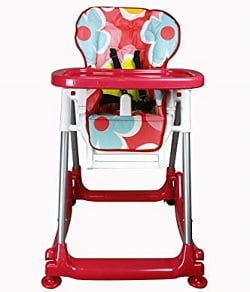 BabyCenterIndia 4 in 1 High Chair is another great product that meets the EU safety standards and can be smartly folded to save limited space at home.
With its 5-level adjustable height, you can modify the chair height as your baby grows and can also use it to match the height of the table.
Also Read : 10 Best Tricycle for Kids in India
This high chair also offers 3 recline modes and a footrest to make your kid comfortable while the 5-point harness keeps your child secure in the chair. This chair is strong and available in different colors too.
---
10. Little pumpkin Kiddie Kingdom 3 in 1 Foldable High Chair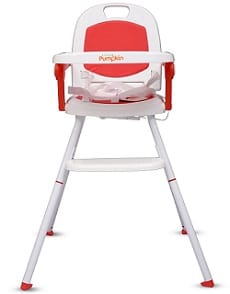 Another affordable high chair, Little Pumpkin 's Kiddie Kingdom Foldable High Chair can be easily converted into a low chair and a booster chair.
Also, since this high chair is compact and easily foldable, you can store it in the travel bag that comes with the chair and carry it with you on trips as well.
With its removable and adjustable meal tray, you can adjust the meal tray in 3 positions and will be able to clean it easily as well. Also, the removable fabric of the high chair is easy to clean and maintain.
---
How to ensure safety for the baby?
Here are a few high chair safety tips that you should follow:
1) Ensure that your high chair is sturdy and stable and will not tip over when you place your child in it.
2) If you have a folding high chair, make sure that it has a locking mechanism and use this lock every time you are about to use it.
3) When you make your child inside this high chair, make sure that you use all the safety straps to securely strap your child. This means even the crotch strap as it is easy for babies to slip and injure themselves. Make sure that your child doesn't stand on the high chair.
4) Never keep the high chair near a counter or a table as your child might just push these surfaces hard enough and tip over their high chair.
5) Don't leave your child alone in a high chair ever. Also, keep older children away from the high chair as they can easily tip it over while playing around.
6) Finally, choose a freestanding high chair over a high chair that can be hooked to a table. However, if you do want this type of table for when you travel or eat out, then make sure that you buy one that will securely lock to the table.
7) Make sure that your table is heavy enough that it won't tip over under your child's weight. Also, check if your baby's feet can touch the table or not, if they are able to push against the table then they might dislodge their seat.
---
Also Read : Best Baby Bottle Sterilizers in India
How to clean Baby High Chair?
Cleaning your baby's high chair is a must because there will be food particles scattered all over the chair which, if left unclean, can result in bacterial infections.
Brush Off Loose Food Crumbs
Make sure that you brush off and collect food crumbs after each meal. You can either brush them to the floor or collect it in a napkin to dispose it off.
Wipe the Chair with a Damp Cloth
Also, you need to wipe the chair with a damp cloth after brushing off the food crumbs. Wipe the complete high chair thoroughly to prevent any food particles from getting stuck and drying out.
Disinfect the Eating Surface
Next, you need to sanitize the eating surface for your baby's health. You can use a disinfectant wipe to do so. Another option is to spray white vinegar on the eating tray/surface and let it sit for 5 minutes. Then, wipe the surface with a clean damp cloth.
Wipe the seat below the High Chair
If your high chair can be disassembled then remove the high chair seat every week to clean below the seat. A lot of food particles get stuck in this area so cleaning this every week is a good idea.
Clean the High Chair Thoroughly
Also, make sure that you use a disinfectant every week to clean the rest of your high chair as well including the legs, underside, and other exterior parts.
Remove and Wash the Cushions
Every month, deep clean your high chair too. Remove the cushion and the straps and clean them thoroughly. Most are machine washable but there are a few that you would need to wash by hand. Read the manual for cleaning instructions.
Also Read : Best Baby Bottle Sterilizers in India
---
How to Assemble?
You will find different types of high chairs, some of which will come pre-assembled while a few others will require you to assemble them at home.
Avoid choosing high chairs with complicated assembling procedure and always stick to high chairs that are pre-assembled and can be folded for easy carrying around.
Modern high chairs require you to assemble them and usually come with an instructions manual on how to do this. You need to follow an instruction manual step-by-step to be able to assemble the chair.
Even booster chairs require a little assembly time every time you use it. So, make sure that you understand and practice the assembly many times before you take this high chair with you on outings and trips.
Also Read: