It isn't always easy to travel around with your baby inside a car, especially when there is no other adult in the car. In those situations, having a baby car seat becomes absolutely necessary.
It not only keeps the child safe and secure in one place, the seat gives the kid his/her own seat that is made according to their size. Plus, you get to concentrate better on your driving without having to move around and handle your child.
With that, the children grow really fast and you will need a product that can also 'grow' with your child.
Best Diapers For Baby , Adults and Pets
Using a baby car seat is crucial for several reasons:
Safety: A baby car seat provides a secure and protective environment for infants and young children during car travel. It is specifically designed to offer optimal protection in the event of a collision or sudden braking. The seat's harness system and sturdy construction help restrain the child and minimize the risk of injuries.
Legal Requirement: In many countries, the use of baby car seats is mandatory by law. Failure to comply with these regulations can result in fines and penalties. Adhering to the law ensures the safety of your child and demonstrates responsible parenting.
Proper Positioning: A car seat is designed to keep your baby in the correct position while traveling. It provides support for the head, neck, and spine, which are still developing in infants. This reduces the risk of injury and promotes a more comfortable and secure ride for your child.
Reducing Distractions: When a baby is securely placed in a car seat, it helps minimize distractions for the driver. This allows the driver to focus on the road and enhances overall road safety for everyone in the vehicle.
Long-Distance Comfort: A well-designed baby car seat provides a comfortable seating position for your child during long journeys. It offers proper padding and cushioning, ensuring that your baby remains cozy throughout the trip.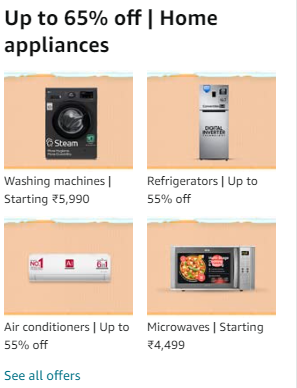 Remember, it's essential to choose an appropriate car seat based on your child's age, weight, and height. Follow the manufacturer's instructions for installation and usage to ensure maximum safety.
---
There are a bunch of adjustable baby car seats available in the market for you to have a look. Below mentioned are some of the best car seats you can buy for your child:
Best Baby Car Seats in India
 1.  Luvlap Baby Sports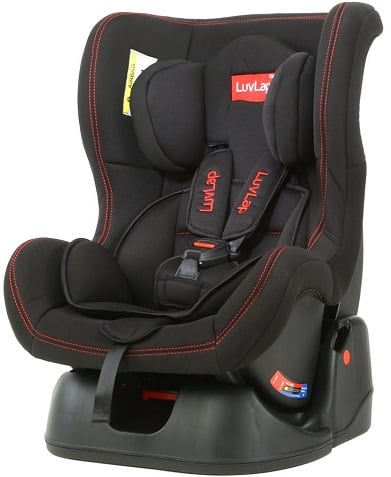 Coming from a reliable brand like LuvLap, you can completely trust this product for your kid. It has a double-cushioned seat for ensuring utmost comfort while in a ride.
1) The car seat is appropriate for kids up to 3 years of age and it can adjust as the kids grow with the help of an adjustable headrest.
2) The safety harness is connected at five points for optimum safety and the seat can be reclined at up to three positions for added comfort.
Also Read : 10 Best Tricycle for Kids in India
3) LuvLap has included a washable seat cover which allows you to clean it at your convenience and elongate its life.
4) Based on your preference, you can choose this car seat from four color options.
Compare Price : Amazon
---
 2.  R for Rabbit Jack N Jill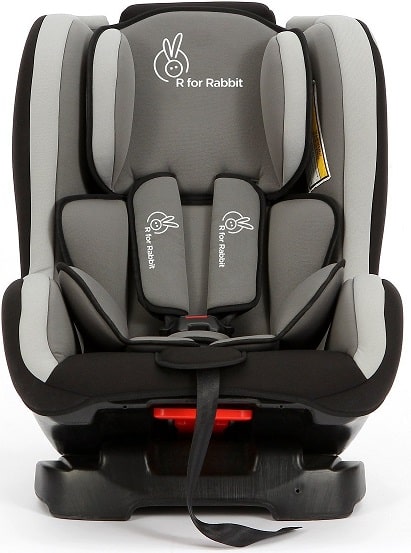 1) A high-quality product from a brand that is well-known for making products for children, this is one of the best car seats you can buy in this price range.
2) It is a certified in Europe for its safety and it takes serious measures to keep the child safe.
3) Children up to 5 years of age can easily use this product.
3) It is made of optimum size to fit any normal car and offers features like reclining of seat, 5-point safety harness , impact protection from the sides and washable fabric.
Also Read : 10 Best Baby Carrier in India
4) The head rest is as comfortable as the seat with extra padding.
5) You can grab one of these in multiple color themes depending on what your kid might like.
Compare Price : Amazon
---
 3.  Jack N Jill Grand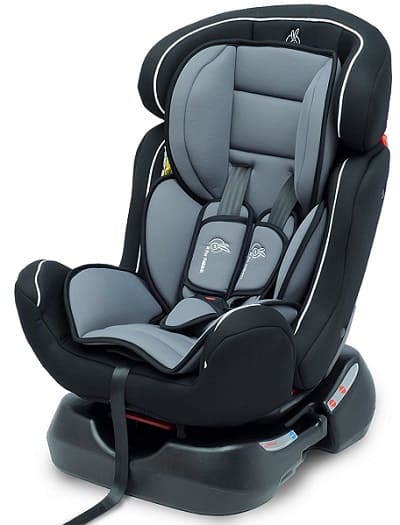 1) Designed by the same company that has made other products on this list, this car seat is suitable for kids up to 7 years of age.
2) All the material used in this product are of top quality ensuring greater safety of your child at all times.
3) It has even passed several crash tests fulfilling stringent European standards.
4) The company has included a padded seat which gives it a luxurious feel and the cushions are even washable.
5) It comes with a 5-point safety harness and you can recline the seat at up to three positions.
6) There are ample head and neck support for the child while on a bumpy road. It is available in two color combinations.
Compare Price : Amazon
---
 4.  Trumom 3 in 1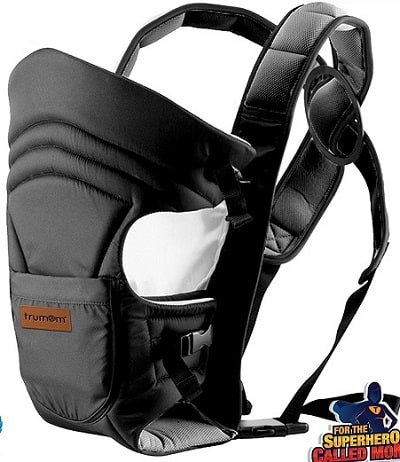 1) It can be tough to carry your baby for an extended duration that can strain your back.
2) This baby carrier helps relieve that pain and evenly distributes the weight across all the belts making it easier to carry the baby.
3) It works either way, you can choose to hold the baby on the front or on the back.
4) The inside of the carrier is evenly padded to keep the baby comfortable and it can support kids up to 15kg.
5) The baby is secured with a number of straps and buckles and the carrier itself has pockets everywhere allowing you to carry the required stuff.
6) All the straps are adjustable so that you can change the fitting as the baby grows.
Compare Price : Amazon
---
 5.  Little Pumpkin Kiddie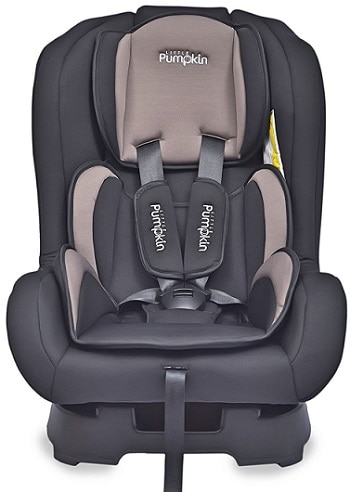 1) Cushioned from all its sides, Little Pumpkin has designed this car seat with protection from the side impact in case of a mishap and you can be assured that your kid will remain safe.
2) Suitable for children up to 5 years, this is a one-time purchase and its harness and safety belts can be adjusted as your kid grows.
Also Read : Best Baby Bottle Sterilizers in India
3) Reclining the seat is possible with the included option of up to three stages.
4) Extra care has been taken care of the headrest that is extra comfortable with the added padding.
Compare Price : Amazon
---
 6.  Baybee Nautilus Convertible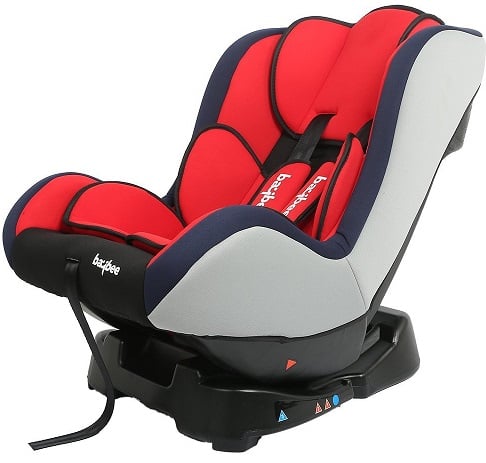 1) Available in many more colorful options, this baby car seat will surely please your child, thanks to the use of bright colors.
2) Not only the looks, safety has also been taken care of by the company with the added side wings across the entire sides that have extra padding for protection against side impact.
3) The seat can also be used at different places besides the car.
Also Read : Best Breast Pumps in India
4) This car seat from Baybee can be used in any direction depending on the age of the child and in the same manner, it also supports reclining.
5) The seat has been designed to give extra space on the front and it comes with a durable and adjustable headrest.
6) Its safety harness is also well-made, and the use of washable material makes it easier to clean.
Compare Price : Amazon
---
 7.  Mee Mee Grow with me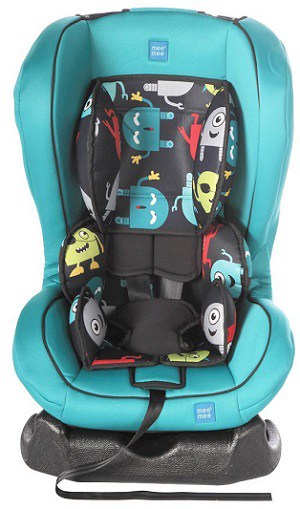 1) For the people who are concerned about how the baby seat will fit inside their compact car, here is a perfect solution.
2) This baby car seat minimizes its own size while maintaining optimum space for your kid to sit or sleep comfortably.
3) The double-cushioned seat allows an easier ride for the kid when the road isn't good enough.
4) You can extend it as your baby grows and adjust the seat to fit your kid accordingly.
5) The main body is made out of high-quality material and covered with soft fabric for a great finish.
5) The seat can recline till three stages with a maximum capacity of 30kg.
6) Mee Mee offers a customer support number in case you need any help assembling the product.
Compare Price : Amazon
---
 8.  Toyhouse Convertible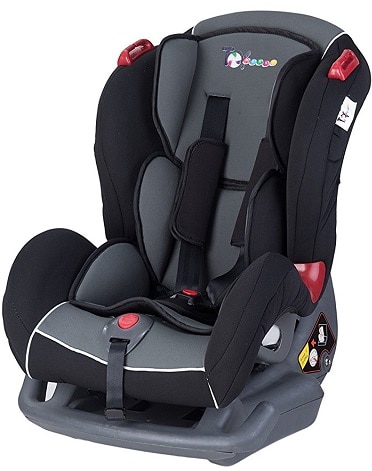 1) Secured tightly in its place, you can rest assured with this baby car seat and concentrate on driving.
2) This seat from Toyhouse provides an ample amount of backrest with a lot of cushioning also preventing the child from impacts from any side.
3) Its 5-point harness holds your child safely in its place while the shoulder straps can be easily adjusted as your baby grows.
4) The company has ensured that the seat fits in the back seat of all kind of car sizes, so you need not worry about that part.
5) The seat fabric can be easily washed giving it a fresh look always. It would be hard to find a better car seat at this price.
Compare Price : Amazon
---
 9.  Tiffy & Toffee Infant to Toddler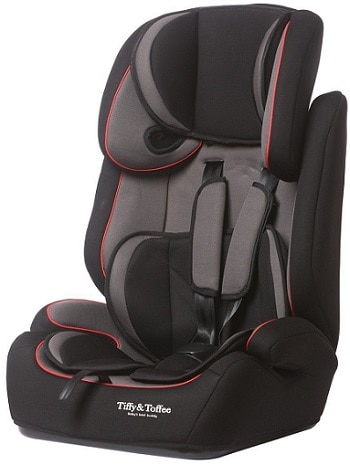 1) Generally, the baby car seats are much compact, but this one from Tiffy & Toffee looks very similar to an actual seat with support for a fully adjustable headrest.
2) As your baby grows, you can raise or lower the headrest to match your kid's height for the most comfortable ride.
3) Kids up to the age of 5 years can easily fit inside this seat.
4) There are cushioned all around the seat, in the wings and even in the hand rests.
5) The harness is padded so that it doesn't hurt the kid and it is connected at 5 points.
6) Designed with a wider and deeper seat, your child will remain comfortable all along.
7) The seat covers can be removed and are completely washable.
Compare Price : Amazon
---
 10.  Tiffy & Toffee Maxi Safe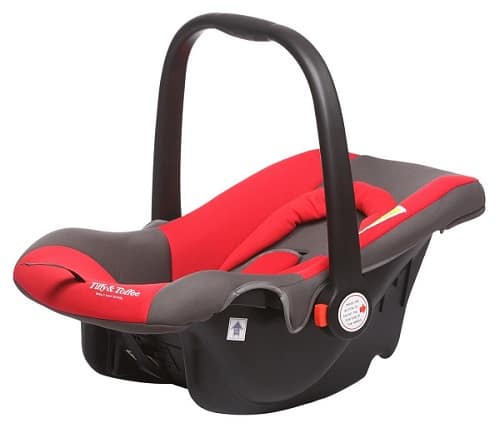 1) Offering a much more practical solution to your need, this car seat can be easily transformed into a carry cot offering multiple uses out of a single product.
2) It is suitable for kids up to 15 months of age and it comes with the required cushioning and padding for kids this young.
3) A sturdy handle is present that can be moved around when not in use.
4) Its 5-point safety harness keeps the baby in place all the times no matter how the product is being used.
5) Adjusting the product is quite easy and it takes just one click.
6) A canopy comes included for the times when you'll be using it as a carry cot and it can be detached when placed inside a car.
7) The security belts are adjustable and keep the seat in place inside the car.
Compare Price : Amazon
---
Also Read:
1) Best Diapers For Baby , Adults and Pets
3) Top 10 Best Single Door Refrigerators