Are You Searching For The Best Table Tennis Bat in India ?
Search No More!!
Are you a table tennis player? Or you might have a real interest in this entertaining sport and want to start playing. Whether you are an armature or a pro table tennis player, you will need a good racket to get the best performance. Without a high-quality bat, you will not enjoy the game at all.
But, the issue is that the Indian market is oversaturated with table tennis rackets. That is why you will find a hard time picking a bat which is suitable for you. And, to make things easy, we have come up with this review post. In this post, we will be reviewing the top 10 TT rackets in India.
So, without wasting more time, let's fire away…
For Professional Players:
As you already know it, there are a lot of different types of TT rackets available. That is why we will divide this post into two sections. In this first section, we will talk about table tennis bats which are good for pro/intermediate players. And in the next section, we will be reviewing some of the best table tennis paddles for beginners/normal players. So, here we go…
1. General Killerspin Jet800 Table Tennis Paddle: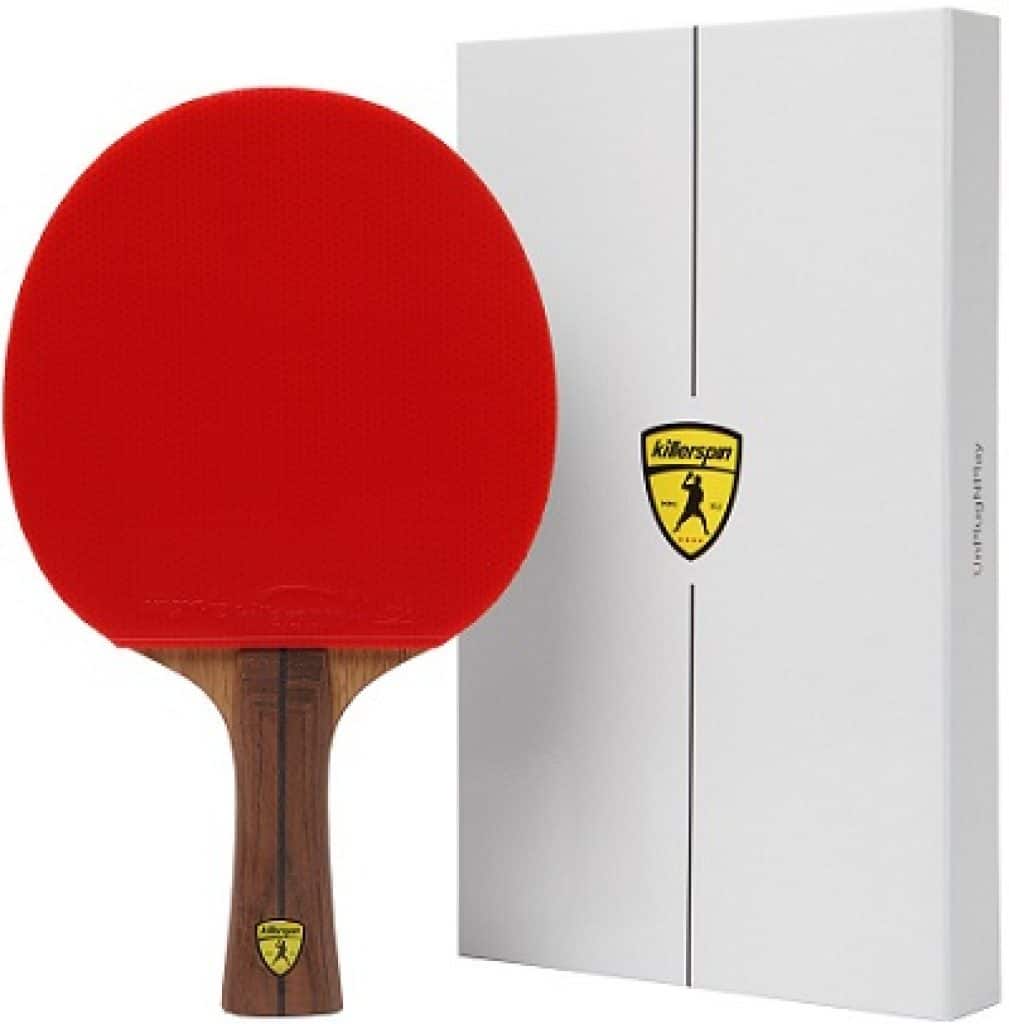 This is a table tennis bat from Killerspin. They are one of the most popular table tennis equipment manufacturers in the world. Killerspin is a Chicago based company. However, they are supplying their products in all parts of the world. So, even if you are in India but want to try their table tennis rackets you can.
And the General Killerspin Jet800 Table Tennis Racket is one of the best TT rackets on their lineup. A lot of pro players use this racket for playing in competitive matches.
The look of the paddle is standard. But don't let that fool you. You will be amazed by the quality of the paddle if you give it a try. It is made with 7 plies of premium wood covered by 2 layers of carbon fiber. This technology helps in increasing the power of the paddle
Key Features:
It is very lightweight; the weight is about 272 gm.
Comes with a flared handle for better grip
Comes in multicolor
ITTF (International Table Tennis Federation) approved
Comes with wooden side tape
Comes with one month warranty
Comes with high tension Nitrx-4z rubber of 2.0 mm
Best for an aggressive style of play
Ratings: Speed 9.5/10; Control 8/10; and Spin 9/10
---
2. Stiga Pro Carbon Table Tennis Racket: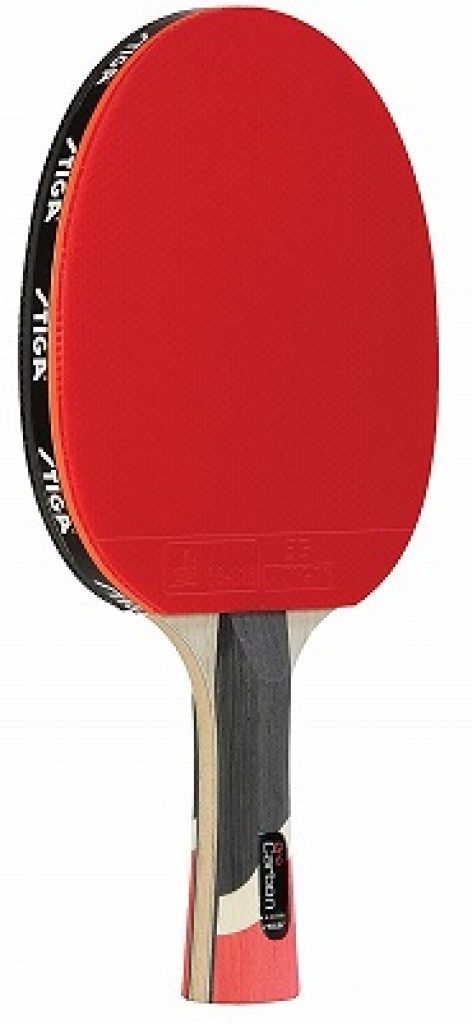 Stiga is known for making high-quality table tennis accessories for a long time. A lot of world-class table tennis pro players have been using their rackets since 1944. So, if you aspire to be a pro and want a table tennis paddle of high quality then you can get the Stiga Pro carbon racket. It comes with some unique and useful features that will help you to improve your performance.
For instance, it is made of 6 plies of Balsa wood and two layers of carbon fiber. The rubber on both sides of the table tennis bat is shockproof. So, when you are playing a match with high intensity, it will absorb the vibration and shock but will produce immense power for the shots.
Key Features:
It is approved by ITTF
Comes with Nano-composite carbon technology
Comes with S5 rubber and 2 mm high-quality sponge
Ratings: Speed 99/100; Control 80/100; and Spin 100/100
Better for playing controlled shots
Comes with concave-shaped handle for easy grip
---
3. Palio x ETT Legend 2.0 Table Tennis Racquet and Case: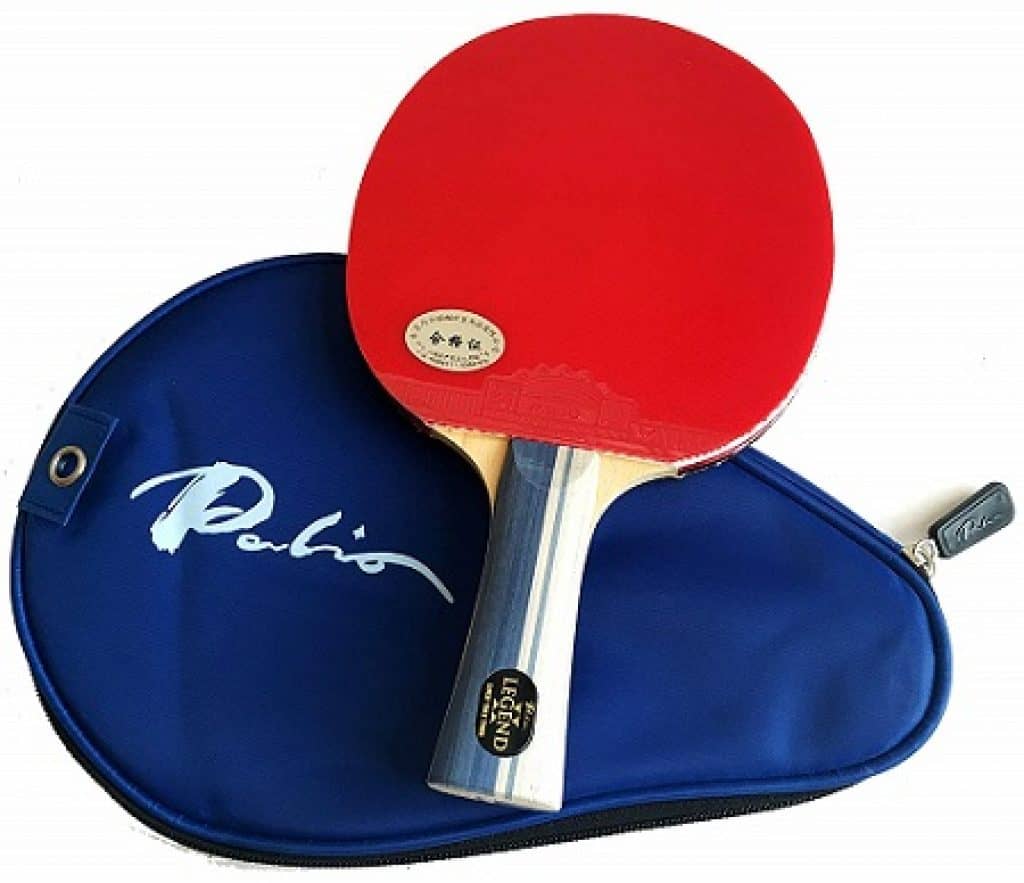 Some of the best table tennis bats are indeed very expensive. But if you want to play at the competitive level, then you need those high-quality rackets. Now, the problem is the lack of decent table tennis bat within an affordable price range.
If you are searching for a competition-level table tennis racquet but for a reasonable price then you can check the Legend 2.0 TT Racket from Palio x ETT. This TT bat comes with Palio Hadou Rubbers; which are famous for providing great spin and control. It comes with 2 carbon fiber layers and 5 plies of premium hardwood.
Key Features:
It is best for beginners and intermediate players who aspire to be professional
The rubber is ITTF approved; it is very tacky and generates a lot of spins
Very reasonably priced compared to the quality
It weighs only about 195 gm.
It comes with an ergonomically designed flared handle
Comes with a standard cover
---
4. Palio Expert 2.0 Table Tennis Racquet & Case: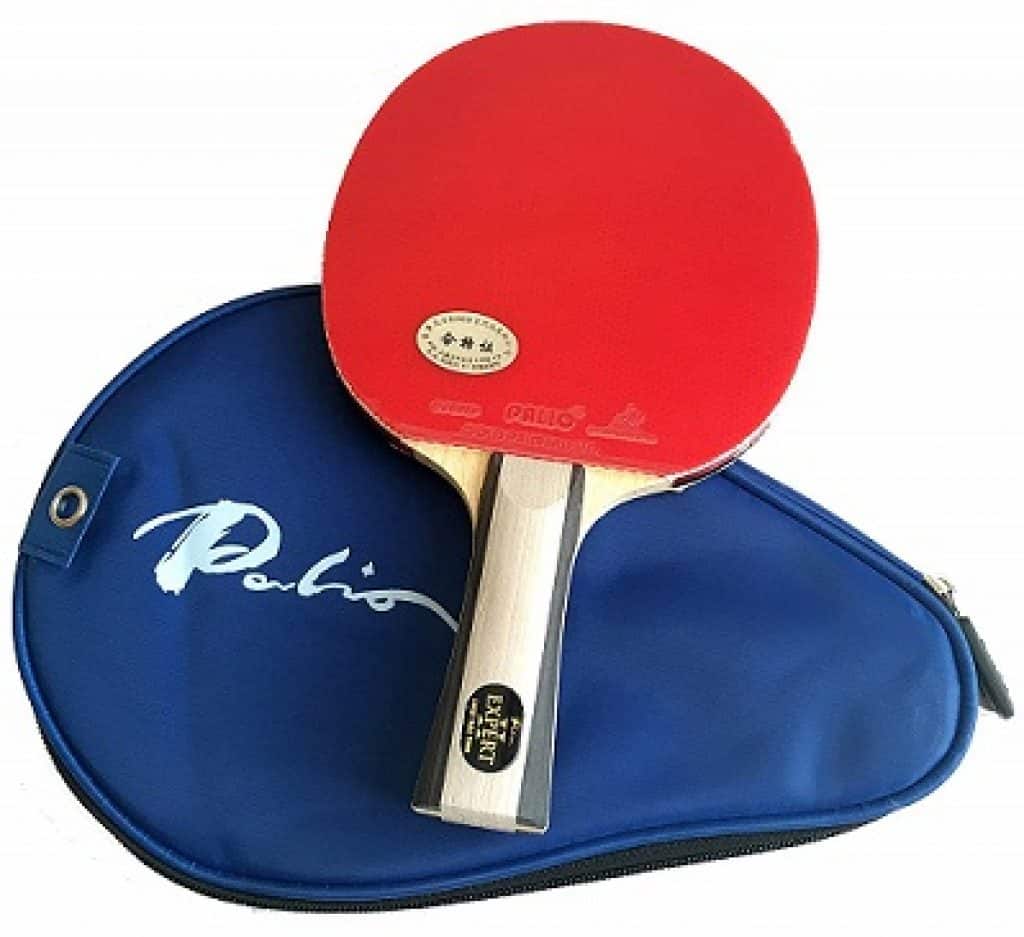 Now let's talk about another table tennis racket from Palio. This is the 'Palio Expert 2.0'. Palio is known for their budget-friendly yet pro quality table tennis rackets.
This racket comes with the popular Palio cj8000 rubbers, which can offer great spin. So, you can produce backspin, topspin, and sidespin without any issues. It is undoubtedly a good bat for beginners. Nevertheless, Pro players can also use this from time to time.
Key Features:
It comes with ITTF approved rubbers
Perfect for tournament matches
It weighs just about 175 gm.
Ratings: Speed 6/10; Control 10/10; and Spin 9/10
If you want to control and spin this is the best bat for a great price
Comes with a standard TT racket case
For Beginner Players:
In this section, we will discuss table tennis rackets for beginners and newbies. So, let's get this going…
5. GKI Euro XX Table Tennis Racquet: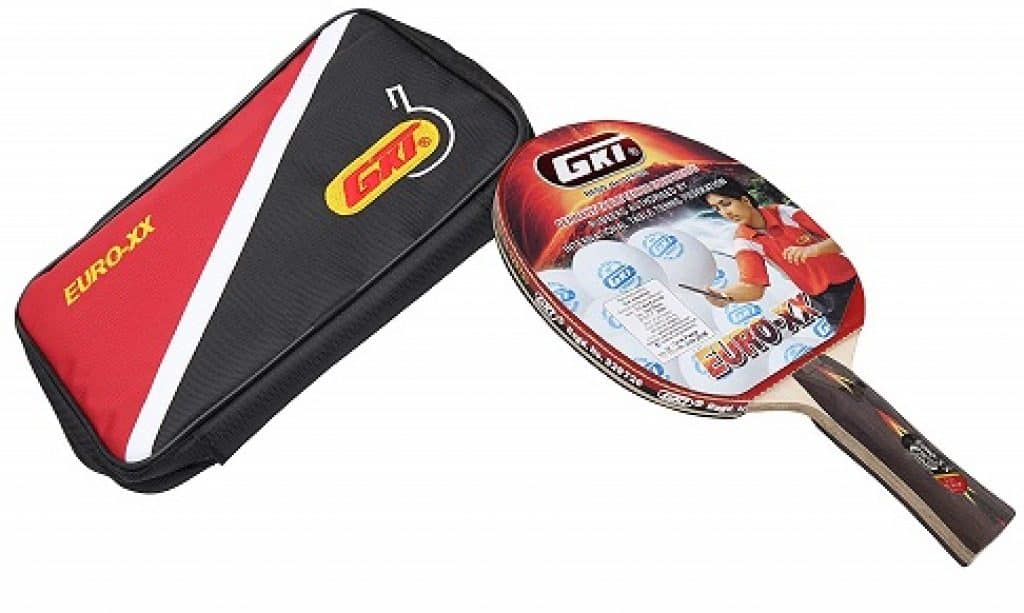 GKI is a table tennis accessories maker from India. They offer high-quality rackets at a very low price. Because of that GKI has got very popular day by day in India.
The GKI Euro XX table tennis bat is one of the best bats which costs so low. It is best for speed and control. If you are a beginner who doesn't want to spend a lot of money to buy a bat, you can take a look at this racket.
Key Features:
It comes with 5 ply blades
The handle is flared and ergonomically designed to make it comfortable to grip
This TT racket is ITTF approved
It comes with a great cover
6. GKI Euro V Table Tennis Racquet: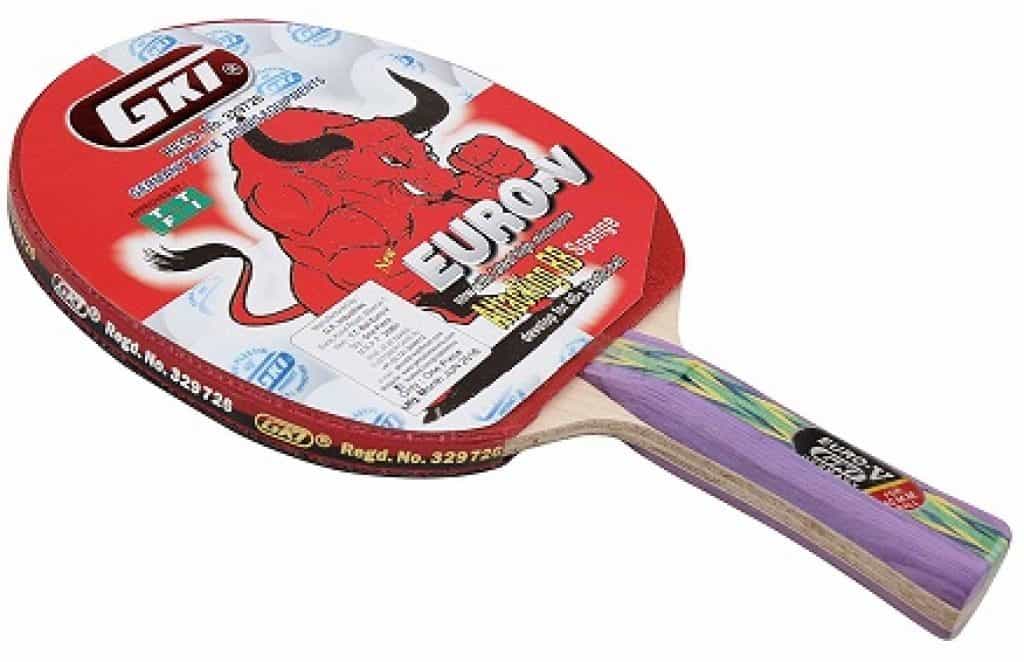 When it comes to quality table tennis rackets for low price, no other company can't beat GKI in India. And, that is why another GKI ping pong paddle has been included in this review post. This is the GKI Euro V TT racket. It comes in the standard size.
The price of this bat is very low compared to some other similar types of bats on the market. If you are searching for a table tennis bat which is affordable yet feature-rich, you can go with the Euro V from GKI.
Key Features:
It comes with ITTF approved rubbers
It weighs about 200 gm.
It is best for spin and speed
Ratings: Speed 94/100; Control 95/100; and Spin 93/100
It comes with a standard TT racket bag
7. GKI Kung Fu Table Tennis Racquet: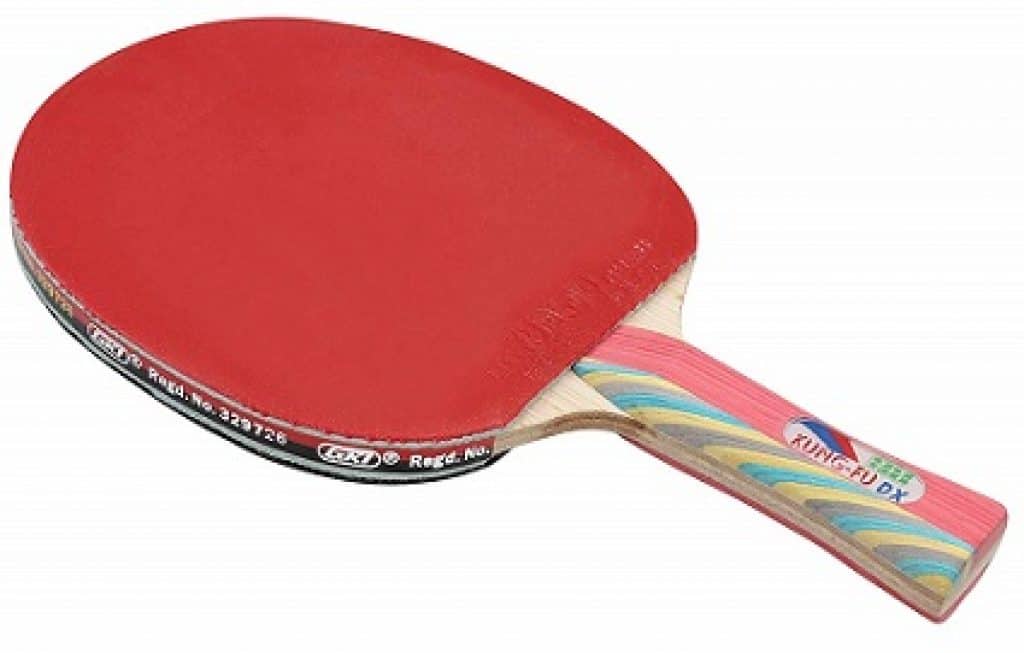 Not all of us are pro. And there are a lot of us who don't need expensive table tennis rackets. Rather, you might be looking for a bat which is for beginners and has a very low price tag. If that is the case for you, you are in luck. Thanks to GKI, they have the GKI Kung Fu table tennis racquet which comes with a competitive price.
Plus, the quality of the bat is also noteworthy. Although this bat is intended for the armature players, you can take it for a spin even if you are a pro. However, we wouldn't recommend it for players who play in tournaments regularly.
Key Features:
Very lightweight, it weighs about 190 gm.
It is best for beginners
It comes with a racket cover
It is of standard size
Ratings: Speed 91/100; Control 97/100; and Spin 91/100
It is very good for a spin but not that good enough for aggressive play style
---
8. GKI Dragon Table Tennis Racquet: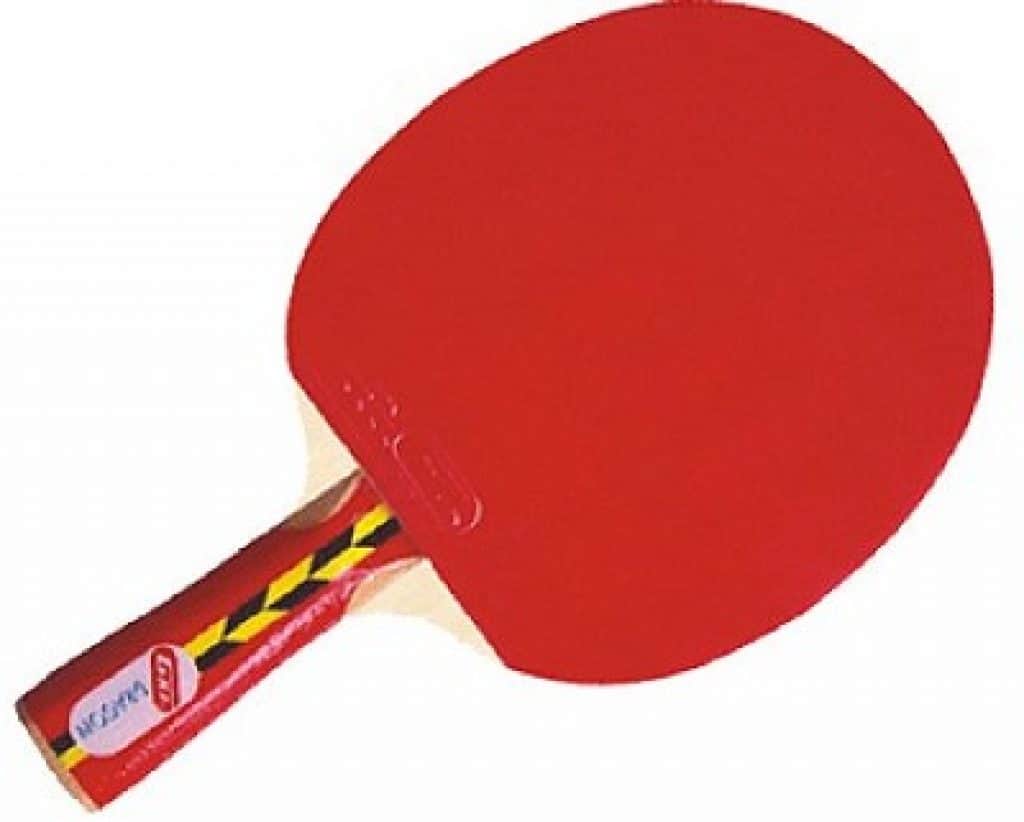 If you want to try another budget-friendly GKI table tennis racket, then you need to check the GKI Dragon TT racket. It is also another beginner-friendly table tennis racket in terms of the quality and the price tag. This won't cost you too much at all. So, if you are new to ping pong and want to try it from time to time, you can start with this racket. This comes with good quality rubber and the handle is also well designed for a comfortable grip.
Key Features:
This racket is very lightweight
Comes with sturdy premium wood
Comes in the international standard size
Best for beginners
Very reasonably priced
Ratings: Speed 90/100; Control 97/100; and Spin 90/100
9. Stag Ninja Fire Table Tennis Racquet: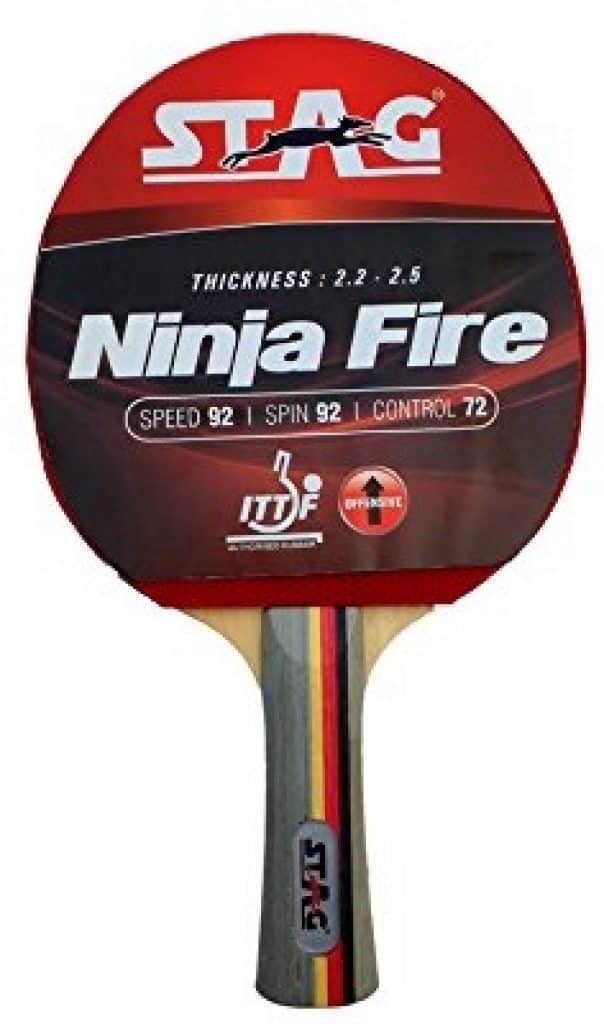 'Stag' is also dominating the Indian market when it comes to table tennis equipment. A lot of players prefer Stag because of their inexpensive ping pong paddles. For instance, the Stag Ninja Fire table tennis racket is a good example of cheap yet great quality ping pong bat.
At the time of writing this post, this bat is the no. 1 best seller in the 'table tennis blades' category in Amazon India. That indicates the popularity of the bat.
It is one of the cheats TT rackets which is ITTF approved. It is perfect for attacking play style. It is good for both beginners and advanced players. And, a lot of players use it to play in tourneys as well.
Key Features:
Comes with the Ninja Fire Rubber which can help produce better speed and spin easily
It made with 5 layers of wood for better control and shock absorption
It comes with a flared handle which is best for Shake hand grip style
It weighs only about 180 gm.
It comes with a nice cover as well
Best for fast play and spin but not for control
Ratings: Speed 92/100; Control 72/100; and Spin 92/100
10. Stag 4 Star Table Tennis Racquet: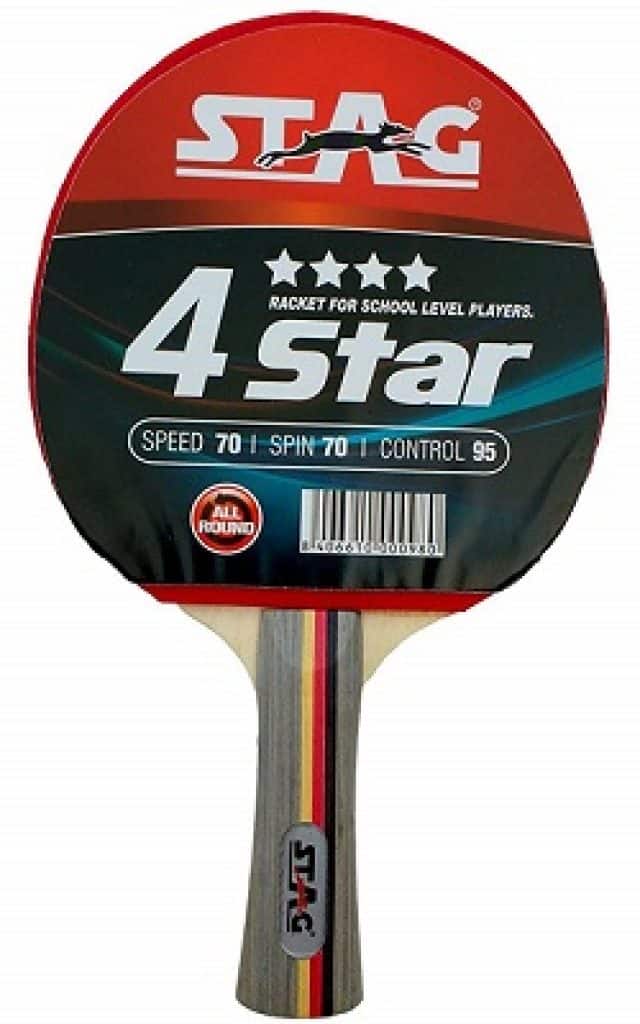 If you are a school student and want a table tennis racket for a cheap price, then you can go for this one. The Stag 4 star is one of the best racket for school level players. On top of this, the price of this bat is so low that it is actually unbelievable in a good way.
This bat is better for paying controlled shots. It has a good bit of spin and speed as well. As a result, Stag has categorized this paddle in the 'All Round' category. So, whether you want to play offensive or defensive, it will be a great addition to your collection. For beginners, it will be a great racket to start their journey on playing table tennis.
Key Features:
This racquet is ITTF approved
Comes with a concave-shaped handle
The handle is flared and great for shake hand style grip
The weight of the bat is about 178 gm.
It comes in international standard size
This racket comes with a great quality cover
Best match for beginner players who want to up their game without spending much
Wrapping things up:
If you are still with us then you know a lot about some of the best table tennis rackets available in India at this moment. For your convenience, we have categorized the rackets in two categories – for beginners and for professionals. We think that will help you to make the decision with ease. Now, it's your turn to pick the one that fits all of your requirements.
If you have anything to say or suggest, you can always leave a comment down below!