Not only does squash offer a fantastic way to stay physically active while enjoying the comforts of indoor play, but it also guarantees an abundance of fun and excitement, making it a sport that's easy to dive into.
To truly excel in this thrilling game, it's crucial to invest in high-quality squash rackets and accessories. In this comprehensive article, we delve into the intricate details of squash and provide valuable insights on the sports gear necessary to embark on your squash journey safely and comfortably. Additionally, we present a curated selection of squash racket models that warrant your consideration.
After extensive research and analysis, it has become evident that the Tecnifibre 125 model has emerged as the gold standard in the squash community. Trusted and embraced by countless players worldwide, this remarkable racket is widely acknowledged for its exceptional performance and reliability. Notably, the Tecnifibre 125 model is readily available in India and comes at an affordable price point, offering excellent value for money.
When choosing a squash racket, it is important to consider the weight of the racket. A good weight for a badminton player who is new to squash is around 120-135 grams. This weight will give you the control you need to make precise shots, while still allowing you to generate power.
Additionally, a head-heavy racket may be a good option for you, as it will give you better feel for drops.
Update options May 12th 2023
120 gm weight
HEAD Graphene 360 – Amazon
125 gm weight
Tecnifibre Carboflex 125 X Speed – Amazon
DUNLOP Hyperfibre XT Revelation – Amazon
195 gm weight
HEAD Nano Ti Graphite Spector 2.0 – Amazon
Pro Advanced Player Picks
If you are an advanced squash player who is looking for a better squash racket to use in competitions or sports events, then these are a few selections to check.
1. Tecnifibre Carboflex 125 X- Speed ( Pro Pick )
Graphite Blend 2019 Squash Racquet ( 125 gm weight )

Tecnifibre's 125 model has become the gold standard among squash players worldwide. When it comes to choosing a racquet, most enthusiasts gravitate towards Tecnifibre, and specifically opt for the 125 model.

It is an exceptional racquet designed for players seeking maximum power and control on the squash court. This racquet is famously associated with Mohamed El Shorbagy, one of the top-ranked professional squash players, adding to its credibility and reputation.
The racquet features a one-size design and weighs 125 grams, making it relatively lightweight and easy to maneuver. The lightweight nature of the racquet allows for quick swings and swift movements, enabling players to generate powerful shots with ease. This aspect is particularly beneficial for players who rely on speed and agility as part of their playing style.
The racquet comes with a G3 grip size, which provides a comfortable and secure hold. A good grip is essential for maintaining control during intense rallies and prolonged matches, ensuring that the racquet feels like an extension of the player's arm.
Check Cheapest Price : Amazon
---
2. Head Graphene 360 Speed 120 Graphite Squash Racquet Strung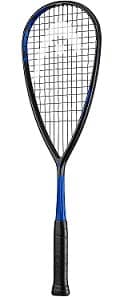 If you are a professional player who is looking for more control over your squash racquet then Graphene 360 Speed 120 is the perfect choice for you. This teardrop throat squash racquet is powerful and is also heavier which makes it perfect for slow swings.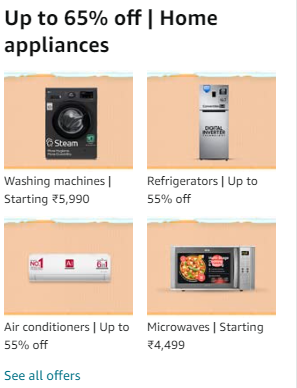 Plus, it comes with a 20 mm beam which further improves the power behind each shot.
Also Read : 10 Best Fitness Band Under Rs 2000
It is extremely aerodynamic and maneuverable so you can easily hit the balls closer to the walls with great ease. And the new graphene 360 technology used in this racquet makes this racquet extremely stable and powerful.
---
3. Tecnifibre Carboflex 125 Heritage Basaltex Squash Racket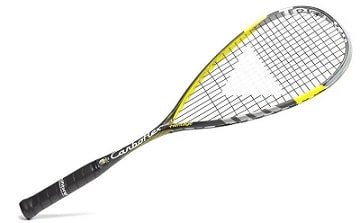 An ideal squash racket for dynamic players, Tecnifibre Carboflex 125 Heritage Basaltex Squash Racket offers you amazing power and maneuverability.
With its graphite structure and the Basaltex Multiaxial shaft technology, you will find your racket to be stiff, powerful, and highly responsive. This lightweight racket is easy to control and manoeuver since it is head-heavy.
Also Read : Best Wireless Workout Earphones For Sports
Another amazing thing about this squash racket is that it offers you amazing swing control and it features an 18 mm beam that helps in better maneuverability.
This racket works well for wall peelers and high back of the court valleys and offers amazing balance to the players.
---
4. Head Squash Racket I.X. 120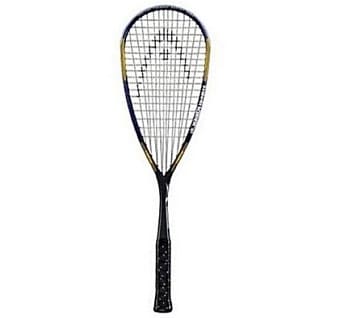 If you are looking for something a little less expensive yet strong and powerful enough to play games with professionals then Head Squash Racket I.X.120 is the perfect choice for you.
This teardrop throat racket is lightweight and offers amazing stability and smoother swings. From beginners to professionals, this racket is perfect for all as you have a larger sweet spot for power and greater maneuverability.
Also Read : 9 Best Cricket Bats in India
It offers a head heavy balance and the Intelligence X technology used provides precision in shots. It also features PowerFrame technology that delivers maximum stability and easy handling.
---
5. HEAD Nano Ti Spector 2.0 Squash Racquet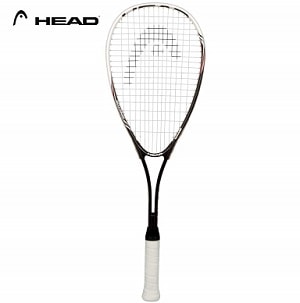 Head Nano Ti Specter 2.0 Squash Racquet is a highly stable and affordable racket which features a classic throat shape that is perfect for advanced players.
This racket gives you better control than other rackets and uses Nano Titanium Technology that makes the frame strong and flexible.
Also Read : 10 Best Running Shoes for Women
This racket provides head-light balance so it makes it easier for the players to make reaction shots quickly while the 14/19 string pattern offers players great maneuverability.
With its Hydrosorb Pro Grip, the players enjoy a more comfortable grip as the racket grip can absorb a large amount of sweat.
---
6. HEAD Microgel 125 Squash Racquet

Another top squash racket to consider from HEAD, Microgel 125 offers you amazing power and feels. This balanced racket feels rock solid and the HEAD Microgel technology is a low-density silicone-based material that is featured in this racket.
In this racket, Microgel has been combined with carbon composite fibres so that the racket is strong, stiff, and responsive.
Also Read : Best Table Tennis Rackets in India
On an impact with the ball, Microgel distributes the impact load uniformly across the frame for a rock-solid feel and amazing touch.
---
7. Head Liquidmetal 120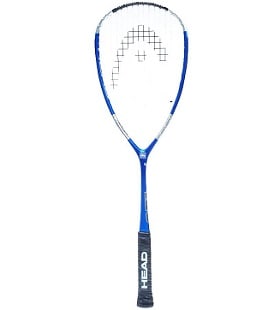 Yet another great squash racket by HEAD, Liquidmetal 120 is one of the most powerful liquid metal rackets in the market. The Liquid Metal technology used in this racket offers amazing power and energy and makes this racket perfect for intermediate players.
With the teardrop head frame, you get a large sweet spot to make off-center shots powerful and precise too.
Also Read : 10 Best Whey Protein in India
Its unique atomic structure ensures that each shot is powerful and quick. This racket is durable and long-lasting and offers you amazing flexibility and control.
Overall, this is a great squash racket for intermediates and will be a good long-term investment for players.
---
8. Dunlop HYPER FIBER+ REVELATION 125 Squash Rackets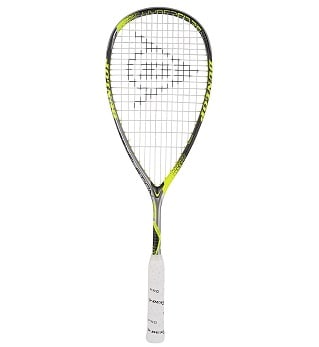 Dunlop Hyper Fiber+ Revelation 125 Squash Racket is durable and stiff which along with aerodynamics helps in delivering amazing powerful shots for hardcore players.
This squash racket is made up of premium graphite and Hyperfiber+ technology that makes you feel raw power while allowing you to control it a bit.
Also Read : 10 Best Multivitamin Tablets in India
Also, the larger head size and thicker aero beam allow you to hit the ball hard and with amazing force. And the extra head-light balance ensures that not only are you quick and powerful but you also can maneuver the shots easily.
Budget Beginner Picks
Here are a few budget picks to check out if you are just starting to play squash.
9. Jonex Aluminum (Composite) Squash Racket with Dunlop Ball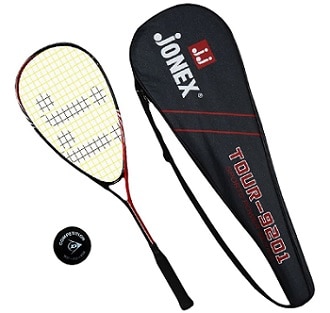 If you are looking for a good-quality squash racket in an affordable range then Jonex Aluminum Squash Racket is the perfect choice for you. Since this racket is made up of aluminum, it is lightweight and durable.
It uses sheep string which allows you to hit the ball hard without breaking the string while the P.U. grip makes it convenient to hold this racket while playing.
Also Read : 10 Best Egg Boilers in India
This racket also comes with a fully padded cover for storing and maintaining it so that it stays protected and functional for a long time. And with the high-quality Dunlop squash ball in this package, you don't need to purchase any other equipment and can start playing as soon as possible.
---
10. Cosco Power -175 Squash Racquet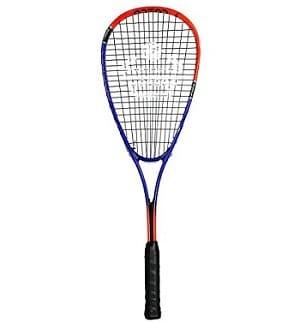 Cosco Power 175 Squash Racquet is another good and budget-friendly squash racket for beginners. This racket is made up of aluminum which makes it lightweight and comfortable to hold while strong enough to hit the ball hard.
And with its PU grip, you don't have to worry about the racket slipping from your hands as it absorbs the sweat and offers you a good grip during the game.
Also Read : 10 Best Fruit & Vegetable Juicers
This racket offers a G4 grip size, which is the standard size and is slightly heavier than high-end rackets. Overall, it is well-balanced and not expensive which makes it the perfect racket for beginners to start with.
---
11. Nivia Horn Squash Racquet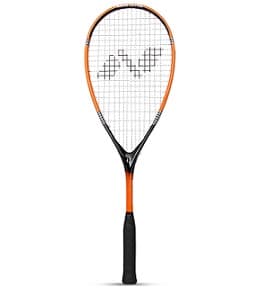 One of the cheapest squash rackets that I would recommend for beginners is the Nivia Horn Squash Racket. This strung racket is made up of graphite which provides it a head-light feel, making it extremely convenient and easy to play with.
It offers good power, has a standard grip, and is perfect for beginners. This full-size length racket has synthetic string material which allows you to make powerful shots with great ease.
Also Read : 10 Best Yoga Mats in India
And the full cover provided with this racket has a soft inner lining and will keep your racket safe from damage while making it easy to carry it around.
Other accessories you use while playing squash
One of the best things about playing squash is like you don't need an expensive kit to start playing squash. Here is a list of equipment that you need apart from a squash racket to start playing this game.
Squash Ball
One of the most important things that you need to purchase is a squash ball in order to play the game.
There are mainly 4 types of squash balls with different colors spot, this spot determines the speed of the ball. A yellow spot means a super slow ball, a white/green spot means a slow ball, a red spot means a medium-paced ball, and a blue spot means a fastball.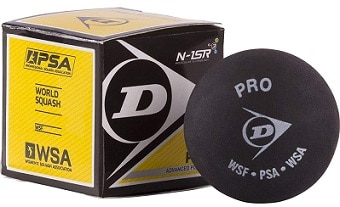 Ideally, blue balls are used by beginners and yellow balls are used by professionals. Dunlop D1SB700108 Squash Ball is a great choice for professional women squash players.
This squash ball offers consistent performance and is also the ball official used by world squash federation, professional squash association, and the women's international squash players association.
Squash Goggles
Since squash can be an intense game and sometimes, the ball could really hit you with a lot of force, it is advisable to wear protective eyewear or squash goggles to protect yourself. This will reduce the chances of an injury and squash goggles are usually not even expensive.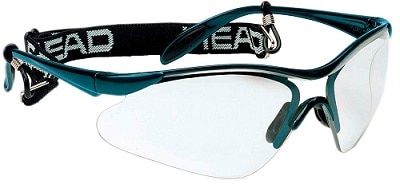 Head Rave Eyewear is a good choice as it is lightweight with an impact-resistant frame. Also, the lenses used in this eyewear are anti-scratch and anti-fog treated so you will be able to play squash comfortable.
Squash Shoes
You also need proper squash shoes that are designed for indoor sports and will offer you a good grip and traction along with support and proper cushioning. Avoid wearing casual shoes while playing squash as you could end up slipping and hurting yourself in the game.
Also Read : Best Body Massager Machine in India
Benefits of Playing Squash
Squash has been recognized and as one of the top health and fitness sport. Take a look at these few health benefits of playing squash regularly:
Improves Hand-Eye Coordination
Since squash requires you to observe the ball closely and then adjust your movements so as to hit your target, you end up improving your hand-eye coordination as well. This way, you improve your accuracy and achieve finesse in your movement which can later benefit you in other sports or activities as well.
Also Read : 10 Best Multivitamin Tablets
Improves Agility and Flexibility
One of the major advantages of playing squash is that it makes you more flexible and agile. As you constantly move to hit the squash ball, your muscles and joints get stretched appropriately. Plus, in order to win at this game, you have to be quick on your feet so you have to leap, sprint, jump, etc. quite quickly.
Also Read : 12 Best Protein Bars in India
As a result, you become nimbler and more flexible as you play squash regularly and see those changes in your normal day-to-day life too.
Better Concentration
Another great advantage of playing squash is that it helps you in concentrating which can be useful in your work or studies. When you start playing squash, your entire focus is on the ball and where it hits and moves so that you are ready and in position to hit it back.
That's not all, you also have to keep an eye on the movement of your opponent to understand their next move so that you are ready for this. In the game, you don't have time to get distracted because you can easily miss the ball then.
Also Read : 7 Best Most Reliable Orthopaedic Mattress in India
Reduces Stress
Squash is also a great stress reliever and can work wonders for you after a stressful and demanding workday. If you are angry or frustrated about any aspect of your life, squash is a great way to get rid of those feelings as you can hit the ball as hard as you can to relieve yourself. As you use up all the negative energy in the form of physical energy in squash, you are left feeling extremely satisfied and calm.
Great Cardiovascular Exercise
Finally, squash can act as a great cardiovascular workout as well since it has you running, jumping, leaping, etc. for the ball. So, you will find your heart rate up when you are occupied in an intense game of squash.
Also Read : Best Electric Toothbrush in India
This will, in turn, make your muscles stronger because more blood will get pumped to your brain and the rest of the body parts. You also improve your endurance and stamina with more oxygen being supplied to your muscles.