Do you want to watch your favourite movie on your bedroom TV but your Blu-ray player is in the living room?
For this particular scenario itself, wireless HDMI video transmitters have been developed that give you freedom from wires and allow you to watch your TV shows and movies on any screen in your home no matter where the source device is placed.
Below mentioned are some of the best wireless HDMI extenders that you can invest in.
1. J-Tech Digital HDbitT Series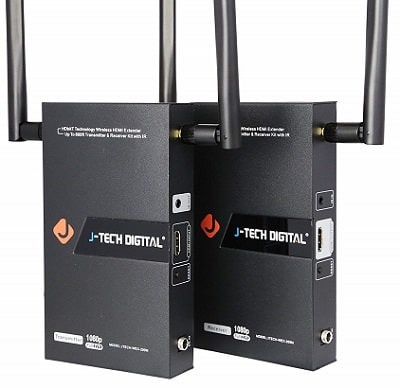 Pros:
1) People looking for nothing but the best can easily go for this fantastic wireless HDMI transmitter that offers probably the best performance in its space.
2) Each package comes with a transmitter and a receiver with each unit bearing two external antennae for stronger signal reception across up to 660 feet.
3) At this distance, the product will offer a latency of less than 0.5 seconds.
Also Read : 10 Best Home Wi-Fi Mesh System in India
4) IR blasters can be attached to these units to control your source devices even if they are kept in another room.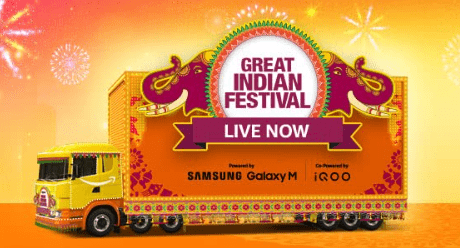 5) A range of display resolutions of up to 1080p at 60/50 Hz are supported by this wireless HDMI.
6) The company offers full lifetime technical support, in case you face any problem.
Cons:
The cost is much higher than most people will be willing to shell out. Its latency renders the device useless for gaming.
Check Price : Amazon
2. Measy HD585 350M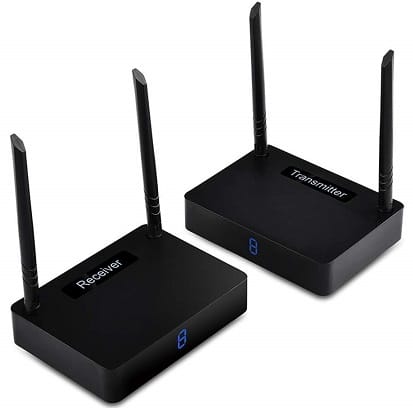 Pros:
1) Available for a great price in India, this Measy model is ideal for most users who are looking for a high-quality wireless HDMI extender without having to empty their pockets.
2) For an excellent reception, both the units have two external antennae that support 8 channels, which are automatically chosen to avoid any interference.
Also Read : 10 Best WiFi Range Extenders Repeaters
3) Both the transmitter and the receiver are clearly marked for their purpose and come with a modern design and a display allowing you to flaunt them in your living room.
4) It is capable of transmitting 1080 videos at up to 350 metres in the line of sight, meaning it can skip 2-3 walls in your house while keeping the video quality intact.
Cons:
No warranty is offered on this product as it is an imported set.
Check Price : Amazon
3. OREI Wireless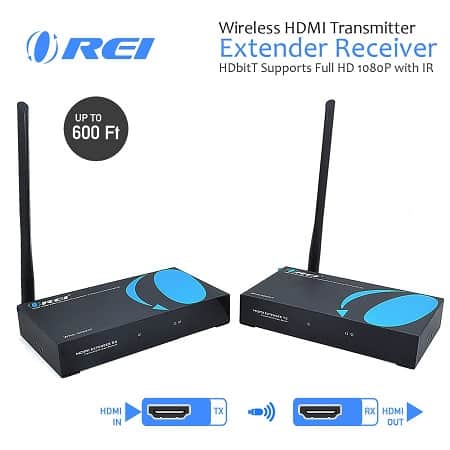 Pros:
1) Like more premium models, this one too supports transmission range of 660 feet, which is more than enough for most people.
2) You will be able to watch a full HD 1080p video over a wireless HDMI extender with a delay of as little as 0.3 seconds.
3) Besides a transmitter and a receiver, the package includes a pair of IR blasters that allow you to control connected devices from a different room.
Also Read : 10 Best Wi-Fi Routers Under Rs. 1,000
4) The product is covered under a year of warranty
Cons:
1) One single antenna on each unit won't provide as good performance as you can expect from one with two antennae.
2) The delay is high for some quality gaming on a PC or a dedicated gaming console.
3) This product is not particularly affordable by any means.
Check Price : Amazon
4. Tobo™ HDMI H.264 Wireless HDMI Extender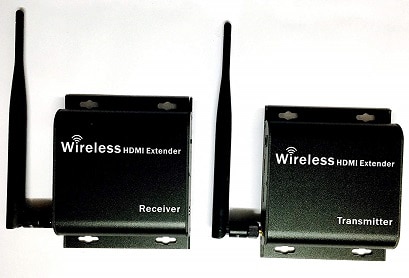 Pros:
1) One of the most cost-effective solutions for having a wireless HDMI extender, this product comes in a set of 2, with each including a transmitter and a receiver.
2) The best part is that it supports cross connections allowing you to use any receiver to access signals from either transmitter.
3) The company has included hooks to mount it on the wall where it can remain out of sight while doing its job.
Also Read : 10 Best Earphones Under Rs 500
4) It supports video transmission of up to 1080p at a distance of up to 50 metres or 164 feet.
5) This is a plug and play device that requires almost no setup.
Cons:
The signal strength may not be the strongest, given its single antenna on both the transmitter and the receiver. The design isn't aesthetically pleasing, like many alternatives. A warranty of just 3 months isn't sufficient for such products that are meant for extended usage.
Check Price : Amazon
5. Nyrius ARIES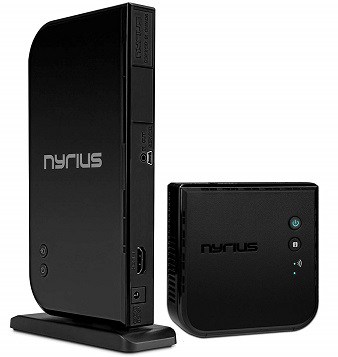 Pros:
1) If you want to keep the transmitters out in open, then you might need something like this that is aesthetically appealing.
2) Available at a fair price, the product ensures minimum latency allowing it to be used for gaming as well, given the line of sight is maintained.
3) 1080p 3D videos can be transmitted from a range of source gadgets which is sent in an uncompressed format to keep the original quality of the video and audio.
4) It offers a range of 100 feet and can play videos across walls and ceilings.
Cons:
There are no external antennae on either unit which has resulted in some scattered complaints about the device becoming disconnected. The transmitter unit is a rather large device when compared with the receiver.
Check Price : Amazon
6. gofanco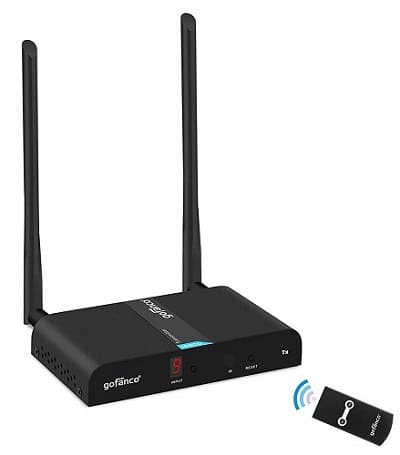 Pros:
1) gofanco has made one of the most reliable wireless HDMI extenders that work as advertised with minimal lag in sending video.
2) The company has included a pair of external antennae that maintain a strong signal transmission across a distance of up to 50 metres and it uses 10 channels to ensure minimal interference.
3) You can tether up to two transmitters and receivers each to create a small mesh network and switch between them wirelessly.
4) The installation for its product is simple while it is backed by a year of warranty.
Cons:
This particular model from gofanco is available as a single unit per retail package and you will need to buy a separate receiver (RX) unit from the company to complete your setup which will cost additionally. The IR blaster can cause a little lag at times.
Check Price : Amazon
---
Also Read :

10 Best Internal SSD for Laptop/PC in India
7. Measy W2H Mini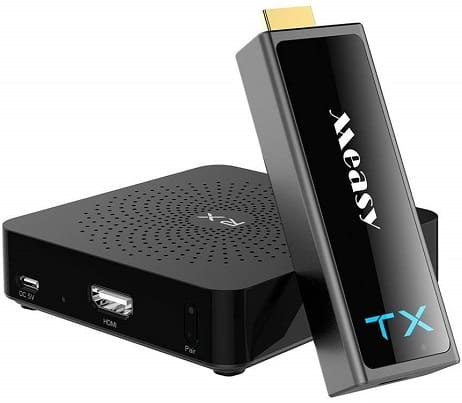 Pros:
1) Compact and smart is the demand of the current electronic devices and this transmitter set from Measy truly stands by it.
2) The transmitter unit is about the size of a dongle, while the receiver is smaller than a set-top box and be easily placed beside your TV.
3) It uses a special 60GHz frequency to transmit data with zero lag letting you do some gaming.
Also Read : 10 Best 4K Monitors in India
4) Up to 1080p 3D videos can be transmitted without any loss in quality.
Cons:
These units can transmit signals at a maximum distance of 30 metres in the light of sight which will make it difficult for those willing to use it in a larger house with multiple obstacles, including walls. Though signal strength is maintained, external antennae would've made the performance even better.
Check Price : Amazon
8. Optoma WHD200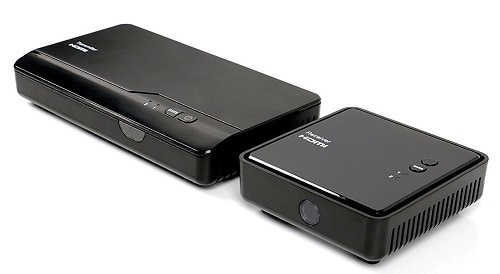 Pros:
1) The best part about this Optoma product is that it does not compress your video and delivers it in the original quality.
2) With that, the HDMI extender is also capable of transmitting audio in the original 5.1 channel form, unlike many that compress it to two channels.
Also Read : 10 Best Gaming Headphones Under Rs. 5,000
3) Setting this device up will not take more than a few minutes and you will be good to go.
Cons:
Both the transmitter and receiver units aren't particularly small and take a lot of space while being difficult to hide. The price of this product is higher than many other mid-range offerings available with a better set of features.
Check Price : Amazon
9. Iogear Wireless HDMI Transmitterand Receiver Kit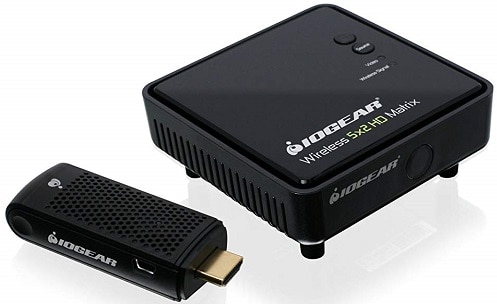 Pros:
1) IOGEAR is one of the well-known brands making wireless HDMI extenders and this unit comes with a remote controller of its own, while you will get a compact pair of transmitter and receiver.
2) Videos of up to 1080p resolution can be transmitted without much lag and you can choose the transmission range you are looking from between 30 and 200 feet.
Also Read : Best Earphones Under Rs. 2000 in India
Cons:
For the asking price, you are not getting a lot of features and many cheaper alternatives will be able to serve you better with similar offerings. Lack of external antennae can be an issue if you are planning on keeping the two units any further than a few metres.
Check Price : Amazon
10. PW-DT216W-A Wireless HDMI Extender Adapter Dongle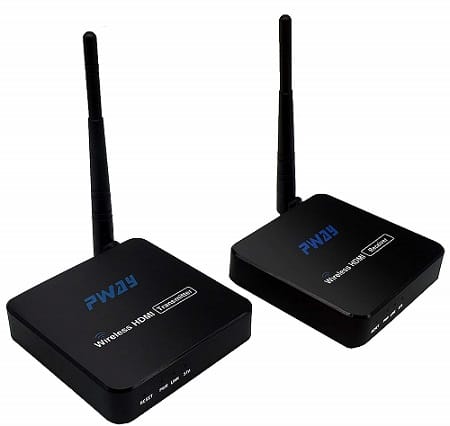 Pros:
1) First off, this product comes in a set of two units, one for transmitting and another for receiving the wireless signals.
2) Each unit is quite compact and comes with an external antenna that can effectively transmit signals to a distance of 50 metres in a straight line.
3) The units don't need any kind of setup and are a plug and play product.
Also Read : 10 Best LED TV in India (Smart / Non Smart)
4) The latency is low enough to allow some casual gaming on dedicated gaming consoles and PC.
5) Your content is transmitted over the 5GHz frequency with lossless compression using H.264 with a maximum resolution of 1080p at 60Hz.
Cons:
Devices with similar features are available at a marginally lower price. Reliability can be a factor that has disappointed some and can be troublesome for new buyers as well.
Check Price : Amazon
---
Also Read :

10 Best Internal SSD for Laptop/PC in India