Air polluting has become a global threat. It has been growing rapidly all over the globe. Unfortunately, India is also facing with the impact of air pollution for a long time. There are a number of cities which are mostly affected by air pollution in India. And over time, the list of the most air polluted cities in India is rising.
So, to save yourself from the ill effects of air pollution, you can use anti-pollution face masks. For your convenience, we have put together this article with the information about some of the best anti-pollution face masks in India.
Want to learn more? Keep reading on…
10 Best Air Purifiers in India
Best Air Purifiers Under Rs 10,000
Why should you Use an Anti Pollution Face Mask?
If you are aware of air pollution, you should already know the importance of an anti-pollution face mask. However, let's talk about it a little bit more. Do you know that in 2017, about 12,00,000 people have died in India alone due to air pollution? Staggering, isn't it?
That is just the tip of the iceberg. You also should be aware of the air quality of New Delhi where the Air Quality Index (AQI) was higher than 500 a lot of times (0-50 AQI is good). According to WHO (World Health Organization) not only New Delhi is on the list of polluted cities. There are about more 15 Indian cities that fall under the category of cities with polluted air.
So, in that instance, you should always take care of your health. To be safe from air pollution, you must use anti-pollution face masks. At least, for Indians who live in big cities, you must wear face masks for your own safety.
---
1. Dettol Pollution Mask N99: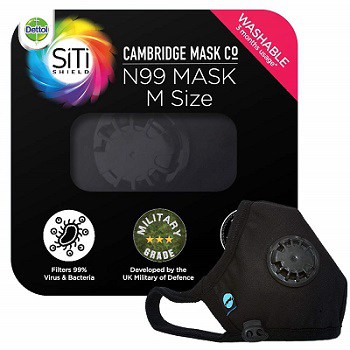 For Indians, Dettol should be a familiar name to you. They are offering numerous health and personal care products all over the world. This particular pollution mask is another personal care products from Dettol. For your information, this is not a normal face mask.
Rather, it is a very highly acclaimed advanced pollution mask. That is why it might seem a bit pricey for a face mask. But, if you are in a city with polluted air, then for your safety, you should spend a bit more money. That will save your life and will help you make productive.
This Dettol mask uses Military Filtration technology from the UK. That is why it can filter out about 99% of the germs and pollutants. Dettol intended this face mask, especially for India and China. You can reuse for up to 3 months. So, you can definitely check this one out.
Key Features:
It is available in 5 sizes
It can filter out about 99% of the pollutants
It is a reusable and washable mask
It comes with a breathing valve
---
10 Best Air Purifiers in India
Best Air Purifiers Under Rs 10,000
2. 3M 9332 N99 Pollution Mask Aura: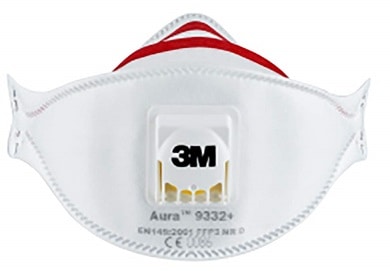 If you want a cheap yet high-quality pollution mask, then the 3M 9332 Aura can be a great option. It comes in white color and available only in one size. However, the straps are adjustable, so you can make it fit your face by adjusting those straps.
It is a good quality face mask. But the only downside of this mask is that the rubber straps are attached to the mask using staples. We think it should be better than that. However, the filtration quality is not that bad. The design of this face mask is very clever.
It comes with an embossed top panel which helps to reduce fogging of eyewear. It is a great feature for the people who needs to use spectacles. The cool flow valve also helps to keep the face area cooler and comfortable.
Key Features:
It is made of thermoplastic
It comes with 99 percent efficiency against pollutant
It is made in the UK
It comes with a flat fold design for saving space
---
3. Dettol Anti Pollution Mask N95 Siti Shield Carbon Activated: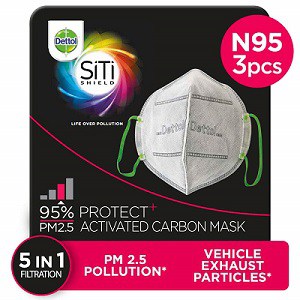 If you live in a busy city, then you can get this mask from Dettol. This one comes at a very reasonable price. But it has all the must have features for a great anti pollution face mask. It has a 5 layer protection system. So, it can be used to filter vehicles exhaust particles, dust, pollen, bacteria, and even the PM 2.5 pollutants.
It comes with a removable breathing valve. If you want you can use a micro fan instead of the valve in that place for better breathability. It is very easy to use and fits almost all types of faces. For Indians, it will work better as it was designed by scanning the faces of Asian peoples.
Key Features:
It comes with a 5 layer filtration technology
It protects you from 99% of germs and pollutants
It is suitable for even children (7+ age)
It can be used up to 3 to 4 weeks
---
Also Read:

10 Best Hand Sanitizers in India

Best Hand Wash Liquids in India
4. Honeywell PM 2.5 Anti Pollution Foldable Face Mask: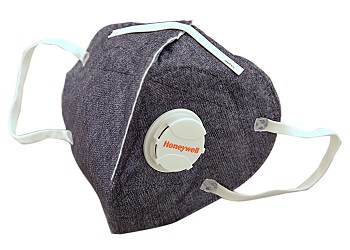 Honeywell is a world famous brand for offering us with different kinds of health and safety products. And, if you want a Honeywell face mask in India, you can try this one. This one comes in a box of 5. It is not a washable face mask. So, you can use each of the masks for about 15 days.
Then you have to throw them away. As you are getting 5 masks at once, it won't be a problem. This one comes with skin-friendly fabric and soft cotton ear straps. The nose pad is designed in a way so that the mask can be used for extended hours without uncomfortableness.
Key Features:
It can filter about 95% of the germ and pollutants
It comes with a special valve for releasing moisture
It protects you against 5 types of pollutions
---
5. Onroad Co. Reusable Anti-Pollution Mask: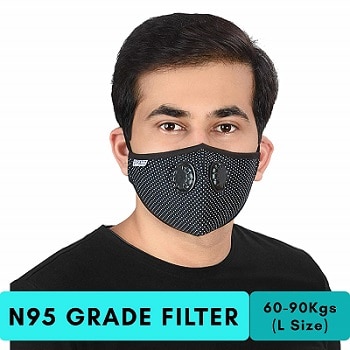 If you are on the look for a face mask made in India, you will love the Onroad Co. brand. Yes, they are an Indian based company. The face mask we are talking about here is an N95 face mask. That means, it can filter out about 95 percent of the pollutants. Apart from the high quality, the best thing about this mask is the low price.
As this is manufactured in India, it is priced very low compared to other popular brands. However, that doesn't imply that it is a bad quality product. On the contrary, we find out that it has some of the best and unique features which are very useful.
For example, it comes with an ear loop adjuster. So you can adjust the ear bands for ensuring a good seal. It also features laboratory tested N95 filters. It is available in large and medium sizes to choose from. Overall, it can be a great choice as it is also a reusable and washable anti pollution face mask.
Key Features:
It comes with dual breathing valves
It filters out 95% pollutants
It is a reusable face mask
It comes with a face mask carrying bag
---
6. PureMe Reusable N95 Anti Pollution Mask: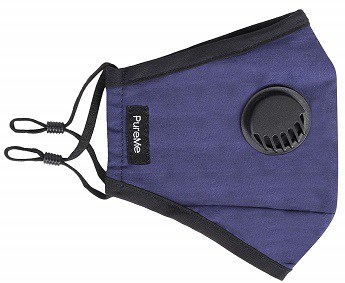 PureMe offers this mask in various colors. If you are a bit picky about the outlook of a face mask, you can check this out as this one comes in multiple attractive colors. It comes with free 4 activated carbon filters. You can insert them in the face mask while you are using the mask.
Again, you can remove those filters and wash your mask for better performance. Each of the masks filters can be used up to about 100 hours. Then you can replace the filter with a new one with ease. As a result, you won't have to throw away the mask after a few days of usage. If you want a reusable and washable mask, then it can be a great choice.
Key Features:
It comes with 5 layers of protection
It has activated carbon layer filter
It is a reusable mask
It comes with N95 grade filters
---
7. LXOICE PM 2.5 Anti Pollution Mask: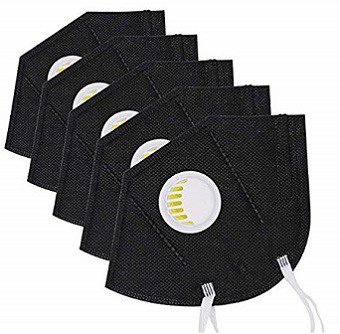 This particular anti-pollution face mask comes in two sizes and two colors. It is available in black and grey colors. However, the price of the face mask might vary depending on the color you choose. This one comes in a pack of 5. So, although these are not reusable masks, you have a lot of backups for using them for a longer period.
The face mask is made with soft cotton and comes with very comfortable ear bands. On the front, it has an exhalation valve for easy breathability. It also helps to filter the warm air out of the mask and at the same time, it brings in colder air. For the price, it could be a good choice.
Key Features:
It comes in multiple colors and sizes
It can block PM 2.5 specks of dust
You can adjust the noseband
---
8. Le Gear Pro Plus Face Mask: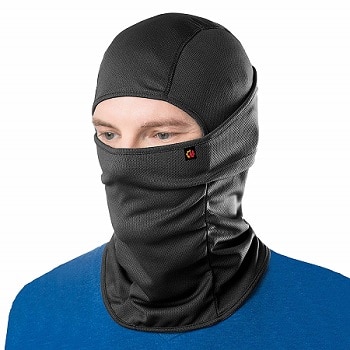 The last one on our list is a unique anti-pollution face mask. From the look of it, you will understand that it is a multi0functional face mask. It offers protection from different types of pollutants and germs like dust, wind, cold, and even UV rays from the sun.
It is manufactured with 4-way stretchable material. As a result, it is so flexible. Even though it covers the entire face and head area except for the eyes, you will be comfortable in it. So, you can effortlessly move your head in any direction you want to. Although it does not come with any special filters, it has a breathable mesh feature.
With the help of this feature, it can filter out most impurities while you breathe. It can be used for biking, running, trekking, snowboarding, hunting, cycling, and even mountain climbing, etc. That means, it is a multi-functional face mask. It is highly durable, washable, and reusable.
Key Features:
It is manufactured with high performance fibers
It is a multi-functional anti-pollution mask
It weighs only about 50 grams
Our Last Words:
Your health should be the topmost priority for you. Maintaining good health is a no-brainer for any person in the world. Still, we tend to forget about that. In this age of urbanization, germs, impurities, and pollutants are all around us. At this moment, it is not possible to escape from this.
However, that doesn't mean that you will have to face a 100% effect of air pollution. You can at least try to take all the required precautions to take care of your body and lungs. And, for that, the first step should be to use a good quality anti-pollution face mask.
10 Best Air Purifiers in India
Best Air Purifiers Under Rs 10,000
You should never cheap out here. We have discussed some of the best and advanced face masks available in India at this moment in the post above. We hope it will help you to pick up the best one for yourself.
Do let us know if you have any questions or opinions about face masks down below!
What other things can be used to avoid air pollution?
Here are some tips you can follow to help reduce air pollutions.
You can plant trees
You should recycle products
You can buy recycled products
You can walk or use public transportation to minimize pollution from your personal vehicle
You should eat organic food
You can keep air-purifying plants at your home
You can use high-quality air purifiers
You should get rid of smoking
You should use energy-efficient gadgets and products