For many, travelling to and from work takes more than a few hours of their day and those living in cities like Delhi may sometimes need to spend several hours in their car itself.
It is now a well-known fact that the pollution level in major Indian cities is growing rapidly and all of us need to protect ourselves from these pollutants not only inside our homes but also when travelling.
Car air purifiers can prove to be extremely effective for people who tend to travel a lot in their car on a daily basis.
Best Car Air Purifiers in India
1. Honeywell Move Pure Car Air Purifier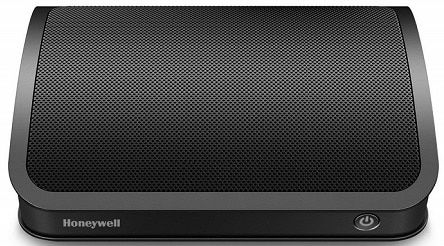 1) One of the most popular brands in this space is Honeywell that makes a range of air purifiers including the ones for your car.
2) The small air purifier can be easily placed on the dashboard or the back of your car and it will work equally effectively.
3) It uses HEPA filters making it free from harmful fumes.
4) Its high-quality filter includes multiple layers to not only keep dust particles away but also removes VOCs, smoke, and bacteria.
5) To add convenience, it starts with the same settings as you'd previously set and is quite easy to install.
6) The replacement filters are available without any hassle at several stores and each of them lasts for about 6 months on 2-3 hours of daily use.
Best Buy : Amazon
---
2. iCube Air Dash Car Air Purifier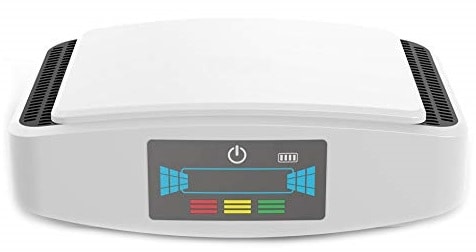 1) To give you better real-time information, this air purifier has a display on the front that also shows the remaining filter life.
2) Five minutes is all it takes to get rid of all the dust, bacteria, smoke, and odours from your car.
3) This machine supports automatic speed adjustment to alter its setting as per the pollution level.
4) This compact car air purifier is meant to be placed on the dashboard mainly because of the included display allowing you to better control it.
5) A 3-layer HEPA filter is placed inside the machine to effectively filter out any PM 2.5 particles while you ride through heavy traffic.
6) With its higher capacity, the purifier is ideal for medium to large cars.
Best Buy : Amazon
---
Read: 10 Best Portable Car Tyre Inflator
3. Philips GoPure Compact 100 Airmax Car Air Purifier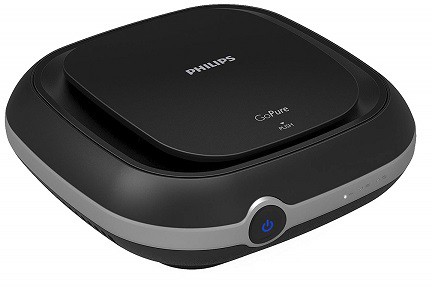 1) Philips has made probably the most versatile air purifier in this list that can be placed in multiple locations give its compatibility and compact size.
2) You can place in the centre console, near the cup holders, or even on the headrest as per your convenience.
3) The company's unique air filters make it clean the air at a much faster rate.
4) The purifier is smart enough to let you know when it's time to replace the filter and it supports two fan speed modes to clean the air more quickly if you travel through more polluted areas.
5) The included filters are good for elements like dust, allergens, smoke, bacteria, and viruses to give you the purest possible air to breathe.
Best Buy : Amazon
---
Also Read : Best Car Bass Tubes in India
4. Sharp Plasmaculater IG-GC2E-B Car Air Purifier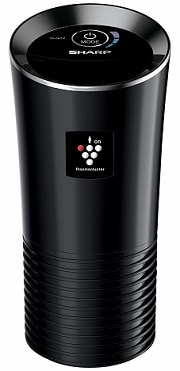 1) Coming with a unique cylindrical shape, you can place this air purifier in your car's cup holder itself, making it the easiest possible installation.
2) It is available in two finishes – black and champagne gold – for you to choose based on your car's aesthetics.
3) The provided adapter includes two USB ports, one to power the purifier itself, while the other can be used for your other devices.
4) Not only in your car, but you may also use to clean air in your personal space, like at your desk by just plugging it into a PC or laptop.
5) Given its better size, the purifier is ideal for all sorts of cars, including vans and SUVs.
Best Buy : Amazon
---
Read: Top 10 Best Dash Cams in India
5. Ansio Car Air Purifier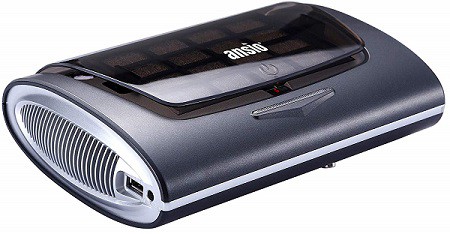 1) Replacing the filter of this air purifier is as easy as installing this product, which doesn't take many efforts.
2) A strip of LED lights has been included on the front that changes colour based on the speed its fan is running at, which is adjusted automatically based on the ambient pollution level.
3) Unlike many other purifiers, this one offers a 6-stage purification process that includes layers of physical filters along with a UV lamp and an ioniser to better clean the air.
4) An Aroma Pad has been provided that dispenses fragrance to keep the air inside your car feel fresh.
5) The filters last for about 3-6 months while the company covers the product from 2 years.
Best Buy : Amazon
---
6. Purita Premium Car Air Purifier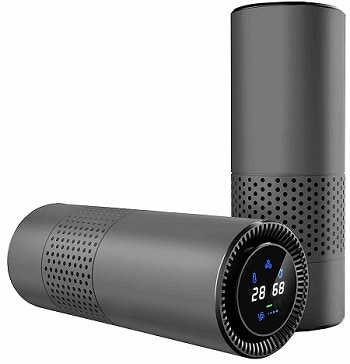 1) Again, a cup-shaped air purifier that can easily fit in the cup holder but this one takes things a little further.
2) For controlling this purifier, you just need to wave your hand on top of it for interacting which makes it much easier and safer to use while driving.
3) The top also houses a display showing all the vital information.
4) On the inside, you will find a cylindrical HEPA filter that sucks in unfiltered air from all the directions and pushes out cleaned air from the vents on the top.
5) The product is made out of metal alloy giving a much sturdier build and a longer life.
6) Large or small, this purifier should fit all kinds of needs.
Best Buy : Amazon
---
7. JSB HF132 Car Air Purifier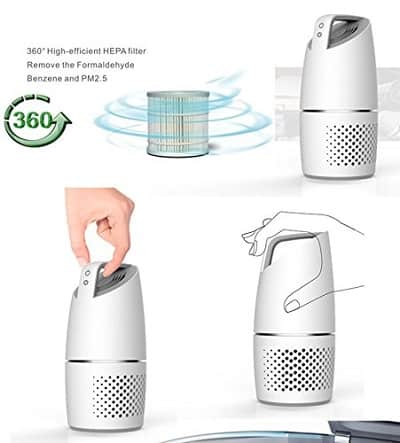 1) For the ones looking for a budget, a solution may find this product appealing since it proves to be an all-in-one device without digging a hole in your pocket.
2) A convenient handle is placed on the top which also houses the power button making it both easy to move and operate.
3) Given its cylindrical shape, you can fit it in the cup holder.
4) While a HEPA filter has been included to keep out PM 2.5 particles, an ioniser is also present to get rid of odours and dust at a faster rate.
5) It is very easy to replace the filters and it wouldn't take more than a few seconds.
6) You can place this purifier inside any small to medium-sized car.
Best Buy : Amazon
---
8. Atlanta Healthcare Medipure MF-01 Moto Fresh Elite Car Air Purifier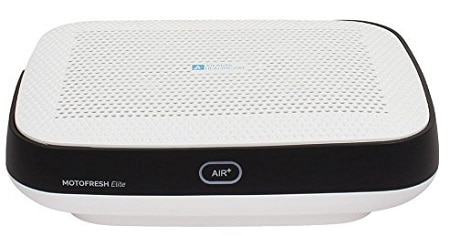 1) Atlanta Healthcare is another major global brand making similar purifiers and respirators.
2) This model is one of the best ones offered by the company in India which comes with a pair of fans that circulate air at a much faster rate throughout your car, even if it is a large SUV.
3) All it will take is about 10 minutes to get its job done.
4) Considering its flat design, you can place it on the dashboard where it will sit securely while being plugged in the charging port.
5) A 4-stage HEPA filter is a part of this package that should keep all kinds of foreign objects off the air inside your car.
6) It supports one-touch operation for getting started quickly.
Best Buy : Amazon
---
9. Airspa Car Air Purifier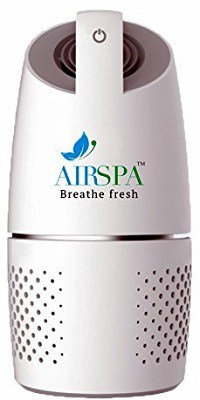 1) The cup-shaped air purifier from Airspa is made to make its installation as easy as possible by having to place it in the cup holder.
2) For cleaning the air inside your car better, the company has included both HEPA and ioniser technology, which completely removes all kinds of foreign particles.
3) Your car's socket will be required to power this product.
4) With support for CADR of 7 cubic metres, you can expect it to function properly for cars from small to medium size and clean the air within minutes.
5) Clean air flows out from the top, directing it toward you for more effective results.
6) Just like its installation, changing the HEPA filter is entirely uncomplicated.
Best Buy : Amazon
---
Read: Top 10 Best Car Stereo To Buy Online
10. Gliese Elegant Car Air Purifier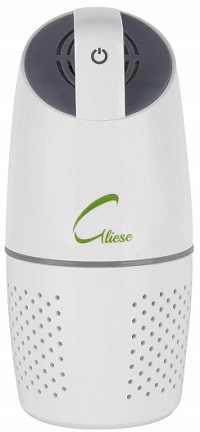 1) A pretty cost-effective solution to breathe clean air while driving, Glience has not compromised on its quality to bring down the price.
2) In fact, the machine uses not one but two technologies – HEPA and Anion generator – to clean every bit of in your car.
3) Both of them work together to get rid of fumes, dust, exhaust, bacteria, viruses, and much more.
4) Purification is enhanced with the use of a 360-degree HEPA filter that takes in air from all the sides and releases clean air from the top.
5) A single-power button has been included on the top for operating it and a power adapter comes included in the box.
6) The company covers this product for up to 1 year.
Best Buy : Amazon
---
Why buy car air purifier?
Pollution is a Slow Poison
Mainly for the healthy individuals with no respiratory disease, breathing polluted air won't show any symptom or effect immediately. You may not notice any such thing right away, but pollution will continue causing severe damage to your lungs and will only be known when it grows to a significant level. Like it is always said, prevention is better than cure, and a car air purifier will help you lead a healthier life by minimising the time you subject yourself to harmful air outside.
Also Read : 10 Best Car Coaxial Speakers
Pollution Levels Soar in Heavy Traffic
The increasing number of cars and other motor vehicles are a major reason for the soaring pollution levels in our cities and these levels go past the severe mark pretty quickly when you're stuck in heavy traffic on your way to work. With the car's AC or heater turned on, you let the polluted air outside to get in and that's what you breathe. And if you don't allow this ventilation, the CO2 levels will increase as you breathe, causing a different kind of issue.
For Children, Pregnant Women, and People with Respiratory Ailments
Children, pregnant women, and individuals already suffering from respiratory ailments like asthma are more prone to being affected by the polluted air outside. They are more likely to show symptoms like coughing, heavy breathing, or pain in throat area, when moving through the city in a car. This could result in deteriorating the health of a pregnant woman and her child. Patients of respiratory issues will need immediate medical attention if they stay outside for long without any kind of protection, and air purifiers become a must for them.
Heavy Construction Work on Your Route
If the route you travel through daily while going to and coming back from work has several under-construction buildings then you must install an air purifier inside your car to save yourself from all the dust that is released through such sites. With the purifier installed, you will be able to safely move from the same route without getting sick with all the pollution outside both from construction and traffic.
Are they really effective?
Of course, they are! Modern air purifiers come fitted with high-quality and highly-rated HEPA filters that are designed to filter out as much as 99 per cent of PM 2.5 particles from the air inside your car. Many of them even come fitted with many additional purifiers like ionisers to give you better results and thus a peace of mind. All it will take is just a few minutes of breathing in the purified air to feel the difference.
Many of these air purifiers come with physical indicators of the pollution level in the form of a display or a coloured indicator. Using this, you can actually watch the pollution in your car's air getting filtered out with you breathing the cleanest possible air within a few minutes. Below included is a list of some of the best air purifiers that you can place in your car to experience such an effect.
---
Also Read:
1) Top 10 Best Air Purifiers Under Rs. 10,000
3) Top 10 Best Electric Storage Water Purifiers For Home