Recently updated on November 20th, 2023 at 09:37 am
Whether it's working on your next essay, preparing your resume, or playing the latest AAA title, a good monitor is arguably a necessity for your computer. It can mean the difference between a comfortable, relaxed experience and a world of eye-strain and headache.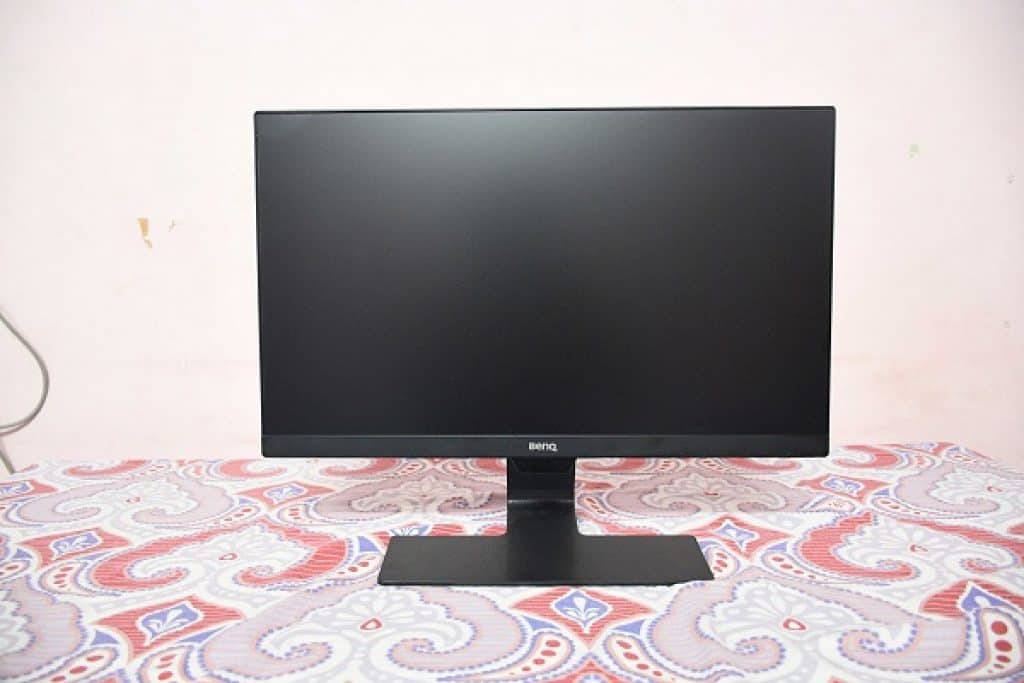 I was recently in the market for a new monitor, but budget constraints limited my choices. I finally settled on the BenQ GW2283, which I've owned and used for over a month. A budget monitor that performs surprisingly well, it's well worth giving a thought about when considering your next monitor purchase.
Let's get into details.
Specifications
With a diagonal size 21.5 inches and a resolution of 1920 x 1080, the BenQ GW2283 is on the smaller side of monitors with this resolution. It offers the standard 60 Hz refresh rate, with an 8-bit LED-lit IPS panel. The monitor has a contrast ratio of 1000:1 and a grey-to-grey response time of 5 ms, and a maximum brightness of 250 nits. The monitor offers BenQ's proprietary 'Eye-Care' Technology and an intelligent brightness adjustment mode, that minimizes emitted blue light and screen flickering for an easier viewing experience that reduces eye strain.
The monitor comes with an included stand, as well as an option for a 100 x 100 mm VESA mount (not included).
Also Read : Best Ultrawide Gaming Monitors in India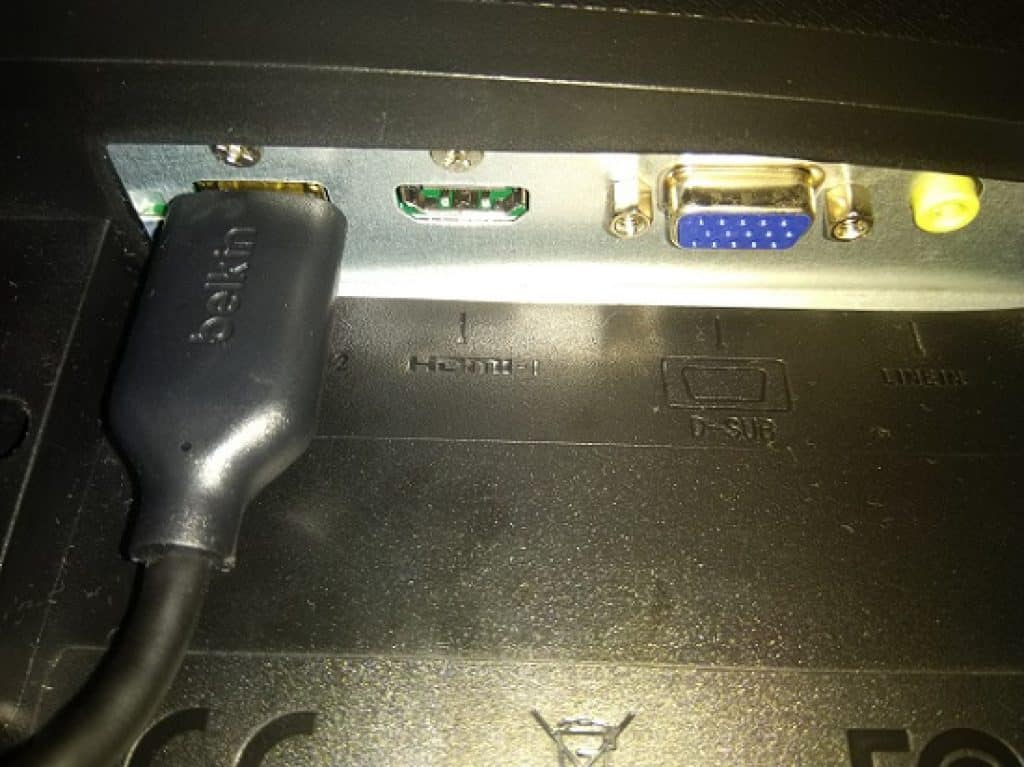 Port selection on the monitor includes 2 HDMI ports and a VGA port, although only a VGA cable comes bundled with the monitor – you'll have to purchase your own HDMI cable or an adapter to use those ports. Both HDMI ports can be plugged into simultaneously, such as from a console and a PC at the same time, with the ability to toggle which port provides input to switch between them.
Audio output comes in the form of two 1-watt speakers located near the bottom of the monitor.
The price tag comes in at approximately ₹8,000 when purchased from Amazon, though can be substantially cheaper if purchased through local retailers. My personal unit was purchased and delivered through Amazon, arriving in a well-packed box with plenty of Styrofoam padding to ensure no damage to the display during delivery.
Also Read : Best Gaming Monitors Under Rs 20,000 in India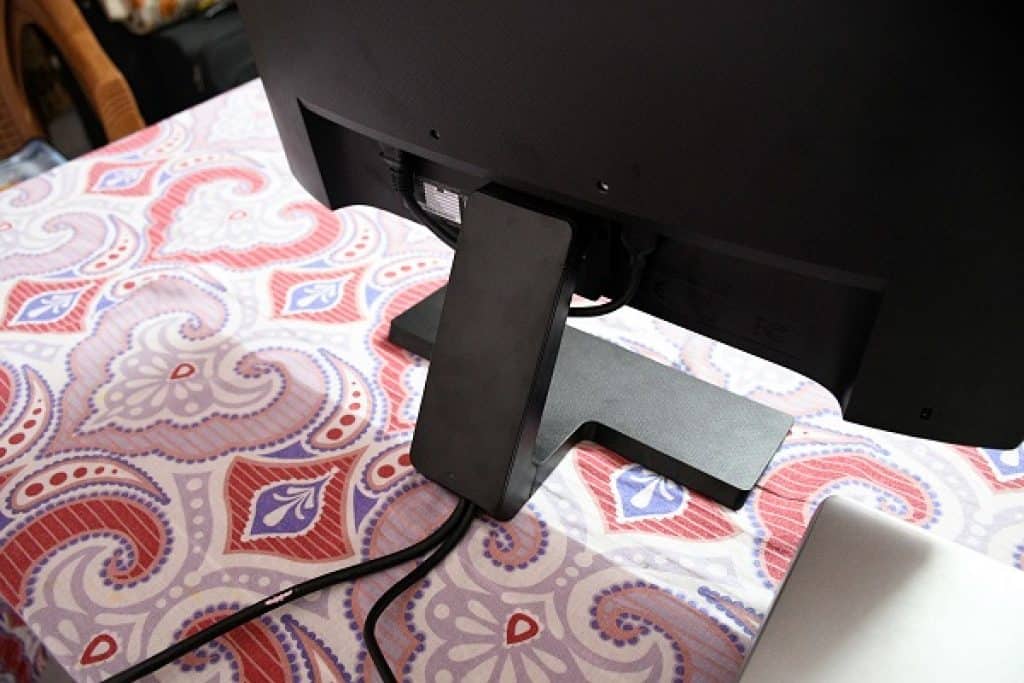 Design Aesthetics
The BenQ GW2283 monitor presents a simple but elegant design, sharing its appearance with its 24 and 27-inch brethren. Most of its construction appears to be matte black plastic but it does not look inexpensive – the body and base are contoured and textured, giving it a more premium look. However, both the body and the screen are extremely sensitive to fingerprints and palm scuffs, and so will require cleaning with a soft or microfiber cloth to remove them effectively.
The base is narrow but wide, and textured to avoid scratches, which I inadvertently tested by having all manner of stationary near the monitor as I worked – till date, I haven't seen a single scratch of any kind form. It's reasonably compact but the design can prevent the monitor being placed as far back as you might want to on narrow tables, forcing you to sit closer to the screen, which can be uncomfortable.
Also Read : Best Earphones Under Rs 1000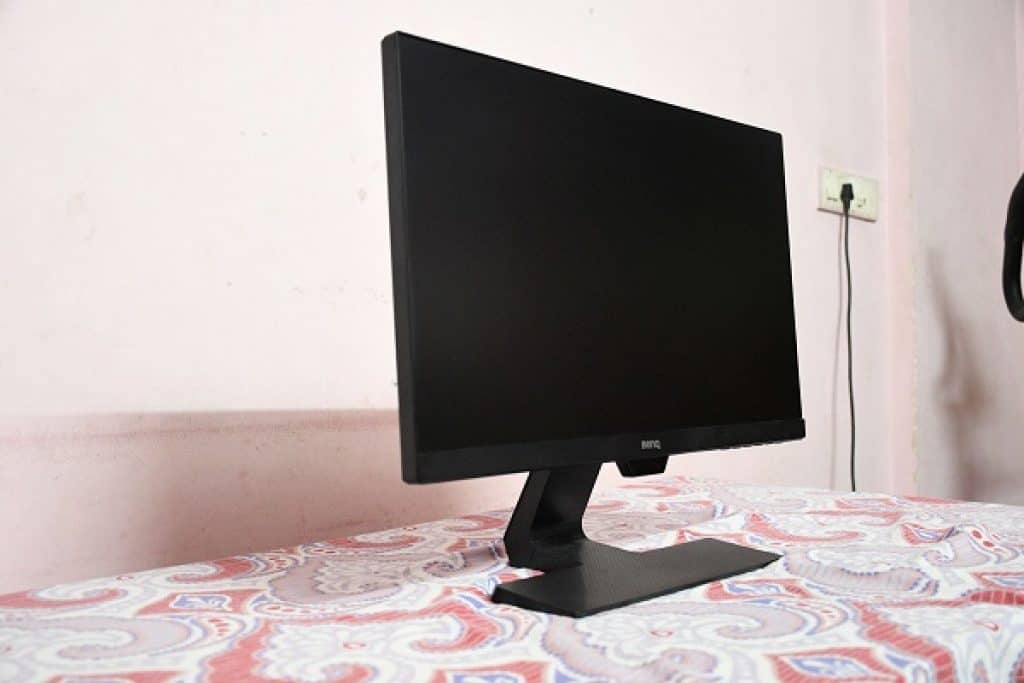 The provided stand is attached to the base by a single hand-tightened wing-bolt, and curves into the back of the monitor where it secures firmly by way of a sliding mount that locks into place. It does not offer any height adjustment or rotation, but the monitor can be tilted between 5˚ and 20˚ forwards and backwards, but not sideways. I personally prefer having the monitor tilted slightly upwards to view the lower section of the screen easier. A nice little addition is that the stand's backplate can be opened to allow access for some cable management.
Also Read : Best Monitor Arm Stands in India
A drawback of this design is that the monitor sits quite low on the table. The lowest part of the monitor sits only about 10 cm above the table, which ranges from uncomfortable to downright difficult to use. I placed the monitor atop two thick books, which raises it enough to use, but a wall or table VESA mounting stand will do the trick as well, after removing the stand.
Finally, under the monitor itself and directly below the BenQ logo on the bottom bezel, is a protrusion that holds a small sensor that deals with light level and brightness adjustments. This is flush with the frame and does not appear unpleasant in any way.
Display quality
The display renders cleanly at native 1080p resolution and scaling. The bezels are unobtrusive, with the top and side bezels coming in at just under 5 mm, allowing it to be used in a multi-monitor setup without large gaps between screens. Viewing angles are wide, as can be expected from IPS panels, with stated viewing angles of up to 178˚, which matched my experience.
Coming in at 60 Hz, the display is sufficient for everyday use but it's 2020 and higher refresh rates are increasingly becoming the norm. In addition, the stated minimum grey-to-grey response time is 5 ms – if you're looking to play esports titles or have a powerful PC that can push out more frames, you might want to look elsewhere for a monitor with a higher refresh rate and faster response time that you can benefit from, but for lower end hardware like mine, this still feels snappy and smooth.
Also Read : 10 Best 4K Monitors in India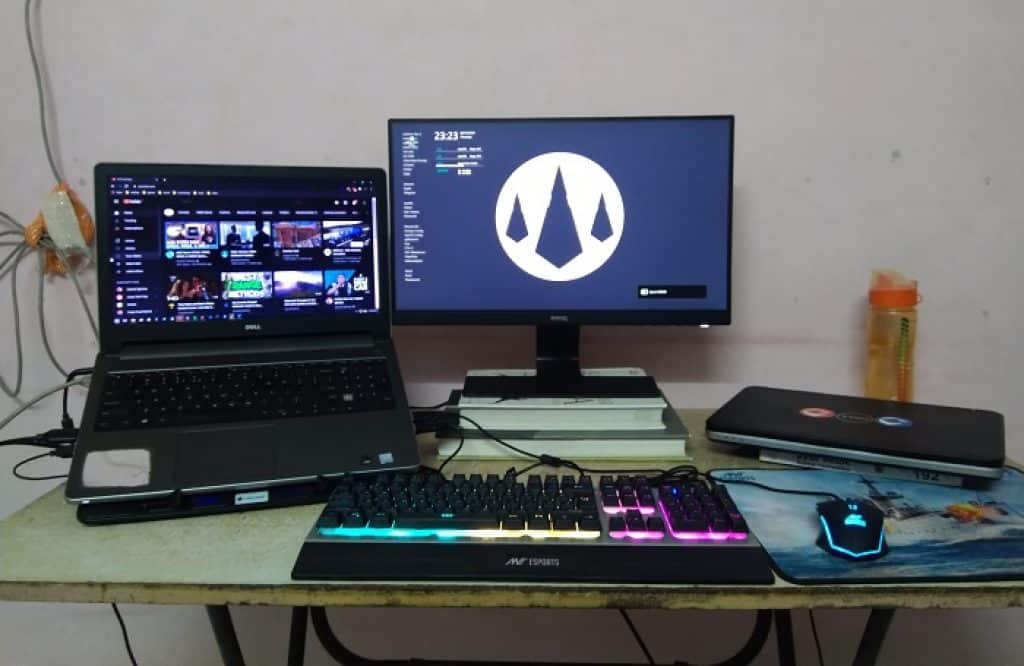 The stated color gamut of 72% NTSC ensures that color accuracy will not be an issue for all but professional work. Watching movies feels great, and dark scenes are shown without any noticeable discolorations. There is minor backlight bleed, which is to be expected from lower end IPS panels, but this can vary from panel to panel, so you should check your own monitor yourself to be certain. In my case, this was not significant enough to affect my use of my monitor, even at night or in dark rooms.
The display is covered in a matte anti-glare coating that dissipates any glare well under harsh lights in my room, slightly from my window, and even when I shine my phone's torch directly on it. The color accuracy of the screen does not appear to be affected by the coating. However, the maximum brightness of 250 nits may be insufficient for someone working in well-lit spaces, and so where the monitor will be used is something to keep in mind.
Also Read : Best Gaming Laptops Under Rs 70000 in India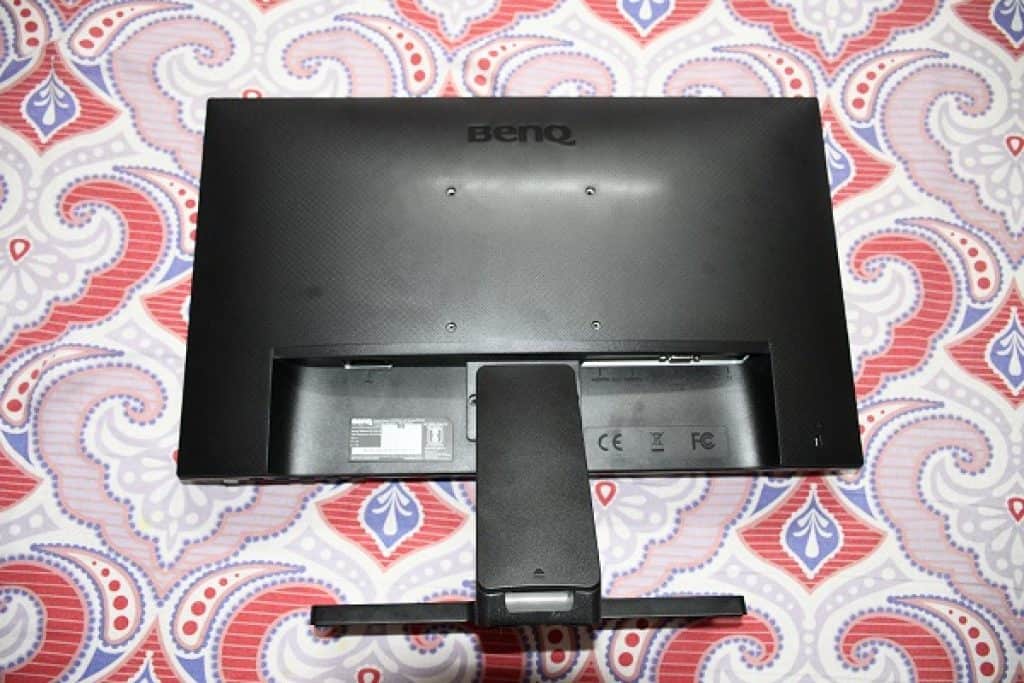 Underneath, there's a white power button and 5 menu buttons to adjust display settings, including the 'Eye-Care' technology, input choice, display alignment, picture quality, audio settings and more. I found that I had to tweak the factory settings slightly, especially the sharpness and gamma, before it felt right. The power button has a subdued white LED that is clearly visible when the monitor is powered on. The menu buttons bring up a context menu on the display that make it easy to identify and use the buttons without having to constantly look under the monitor.
Connectivity and Audio Quality
The available ports include two HDMI 1.4 and a VGA port, with no DisplayPort available. This is not a problem in a single-monitor setup, as HDMI 1.4 has more than sufficient bandwidth for the 1080p @ 60 Hz this monitor provides. However, as typical graphics cards tend to offer more DisplayPort connections than HDMI, in a multi-monitor setup you will require adapters or HDMI-to-DisplayPort cables.
The audio leaves much to be desired – the in-built speakers are not noteworthy. Bass is practically non-existent and distorted, and sounds are not as bright, but if you don't have speakers or headphones to hand, they will serve as a temporary arrangement.
Also Read : 10 Best Gaming Laptops Under Rs 50,000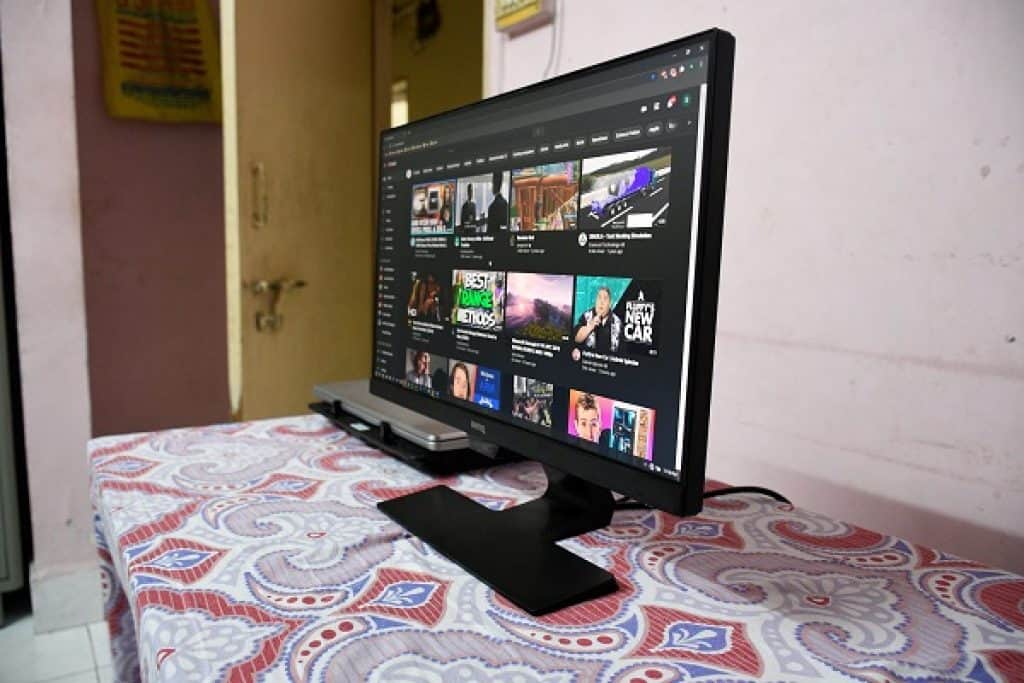 Conclusion
The BenQ GW2283 ultimately offers a compelling argument for purchase – sturdy build quality, a good display and competitive pricing. The IPS panel display is sufficiently color-accurate for most users, easy on the eyes even after extended use, with minimal, if any, backlight bleed, and can be configured to your individual preferences. Viewing angles are wide enough to use the monitor comfortably even from a wide angle, and bezels are narrow, making multi-monitor setups viable. The display, as well as the rest of the assembly, are prone to fingerprints, so you might want to be a little careful when moving or handling the monitor.
The major drawbacks of this monitor, in my experience, have to be the lack of height adjustment, and the 60 Hz refresh rate. With computers becoming increasingly powerful, monitors with faster refresh rates are quickly becoming necessary to use them to their full potential.
Also Read : Gaming Laptop Buying Guide: How To Choose the Right Laptop?
A one-line summary of this monitor would be an entry-level monitor that offers good value-for-money, trading flexibility for essentials.
If I had to do it all over again, would I buy the same monitor? Yes. With my current hardware, I'm happy with the 60 Hz refresh rate, the display is good enough for my work, and the Eye-Care and intelligent brightness settings are nice to have, so I would buy the monitor. However, the base and stand assembly place the monitor more forward than you might expect, which is an issue with tables that aren't as wide. I would opt to get a table VESA mount and use that over the provided stand, which would solve the majority of positioning and alignment issues with the monitor.

Rs.

7,750

Rs. 11,990
3 new from Rs. 7,750
in stock


Rs.

9,199

Rs. 14,999
2 new from Rs. 9,199
in stock

My final recommendation would be to purchase this monitor if you're looking for something affordable that will get the job done well, but if you're into high FPS gaming like esports titles, I would look elsewhere.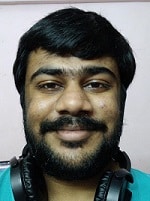 Written By – Siddharth Kumar
"I'm a 23-year old living in Mumbai, currently working in the IT sector. My interests include programming, data science, and technology. In my free time, you can usually find me reading, playing video games, or cooking."
Also Read :
10 Best Gaming Headphones Under Rs 2000
Best Gaming Mouse Under Rs 2000 in India
10 Best Mechanical Gaming Keyboards Under Rs. 10,000