Choosing a good and stylish bag for a party is important if you want a good first impression. This is why a lot of women have an assortment of bags to choose from so that they can take the best handbag for a party.
With shoulder bag to clutches, there are so many styles to choose from that it can often get confusing and intimidating.
Don't worry, this guide will help you in selecting the best party bag for you so that you can dazzle everyone with your confidence and good taste. When choosing a good party bag, there are a number of factors to keep in mind and we will be discussing a few of these to help you out in your bag choosing venture.
---
Best Party Shoulder Bag,
1. Hidesign ECOM Exclusive Women's Shoulder Bag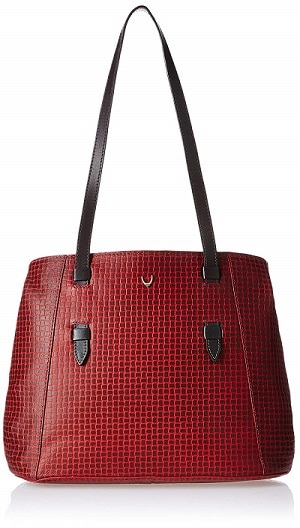 Best Price : Amazon
One of the top party bags for women, Hidesign ECOM Shoulder bag is a trendy and stylish bag. Made up of premium leather along with vegetable tanning, this shoulder bag looks great in parties and events.
The craftsmanship of this bag is quite detailed and includes hand cutting, hand rubbing, waxing, hand polished brass fittings, and so on.
Also Read : Best Hand Creams in India

It also features double handles and a zip closure which makes the bag secure and comfortable to use.
And the vegetable tanning technique makes your bag durable and long-lasting while adding a soft glow to them.
Yes, it is slightly expensive but it is a long-lasting investment. So, if you are looking for a spacious shoulder bag as your party bag then this is the best product for you.
---
Best Women's Party Handbag,
2. Stella Ricci Women's Handbags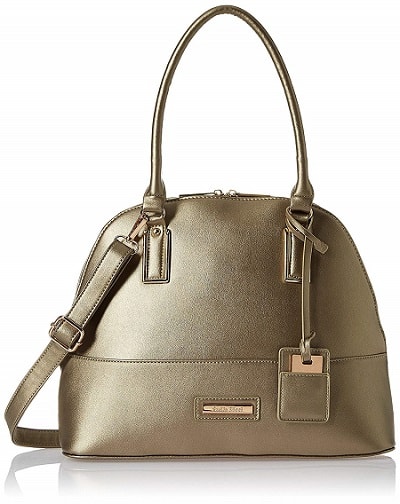 One of the best party handbags in the market, Stella Ricci Women's handbag is simple yet elegant at the same time. And the faux leather used in its construction gives it a wealthy and chic look.
Also Read : Best Sunscreens in India To Protect Your Skin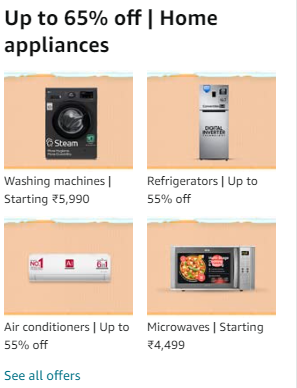 With its removable strap, you can this handbag in two different styles which allows you to cover different kind of occasions. It also features an external zippered compartment to hold your small belongings like keys, smartphone, etc.
It is quite spacious and also includes a zippered compartment inside the bag which allows you to store your belongings in an organized manner.
Best Price : Amazon
---
Elegant Party Sling Bag,
3. Diana Korr Women's Sling Bag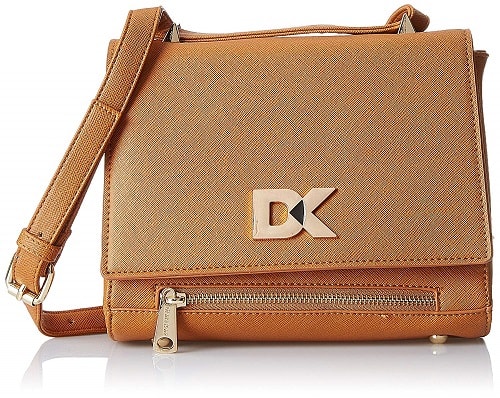 An exotic and appealing sling bag to look at, Diana Korr Women's sling bag is perfect for party and casual events and is quite reasonably priced as well.
This sling bag has a simple yet charming design which makes it perfect for formal use. And the faux leather construction makes this party bag water resistant as well.
It is made up of a strong material which makes the bag long-lasting and durable and the bag features 1 compartment and 5 pockets.
This makes it really spacious and convenient to store your belongings. It features a cross-body and comfortable handles give it a modern and exotic look while making it comfortable to wear at the same time.
Best Price : Amazon
---
Best Party Clutch,
4. Lino Perros Women's Clutch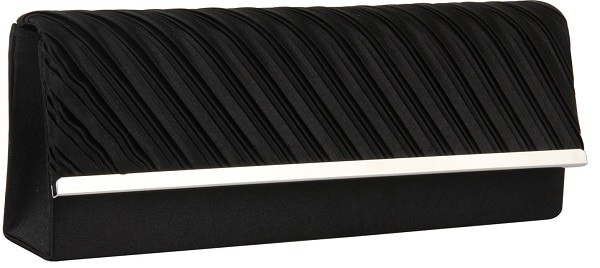 One of the best party clutches, Linos Perros Women's clutch has a contemporary design which makes it elegant and attractive to look at. Made up of satin material, this black clutch looks exotic and elegant and is quite smooth to touch as well.
Also Read : 6 Best Hair Conditioner in India
It features 1 compartment and 1 pocket which is sufficient to hold your important belongings and is extremely light to hold as well.
The best part about this clutch is that it is quite easy and convenient to clean as well. All you need to do is just rub it with a damp cloth and then let it dry.
Best Price : Amazon
---
Best Party Wallet,
5. Diana Korr Women's Wallet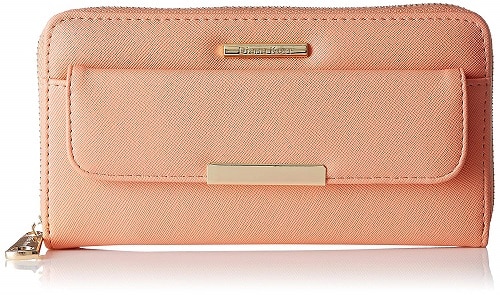 Another amazing women's bag which is affordable and perfect for formal events is Diana Korr Women's Wallet.
This cute compact wallet has a simple yet cute design and is made up of faux leather which makes it water resistant. It is easy and comfortable to carry and is the right size if you don't want to carry a huge handbag/shoulder bag with you.
Also Read : Best Facewash For Oily, Acne, Sensitive & Dry Skin
With its 3 compartments and 4 pockets, you can store a lot of things like a smartphone, credit cards, makeup kit, etc.
And its zip closure ensures that your belongings remain safe and secure at all time.
Best Price : Amazon
---
Affordable Party Shoulder Bag,
6. Stella Ricci Women's Shoulder Bag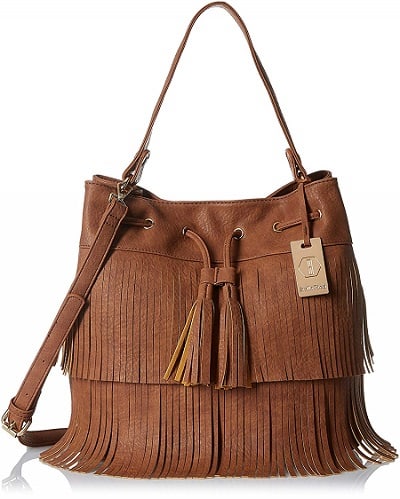 Looking for a shoulder bag but in an affordable range? If yes, then Stella Ricci Women's shoulder bag is the perfect choice for you. This budget-friendly shoulder bag has an elegant design with its tassel detailing and drawstring closure. As a result, this bag looks really stylish and perfect for parties.
Also Read : Best Hair Straighteners to Buy in India
Also, the faux leather material used in the making of this bag makes this bag look even more appealing while making it slightly water resistant.
With its large capacity and pockets, you can easily store all your belongings in an organized manner. Also, it is light and includes an adjustable strap so it is really convenient to use this bag whether you are going to a social event or an office.
Best Price : Amazon
---
Budget-Friendly Yet Stylish Party Sling Bag,
7. ADISA SL5004 women girls party sling bag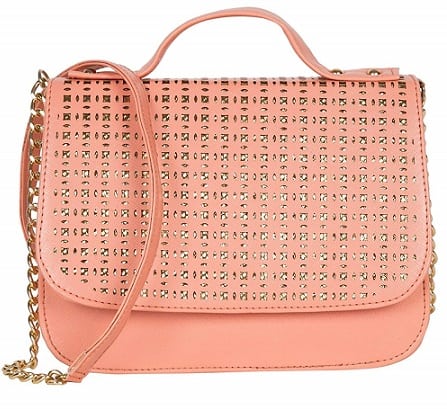 Made up of PU and Synthetic material, ADISA SL5004 is the best party sling bag in the market and is really affordable at the same time.
This budget-friendly sling bag is available in 7 different colors so you can choose the one which matches your outfits and events the best.
Also Read : Best Hair Curling Irons in India
With its multiple compartments and zip enclosure, you can store a variety of items and can keep your cash and cards secure too.
Also, the magnetic closure makes it easy to use the bag and the flap design makes the bag look really appealing to the audience.
Compact yet spacious, this is the perfect sling bag for anyone who wants a daily/party purpose bag at a reasonable price.
Best Price : Amazon
---
Other Models
8. Lino Perros Women's Handbag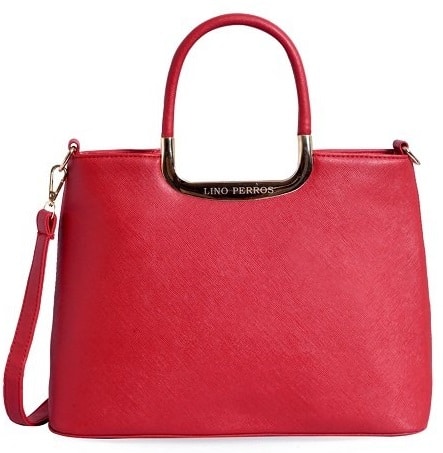 Lino Perros Women's Handbag is also a good party bag which is spacious and durable and made out of faux material.
This lady's handbag has a beautiful contemporary design and features a removable strap which makes it convenient to carry.
Also Read : 6 Best Foundations in India For Oily,Dry & Normal Skin
You can use it like a shoulder bag or a handbag and have two compartments along with a couple of pockets to keep your stuff organized in the bag. But while most Lino products are good, this might not be their best work till now.
A lot of customers have complained that the quality isn't good and the threads and handle of the bag is prone to come out after a couple of months of use.
---
9. Lino Perros Women's Clutch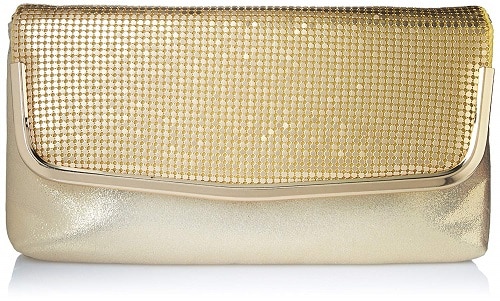 Lino Perros Women's Clutch is yet another great bag for party females with its golden bling which usually matches most attire.
This small party bag is spacious enough to store your smartphone, makeup kit, etc. but small and light enough to not be burdensome during an event.
It also features a snap closure which makes it easy and convenient to access and the adjustable strap allows you to adjust it to your body size.
However, it is quite small in size and expensive compared to other amazing party clutches in the market. So, if you want quality at a reasonable amount this might not be the best choice.
---
10. ADISA CL029 women clutch/sling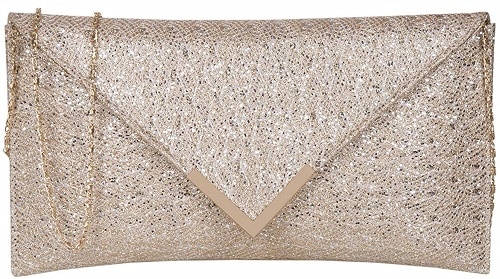 ADISA CL029 women clutch/sling is another trendy and useful party bag which features a magnetic closure and a metal chain allowing you to use this clutch as a sling bag as well.
Compact and light, this clutch/sling bag has a flap with gold metal fitting and is perfect for functions, parties, etc.
Also Read : 10 Best Sunscreen Lotion in India
It features 1 compartment and 1 pocket which can hold your essentials and is quite cheap as well.
However, there is one major issue with this clutch/sling bag. The glitter on the bag comes out every time you touch it so it slightly ruins its look.
Tips for Choosing a Party Bag
Here are a few things that you have to keep in mind when looking for the perfect party bag for yourself.
Determine the Type of Party Bag
The first thing that you need to understand is that there are different styles of party bags available. So, you have to choose the one which suits your needs and events perfectly. There shoulder bags, handbags, tote bags, sling bags, wallets, and clutch bags for you to choose from.
A tote bag is perfect for traveling and can fit almost anything. Also, it is usually available in different materials like leather, cotton, etc. so you can choose the best color and material for your party.
A handbag is usually wide and has a strong frame from the outside. And it looks very stylish which makes it an ideal party bag.
If you are looking for something trendy then shoulder bags are a good option too. They have a good design and are spacious enough to carry all your essential items.
For people who don't like to carry big handbags, a sling bag is the best party bag. It is sleek, affordable, and have enough space to store your important belongings.
A clutch is the best party bag choice for anyone who is looking for a small, compact bag to hold few essentials like credit card, makeup kit, cell phone, etc. Also, clutches are usually available in some dazzling embellishments as well which makes it perfect for the party goers.
And finally, a wallet is a sleeker version of the clutch and can also be taken to a party. But you will need to choose a bright and colorful wallet to make it stand out in the crowd.
Choose a Bag which Complements Your Body Shape
In order to choose the right party bag for yourself, you will have to determine your body shape and then choose a bag which complements it.
For this, you need to choose a bag which is opposite of your body type. So, if you are short then a tall, rectangular party bag would be a good choice for you. But if you are slim and tall then you need to go with a rounded bag. As for women who are healthy, a smaller clutch or wallet would be a better choice.
Consider the Color and Design of the Bag
After you have chosen a style for your bag, you need to look for good color and design. Make sure that your party bag matches/complements your party outfit. Go for a colorful bag whose dominant colors will match your outfit and footwear.
But if you want a party bag that can be used on several occasions, then choose a single but brightly colored bag. You can go for a simple black bag as well but make sure it has extra design details to make it bling at the party.
Look for a Bag with Sufficient Pockets
Another important thing to consider is that it should have a sufficient number of pockets to store your belongings. Some people like a central divider in their bag with several pockets to hold their makeup, phone, credit cards, etc. Other people prefer only a couple of pockets to hold their utmost important belongings.
So, decide how many and what kind of pockets you want in your bag and then look for it when deciding.
Choose a Party Bag Which is Light and Comfortable
Lastly, make sure that the bag is light and comfortable to carry. It should fit perfectly in your hands/shoulders and should be easy and convenient to hold. For this, you have to try the bag before purchasing it. Notice if it is uncomfortable to carry and if so, ditch it for a more comfortable party bag.
You also have to make sure that it is not too heavy else you will be bent under the weight all the time. Go for a practical bag which will look great but won't feel like you are carrying 40 kg of items every time you pack it up for a party.