One of the most abused part of our body is our hands and unfortunately, more than often we don't pay much attention to it. I have always had trouble with dry hands after washing and sanitizing them regularly. And when you work in harsh conditions, you can actually feel cracked and dehydrated skin on my hands. But guess what? It is not the end.
With a good hand cream, you can easily ensure that your hands are soft and supple and don't look too damaged. But all hand creams are not same because all skin types differ. So, you will need to choose a hand cream which is best suited for your skin type to get the best out of it.
Table Of Contents
Things to Consider when Choosing a Hand Cream
Here are a few things that you need to consider when looking for a suitable hand cream for yourself.
Select a Hand Cream to Match your Skin Concerns
The first thing that you need to consider is what you need out of your hand cream. This means you need to assess the skin damage and find out what does your skin actually needs. If you suffer from dry hands then you would need to buy an intensive care cream.
Do you have flaky skin? Then, you need an exfoliating hand cream to get rid of it. There are tons of hand creams in the market which can smoothen and hydrate your hands.
For sensitive skin, avoid buying hand creams with perfume or chemical compounds as it can really irritate your skin. And people with oily skin should choose hand creams with a light texture which will easily hydrate your skin while not leaving any greasy film.
So, make sure you assess your skin needs and then choose a good hand cream for yourself.
Choose a Hand Cream which is Appropriately Moisturizing
One of the most important things to look out for is appropriate moisturizing. There are several hand creams in the market which will do this task but the ingredients matter a lot. You might be tempted to buy a greasy hand cream but a hydrating ointment will be a far better choice.
Check for ceramides as they offer a lot of moisture to the skin. You can apply these hand creams at night so that your skin can restore its health and moisture.
On the other hand, if you require an everyday hand cream to keep your skin hydrated and smooth then go for a hand cream with glycerine formula. It will quickly heal your dry hands and will really smoothen and soften the skin.
Look for a Hand Cream with Good SPF Value
Another important thing to look out for is sun damage protection. A lot of people think that your hands don't require to be protected from the sun damage as your face does. But this is not true.
You need to protect from the harmful UVA/UVB rays so make sure you get a hand cream which contains SPF. As someone who travels a lot, this is extremely important so I always look for hand creams with a good SPF content to protect my hands while traveling in the sun.
However, there are times when you don't find a good hand cream. Well, not to worry, if you don't find a good hand cream with SPF then you can always use your sunscreen to protect your hands as well.
Choose a Multitasking Hand Cream
Finally, the best thing to do when looking for a suitable hand cream is to choose the one which gives you multiple benefits. You will find that there are a couple of hand creams which will not only exfoliate your skin but will brighten and soften it up too. They will offer sun protection, moisture, hydration, plumping, repairing, and so many other benefits.
This way, you don't have to worry about different hand problems and have a 1-stop solution for all your skin troubles.
---
Best Hand Cream for Dry Hands
Neutrogena Norwegian Formula Hand Cream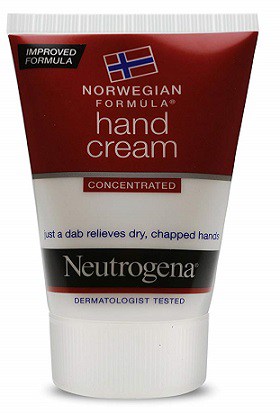 If you are one of the few people who suffer from dry and chapped hands like me, then Neutrogena Norwegian Formula Hand Cream is the perfect choice for you.
This highly concentrated formula contains glycerin which adds moisture to your skin and makes it soft and supple. This hand creams works in the harshest, coldest weather and offers relief to your chapped skin immediately after application.
It is also dermatologically tested so you can be sure of it's benefits on your skin. The thing which I love the most about this hand cream is that you only need to apply a small amount and you will see amazing results. It can be used as an everyday cream or a night cream, depending on the results you are looking for.
And while it is extremely moisturizing, it is not greasy at all and gets quickly absorbed in your skin which is another thing that I always look out for. It is also free of fragrance or any synthetic dyes so it works well on sensitive skin as well.
And it's not expensive as well! So, if you want to repair and moisturize your hands then Neutrogena's hand cream is definitely the best choice for you.
Check Cheapest Price : Amazon
---
Multipurpose Hand Cream
Dot & Key Hand Cream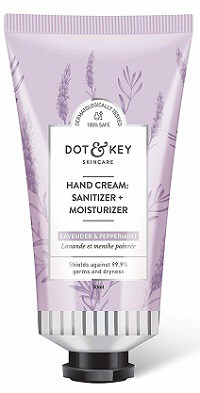 One of the best hand creams in the market which I really like, although it is a little expensive, is the Dot & Key Hand Cream. What I like the most about this hand cream is that it not only is a great Moisturizer but is also useful as a sanitizer.
And it takes care of my all skin care needs while being gentle on the skin. We all have faced the times when we use a sanitizer and face dry hands but with Dot & Key hand cream, it is possible to have your hands remain soft and moisturized while being germs-free.
Another thing which I really like about this hand cream is that it contains jojoba and Shea ingredients so the hands feel really soft and supple after each application. And since it contains lavender and peppermint essential, it smells absolutely bliss as well. Also, the anti-inflammatory properties of these ingredients ensures that it is gentle on healing skin and doesn't irritate a bit.
Honestly, if you want your hands to remain germs-free while being hydrated and nourished for a long time then you won't find a better product than Dot & Key Hand Cream.
Check Cheapest Price : Amazon
---
Best Hand Cream for Tan Removal
Khadi Natural Milk & Saffron Herbal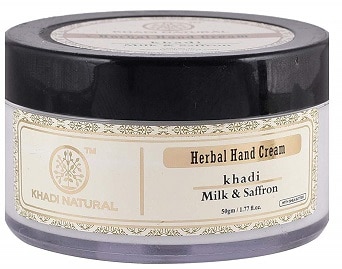 I love Khadi products which is why this Khadi hand cream is one of my absolute favorites in this list. This cream works amazingly on both damaged hands and nails, can you believe it? And it will moisturize and hydrated your dry and dehydrated hands and softens effectively both your rough skin and cuticles. Since it consists of natural moisturizers, after a couple of uses, your hand becomez quite soft and smooth and doesn't suffer from dry or chapped skin anymore.
It also consists if saffron and milk which are really effective in removing the tan from your hands, a blessing for travelers like me. And since it contains no mineral oils or parabens, it can be easily used on sensitive skin as well. It is a little greasy but it blends quickly in your skin and offers a long-lasting hydration to your hands. It is also inexpensive but it contains no SPF so you will have to apply a separate coat of sunscreen on your hands to protect from sun damage.
One of my favorite hand creams in the market, this Khadi hand cream makes your nails strong as well as it prevents nail chipping or splitting and makes them shinr as well. So, if you are looking for an affordable natural hand cream for daily use then Khadi Natural Milk & Saffron Herbal Hand Cream is the best choice for you.
Check Cheapest Price : Amazon
---
Best Perfumed Hand Cream
The Faceshop Daily Perfumed

The Faceshop Daily Perfumed Hand Cream is another product which I found great for nourishing and hydrating your skin while giving off a pleasant fragrance. The macadamia seed oil in this hand cream properly moisturizes your skin and the vanilla fragrance which emits out of this hand cream is quite soothing and pleasant to smell.
Also, since this hand cream is lightweight, it absorbed easily in the skin and offered hydration to the skin for a long time. But the best thing about this hand cream is that it is available in different variations like rose water, apple pop, green tea, acacia honey, and so on. So, if vanilla scent is not your scene then there are several other options to choose from!
Check Cheapest Price : Amazon
---
Best Hydrating Hand Cream
Colorbar Fruit Drop

Another amazing hand cream to keep your hands hydrated and nourished is the Colorbar Fruit Drop Hand Cream. A 100% vegetarian cream formula with a soft texture, this hand cream contains 79% natural ingredients and is an extremely nourishing cream. Filled with Vitamins A and C, this cream will brighten up your skin and repair the damage caused to it.
It also forms a natural moisture barrier to protect further damage from environmental factors. It is made using essential oils and fruit extracts which helps in repairing and rejuvenation of your skin. It includes ingredients like kiwi, carrot, apple, grapefruit, etc. which will give you soft and fresh hands. And since this is paraben-free, FDA approved product, it is also suitable for sensitive skin.
In fact, this hand cream is perfect for all skin types. And it gets absorbed quickly in your skin. The only problem is that it is slightly expensive in comparison to other hand creams. But it is completely worth the price and delivers the quality that it offers.
Check Cheapest Price : Amazon
---
Suited for all Skin Types
Oriflame Milk and Honey Gold Nourishing Hand and Body Cream

Another amazing hand cream which I found effectivw in leaving you with smooth and soft hands is the Oriflame Silk beauty white glow hand cream. This hand cream exfoliates and then repairs your skin and holds in the moisture to make your hands soft and supple. It contains both milk and honey extracts along with glycerin which greatly helps in keeping your hands hydrated and properly moisturized.
Although it's not the cheapest product in the market, it does offer good value for its money. The honey extracts are full of vitamins, minerals, and folic acid which helps in nourishing and conditioning of your hands.
And you just need to apply a small amount to actually see the results. It also has a nice fragrance and gets absorbed quickly in your skin after the application. It is super easy to apply as it has a soft and light texture and is not greasy as well. And the best part is that is can be used by all skin types!
Check Cheapest Price : Amazon
Other Hand Creams to Try
Avon Naturals Sultry Red Rose and Peach is a quick absorbing hand cream which moisturizes your rough, dry skin effectively. This hand cream not only leaves your skin soft and smooth but also gives off a pleasant fragrance which makes it more desirable for daily use.
It contains peach and red rose extracts which can greatly help in making your tanned skin bright again. It is also easily affordable but it contains parabens so it might not suit sensitive skin. Also, the effects of this hand cream are short-term so you will need to reapply the cream again.
Oriflame Silk Beauty White Glow is a good hand cream for daily use which will hydrate and repair your dry and chapped hands quite effectively. It is quite affordable too and is easy to apply and is quite easy to take on your trips as well. It moisturizes your hand and gives off an amazing smell which makes it more attractive to the users. The only problem is that it takes time to show the result and is not suitable for extremely dry skin in winters.