Styling your hair is important as it can make you ur hair look healthy and attractive. And one of the best ways to do this is by using a good hair straightener to smooth out your frizzy and unruly hair.
But you have to be careful when choosing the right hair straightener for your hair. Because you hair straightener is more than just a tool to get shiny, straight hair. It can also be used as a curling iron or as a volumiser in several occasions.
So, think of it as a long term investment which you won't need to replace in just a couple of months. And the best part is that the right hair straightener will actually not cause any heat damage or hair breakage.
We know that choosing the right hair straightener can be nightmare with so many options and brands available in the market.

This is why we have prepared this guide to help you out in choosing the best-suited hair straightener for yourself. We have also included a few tips that you should consider when looking for the best hair straightener for your use.
Best Hair Straighteners in India
1. Perfect for Thick Hair : Philips KeraShine Straightener HP8316/00

Although an expensive product, Philips KeraShine Straightener HP836/00 is one of the best straighteners for thick hair. This product comes with ceramic plate that is infused with keratin. So, not only it is extremely easy to straighten your hair but it also makes your hair shiny and smooth.
It takes just 60 seconds to heat up and with its SilkCare Pro feature, it doesn't create any friction when straightening your hair. As a result, your hair isn't exposed to too much heat and is saved from the heat damage. It also features wide plates so it works amazingly on thick and long hair and straightens your hair in just one or two go.
It can reach a maximum of 210 degree Celsius which is perfect for styling your hair in different ways. It also includes ionic care so smooth and glossy hair in every use. The 1.8 mm cord allows you safety and flexibility and it can be easily swiveled as well to prevent tangling.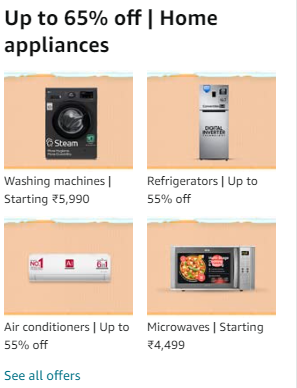 6 Best Hair Conditioner in India
Overall, it is an amazing product and the only drawback is that it is a little on the pricier side. However, if you want to invest in a good, long-term product then Philips 8316 is the best choice.
2. Good for Straightening Fine Hair : Havells HS4152 Hair Straightener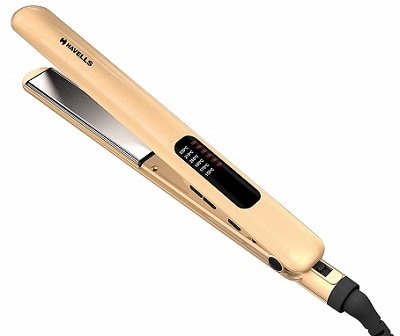 Another top-notch flat iron which I personally like is Havells S4152 Hair Straightener. The best thing about this flat iron is that it removes the frizz and makes your hair shiny and it works on fine hair as well. That's not it though. Since this flat iron has thin plates and curved edges, you can also use it to achieve those perfect curls that you have always wanted.
The titanium plates used in this straightener evenly distributes the heat and prevents any heat damage to your hair. And the floating plate provides better and quicker styling without any hair loss because it conforms to individual hair. It also features a control button to increase and decrease the heat of the flat iron. There are 6 temperatures to choose from, varying between 155 to 220-degree Celisus.
This offers more flexibility in styling and the straightener automatically shuts down after 60 minutes. This helps in energy conservation and prevents any accidents as well. One of my favorite things about this straightener is that it can be locked in a position which makes it super easy to carry while traveling.
Finally, it takes just 30 seconds to heat up so if you are in a hurry, this is the perfect product for you. So, if you are looking for hair straightener to straighten and curl your hair quickly then Havells HS4152 is the best choice.
3. Perfect for Curly Hair : Philips Selfie Straightener HP8302/00

One of my favorite hair straighteners from Philips, HP8302 Essential Selfie Straightener is not only effective but budget-friendly as well. This flat iron features ceramic plates which holds the heat and distributes it evenly. It also includes the SilkCare Pro formula, similar to Philips HP8316, so your hair looks glossy and smooth with minimal effort. It also reduces the heat exposure and the friction while giving you the perfectly straightened hair.
This budget-friendly product can heat up to a maximum of 210 degrees Celsius and takes just 60 seconds to heat up. Once it is heated up, it can hold the heat long enough to straighten your hair in just one go, thereby preventing any heat damage.
It also features a 1.6 mm swiveling cord which makes it super easy to use this hair straightener. And since the plates are narrow with a curved edge, it is possible to curl your hair with this straightener too! A travel-friendly product, Philips HP8302 is lightweight and can easily fit in your luggage. A perfect hair straightener for curly and frizzy hair, this hair straightener will definitely not disappoint you.
4. Perfect for Daily Use : Syska HS6810 Hair Straightener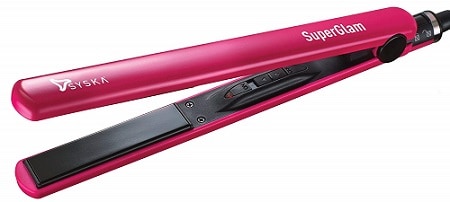 If you are looking for a budget-friendly hair straightener for daily use then my personal recommendation would be Syska HS6819 Hair Straightener. This cute, pink hair straightener looks stylish and is quite effective at the same time. It has a rapid heating feature so it is ready to use in just 60 seconds and is perfect if you are in a hurry usually.
Also, since this hair straightener features an over-heat protection, you don't need to worry about short circuiting or damaging your hair after leaving it on for some time. It also has a PTC heater which manages the heat and distributes it uniformly to get straightened hair in just a single application. And since the ceramic plates are heat resistant, it cools down quickly when not in use as well.
It is quite lightweight and has a lockable handle so it is ideal for traveling purpose as well. Also, the 360-degree, 1.8 mm swivel cord is easy and flexible to use and prevents the tangling of the wire. Perfect for daily use, this hair straightener is quite affordable but it cannot be used to curl your hair.
5. Best Budget-Friendly Hair Straightener : Kemei – 329 Professional Hair Straightener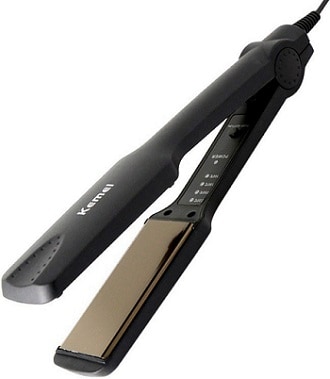 Finally, if you are looking for a cheaper hair straightener then Kemei 329 Hair Straightener is one of the best in the market. One of the cheapest flat irons available, Kemei comes with 4 heat settings to straighten your hair while removing the frizz. So, you can choose any temperature between 160 to 220 degrees Celsius to get a natural look or a salon look.
The ceramic coated plates used in this hair straightener can smooth a large portion of your hair in just one go and prevents hair from sticking to the plates. And the best thing about this flat iron is that it can heat up to 220 degree C in barely 30 seconds, so you don't have to wait a long time to make your hair look smooth and shiny.
There is also a LED indicator present on the flat iron which gets lit up when the product is on and turns off when the desired temperature is reached. It can keep your hair straight for 2 days if you don't wash them but it is not effective on curly or thick hair.
However, if you have normal hair then Kemei 329 is more than up for the task of straightening your hair.
10 Best Electric Toothbrush in India
Tips for Choosing the Best Hair Straightener
Here are a few tips to keep in mind when choosing the best hair straightener for yourself.
Consider Your Hair Type
The first thing that you need to check is your hair type when choosing a hair straightener.
Thin Hair
If you have fine and thin hair then you need to be careful else you might damage your hair. Choose a hair straightener with multiple heat settings so you can manage the heat and avoid any damage to your hair. You also won't need a high heat setting as it is easier to make your hair fine and straight.
As for the plate, go for straighteners with ceramic plate. They easily smooth out the frizz and properly distribute the heat so that you can straighten your hair properly.
Thick Hair
For thick hair, you will need a hair straightener with a high heat setting so that your hair gets straightened in just a couple of strokes. Also, look for a straightener with titanium plates as they heat up quickly and can hold the high heat for a long time. So, you won't need to continuously go over the same portion of hair to achieve shiny, straight hair.
Curly Hair
People with curly hair have a tough time because their hair become frizzy quite easily and are very difficult to straighten. This is why you need to invest in a flat iron with a wide plate so that you can straighten a wide portion of your hair at a time.
Also, choose hair straighteners with tourmaline plates as they can easily manage curly and frizzy hair. Also, they are quite effective at low heat settings as well. Another option would be to choose a ceramic plate flat iron so that your hair stays properly hydrated after being straightened.
Damaged Hair
Of course it goes without saying that if you have damaged hair, then you should avoid using a straightener. But if you are still looking for a hair straightener to style your hair choose a product which offers you multiple heat settings.
This way, you can protect your hair from heat exposure and can manage your hair better. Also, look for a straightener with round edges so that your hair doesn't get snagged and break.
Go for a hot brush as it will leave your hair straight and shiny without causing too much damage. It is also quite easy to use and can distribute the heat evenly to make your hair sleek. Apart from that, a flat iron with titanium plating with ionic technology is also a good choice. It will straighten your hair and seal the cuticles too, making your hair non-frizzy and shiny.
Choose the Right Shape for Your Hair Straightener
One thing to note is that a flat iron is not always flat. In fact, you can get a hair straightener with both rounded and flat edges. So, you have to decide which one suits your needs better.
If you wish to use your straightener also as a curling iron then you need to choose a round-edges hair straightener.
But if you want effectively straight hair and don't care about curling your hair then a flat edge hair straightener is the perfect choice for you.
Select the Right Sized Hair Straightener
Another important thing to consider is the size of the hair straightener that you need to select for yourself.
If you have long hair to style then obviously a large, wide plated hair straightener makes more sense. However, if you have short hair or wish to just style your bangs, spikes, etc. then small, thin hair straightener works as well.
Also, if you happen to travel a lot then you would need a lightweight, easy-to-pack straightener so that it doesn't take up a lot of space in your luggage.
Look for Additional Features for Styling Your Hair
Finally, look for some additional features which make it easier to style your hair. For example, a few hair straighteners offer a steam feature to straighten the curly hair easily. There are also cordless hair straighteners which can make it easier to straighten the spikes and bangs.
And if you usually are in a hurry to get ready then you can always opt for instant-heat flat irons.