We all love to look attractive and mesmerizing. But while natural beauty does play the major role here, sometimes enhancing your best features is not a bad idea. And one of the most important cosmetic products to start your makeup routine cannot be lightly chosen.
Yes, I am talking about the most important makeup base – foundation. And the best and the worst part is that there are so many cosmetic brands out there that it is difficult to choose the right foundation.
This is why I have prepared this guide to help you choose the perfect foundation for your skin. You will learn a few important factors to consider and can read about some of the best products in the market.
Table Of Contents (Choose)
How to Pick the Right Foundation For Your Skin
Here are a few things to keep in mind when looking for the perfect makeup foundation.
Consider Your Skin Type
The first thing that you need to consider is your skin type. There are different foundation type which works better for different skin types.
Oily Skin
If you have oily skin, then you should opt for oil-free formulas or powder-based foundations. They can easily absorb the oil from your face and can leave you with a glowing finish. You can also select mineral foundations which have dry particles that can easily absorb the oil.
Dry Skin
For people with dry skin, it is important to use a foundation which is hydrating in nature. Apart from that, you can also opt for a liquid foundation or stick foundation as it offers better coverage. And due to the creamy texture of the foundation, you get adequate moisture in your skin.
Combination Skin
If you suffer from both dry and oily skin then you have it rough, buddy. But that is okay, you can still find the right foundation for yourself. You just might have to give the old trial and error method a chance. Also, stay away from foundations which are oil-rich.
Sensitive Skin
Finally, if you have sensitive skin which can easily result in acne or breakouts, then you should be careful about using the foundation. Make sure that you only purchase a product which doesn't contain skin-irritating ingredients like alcohol, fragrance, etc.
Also, do stay away from any foundation which contains mineral oils or talc powder.
Look for a Shade That Matches Your Skin Color
Once you have decided on the foundation type for your skin, it is time to choose the right foundation shade.
You need to find a color shade which will smoothly blend into your skin and won't make you look horrible or ghostly. If the chosen shade makes you like darker or whiter than your skin, then it is not the right color for you.
You can also mix two different shades because your skin tone will vary throughout the year. And if you are ever doubtful about the shade, then always go for the darker option. This is because a lighter shade will make you look chalky and extremely fake.
Understand the Undertone of your Skin
Another thing to keep in mind is that you also have to consider the undertone of your skin apart from the skin color to choose the right foundation. Do you sport a rosier skin or a golden skin? Because if you sport a rosy skin then your skin is cool-toned. On the other hand, agolden undertone means a warm skin tone.
Sometimes, people can have a combination of these which is known as the neutral tone. After figuring out your skin undertone, you can easily choose the foundation which flatters your skin. In fact, there are some products which have labels of warm tone or cool tone as well. So, it will make your job easier.
Select a Foundation with the Right Finish
Finally, you need to select the right foundation which gives off the desired finish to your skin.
There are four types of finishes mostly: dewy, matte, luminizing, and semi-matter. All of them are good in different settings. So, you need to decide the kind of look that you want and your skin type to pull off that finish.
Best Foundation for Oily Skin
Lakme Perfecting Liquid Foundation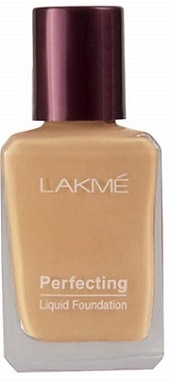 One of the most commonly used foundations in India, Lakme Perfect Liquid Foundation is definitely the best choice for beginners. Because if you are a makeup-noob like me, then using this foundation is the easiest thing in the world. Since it is a liquid foundation, it spreads easily on the skin. In fact, you will feel like you are just applying lotion to your face.
It easily covers all the spots, blemishes, acne, etc. on your face and gets easily absorbed by your skin. Plus, it is water-resistant so it will stay on your skin for a long duration, offering you a soft and feather-like finish the entire time. Another great thing about this foundation is that it is oil-free so it is perfect for people with oily skin as well.
Also, the foundation contains Vitamin E which helps in moisturizing and hydrating your skin. It also consists of silicones which make it smooth to apply on the skin. Plus, the foundation comes in a small bottle which you can easily carry with you on your travels as well. And since Lakme is one of the top cosmetic brands in India, you can be sure that this foundation is the perfect choice for a natural makeup style.
Best Foundation for Dry Skin
Lakme Absolute Skin Natural Mousse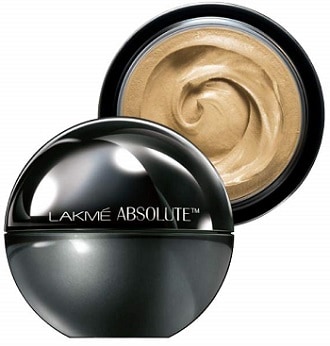 Another top product from Lakme which will offer you a long-lasting light finish is the Lakme Absolute Skin Natural Mousse. This feather-light mousse is a little on the expensive end but it blends extremely well with your skin. Also, it ensures that your skin is healthy and protected from the sun damage with the help of the SPF 8 formula present in the mousse.
And one of the best things about this foundation is that it will offer you a flawless, peach-soft skin for at least 16 hours! So, you are bound to look gorgeous after applying this foundation. This Lakme foundation is quite light as well and offers a matte finish to the skin. Plus, it is available in 6 different skin tones so you can find the right shade for your skin easily.
It is perfect for parties and special occasions as it will give you a natural, flawless look without needing any additional touch-ups. And it works great on dry skin as well! Trust me, if you are looking for a great makeup base or face touch-up foundation then Lakme Absolute Skin Natural Mousse is the perfect choice for you.

Best Foundation for All Skin Types
Lakme Face Magic Souffle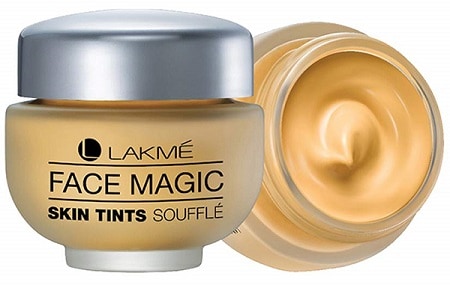 One of my personal favorites is the Lakme Face Magic Souffle which doesn't just look fancy but feels fancy as well. It has a creamy, velvety texture which is easy to apply and blend on the skin. So, you can use this foundation to cover up your spots, dark circles, blemishes, and patchy skin to get an amazing, radiant-looking skin.
A light-weight foundation, Lakme Face Magic Souffle is infused with cucumber extracts, Vitamin E, and the goodness of sunscreen. As a result, it gives you a flawless skin every day and can be used daily as well. This Lakme foundation not only hides all the spots on your face but nourishes your skin as well. It is also quite affordable and is actually a steal at such a low price.
Trust me, if you want a radiant yet naturally toned skin then you have to get the Lakme Face Magic Souffle for yourself. Applying it is quite easy as well and since it is suitable for all skin types, you don't have to worry about your skin breaking out in acne or looking oily. So, if you want the best everyday use foundation then Lakme Face Magic Souffle is the right foundation for you.
Best Foundation for Combination Skin,
Maybelline New York Fit Me Matte+Poreless Liquid Foundation

Apart from Lakme, Maybelline is also one of the best cosmetic brands in India. And if you want to enjoy a medium-coverage, natural makeup look then Maybelline New York Fit Me Matte+Poreless Liquid Foundation is the perfect fit. As this foundation works for both normal and oily skin, it is ideal for people who have combination skin.
And you can easily find the right shade for yourself from the 16 shades that are available. It also gives a matte finish which makes your skin look radiant at all times. Trust me, with this liquid foundation, you will get a skin which will look natural but glowing at the same time.
This is a lightweight foundation so applying it evenly on your skin is extremely easy. And it can help in minimizing the pores on your face, giving your skin a seamless finish. It is not extremely expensive so you don't have to think twice when buying this product. And when you pair it with the Maybelline concealer and primer, you can be sure to get an amazing result.
This is also a dermatologically tested foundation so, you can be sure it is safe for use and will get the desired results.
Best Foundation for Daily Use
Lakme Invisible Finish SPF 8 Foundation

Yet another favorite Lakme product, Lakme Invisible Finish SPF 8 Foundation is perfect for people who want a light makeup base. If you want to get ready for a party quickly then this is the right foundation for you. It will give you a smooth and glowing skin in just a couple of minutes and feels extremely light on the skin.
Plus, it contains SPF-8 formula so it also protects your skin from the sun damage. This foundation is actually ideal for everyday office use as it looks natural and not too loud. And it also comes with a spatula so it is easier to apply it evenly as well. It has an ultra-lightweight formula as it is a water-based foundation. So, it keeps your skin moisturized while giving you a fresh and finished look for a long time.
It also prevents skin darkening and makes your face look young and healthy. So, if you are looking for a light makeup foundation for everyday use then Lakme Invisible Finish SPF 8 Foundation is the perfect product.
Best Foundation for Indian Skin Tones
L'Oreal Paris True Match Super Blendable Liquid Foundation

Finally, when we are talking about the best makeup foundations, LÓreal is one of the cosmetic brands which cannot be skipped out on. While you will find the shades in other foundations, the LÓreal Paris True Match Super Blendable Liquid Foundation promises a perfect shade for the Indian skin tone. Yes, you heard me right! You can easily find the perfect match for your skin tone in the LÓreal's selection.
That's not all, the microfine pearl particles which are present in the foundation gives full coverage with a natural and flawless finish. Apart from that, this liquid foundation is extremely hydrating and easily blending. So, once you apply it on your skin, it will be hard to figure out where the foundation starts and ends.
It also matches your skin's undertones perfectly so you can enjoy a radiant and flattering skin after every application. This foundation also contains glycerine, Vitamin B, and Vitamin E which helps in the nourishment of your skin. And the SPF 17 formula in the foundation offers protection from the harmful UV rays.
Trust me, if you want a foundation which blends perfectly and works as a sunscreen too then the LÓreal Paris True Match Liquid Foundation is the right product for you.
Also Read:
Best Face Masks Available in India