A USB cable is probably the most basic and necessary accessory for any smartphone, so it only makes sense that one must have a decent one to complement their smartphone well. The cables that come with in the box aren't as durable as we would like them to be.
They tear, break, get lost, etc. easily. It is probably a good idea to have an extra one than to suffer later.
10 Best Micro USB Cables in India
So, here are our top picks for the best ones available in the online market.

1) Amazon Basics Micro USB Cable

Perhaps the best and the most reliable brand on Amazon is Amazonbasics. All products from Amazonbasics have pretty good rating and this one is no exception. It is a USB 2.0 A male to Micro B connector.
Also Read : 10 Best Laptop Cooling Pads
It is gold plated and comes in various options of 3/6/10 feet and up to 3 in a pack.  Easily one of the cheapest and best cables out there. It has a 1 year warranty.
Check Price – Amazon
---
2) Mivi Tough Micro USB Cable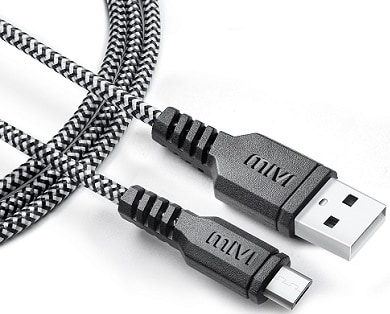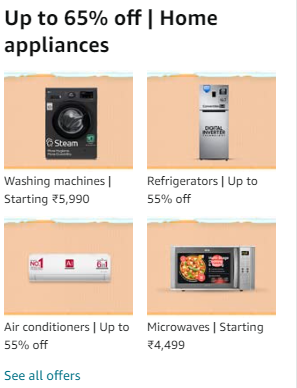 Mivi is a relatively new brand but has gained many peoples trust. This here is a braided, rugged, heavy-duty Micro USB cable with a sleek looking design.
Also Read: Top 10 Best Quality Wireless Mouse Under Rs.1000
It comes in Black or White and honestly the white looks much better. It comes in a pack of 1 or 2 and has a 1 year warranty.
Check Price – Amazon
---
3) Rock Universal Micro USB Cable

This is a flat Micro USB Cable, meaning that it will not get tangled, no matter where and how you place it, unless of course you manually do so, but who would do that.
Also Read : 10 Best Wired Mouse Under Rs. 500 in India
It is a 1 meter cable that comes in 5 different colors like White, Grey, Red, Yellow, Blue.
It comes with a mere 3 month warranty.
Check Price – Amazon
---
4) Capdase HCBB00-SM01 Micro USB Cable.

This is a regular 1.5 m long Micro USB cable. It has very good rating and reviews on Amazon. Its main selling point is its length. Unfortunately there is no warranty information provided. 
Check Price – Amazon
---
5) Tizum Micro USB Cable

This is a braided cable with aluminum plugs. The main selling point here is durability. It is 1.2 meters long. It comes in 3 colors, Red, Grey and Blue. It is noteworthy that some customers have reported loss of charging speed over time.  
Check Price – Amazon
---
6) Tuzker Micro USB Cable.

This cable is perhaps the best overall cable in our list. It has the bang for your buck element in it. It is a 1 meter long flat micro USB cable with Aluminum Plugs.
Also Read : Top 10 Best Gamepads in Under Rs.1000 For Gaming
It has a diamond shaped stereoscopic design for tangle free usage. It too comes in 3 colors, Black, Blue and Grey. It comes with a 1 year warranty too.
Check Price – Amazon
---
7) Flipkart Smartbuy Micro USB Cable

Flipkart Smartbuy is Flipkart's answer to Amazon's Amazon Basics.
It is a 1 m long flat style micro USB cable. It is tangle free owing to the flat style cable. You can get it in either black or white. It should be noted that the reviews of this product have not been good lately. But there are plenty of positive reviews too. It only has 6 months of warranty.
---
8) Sony CP-AB150 Micro USB Cable

Sony is a known brand. This is their 1.5 m long micro USB cable. It is available in black and white colors.
Also Read : 10 Best Gaming Headphones Under INR 2000
There is also a 1 m variant in black color. The reviews for this cable are very good, but they suggest that the price has gone up recently.
Check Price – Amazon
---
9) Mi Micro USB Cable

Mi is a pretty famous brand now. This is their micro USB cable. It comes in either 0.8 or 1.2 m lengths and black color. It is sold out many times and isn't always available.
---
10) Anker Powerline+ Premium Micro USB cable

Anker is one of the most reliable brands in mobile accessories industry.  This is their premium cable which is 2 m in length, which is more than enough. It is heavily braided with bulletproof Kevlar fiber and as per Anker, it can support up to 80 kg weight which is pretty impressive.  It also has 2 years of warranty. But all this comes at expensive price too.
Check Price – Amazon
---
These are our picks of the best USB cables you can buy right now. There are many out there that might be better, but here we have ranked this on the basis of price, durability, reviews, ratings, warranty, etc.
Also Read: