In this article, we will be reviewing the Cort X-11 electric guitar. This is a long term review and will provide a great picture of how it stands the test of time.
The main features of the guitar are:
6 strings
Floyd Rose Style Tremolo Bridge
Two Humbuckers and One Single Coil Pickups
HSH Pickup Combination
Bolt On Neck
Rosewood Fretboard
25 ½ Inch Scale
5 way Pickup Selector
Push-Pull Tone Knob (For Coil Split)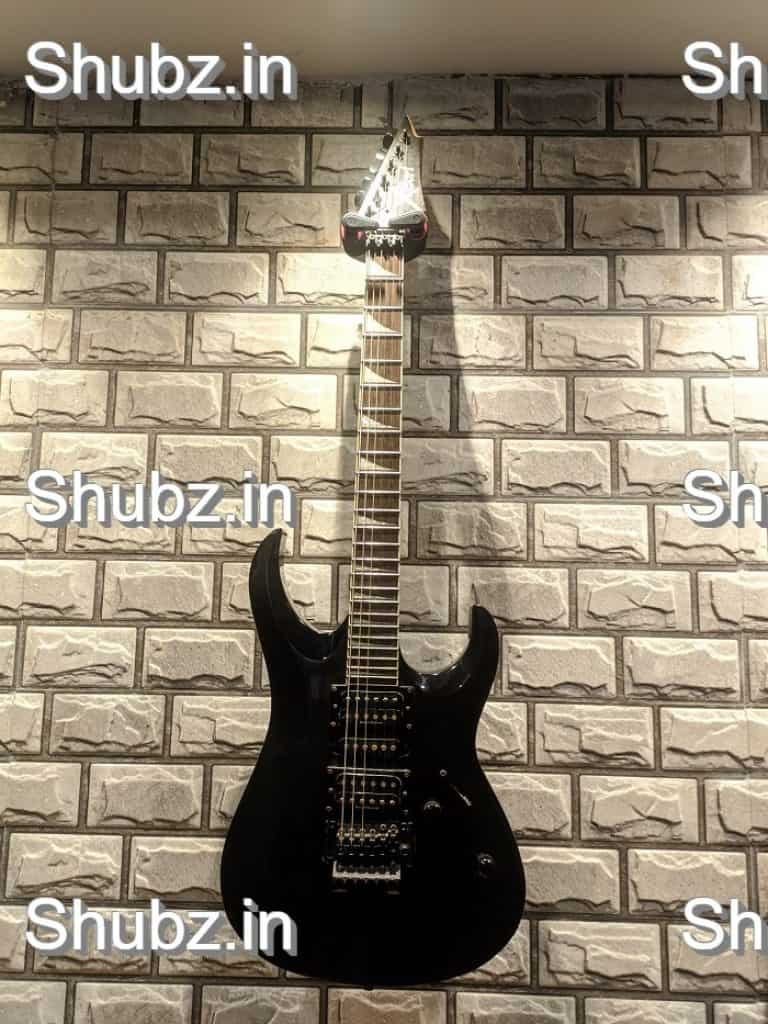 Build:
The guitar has a bit of weight to it, because of the tremolo bridge. If you compare it with a Stratocaster, then it is significantly heavier. But it isn't so heavy that you will feel fatigued when playing for a long duration.
The Frets on the fretboard are smooth and do not have any rough edges. The tuners are die cast tuners and have decent travel. The Volume and Tone knobs are decent and have good grip on them thanks to their textured finish.
One thing you have to know is that after a year of use, the input jack of the guitar started to come loose. It is a relatively quick fix but it was still a hassle nonetheless.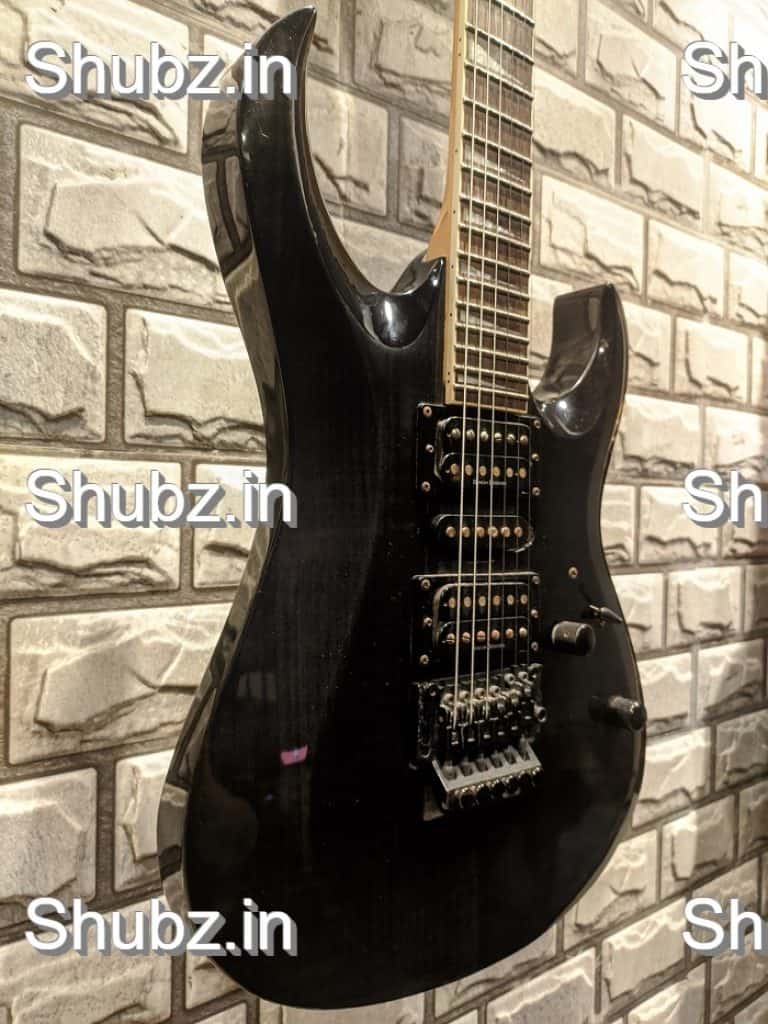 Looks:
The body has a very good looking finish, which is a mixture of a dark tint of green and black. It's a flamed maple veneer, but still looks quite realistic.
The fretboard is rosewood and has a dark finish, where the grain of the wood is slightly visible. It blends well with the neck,which is maple and gives a nice contrast. The fret markers are Shark Fin-type, which is a bit more modern looking than the standard dot inlays you get in other guitars in this price range.
Also Read:
Best Guitar Amplifiers in India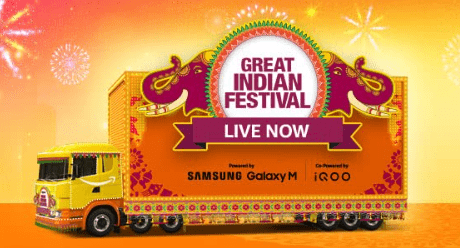 Top 10 best audio interfaces in India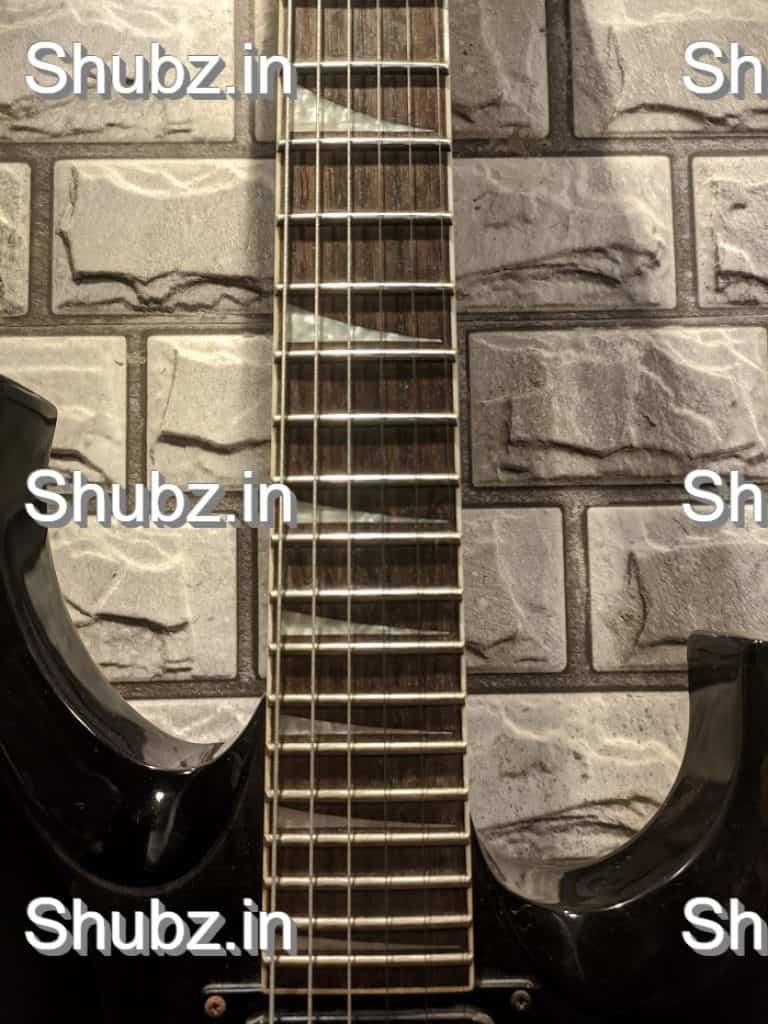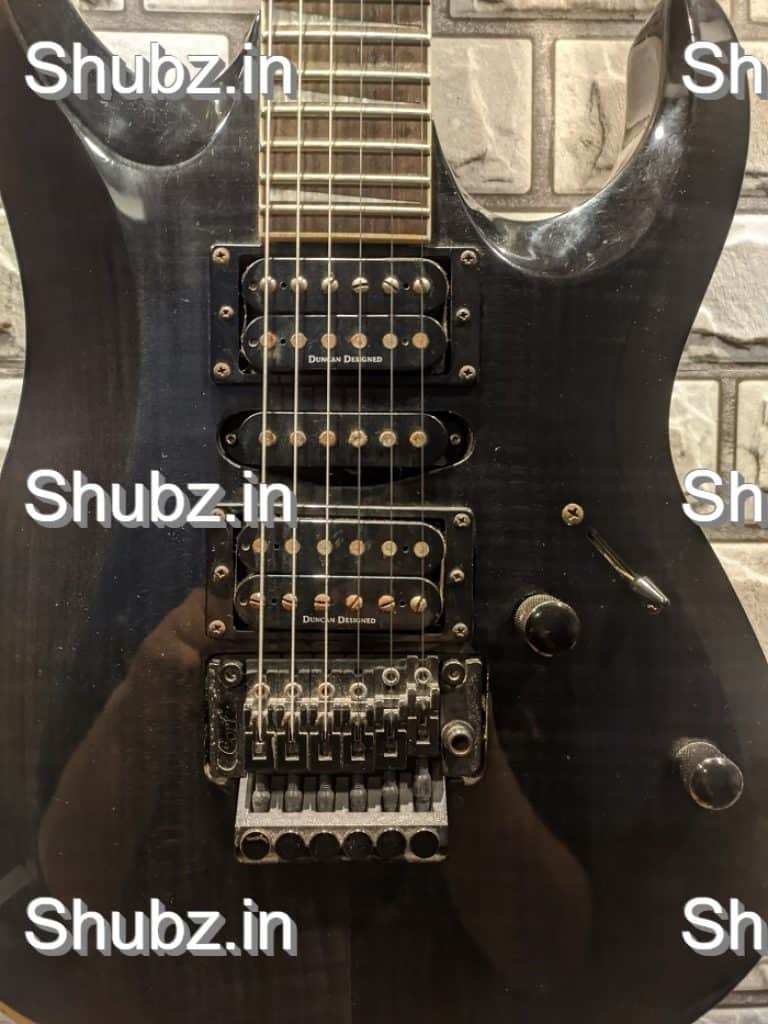 Bridge:
The standout feature of this guitar is the tremolo bridge. This is a double locking floating bridge, which means the tuning is locked and the pitch of the strings can be bent up or down. Standard tremolo bridges like those found in Fender Stratocasters only have the ability to bend down the pitch.
The strings,once properly tuned, are then locked in their positions, which means that the tuning stability is really great and you do not have to be constantly tuning your guitar after every song.
But bear in mind that a tremolo system comes with the hassle of a really long string change process. If even a single string breaks, the entire tuning of the guitar shifts and is almost unplayable. And replacing all the strings takes a considerable amount of time and requires patience if you want to set it up perfectly.
Pickups:
Another stand out feature of the Cort X11 are it's pickups. In its price range, almost no other guitar has Seymour Duncan Designed pickups. These pickups are much more tonally rich than what you will find on a lot of other guitars and you really hear the difference once you start playing.
The neck humbucker has a good,even tone with more emphasis on the bass, which makes it great for chord rhythms and also smooth sounding solos if you use proper distortion tones. The sound can be further changed by using the Coil Split, which we will discuss below.
The middle pickup is a good single coil pickup, but it has the disadvantage of causing noise when using high gain. For clean pluckings and chords for a more laid back tone, this pickup does the job well. But for distortion, we would not suggest it.
The bridge pickup is a bit more higher output than the neck pickup. The pickup has a lot of clarity,especially in the treble side of the spectrum. For leads and solos, or when you need the guitar's tone to stand out, this pickup really shines. Pinch harmonics and shredding also has a lot of definition with this pickup.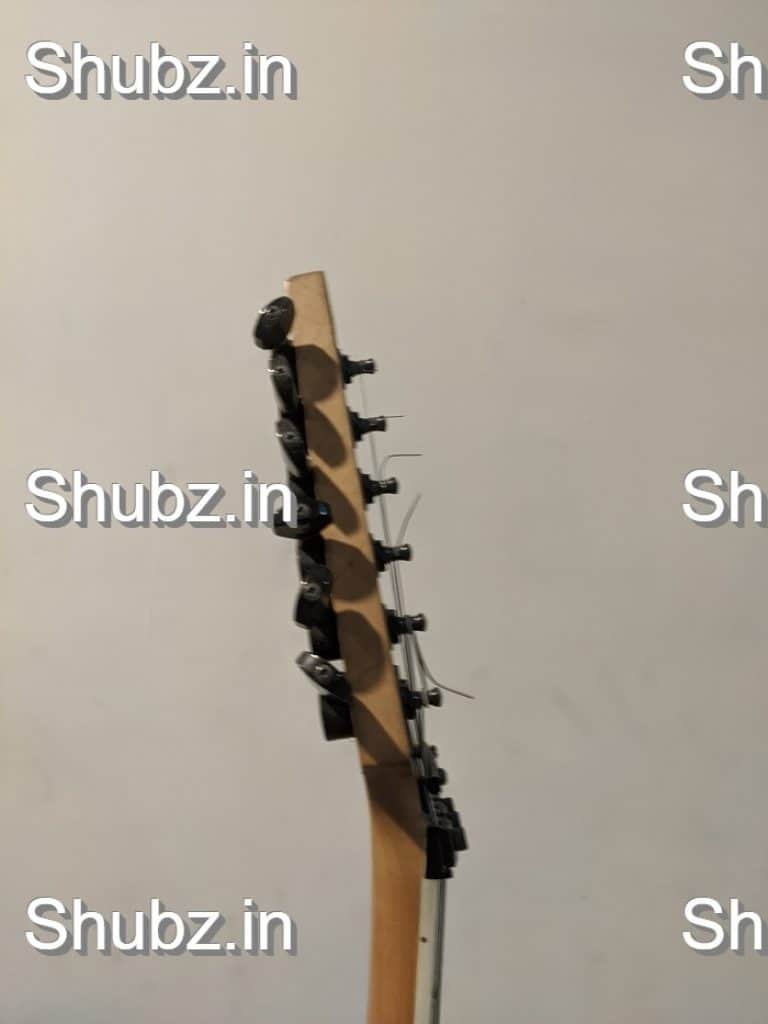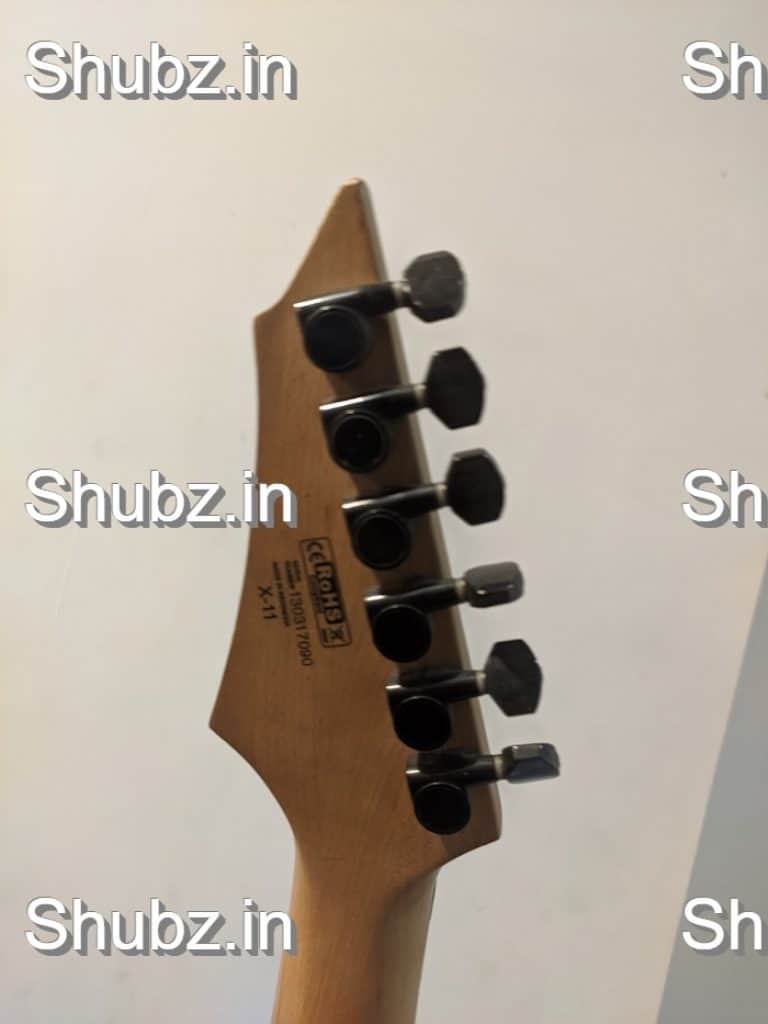 Coil Split:
If you need a lot of choices in tone when making and playing the guitar, having a Coil Split for your pickup is really a tremendous feature. Coil Split is used to emulate single coil sounds from a humbucker, and it does so very well. Ofcourse, you get a bit of added noise in high gain tones.
The Neck humbucker coil split tone is perfect for Blues, Bluegrass and R&B tones and has a warm yet full tone.
The Bridge humbucker coil split tone is great for plucking and sounds very bright. For ambient tones with one or two note phrases, this sounds really good.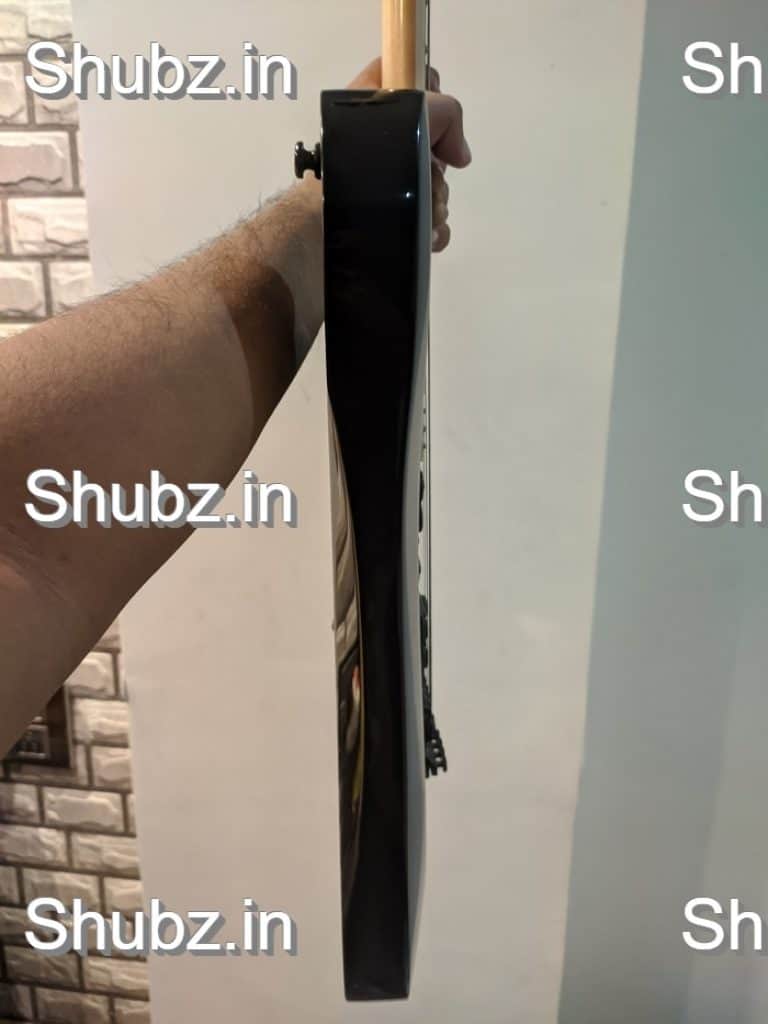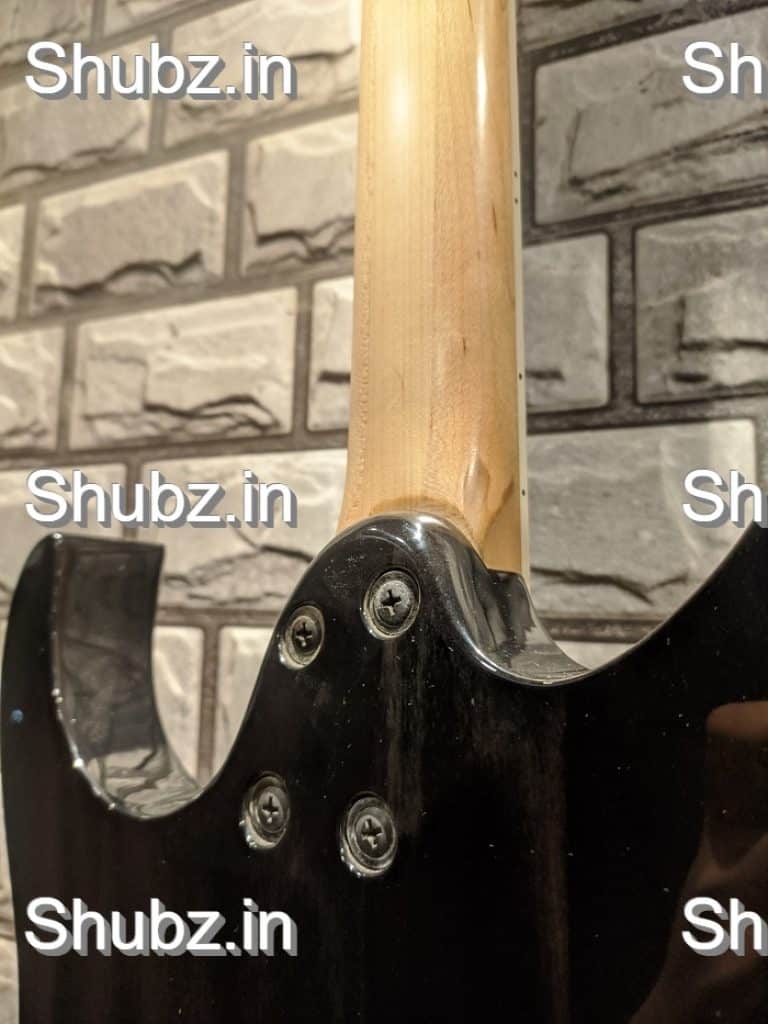 Verdict:
In our two years of use, the guitar has rarely caused any hitches except for when the input jack got loose. The string change process could have been faster but it is expected from a floating bridge guitar. The tones you get out of the Cort X-11 are plentiful and are very versatile. We have been able to make a variety of different music using the guitar and it has produced very pleasing tones.
Also Read:
9 Best Electric Guitars in India
Best Acoustic Guitars in India
Pros:
Coil Split gives tons of new options for tones
Seymour Duncan Designed Pickups
Double Locking Tremolo is great if you make use of it
Finish is subtle and looks sleek
Cons:
Input jack came loose after a year
Has a bit of weight to it,could have been lighter