If you are serious about your shredding then you must need a guitar amplifier. Playing your guitar without an amplifier is OK. But if you want to take it to the next level, a good quality guitar amplifier can be a great addition to your collection.
There are a whole lot of guitar amplifiers available in the Indian market. These come with various features and prices. Some of these are from world-famous companies. On the other hand, some are from new ones. That is why it is not that easy to choose a guitar amplifier on your own.
Best Guitar Amplifiers in India
Thus, in this post, we will be reviewing the top 10 guitar amplifiers available in India at this moment. So, here we go…
1. Fender Champion 20W Combo Guitar Amp: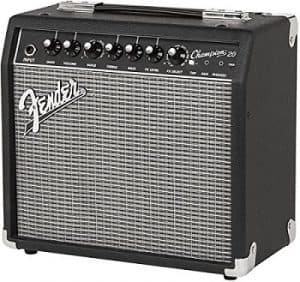 Fender is world-famous as a top musical instrument manufacturer. It was founded back in 1946 in California, USA. But, nowadays, you will see their instruments are used in every corner of the world. Lucky for you, Fender has a number of great quality guitar amp in India.
So, if you are in need of a high-quality guitar amplifiers in India, then you can take a look at the Fender Champion 20W combo guitar amp.
Also Read : 10 best audio interfaces in India
This one comes in black color. It is a solid-state amplifier. There is a 1/4-inch input for your guitar and another 1/8-inch input for connecting media players. The sound quality is super crisp and loud. It comes with lots of features built-in. Even though the price is a bit high for this guitar amp, if you have the budget you should go for it.
Notable Features:
The voltage requirement: 120v
It needs only 20 watts of electricity
Robust build quality
It weighs only about 3 kg
You can plug in a headphone for silent practice
It has a carrying handle on top
---
2. Line 6 Spider Classic 15 Modeling Amplifier: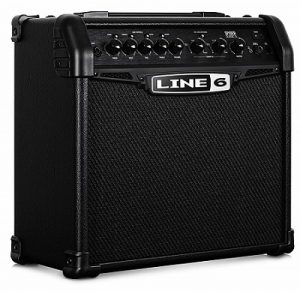 Line 6 is another company which is famous for producing some of the best guitar amps. Although they are from the USA, you can get their products in India. For example, the Spider Classic 15 modeling amp is a great option if you are looking to buy a premium guitar amplifier within India. It comes with several useful features which can come in handy frequently.
It also comes in black color. But the design and the outlook of this amplifier gives out a futuristic vibe. It is pretty compact in size but can produce excellent quality sound. You can customize the output sound quality with ease.
Also Read : 9 Best Electric Guitars in India
There are multiple inputs with which you can use it with your guitar, smartphone, or even any other media players. It is perfect for practicing at home. You should check this awesome guitar amp from Line 6 out.
Notable Features:
It comes with 4 amp models which are clear, crunch, metal and insane
It comes with Line 6's exclusive effects such as delays, reverbs, modes and so on
The amp, effects parameters, and cab are fully adjustable
Beginner-friendly functions
Futuristic design, build with metal and leather for sturdier build quality
It weighs about 7 kg
It needs 120v and only 15 watts of power
---
3. Fender Mustang I V2 20-Watt 1×8-Inch Combo Electric Guitar Amplifier: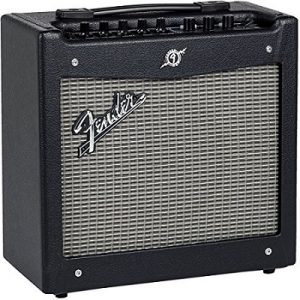 Let's talk about another Fender guitar amplifier. But this time, it is from the Mustang series of Fender. This model is known as the Fender Mustang I V2 guitar amplifier.
This is a very popular guitar amp in India. For example, at the moment of writing this post, this is the no.1 best-seller item in the 'combo guitar amps' category in Amazon. In. So, if you want to get this featureful guitar amp from India, you can do that easily.
Also Read : Top 10 Best USB Microphones in India
It comes with some awesome built-in features. For instance, you can choose from 17 amp modes. This can be easily done by using the controls onboard. Or else, if you prefer more customization, Fender is offering a free software with this amp.
So that you can use it to customize the output sound to your liking. You can install it on your Windows or Mac PC and use that from there. If you like Fender, you need to check it out.
Notable Features:
It comes with Fender Fuse Software to customize the default effects to your choice
You can plug in various media players using the aux port
The ⅛ inch headphone jack can be used to mute the speakers for private practice sessions
It comes with the Ableton Live Lite 8 Fender Edition recording software, with this you can record your songs
It comes with 10 control buttons
It has a carrying handle
The weight is about 7 kg
It is a 20-watt guitar amp
---
4. Marshall MG15 G Guitar Combo Amplifier- MG4 Gold Series (15-Watts):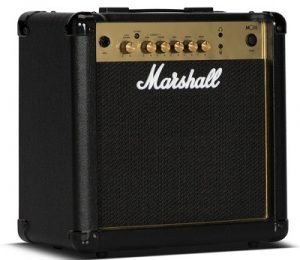 Marshall doesn't need any special introductions. Any musician should be already familiar with Marshall. Marshall Amplification is a musical equipment manufacturer from the United Kingdom. They are one of the most popular British musical instrument manufacturers in the world. They have a huge collection of guitar amps.
But for our Indian readers, we think the Marshall MG15 G Guitar amp can be a perfect choice. Yes, you can buy original Marshall Guitar amp in India. And, the price of this amp is not that high as well.
Also Read : 6 Best Electric Drum Sets For Beginners In India
But Marshall MG4 comes with a lot of features that are really useful. If you want A+ quality guitar amp from a renowned company, then this might be the best option for you.
Notable Features:
It comes with 2 channels which are clean and overdrive
Comes with 4 band equalizers
Comes with a ¼-inch jack for instrument input and a 3.5mm aux port for media players
It is only about t 7 kg
Comes with a carrying handle so that you can carry it around easily
It is a 15-watt guitar amplifier
---
5. BOSS Katana Mini Guitar Amplifier (Black, 94609):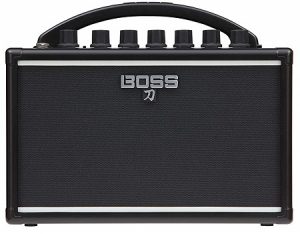 BOSS is popular for offering different kinds of musical instruments for musicians and audiophiles all over the world. So a lot of you might want to check out the BOSS Katana Mini Guitar Amplifier. This is a highly portable guitar amp. Matter of fact, it weighs only about 1.5 kg. It also comes with a nice