Recently updated on November 20th, 2023 at 09:39 am
The HP GK-320 is an entry-level keyboard that features Blue Switches. It is one of the cheapest mechanical keyboards available on the market. It features RGB lighting that can be tweaked for different lighting effects or switched off entirely. The USB is gold plated that would help negate oxidation in the long run. It features the classic 104 keys layout with the full Numpad. The function keys do feature dedicated shortcuts though, they aren't labeled. In a price range of 2000 INR, it's a considerable option.
Typing or gaming for long hours could be a taxing task, especially on a laptop's keyboard, where there's little to no feedback. It can also degrade the quality of your laptop's keyboard quickly. Getting a mechanical keyboard would be a perfect option in that case. Mechanical keyboards offer much more customization, a lot more typing feedback, and longevity. We'll be discussing today's budget pick: The HP GK-320 below.
Also Read : 

Best Mechanical Gaming Keyboards in India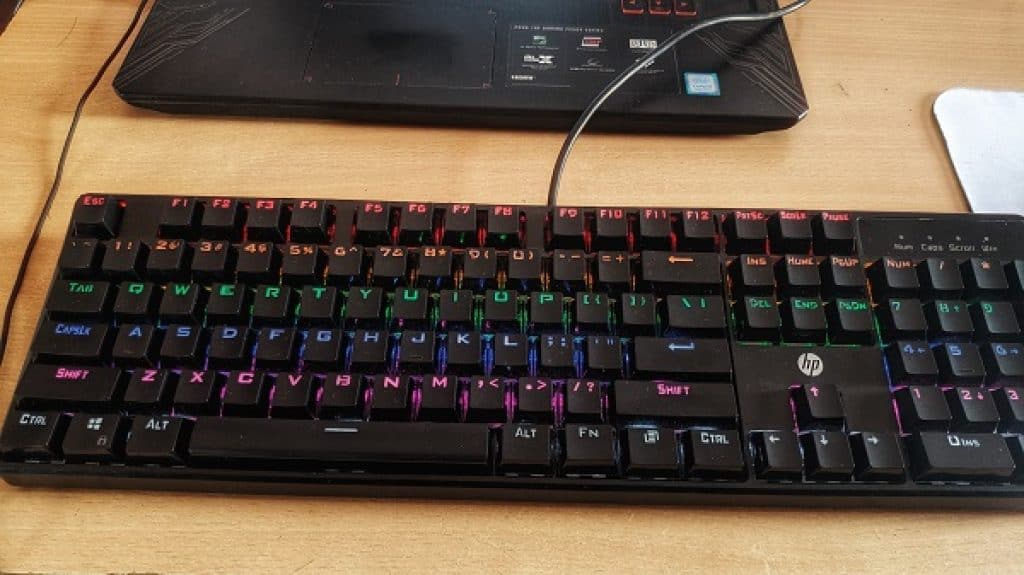 PRICE:
The HP GK-320 is one of the cheapest mechanical keyboards generally selling for 1900 INR. Getting a genuine mechanical keyboard with blue switches and full RGB lighting for less than 2k INR appears to be a good deal, especially in a market with so few options.
DIMENSIONS:
Keyboard Size: 43.8(L) x 13.1(B) x 3.8(H) cm
Weight: 870g
Cable Size: 1.8m
Capping over 43 centimeters in length, it's easily larger than just about every 15-inch laptops available on the market. That being said, it can fit in any crowded desk with relative ease. The inclusion of numpad adds quite a bit of length. The size is just fine for PC users, although, for laptop users, the size might seem just a bit too large. The exclusion of the numpad seems to be a missed opportunity for a gaming keyboard such as this one. The cables are generic non-braided rubber cables of 1.8m length(which is quite long).
Overall, the size is excellent for most users, plus the weight is just right.
Also Read :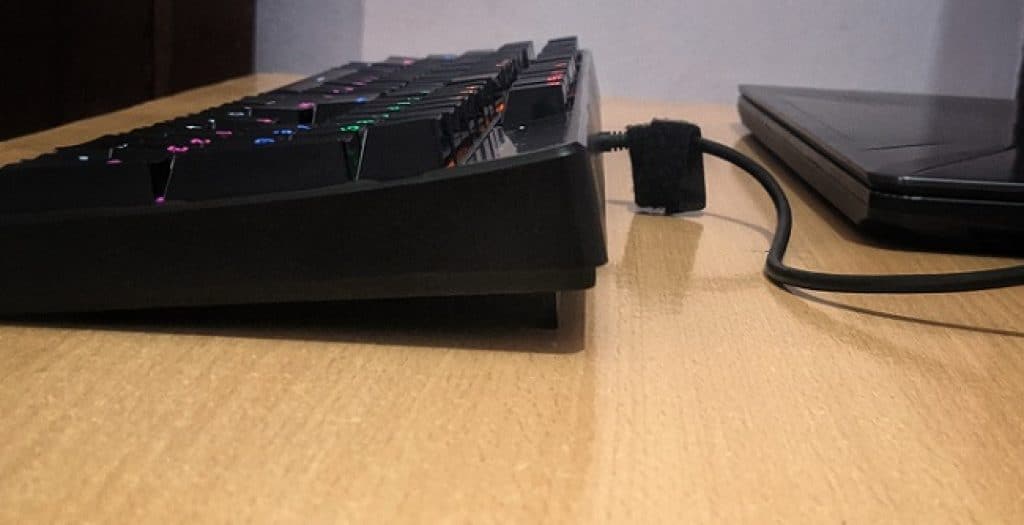 DESIGN:
The keyboard is enclosed in a mostly plastic frame. Keycaps seem to be constructed of some cheap ABS plastic, which isn't that uncommon for this price. Despite there being so much plastic, the keyboard feels sturdy enough. The HP branding sits just above the top arrow key. The keyboard is slanted as it is, plus it also has the usual strands for increasing the slants of the keyboard. There is no wrist rest provided with the keyboard. The wire is a generic non-braided rubber wire. Fortunately, it features a magnetic ring to avoid transmission error. The standard LED's for locks are present at the top right section of the keyboard.
Also Read : Best Mechanical Gaming Keyboards Under Rs 10,000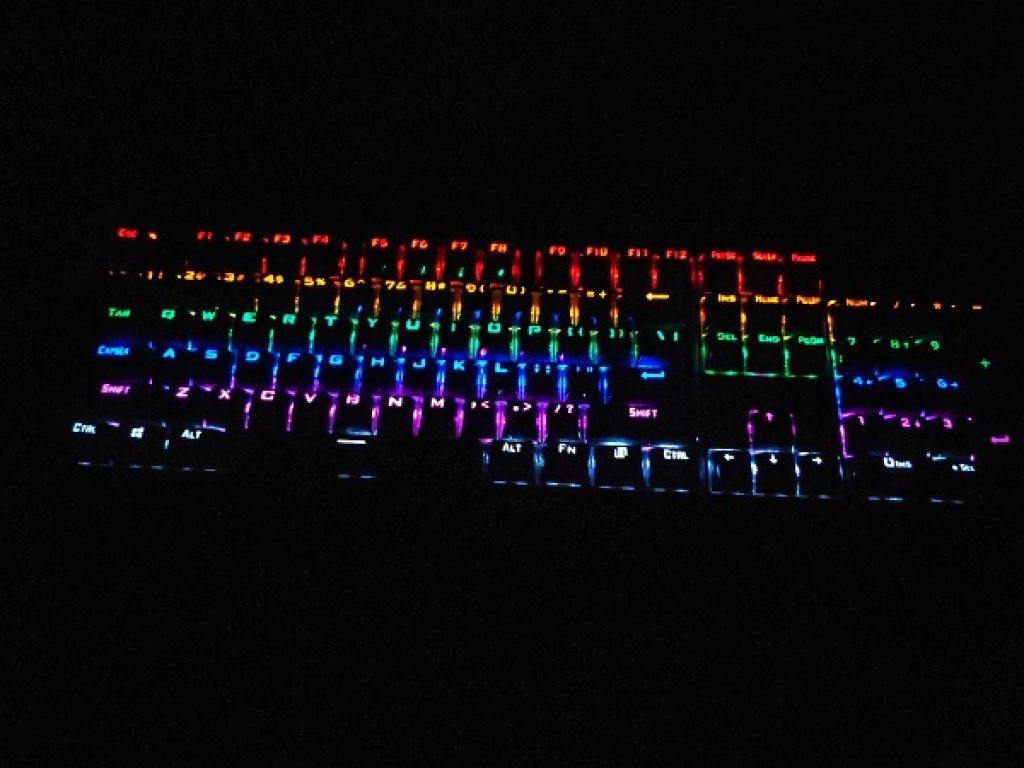 RGB:
Each row features a different color from red, orange, green, blue, purple, and white from top to bottom. The colors are pretty subjective, however, the purple on the second last layer feels out of place. There is no dedicated software to control the lighting, plus you can't change the colors of the specific rows/keys. You can, however, control the lighting modes like breathing, wave, and more using the keys. You can also choose to alter the brightness of the keycaps if you wish to. Overall, the RGB is limited but present.
Also Read : Best Nvidia GTX 1660Ti Laptops in India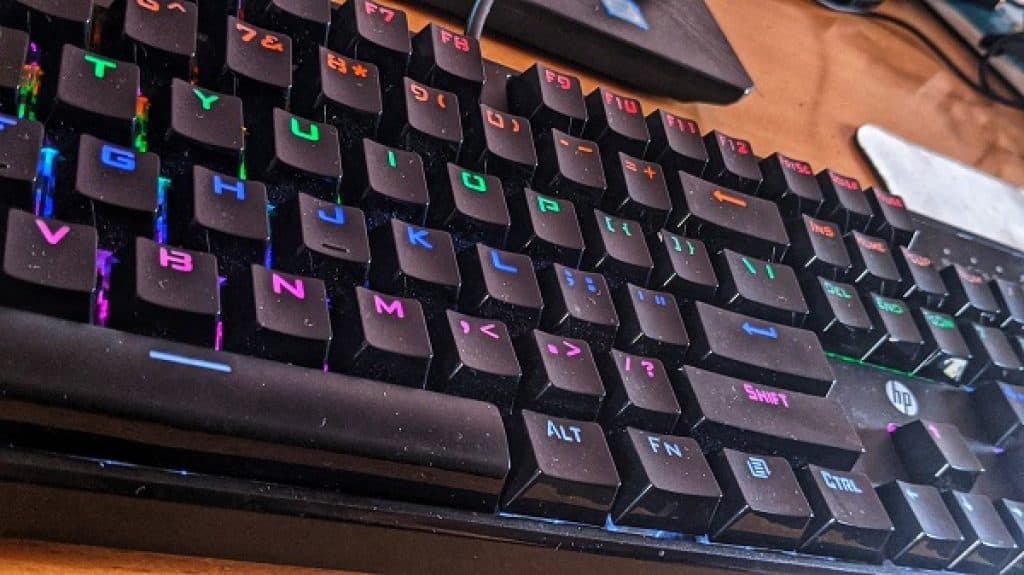 SWITCHES:
The keyboard features blue switches. It is unclear which blue switches these exactly are. The keys can be a bit flimsy, and there's a distinct spring noise on the larger keys like spacebar. The font on the keycaps is decent, and the matt paint on them is noteworthy. As expected of a mechanical keyboard, the keys have a signature clicky sound to them. The switches feature N-key rollover, which is a feature that allows every simultaneous keypress to be registered and prevents ghosting.
Overall, the switches feel good enough for the price point.
Also Read : Best Gaming Headphones Under INR 2000
TYPING EXPERIENCE:
The keys are rather small and close to each other. It might take a new user a few days to adapt to this keyboard and avoid clicking keys you don't intend to. The switches are clicky and satisfying. The presence of a Numpad helps quite a bit in tally like tasks. The keycaps are curved inwards gently, which lets your finger rest on them quite smoothly. While the keys may seem wobbly on touch, it's not much of an issue while typing. After a few days of typing, it becomes rather fluent.
Overall, the keyboard is quite clunky and might take a day or two to develop a habit.
Also Read : 

Best Ultrawide Gaming Monitors in India

Gaming Monitors Under Rs 20,000 in India

10 Best Earphones Under Rs 1000
THE BIGGEST CONCERNS:
The absence of dedicated software hurts this quite a bit, especially when its contemporaries offer one in a similar price range. The lack of custom colors, macro keys, mapping the switches to multimedia functions that can be found in a keyboard like Cosmicbyte GK-16 for a couple of hundred bucks more is a problem. No indication of multimedia options on the function keys means that you've to keep guessing the right action you want to perform until you've memorized it. A lot of the bigger keys feel springy and almost non-mechanical, though the normal ones work fine. Font can be a bit weird, but it's better than fonts that have arrow keys on shift.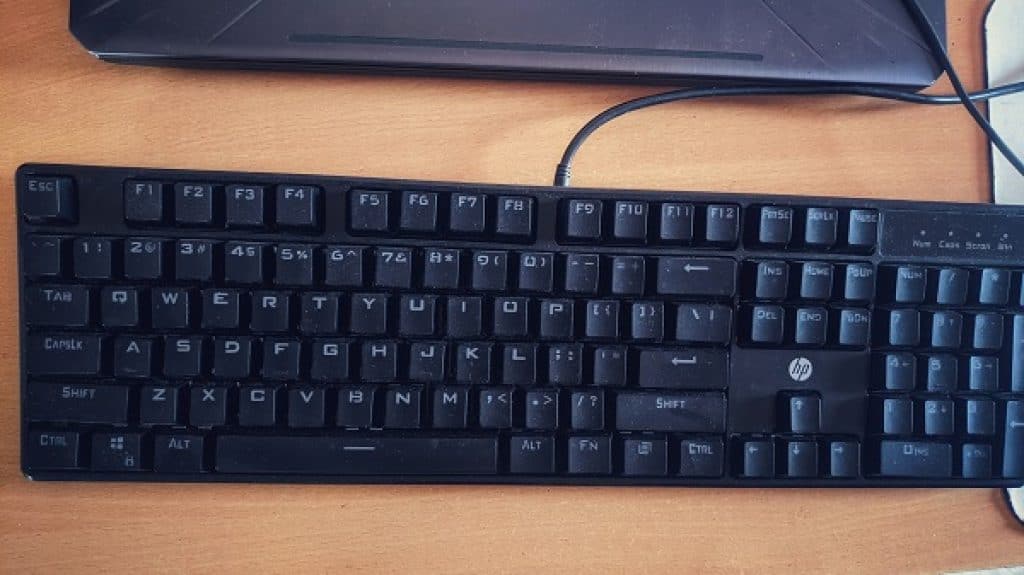 Final VERDICT:
While there are definitely better options around, very few are available at this price. If you're someone on a tight budget of 1900, go ahead and purchase this. Whether you're planning to game, planning to type a lot, or to carry this to LAN parties, you wouldn't notice a single problem. Since it's mechanical, you could even customize the switches to your liking. As a gaming keyboard, HP gives you everything that is required/expected of a mechanical keyboard: customizable per-row RGB, anti-ghosting keys with its N-Key rollover technology, multimedia control buttons, a gold plated USB, matte curved keycaps, etc.
However, those with not a completely strict budget could look for other alternatives that have at least better key quality. For 300Rs more, you could buy a CosmicByte GK series keyboard, which has dedicated software for better RGB, macro support, mappable multimedia buttons, etc.
Also Read : 

12 Best Ryzen 7 Laptops In India

Rs.

1,204

Rs. 1,799
1 new from Rs. 1,204
in stock


Rs.

1,947

Rs. 3,499
1 new from Rs. 1,947
in stock


Rs.

4,295

Rs. 4,995
3 new from Rs. 4,295
in stock