Ibanez is one of the companies that provide no compromises and have features that are truly special for its price. If you have the budget for the higher end models, you will find some of the best guitars in the market.
In this article we will be reviewing the Ibanez Premium AZ242PBG electric guitar, which is a part of Ibanez's new lineup of modern guitars that have been designed for utmost versatility and quality. Before the AZ series was released, Ibanez was mainly known for its pointy, metal music oriented guitars. So this guitar is a fresh start in terms of providing more options and quality to musicians while still having the quality that Ibanez guitars are known for.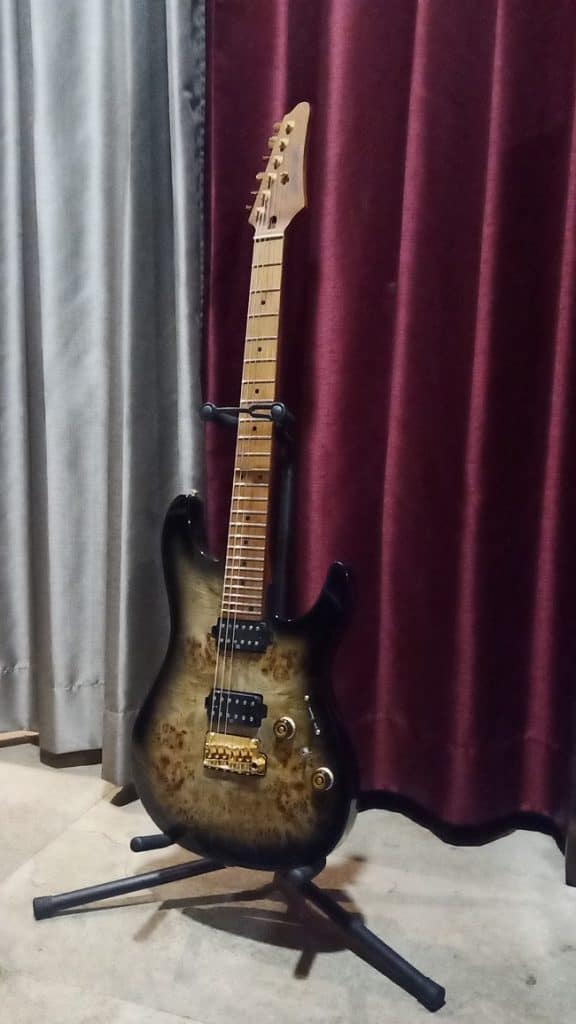 Main Features:
Roasted Maple Neck and Fretboard
Poplar Burl Top
American Basswood Body
24 frets
Gotoh T1502 Tremolo Bridge
Seymour Duncan Hyperion Pickups
Gold Hardware
Graph Tech nut
Luminescent Side Dot Inlays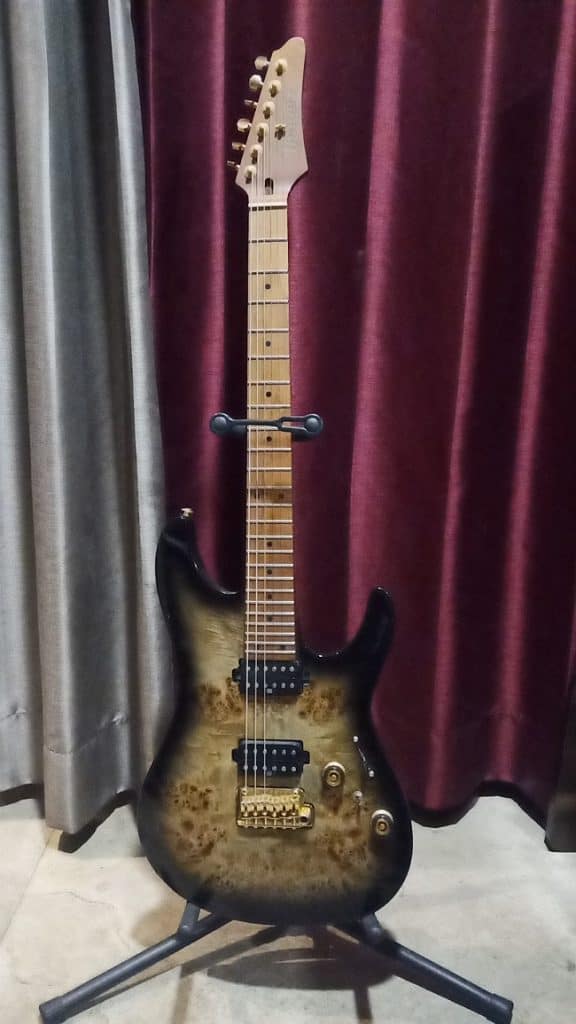 Build:
For a guitar of this calibre, it sure is very light. It has a significant weight reduction compared to other Ibanez models and almost feels like a Stratocaster in this regard. The weight is balanced, which means there is no neck sway of any sort. Long gigs and sessions with this guitar will really be a breeze.
The Frets are made of stainless steel and are very smooth to play on. The other hardware is a mixture of gold and black, which gives it an elegant look.
Also Read:
Best Guitar Amplifiers in India
Top 10 best audio interfaces in India
Design/Looks:
The body of the guitar has a unique Poplar Burl top, which you can only find in similar high end/ premium guitars. The wood patterns on the top differ on every model since every piece of wood can have different wood grains. The borders fade into a deep black and this makes the body really stand out. The rest of the body is made from basswood, which is a neutral tonewood.
The neck is made of Roasted Maple. A roasted piece of wood means it will not bend due to temperature changes. This is a great feature and reduces the need to set up the guitar during season changes. The fretboard is also Roasted Maple and has black dot inlays.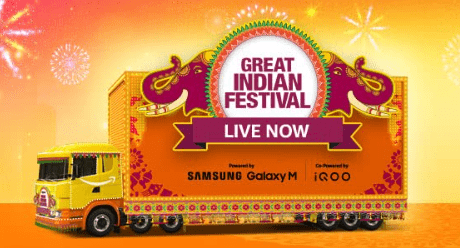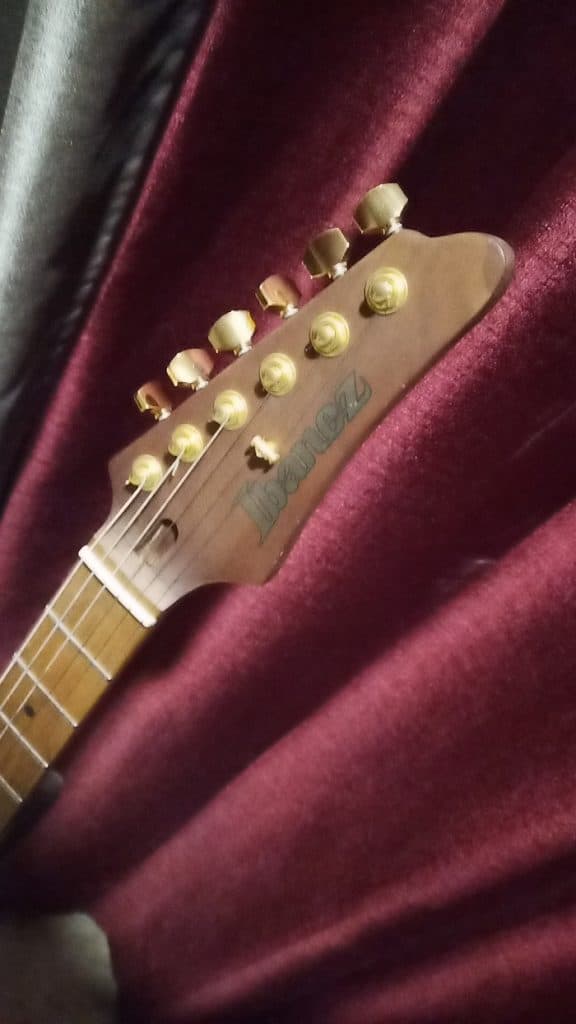 Pickups:
Ibanez and Seymour Duncan have collaborated to make a signature pickup that you can only find in the AZ series of guitars. These pickups, called the Hyperion pickups are really great sounding pickups and have tons of variety in tones.
You get two humbuckers, and they both have coil split options. The coil tap is controlled by the Alter switch, between the Volume and Tone knobs. The coil tap really shifts the guitar's tone and makes it sound like a single coil pickup.
The Neck pickup has a very warm and full sounding tone. Chord tones and rhythm parts really benefit from this tone. When you apply some amount of gain, the pickup has a great crunchy break up tone, which is really crisp and high quality. When going for a solo tone, the pickup offers a smooth and buttery tone which is very dynamic thanks to the Volume knob.
The Bridge Pickup provides a great complimentary tone to the Neck pickup. It has a bit more of mid range and treble but doesn't sound shrill. It has a bit more volume than the Neck pickup, which makes the break up tones come out quicker. The pickup really shines when you give it a lot of gain,as it can pull off tones from Metal, Country, Blues as well as Jazz perfectly, especially when you use the Coil Tap.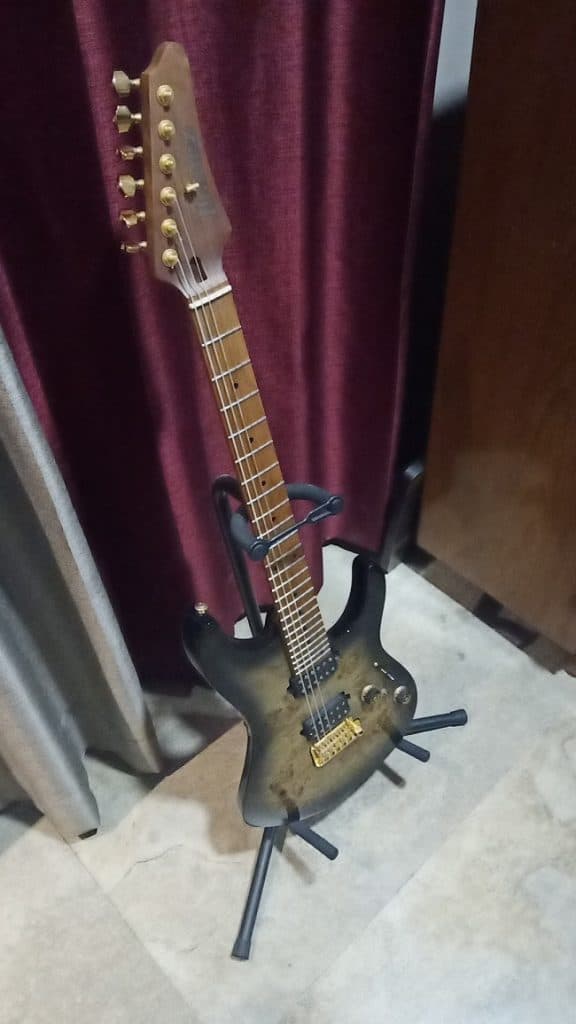 Bridge:
Ibanez is generally known to offer Floyd Rose-like bridges, called the Edge tremolos in their earlier guitars. But with the AZ series, they have made a shift to a different type of tremolo.
In this guitar, you get the Gotoh T1502 tremolo bridge, which is a dual point tremolo. It has great tuning stability and has never disappointed in this regard. The height can be adjusted to your own liking and it is a much faster and easier setup than Ibanez's older tremolo systems or other Floyd Rose style tremolos.
Other Features:
The tuners on the guitar are locking tuners, which means the string is locked in place and doesn't move. This means you get a tremendous amount of tuning stability. The string changing process is also made faster thanks to this.
The side dots on the neck glow in the dark luminlays. They charge up under normal light or sunlight and glow sufficiently bright in the dark. This is very useful for gigs and shows when you have to play on a dimly lit stage.
Verdict:
We have been using this Ibanez since 5 months now,and it has been a treat to play.Till now, it hasn't given us any problems regarding sound issues, tuning stability or string breakages. For it's price, it is one of the best guitars out there.
Also Read:
9 Best Electric Guitars in India
Best Acoustic Guitars in India