THE WRAPPINGS AND ACCESSORIES
The iBASSO IT00's comes in a rectangular box that is protected by a white printed sleeve. The sleeve freed, the blue box within, opens much like a jewel box to expose the IT00's embedded in foam and their hard leather, discus-like, carrying case, also embedded in foam. The leather case holds the following contents minus the IT00s and the warranty card:
1 x detachable cable with MMCX connector and 3.5mm headphone jack
9 x pairs of silicone ear tips (inclusive of foam tips)
1 x pair of screw on filters
1 quick start guide
The IT00's wrappings represent a very clean, well-constructed, minimalist affair like its more costly sibling is efficient and quite attractive.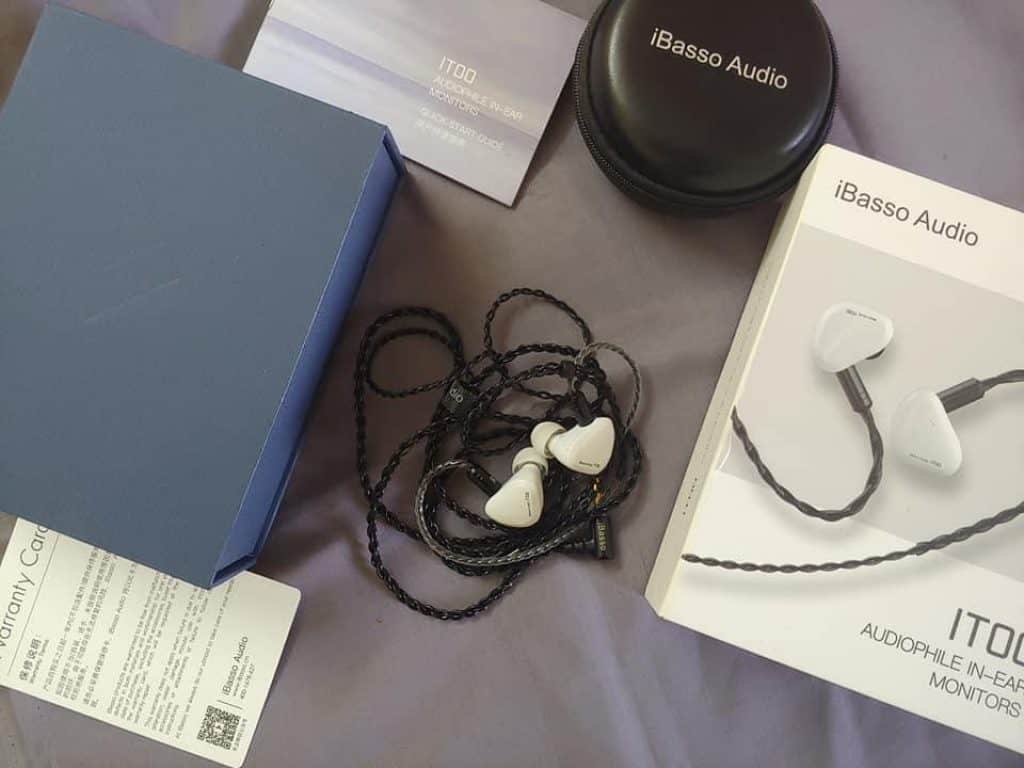 DESIGN
The iBASSO IT00 IEMs are small, white, beautifully molded, acrylic IEMs, with short aluminum stem's that fit one's ear easily, form a good seal and wear well over extended listening sessions.
The IT00 utilizes one (1) dynamic driver that is graphene—a carbon like material—coated and possessed of a breaking strength 100 times that of steel. Additionally, its dual Helmholtz Resonators as iBASSO states:
"Helps to provide deep and powerful bass that prohibits standing waves and ensures full and natural sound."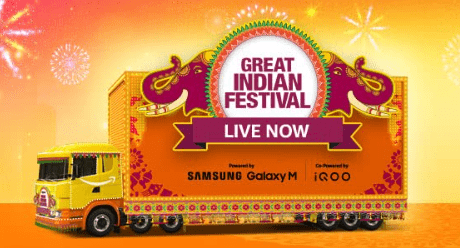 The IT00's cable consists of a "high-purity copper" cable dressed in black wire with black MMCX type connectors, and terminates with a 3.5mm, gold-plated, single-ended connector. The IT00's cable also incorporates a chin slider.
The iBASSO IT00 is of a minimalist design, that is clean, well- constructed and weighs very little (8g), and fits as if it were custom designed for one's ear.
Also Read : Best Earphones Under 500 in India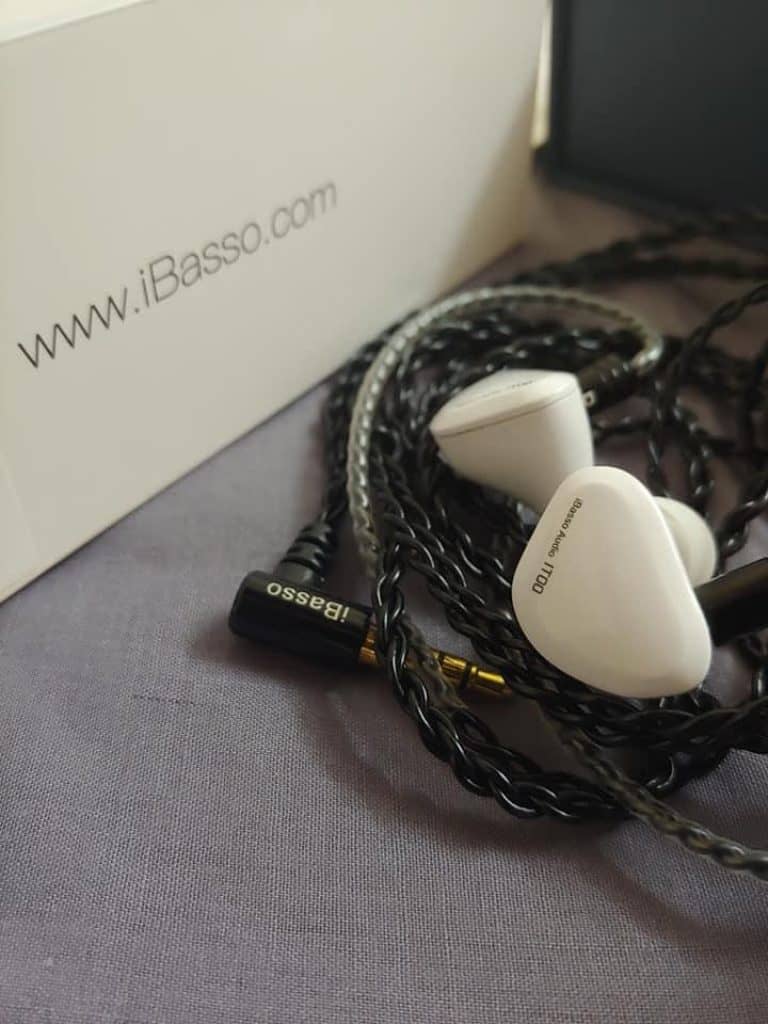 THE SPECIFICATIONS
Driver Type: 1 Dynamic Driver (10mm)
Freq. Res.: 10Hz-35 kHz
Sensitivity: 106±2dB (@1kHz)
Impedance: 16 ohm
Pass. Noise reduction: -26dB
Rated power: 10mW
Distortion: <1% (at 1kHz/1mW)
Plug Size: 3.5mm gold-plated
Core length: 1.2m
Weight: 8g without cable
THE SOUND
The IT00 was paired with the Samsung Galaxy S10.
The iBASSO IT00's soundstage has good width and good depth as well, while positioning, layering, and separation are also very good 
Also Read : Best Earphones Under 1000
BASS
The IT00's bass is taunt, impactful, and detailed.
ASTRONOMIA-VICETONE AND TONY IGY
This music is well known to everybody as the Coffin Dance!.. The bass impact is really great and has good enough extension. The thump can be felt every second.
True to iBASSO's product specifications the Graphene drivers/Helmholtz Resonators are most assuredly driving a "powerful, deep," and naturally resolved bass response.
PAY MY DEBTS-SHARON VAN ETTEN
At the starting of the track the sub bass is evidently felt and controlled. The voices are clearly separated from the bass attack. The drums sound sweet with the good sub bass presence.
BLAH BLAH BLAH-Armin Van Buuren
At 0:45 the bass attack starts and it's sweet. I feel it's overly done with more bass but bass heads will surely like it. The bass beats are thumpy and yet detailed.
MIDRANGE
CARRY IT ON-RACING GLACIERS
The male vocals are brought out good but not great. They are slightly laid back and not forward. From my point of view these iem's are not tuned for vocal listening. Overall it's good
A THOUSAND YEARS-CHRISTINA PERRI
The female vocals are better than the male vocals here. There is no sharp sibilance and detail enough.
TREBLE
SLEEPING AT NIGHT-CAUGHT A GHOST
The drum sounds sweet without any harsh highs. At 1:13 the drums kick in and it's not congested and presented well. Overall liked it
LOOKING TOO CLOSELY-FINK
The song actually starts with great bass attack but at 2:11 the guitar strikes and changes the whole dynamics of the song. The strings attack clearly and well detailed enough.
Also Read : Best Earphones Under 2000 in India
CONCLUSION
The IT00 is both detailed and musical and it brings weight across the frequency spectrum that will find no region lacking or impoverished of musicality or thin. Though at the highest treble frequency, the resolution is quite good but not great. Its bass response, though, is very impressive. And the IT00 will project a good-sized soundstage with quite good depth, imaging, and layering
Highly recommended
This Review is Written By KATHIRAVAN.C
Follow him on – Instagram | Facebook
I'm Kathiravan from Tamilnadu. A budding audiophile here with high love towards music and audio equipments. My first experience of enjoying the hifi audio came when I started to use budget chi-fi gears and now it came all along the way of reviewing the gears with high end stuffs. I love reviewing audio products.