The game every Indian gamer dreamed of.
Go back to the old days of playing Prince of Persia and Assassin's Creed in the 2000s, a typical 90s kid memory, I know. Now, think about the amazing animated movies we watched as children about Indian mythology. Now, let us combine some of the best memories you have of your childhood and you get "Raji: An Ancient Epic". An amazing blend of Indian mythology and gaming, a feat in the history of Indian game development.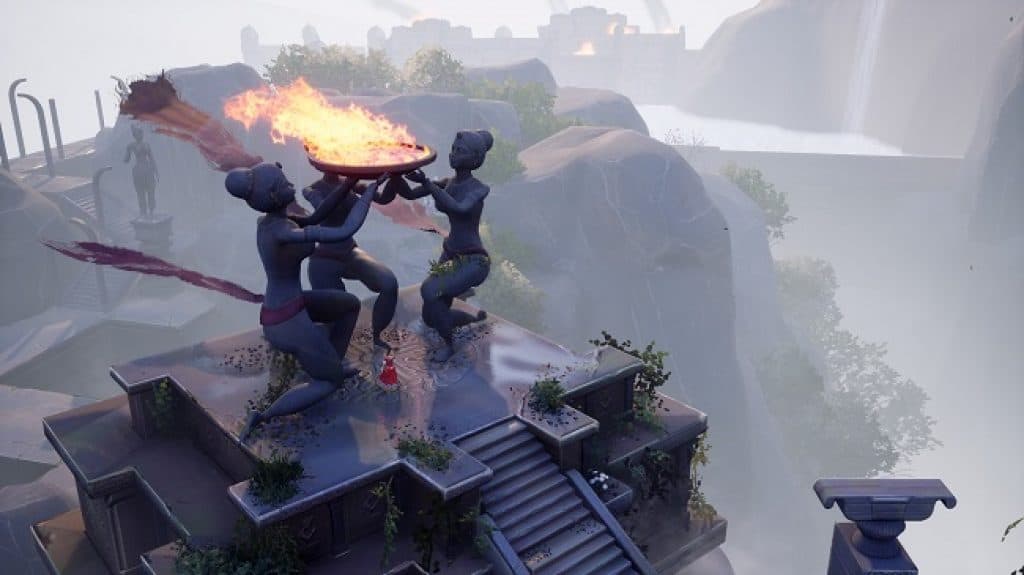 The Story
Remember when I talked about nostalgia? Yeah, the story is also one of those nostalgic stories. Raji, a girl who is a circus performer, and his brother, Golu, who are orphans. The story starts on Raksha Bandhan during which, brothers promise to protect their sisters but putting a feminist spin to our childhood stories it's the brother that gets abducted and Raji has to now save him from demons. She gets guidance and blessings from Hindu gods to fight and defeat demons and end their evil reign.
Also Read : Best Gaming Laptops Under Rs 50000 in India

Gameplay
In a game of this genre, the gameplay is king and the developers nail this with the movement being fluid, the map exploration feels natural and takes some of the best features from a lot of AAA titles. From walking to sprinting acrobatically because she is a circus performer, the details have been looked after with great care. Every movement is fluid and there is so much depth in the movement itself it is honestly very impressive for an Indie title. You might think why am I rambling about the movement but in Raji movement reigns supreme, you can slack off in attacking but if your movement is not on point, you will lose.
Also Read : Best Gaming Laptops Under Rs 70000 in India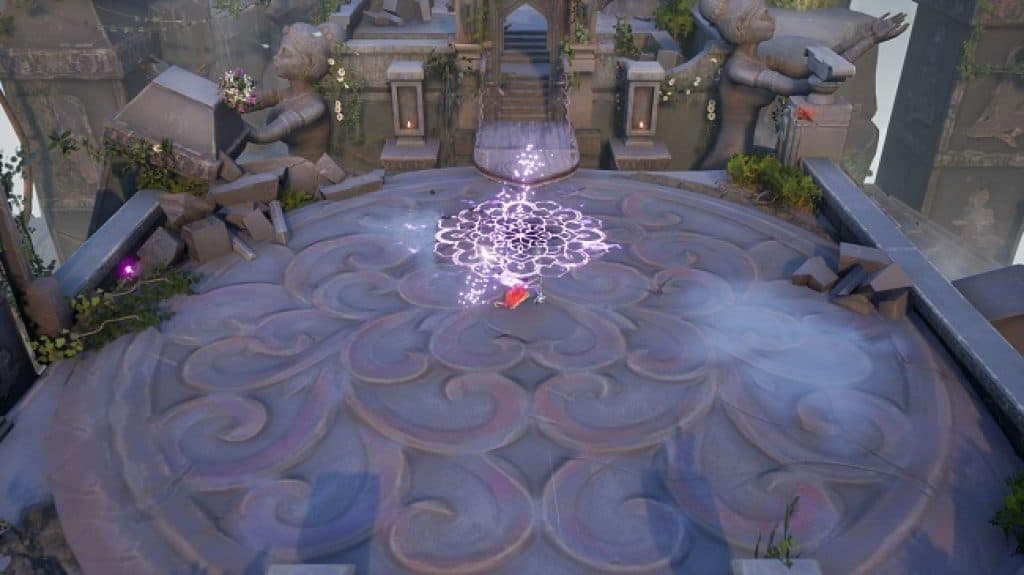 This allows me to segue into the second most important gameplay aspect that is the fighting mechanics and in my humble opinion, with the resources they were offered, they have knocked this out of the park. There is a range to the attacks you can do, numerous combos also implement the surroundings like walls and poles nearby. Even pressing the same button like crazy will not just repeat a single attack but do ever so subtle variations of it. The textures are smooth and the fights are clean. The fighting style will remind of notable big AAA titles like "God of War", "Devil May Cry", and the implementation of movement, surroundings, and flashy acrobatics can't help but remind you of "Tomb Raider", "Prince of Persia" and "Assassin's Creed". Trust me, you will forget about attacks and just run up walls or grab the pole and spin around with the numerous weapons the game provides you with to kill demons.
All the talk about surroundings leads me to the third part of the whole experience, the world. The world comes to life when you start exploring it, everything in there has a purpose and use, from running on walls because the path is broken to climbing up ledges because there is no other route available, the exploration is just as exciting and fun as any other aspect of the game. To sum it up, a great gameplay experience.
Also Read : Best Productivity Laptops Under Rs 50,000 in India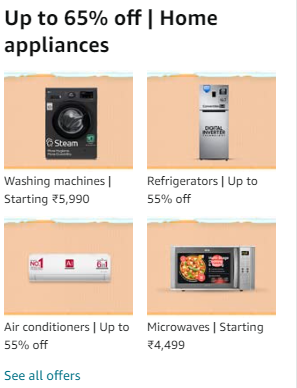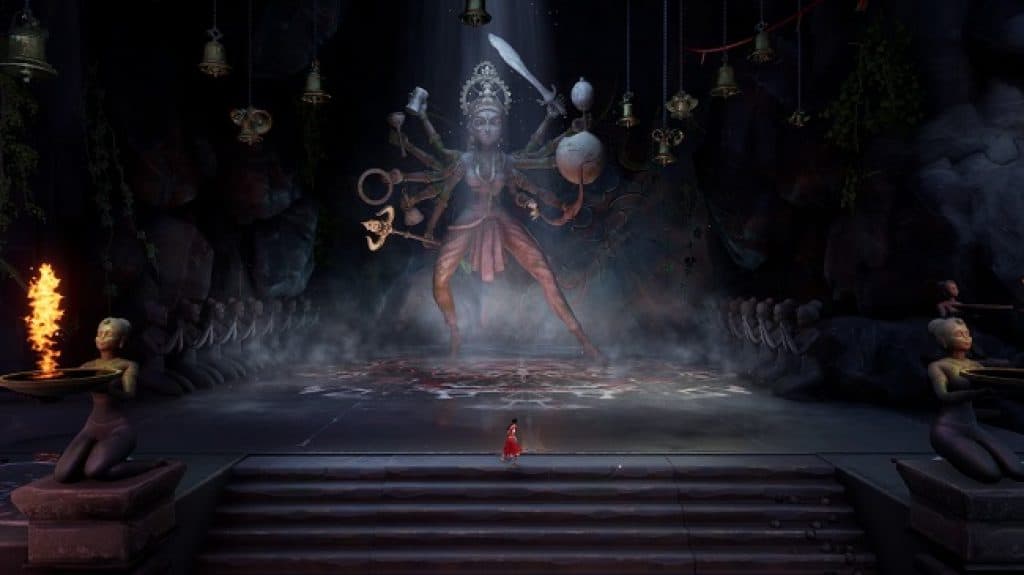 Storytelling and Art style
Similar to our childhood stories, the story is rich and yet simple. They use a wide variety of different things to walk you through the story, from using puppet plays like the olden days to using paintings, caricatures and posters you can interact with that help you explore the story more. From spinning mandalas to uncover the hidden picture to getting lost in the beauty of the paintings narrating the story, it is interactive and makes you invested.
Much of the heavy lifting on the story is done by cutscenes that usually involve the ancient puppet story telling art which were and still are popular in Rajasthan.
Now, coming to the art style, they chose a combination of Indian and Bali traditional art styles and you can see the heavy cultural influence all through the game. It really feels like the development team was proud of their background and have implemented it with perfection.
Visually, the game is breathtaking, you will be in awe when you see huge temple-like buildings and magnificent statues of gods. The sounds and visuals make the story that is simple feel quite extraordinary and really carries the game.
Also Read : Gaming Laptop Buying Guide: How To Choose the Right Laptop?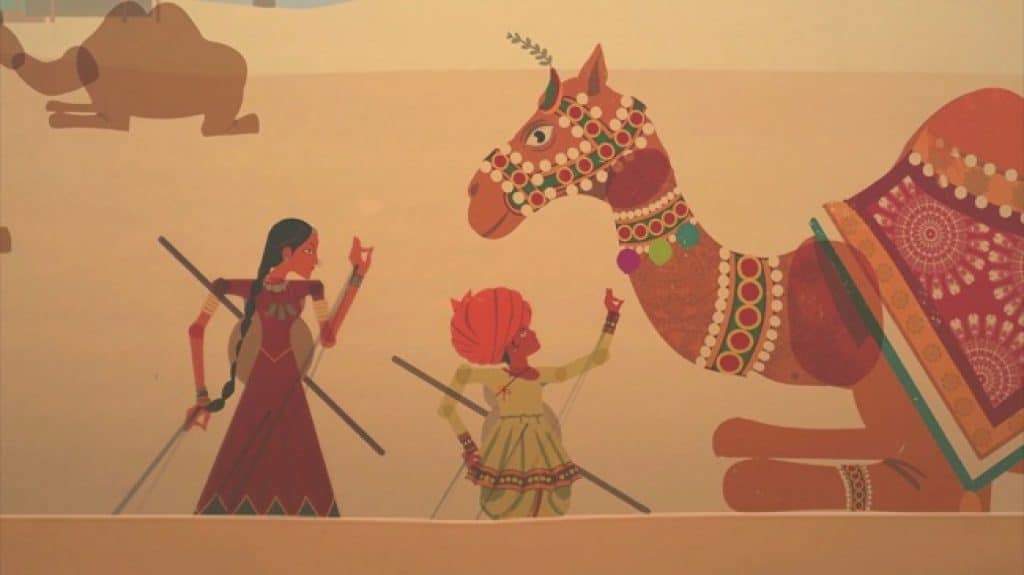 Hardware Requirements and benchmarks:
First, we will start with what the developers published as their minimum hardware requirements for the game on steam and the Pc we're using.
| | | |
| --- | --- | --- |
| | Developer's system requirements. | Personal test bench specifications. |
| OS | Windows 7 64-bit | Windows 10 64-bit |
| Processor | Intel Core i5-4400 (3.1 GHz) / AMD FX-6300 (3.5 GHz) | Intel Core i7-8550U (up to 4.0 GHz) |
| Memory (RAM) | 8 | 8 |
| Graphics | GeForce GTX 760 / AMD Radeon R9 270 | GeForce 940MX |
| DirectX | Version 11 | Version 11 |
| Storage | 6 GB available | 6 GB available |
| Sound Card | On board | On board |
I intentionally chose the weaker PC I have because most Indian gamers are budget gamers therefore, I wanted an actually useful conclusion. These were the results:
| | | | |
| --- | --- | --- | --- |
| | 1080p (All High) | 1080p (Medium) | 720p (All High) |
| Frames Per Second (FPS) | 15-20 | 28-33 | 30-35 |
| CPU and GPU temperature | 73°C and 79°C | 70°C and 80°C | 73°C and 80°C |
| Room Temperature | 32°C | 32°C | 32°C |
| GPU Usage | 93% | 90% | 91% |
| CPU Usage | 30% | 33% | 34% |
In my opinion, this game is well optimized for low end PCs and will run on most things. In my particular case as well as for cards like MX150 I'd recommend 720p at all high. You can dabble a little more with settings to get better performance but that was not in the scope of my benchmarks. It's not an FPS so anything above 24 FPS works and anything above 30 is smooth, 60 of course being better.
Also Read : Best 16 Gb RAM Laptops In India
Pros and Cons
Pros:
The game feels like a finished and polished product. A much higher quality than you expect out of Indie games.
From the movement mechanics to the fight mechanics, everything is well thought out and nicely implemented.
The graphics are absolutely stunning and visuals of the game will impress anyone that plays it.
This probably is the most important for people like me, an Indian gamer, the game feels like home and pays homage to our great heritage.
Cons:
The game is on the shorter side, don't expect a 100-hour storyline.
The story is sweet but maybe a little simple.
This is not a con per se, it has the whole narration in English which makes sense as it is aimed for a global audience but it makes the experience a little less authentic and the game certainly could have the option of Hindi in its languages.
The game uses a God's eye camera angle and that could be a hindrance to people who only play typical FPP or TPP modes in games.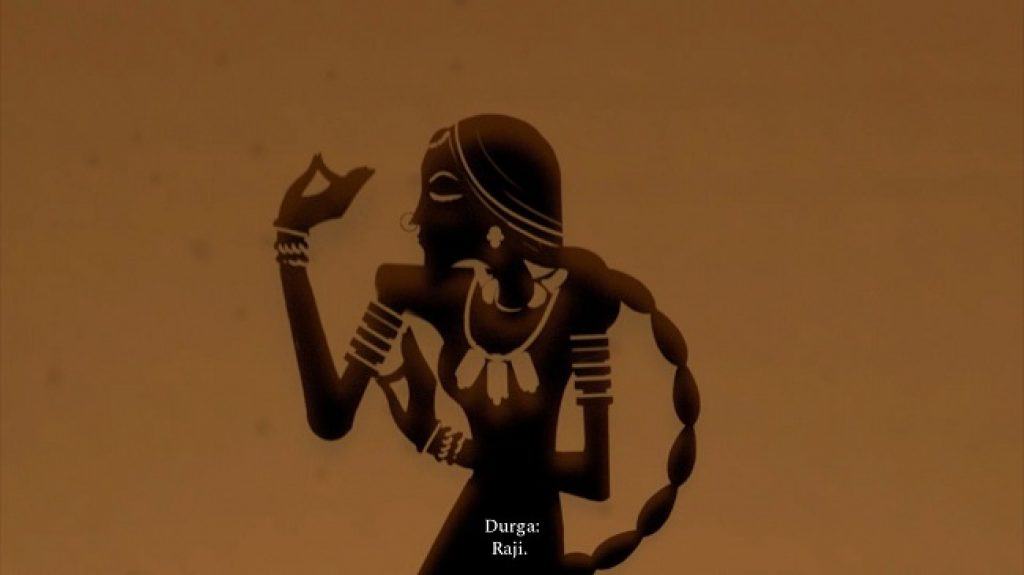 Personal Opinion
In the new age of "Make in India" this shows exactly what we are capable of and gives a huge boost to the whole Indian gaming development community. All we have ever wanted was to have our culture represented in popular media formats as well. Indian mythos is just as interesting as Greek or Roman. The game was a breath of fresh air and I honestly was pleasantly surprised. I might have installed the game for the developers and the community but I played the game for me because it was amazing. This will inspire a plethora of people to get into the industry and maybe give the Indian gaming groups a place in the mainstream world. Install the game to show support, play it because it is amazing and every amazing story needs to be heard.
---
This Review is Written By Harsh Vardhan
"Harsh Vardhan is a content writer and has a deep passion for gaming, technology, music, literature and movies. He likes to write on topics that interest him and he is passionate about."
---
Also Read :