Recently updated on August 20th, 2023 at 02:19 pm
it's been a while since the original Realme buds wireless launched.
Suffice to say that they were a huge hit. They had everything you needed in a neckband style wireless earphone at the time.
Great battery, comfortable design, magnetic play pause and decent audio quality.
It's been a year now, the price has come down, but the competition has risen up too. We were hoping realme would release an upgraded version of these with the modern 2020 features like multi device support, a low latency mode, LDAC codec support along with fixes to some of the problems with it like the mushy buttons and bad Bluetooth range. Realme did in fact deliver and included most of those features in the 2020 version, the realme buds wireless pro. 
Here's a table summarizing the key points mentioned in the provided information about the Realme Buds Wireless (2019 version) and its comparison with the Realme Buds Wireless Pro (2020 version) and other competitors:
| Aspect | Realme Buds Wireless (2019) | Realme Buds Wireless Pro (2020) | OnePlus Bullets Z Wireless | Oppo Enco M31s |
| --- | --- | --- | --- | --- |
| Price | Rs. 1500 | More than twice the price | Rs. 2000 | Rs. 1800 |
| Multi-Device Support | No | Yes | Yes (limited) | Yes |
| Low Latency Mode | No | Yes | Yes (OnePlus devices) | Yes |
| LDAC Codec Support | No | Yes | No | Yes |
| Battery Life | 11-12 hours | – | Longer than Buds Wireless | Slightly lower than Buds Wireless |
| Charging Port | Micro USB | – | USB Type-C | USB Type-C |
| Sound Quality | Decent | – | Good | Excellent |
| Active Noise Cancellation | No | Yes | No | No |
| Magnetic Play/Pause | Yes | – | Yes | Yes |
| Build Quality | Mushy buttons | – | – | – |
Also Read : 10 Best Bluetooth Earphones Under 2000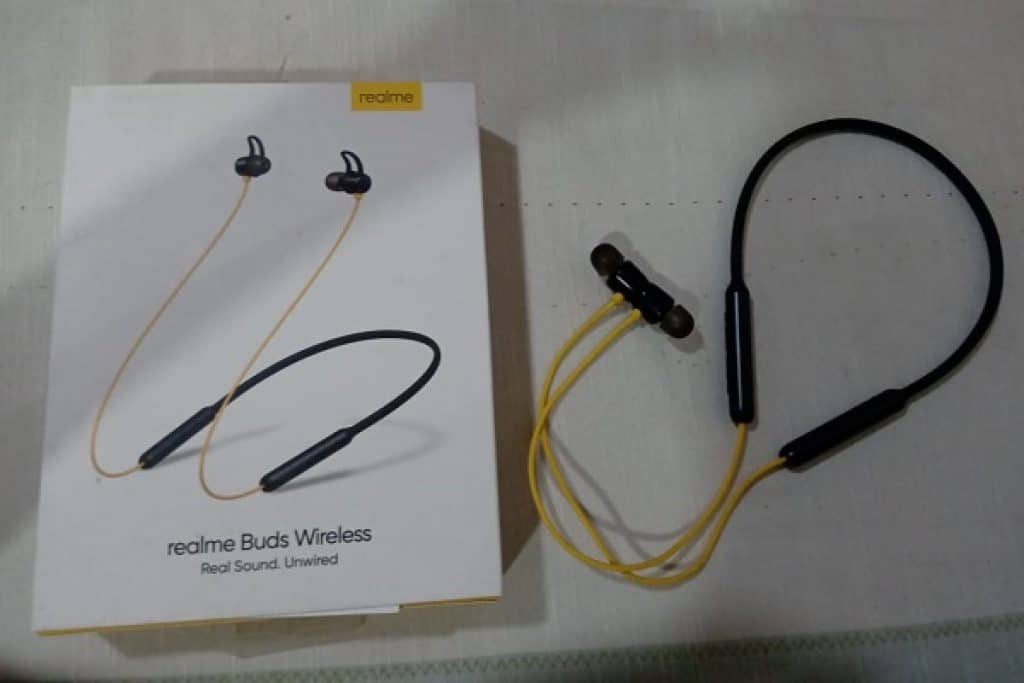 The only problem is that the Realme buds wireless pro costs more than twice as much as the realme buds regular.
Yeah, the newer model does have active noise cancellation but that in my limited experience with those, doesn't really work as well as some other high-end earphones. But it just doesn't justify the price hike. Hence, we are left with realme buds wireless at Rs.1500 as the only option.
So how does the 2019 champ compare to 2020 neckbands?
Pretty okay as it turns out. As mentioned before, it lacks several features like multi device support, Low latency mode, type C charging. Which is a huge negative since most 2020 neck bands tend to have them and these are incredibly useful features.
Lack of Multi device support is a deal breaker for me.
If you don't know what it does, here's a quick explanation: suppose you use a laptop and a phone, as many people do. If you have multi device support then at the press of a button, the earphones will switch from your laptop to phone or phone to laptop.
As you can imagine, this is an extremely handy feature and I kinda don't recommend buying any Bluetooth earphones that don't have this feature since going into the settings, pairing it every time, making sure that your phone's Bluetooth is off and then dealing with the horrible windows Bluetooth settings is a huge pain.
But it's got the famous magnetic earbuds that automatically turn on when to separate the magnets. Pretty good implementation. Doesn't take long to turn off and on. It has many redeeming qualities since it does cover all the bases.
Let's get into it's details.
Also Read : Best Wireless Earphones Under 1000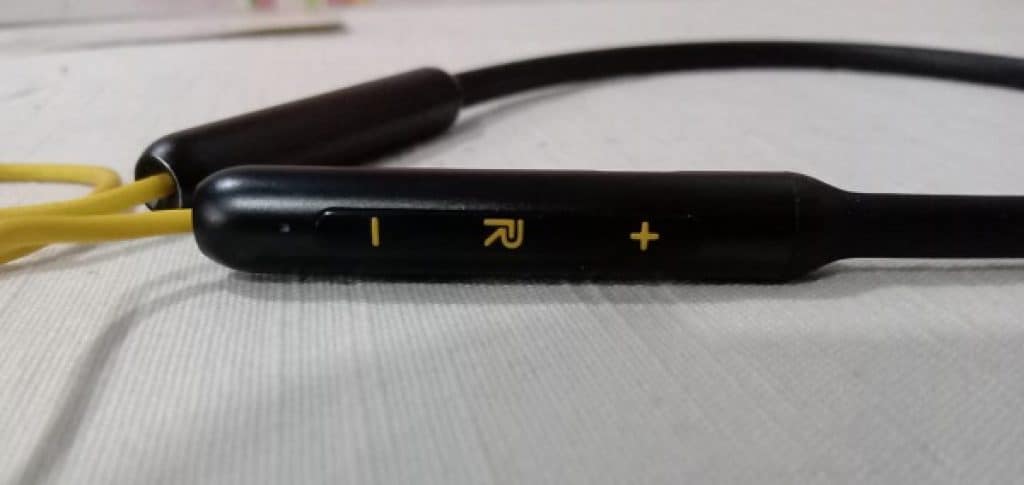 Pairing Experience
It's horrible. And its even worse if you try to connect it to a windows laptop. Even with realme devices these don't offer any quick pair options like the more expensive earbuds. The pairing is slow, you might have to turn these off and on again multiple times before any device can recognise it. It's very inconsistent. Once paired, its all smooth sailing from there on out.
Don't have anything else to say about it, connecting it to a new device is a pain. The first time you use it, hope that you never have to switch devices again so that you can avoid dealing with that crap. To be fair, every neckband has the same problem and no one seems to talk about it. When you use TWS earphones then you get the option to connect to those as soon as you open its case. This is not available with any neckbands to my knowledge.
Also Read : Best Earphones Under 2000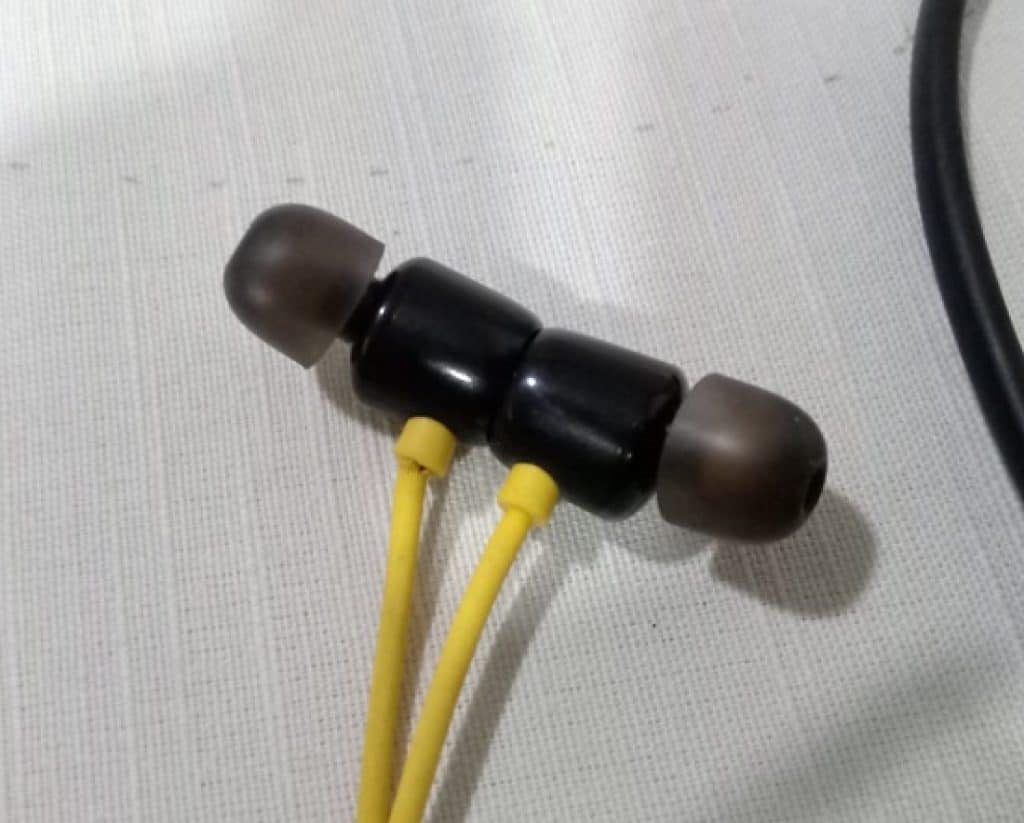 Sound Quality
The most important aspect of any audio product.
The sound quality is decent. They definitely don't sound better than the Sennheiser CX180s which for many budget audiophiles is the gold standard. But they don't sound bad either. The bass is somewhat emphasised like every other audio device in the Indian market (I don't understand why this country likes bass so much, good for Bollywood songs I guess). That being said, it doesn't overpower the mids and the highs. Overall decent. It was one of the only neckbands of 2019 that had good sound quality with the exception of mi neckbands.
CODAC Support
AAC and SBC only. No aptx or aptx HD or LDAC. If you want LDAC you will have to pay 400 extra and get the Oppo enco m31s (Those are pretty good, more about them in the comparison/competition segment)
Also Read : 10 Best Earphones Under Rs 1000 in India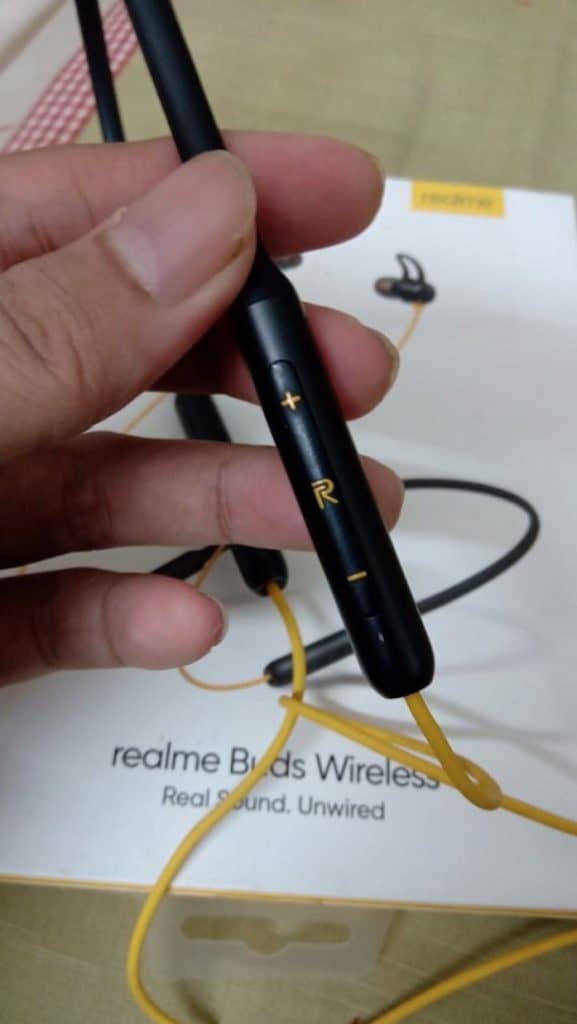 Battery life
When the battery is about 20 percent, it keeps repeating the low battery tune again and again, it's very annoying. Now the main selling point of the buds wireless is the incredible battery life. It's the best out of any neckband earphones released last year. This year the bullets Z wireless at Rs 2k took that spot with an even longer battery life and even faster charging. The realme buds wireless have a rated battery life of 12 hours. When I read that I thought "bulls#it", but believe it or not, it does really last for about 11 to 12 hours somehow. Which is rather cool.
The only con is no type C charging. So you gotta carry a micro usb cable too. Which is a pain.
Also Read : Best Earphones Under 500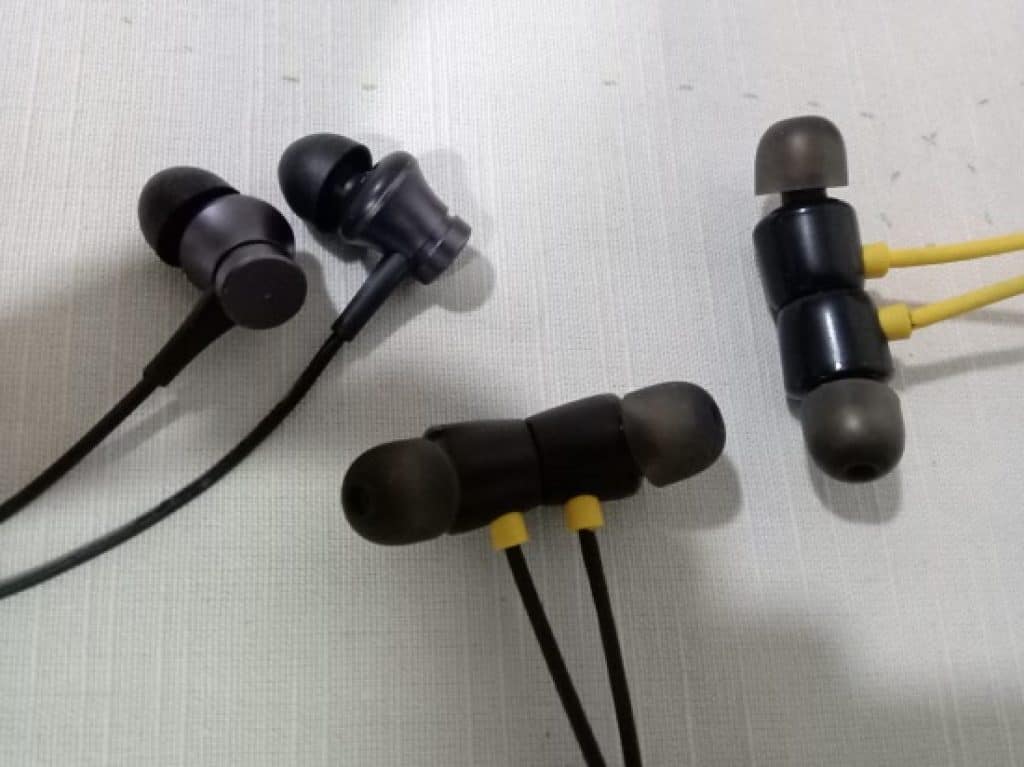 Build and Design
It comes with multiple silicone tips and a small charging cable in the box.
They are available in 3 colours. The yellow and black realme style, all green and all peach.
The buttons are very mushy. Even after 1 year of daily use, I still haven't got used to pressing the play and pause button. It is absolutely useless. Trying to press that button, you will press the volume up or down button first, then you will have to adjust your grip. It always takes 1 or 2 tries.
If buttons being badly positioned and mushy wasn't enough, even when you press the button it takes 3 to 5 seconds for it to actually register and implement the action. I have tried it with multiple phones and laptops. I'm sure it's the problem with these earbuds.
The earbuds themselves are also rather large, so you can't sleep on your side while wearing these without them shoving into your ear.
It charges via micro usb and it's another pain point.
The inbuilt mic is just as terrible as any other earbuds, it works sufficiently well for phone calls, but don't expect to be the one with the clearest audio quality in a Zoom or Teams meeting. The main problem with the mic quality is the hyper aggressive noise reduction that doesn't work very well. All it does is make the audio sound worse. That being said, it still got the best mic compared to other earbuds of its price.
Quick tip: use the laptop mic for online conferences. Those are usually better than these earbud microphones.
Also Read : 10 Best Wireless Earphones Under Rs 3000
Pros and Cons
Pros:
Great battery life
Charges quickly
Good sound quality
Magnetic play pause works well
Cheaper than the competition.
Cons:
No multi device support
Horrible, Extremely bad inline controls/ buttons
Micro USB charging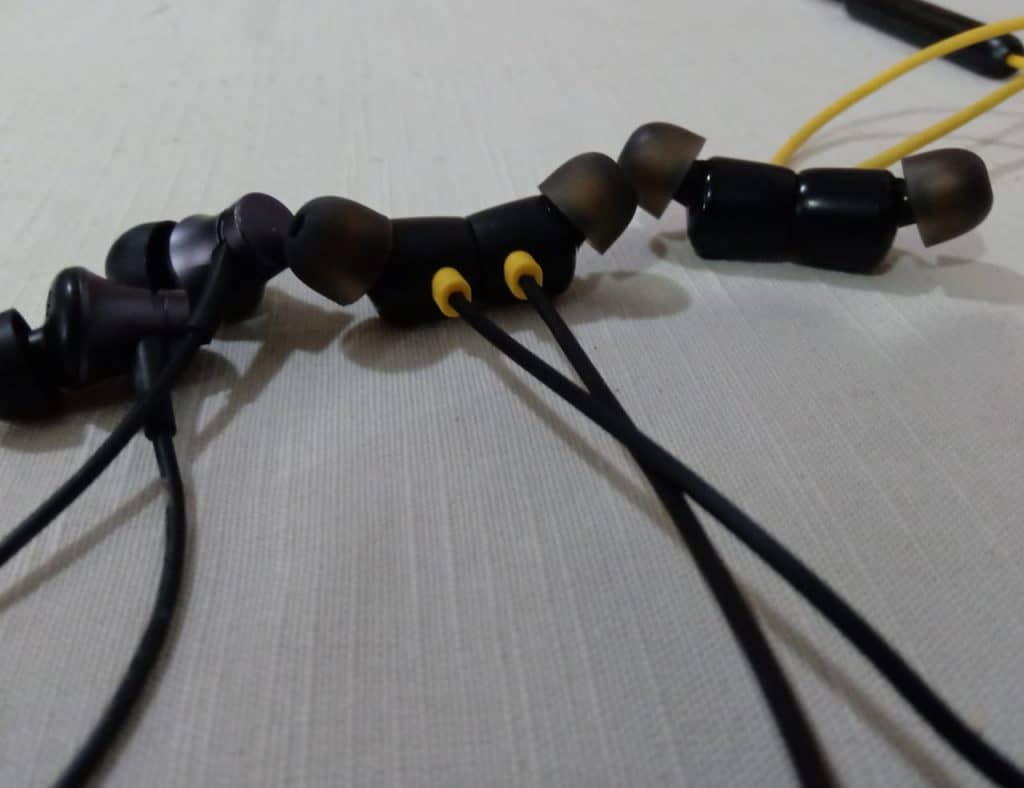 Comparison/ Competition
One plus bullets Z wireless @ rs2000 offer longer battery life. (also, a low latency feature that only works on one plus phones)
Oppo Enco M31s @1800 the best neckband earphones. Great value, excellent sound, multi device support, magnetic play and pause, LDAC support and the best sound quality out of any neckband earphone. Only con is slightly lower battery life.
There are a few others but none of them are worth a mention since realme buds wireless do everything they can do but better.
---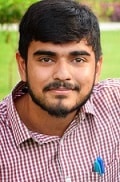 This Review is Written By – Aryan Tiwari
I'm a simple guy, interested in gadgets and stuff.
Also Read:

1) Bluetooth Earphones Under Rs. 1000

2) Wireless Headphones Under INR 2000