Recently updated on November 20th, 2023 at 09:44 am
Redmi Earbud S is Xiaomi's budget offering in truly wireless earphone segment.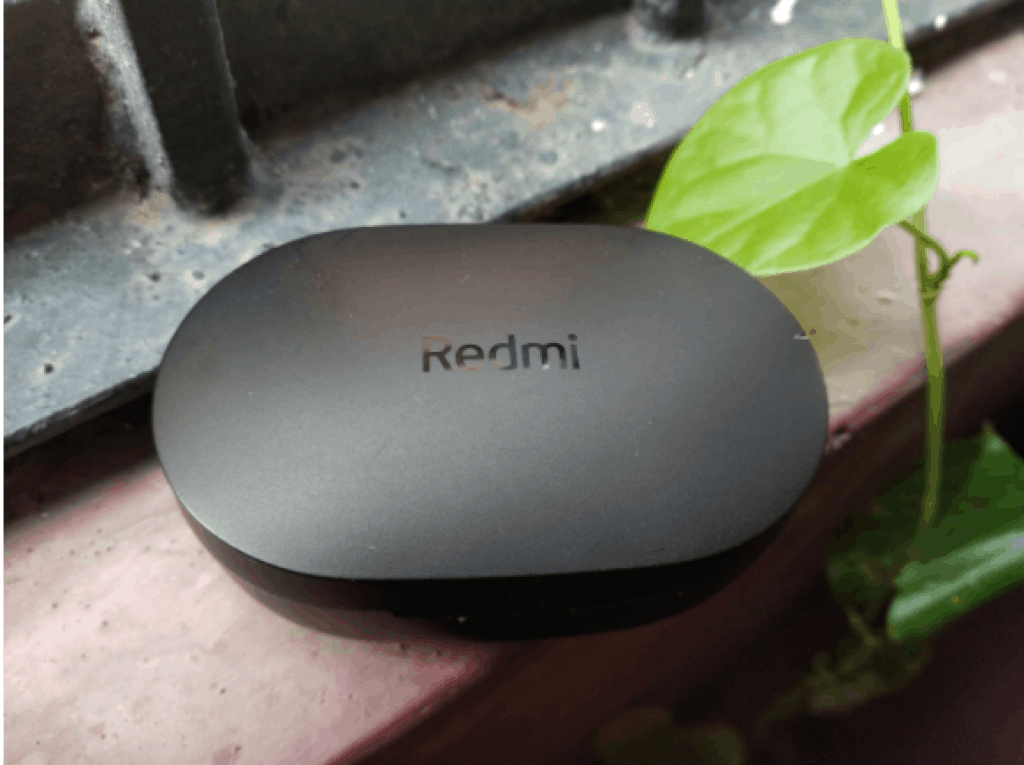 Previously known as Mi airdot S now rebranded and launched in India back in may under Xiaomi's own budget Redmi series at the price of Rs.1799. Since then we've seen a number of new earbud offerings from different brands even from Redmi themselves. I've been thoroughly using them for about 4 months so let's talk about how they hold up.
Also Read : Best True Wireless Earphones Under Rs 5000
Design
The Redmi earbud S only comes in a matte black color. The case in which the earbuds come in is made up of plastic although a cheap plastic. It's really plain and simple with that matte finish all over the case and Redmi etched on top of it. It's really small and compact and it just fits perfectly fine in any pocket. The front of the case has a red led light for when the case is charging and for charging there is a micro usb port at the back. No usb type-C sadly. The lid of the case uses magnets to close. Closing the lid makes a satisfying snap sound and I can open and close the lid all day. Inside the case we have our earbuds held inside with magnets as well and these are quite strong magnets. You can hold the case upside down but the earbuds still won't fall off which is great but I've also had issues taking out the earbuds from the case at times resulting in accidental falls. And I have dropped the case on quite a few occasions but it's quite sturdy and have not seen any major chunks of plastic breaking off other than some minor scratches.
Also Read : Best True Wireless Earbuds Under Rs 2000
The earbuds also carry on the matte black and simple theme. Also made from the same plastic, the earbuds don't feel that bad in hand and in the ears. The way they are designed, they fit really nice in my ears. Because of the plastic, they're quite light weight and that helps a lot as I've never felt any pain or discomfort while using them for a prolonged period of time. I've used them for hours and hours even falling asleep while having them on and didn't have any issues although I wouldn't recommend using them while laying your head sideways. Because of their design they sit comfortably and don't fall off so makes the just the right fit for workout sessions.
But overall the case and the earbuds are quite nicely designed.
Also Read : 11 Best Wireless Earphones Under Rs 1000
Sound
Redmi earbud S comes with a 7.2 mm driver which does offer decent sound output. Emphasis on the word decent because the clarity that it offers on vocals is really crisp and clear and that also applies on high volumes. I didn't experience any sound leakage whatsoever but where the vocals are great, everything else is just "okay-ish" to not good at all.
Let's take bass, the mid bass is nice but it doesn't have that heart pounding thumping, punchy feel to it or you can say that the bass lacks that "ummph" to it. Many budget wired earphones at the same or even lower price can deliver a better bass than this. Even if you go a little higher in price range you can find truly wireless earbuds that deliver a better bass. The treble is where Redmi earbud S doesn't do well. The treble is sub par but it's quite harsh and seems like it doesn't have any texture. All this wouldn't really be something that a normal consumer should be bothered with but for an audiophile, I'd suggest to look for something else.
What bothers me is there is no companion app or any way to adjust the sound through an equalizer so what you get is basically what you have. Even on Xiaomi smartphones there's no option to mess with the equalizer. There's also no APTX or LDAC support provided.
The call quality on the other hand is nice. You can clearly hear the person on the other end but that person will have a tough time hearing you. The mic on these earbuds are really not that good which is the case with most earbuds but on Earbud S, Xiaomi went with DSP (Digital Signal Processor) which basically uses software to cancel out environmental sounds instead of going with an actual noise cancelling mic and the result of that is, the person would hear a lot of echoing. This is the case when you're outside and inside unless you're in a really quite isolated room. I really wouldn't recommend them for using in calls and it's just better to use your phone for taking calls.
Also Read : Bluetooth Earphones Under 2000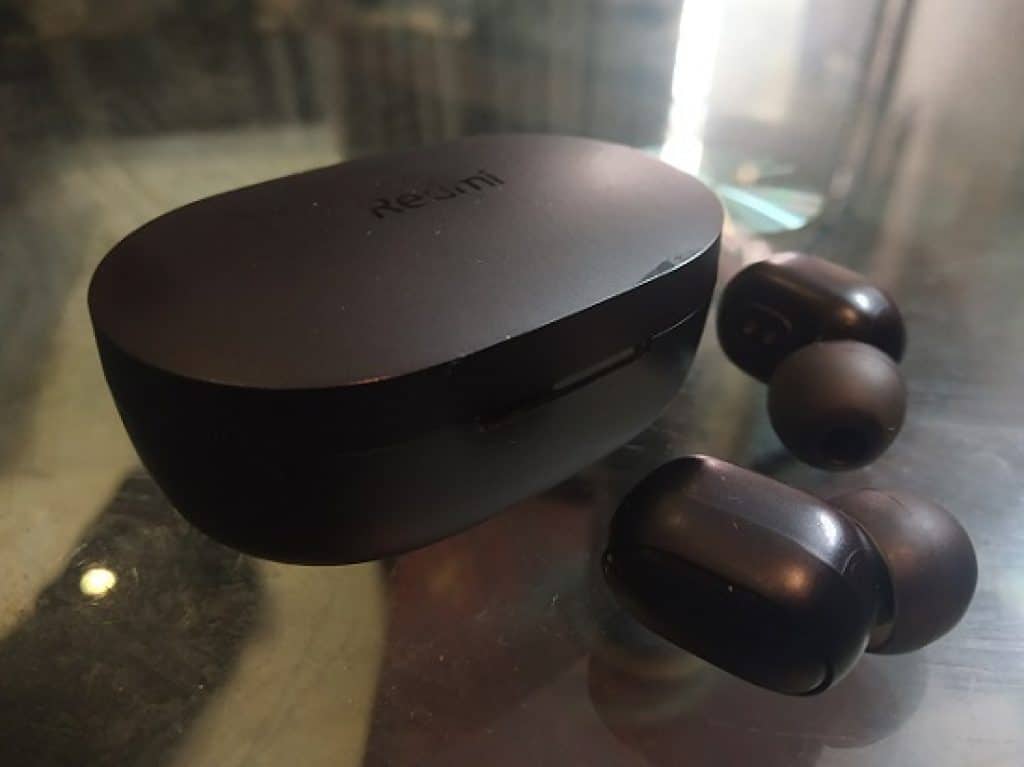 Connectivity
Connectivity is I would say one of the strongest points of Redmi earbud S. The pairing process is quite simple. Just take them out of the case, turn on bluetooth on your phone and look for Redmi earbud S and pair. It's that simple and every time onwards they'll pair automatically with your phone quite easily and seamlessly. The earbuds first connect with each other and then with the phone but it's so quick that by the time you would take them out and put them on, they'll already be connected to your phone. So it's not a hassle there. You can even put one earbud in the case and the music won't stop and will continue to play on the other one and will connect to the other one when taken out of the case. Other than that earbuds come with Bluetooth 5.0 so you get a range of about 20 metre in an open area or 7-8 metres in closed areas like houses and offices. This seems to be a common range for most bluetooth 5.0 devices which honestly works just fine.
But there are times where the earbuds won't connect with each other. But would independently connect with your phone and to fix this issue you'll need to hold the button on earbuds till they reset and put them back in case and take them out again to see if they pair properly. This process is sort of a hit and miss as sometimes it'll work on the first try and sometimes it will take multiple attempts. A lot of people I've seen had this issue so it's quite possible this is a fault on Xiaomi's end.
Also Read : Wireless Earphones Under Rs 20000
Battery Life
The case comes with a 300mah battery while each individual earbud each comes with a 40mah battery. According to Xiaomi this should give you about 4 hours of playback on a single charge of earbuds and upto 12 hours of playback with the case as the case can charge the earbuds 3 times on a single charge. This claim by Xiaomi actually does hold true, the earbuds can go on and on for about 4 hours, sometimes more or less depending on the volume you're listening at but definitely do hold up to their claim. Once the earbuds are put back inside the case they can take upto half an hour or so to completely charge while the case itself when empty takes 2 hours to charge from 0 to 100.
There is no indicator for battery percentage of the case or earbuds so you'll need to connect earbuds to the case to find out that. Both the case and earbuds have a red led light which glows while charging and turns off when the battery is full so that's your only indicator to know if the battery is full or not.
Also Read : Best Wireless Earphones Under Rs 3000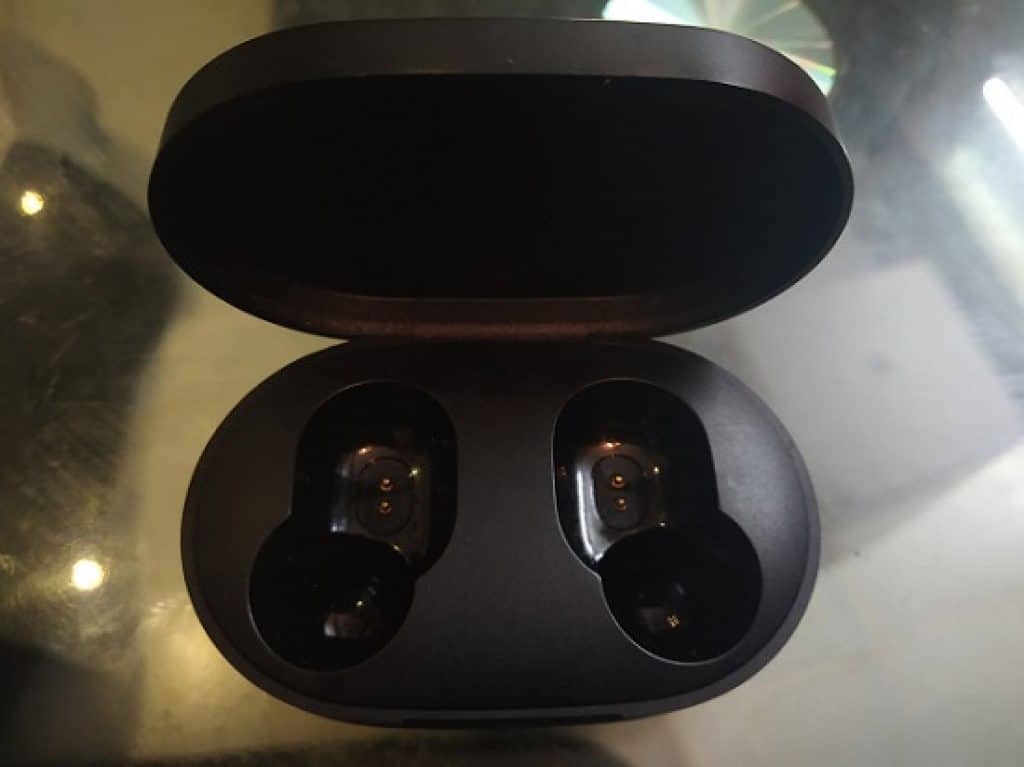 Features
Both earbuds have a button on the side which have a nice tactile feedback when pressed. Single tap on either earbud can play and pause the music or receive or end calls. You can tap to receive a call while you're on another call.
Double tapping will activate the default assistant on your phone like Siri, Google assistant or Alexa. But I'd say this feature isn't useful at all because of the poor microphone any assistant will have a tough time understanding you unless you're loud in a quiet room.
Triple tapping the button activates a low latency mode. The latency goes down to 122ms which is along the line with Apple airpod pro. This is helpful during gaming sessions when you need that sound with as minimal latency as possible and I feel it gets the job done really well. You can tell the difference but sometimes it just decides to not work properly so you might feel that even after turning on the low latency mode, the latency is still the same as having it off.
Sadly there's no way to increase or decrease volume or change tracks which I would've really appreciated having.
Also Read : Best True Wireless Earbuds under Rs 10,000
Overall
Overall I would say the Redmi earbud S are a decent pair of earbuds for the price. It certainly will get the job done without any issues but expecting something great or out of the ordinary out of it would just result in disappointment. For audiophiles I would definitely recommend something in a higher price range as these earbuds are definitely something they would not be pleased with. For people who want to use it to make calls, again don't go for Redmi earbud S, I'd suggest not going with most budget earbuds as they have more or less the same issues with picking up your voice as the microphone is so far back tucked inside your ears. Go with a neckband style earphones if you want a wireless set of earphones. The gamers would find the low latency feature useful other than that nothing to complain about but you might face issues if you'll be voice chatting.
So if one is on the lookout for a truly wireless solution then the Redmi earbud S are a decent choice. Yes it has certain flaws but at the price they're offered at, one can't disagree that they work just fine and these definitely won't disappoint.

Rs.

1,399

Rs. 2,999
1 new from Rs. 1,399
in stock


Rs.

1,799

Rs. 2,999
2 new from Rs. 1,799
in stock


Rs.

2,499

Rs. 3,399
1 new from Rs. 2,499
in stock

---
Also Read:
10 Best Earphones Under Rs 500
Best Bluetooth Earphones Under 2000
10 Best Earphones Under Rs 1000 in India