Recently updated on November 20th, 2023 at 09:41 am
It's been almost a year since I got these Sony WH XB900N , incredibly loud and yet so silent over the ear headphones.
When I came across them last year, they seemed a little too expensive for me. So, after a few days of drooling I decided to go to a nearby Sony dealership and feel the thing myself, to my surprise I found out that they were way more pleasing to the eye than in the color corrected pictures. So next I decided to put these perfectly shaped headphones on and it was a fit made in heaven, The thing I love best about headphones is that they are more sturdy and comfortable to wear I have never been a fan of those tiny earphones that keep falling every other minute (maybe it's just the shape of my ears :/ )
Also Read : Best Earphones Under Rs 5000 in India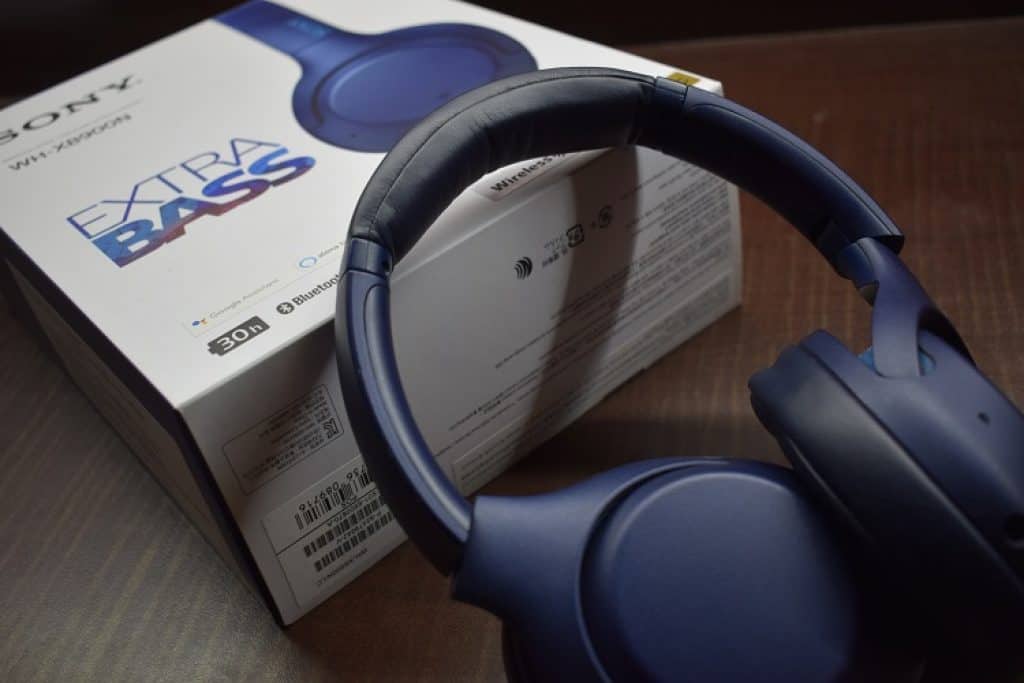 Box Contents
Other than the headset there comes a very premium 3.5mm aux cable and a flat type C cable.
The braided stereo Aux cable had an impressive length of 1.5m on the other hand the type C cable was even shorter than my hand and so I recommend buying a new Type C cable if you don't have one.
It also contains a cloth pouch that can contain the folded headset, aux, and type C cable. 
Also Read : Best Earphones Under Rs 1000
Connectivity
Once my phone was connected there was no kind of lag or disturbance in the sound.
Also, to configure the connection Sony offers a Sony headphones app to adjust the sound quality, bass treble, volume, noise-canceling
and the extra button function can also be set here (Noise-canceling or Alexa).
Supported Bluetooth A2DP Audio Codecs.
| | | |
| --- | --- | --- |
| NameBit | DepthMax | Frequency |
| Qualcomm aptX HD (High Definition) | 24 bit   | 48.0 kHz |
| LDAC | 24 bit  | 96.0 kHz |
| AAC (Advanced Audio Codec) | 16 bit    | 44.1 kHz |
| Qualcomm aptX    | 16 bit | 48.0 kHz |
| SBC (Sub-Band Coding)   | 16 bit | 48.0 kHz |
The headphones have a latency of 200ms however, with aptX or aptX HD active, it gets much better. While using the Aux cable can provide a more seamless experience.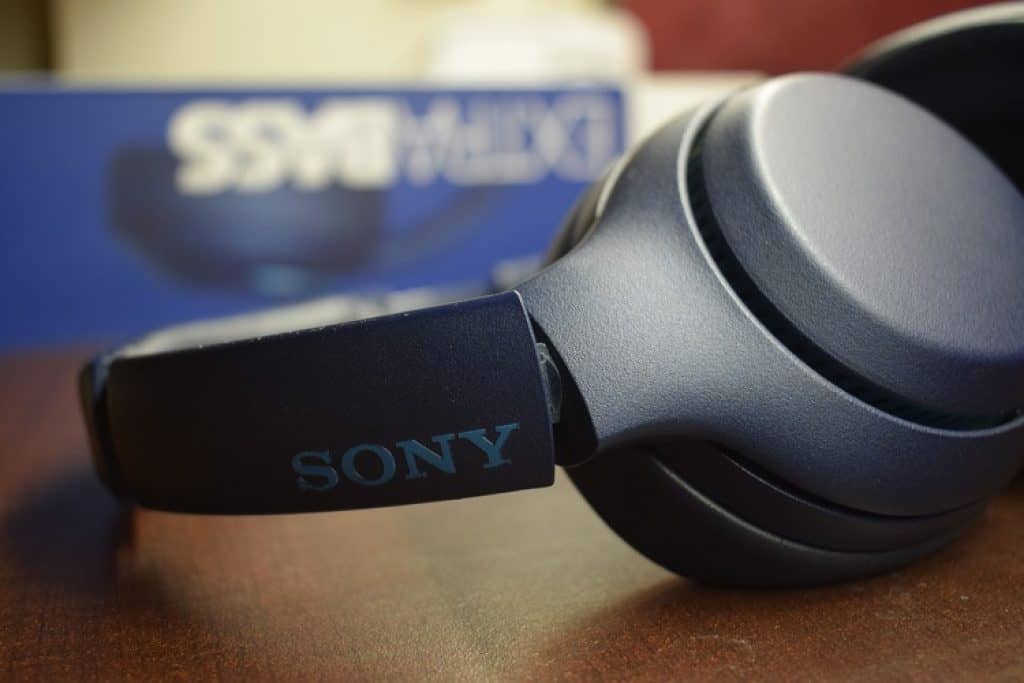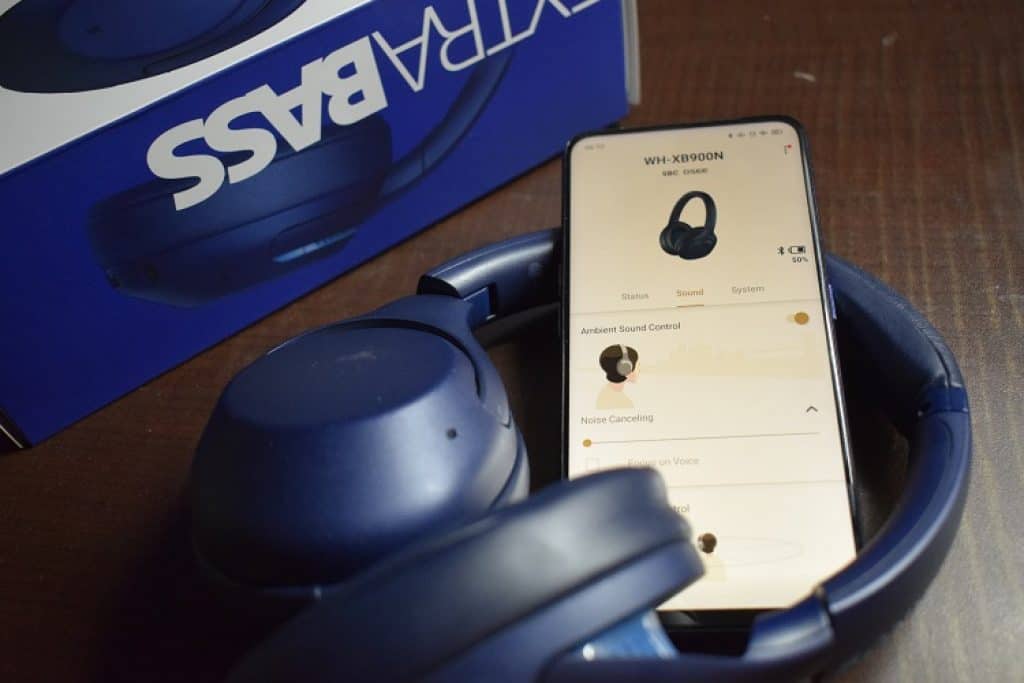 Gesture control
The gesture control was the most unique feature. I didn't think much of them when I bought them but now, they come so naturally and even sometimes subconsciously to me. At times I find myself doing the gestures while wearing a different headset or not even wearing a headphone.
Gesture controls can make controlling music so effortless they can be used to play/pause by I single tap on the right ear, next/prev by swiping forward or backward on the same ear. Also, you can inc/dec volume by simply swiping up or down. This will take your musical experience to a greater level.
Other than music you can also accept phone calls by simply double-tapping in the gesture control area, hands free calling has never been simpler.
Also Read : Best Earphones Under Rs 500
3.5 mm audio jack
This comes in really handy when you are out of battery and can't charge or don't want to. All you need to do is use a standard 3.5 mm aux cable and you are good to go with reduced bass and noise cancellation.
This feature can be a blessing for frequent travelers.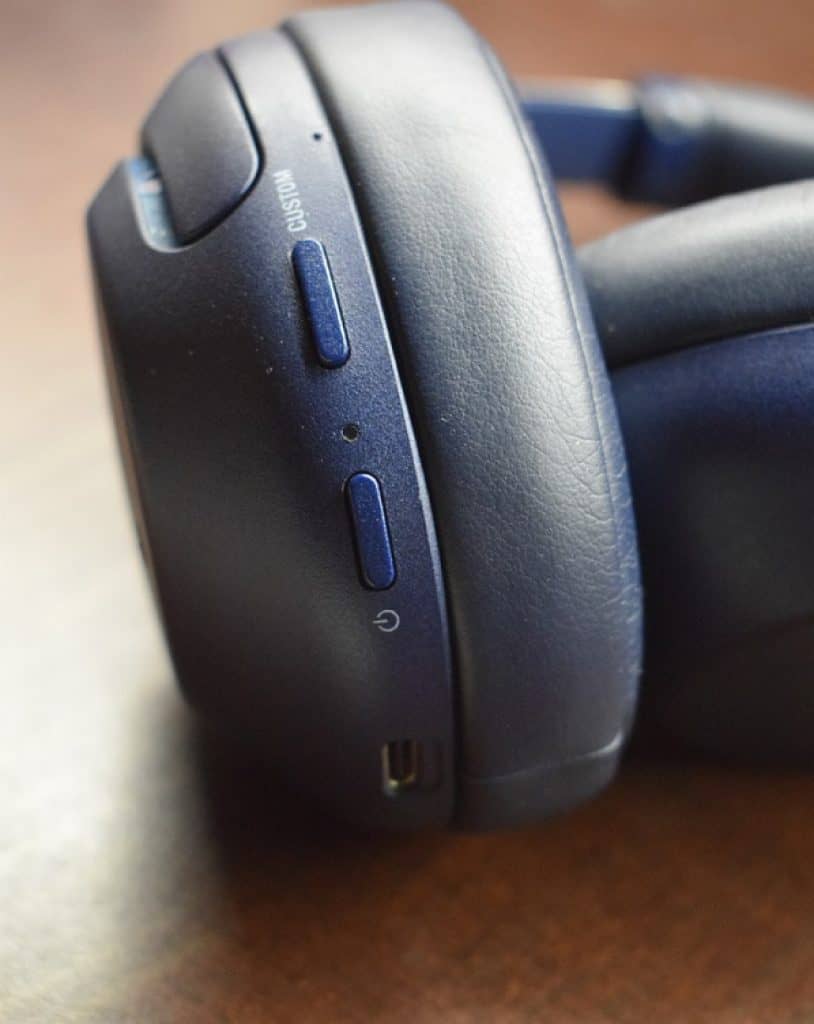 Battery Life
Charging requires a type C cable which is included in the box (a very short one). It takes around 7 to 8 hrs to charge completely which makes it perfect to charge overnight Which gives you a playtime of an impressive 30hrs.
From personal experience, I could go for almost a week before charging whereas during the holidays I found myself charging it almost twice a week.
Voice assistant
Another great feature is that it supports both Alexa and google assistant all you need to do is use the Sony headphone app and decide which one you want to use.
You can even use the extra button to activate the assistant.
I usually use Alexa to make phone calls, taking notes, playing music, setting reminders, and controlling home appliances. And using my phone to activate Alexa every time is simply a pain in the glass. So like me if you don't own an Alexa speaker these headphones can be the answer to your smart needs.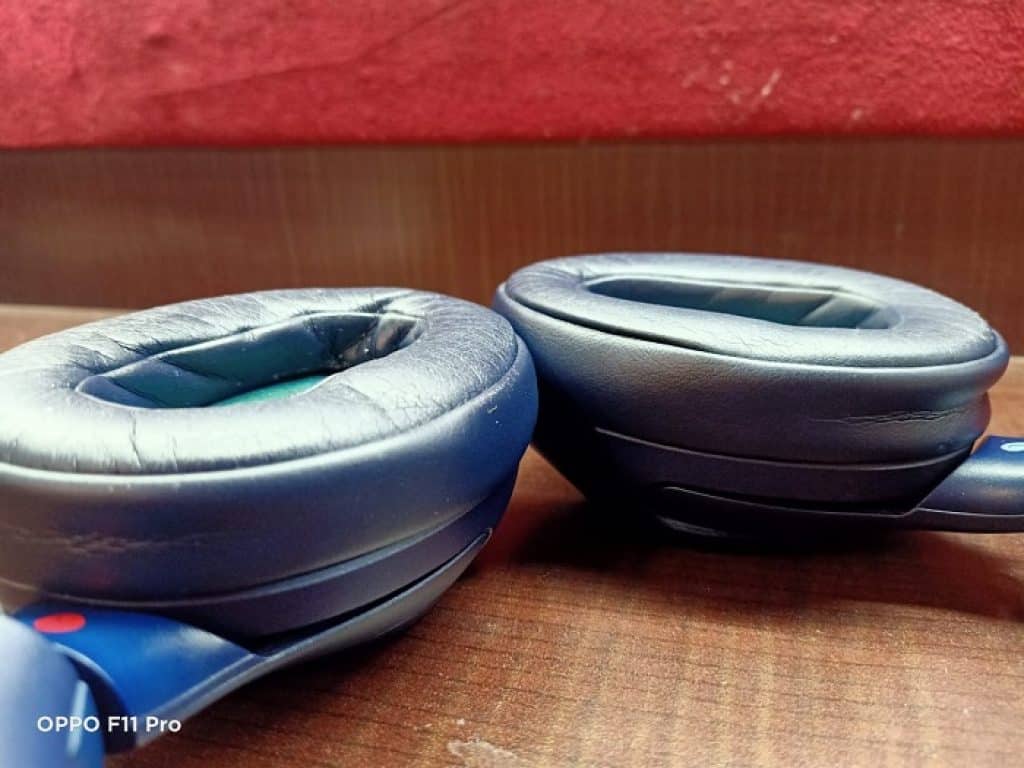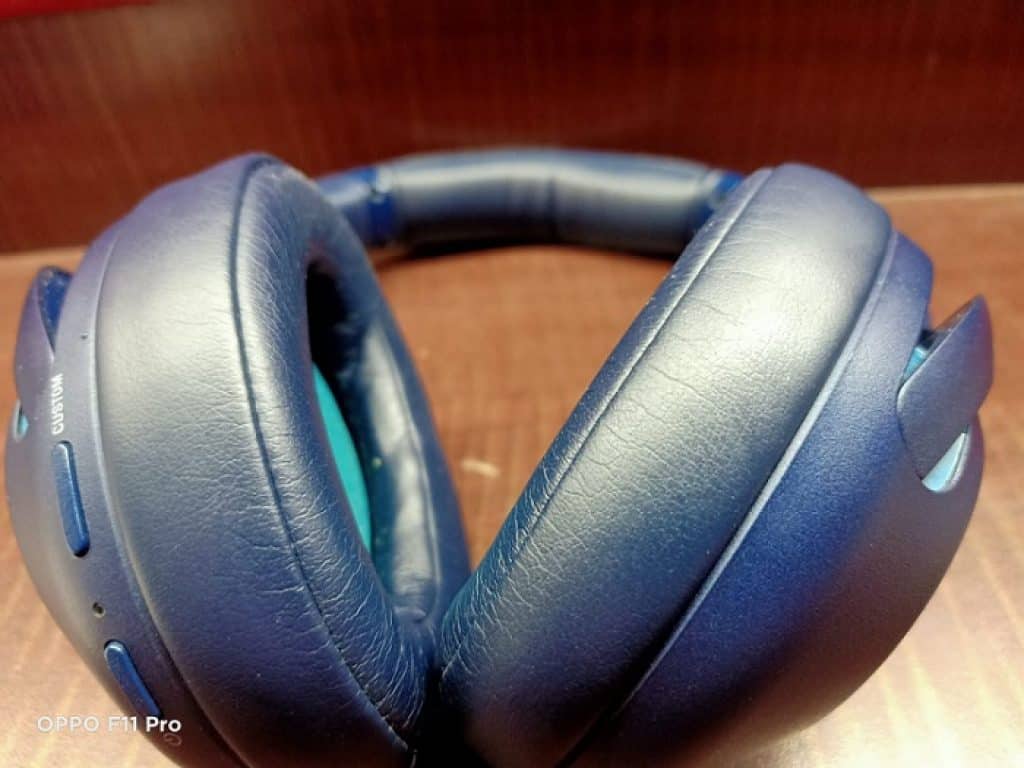 Sound Quality
After pairing them to my phone which took a little longer than generally (maybe because it was the first time). I fired up the loudest song I could find in my playlist (Jatt Da Muquabla XD).
there was no going back now, the bass was so deeeep that I could feel the heartbeat in my ears and not in a negative way. Every beat was so powerful that it made me shift a little every time. 
The Extra bass feature is really something to look out for but if you are looking for attention to detail sound then you might be a little disappointed.
I did buy them that day, I didn't even wait to check for a better price online (don't make that mistake) and till date, they are worth every single rupee. The only
Noise Cancellation
Noise Cancellation is the feature that makes them so unique, at its max with music playing it will cancel out the background completely. though there are times when you will feel like turning the noise cancelling off after using it for long hrs.
Other features include ambient sound and focus on the voice. An ambient sound scale from 1 to 20 can be used to choose from, with 1 being complete noise cancelling and 20 being full ambient sound.
Though This feature is only available in power mode wireless/wired. The rubber padding on ears can also act as a great sound barrier for when using power off mode.
Build Quality
They are mainly made up of Lightweight plastic which portable and flexible also the plastic has a fabric-like texture finish to provide a better grip. This texture can be felt every time you touch the gesture control area.
Also Read : 10 Best Wireless Earphones Under Rs 3000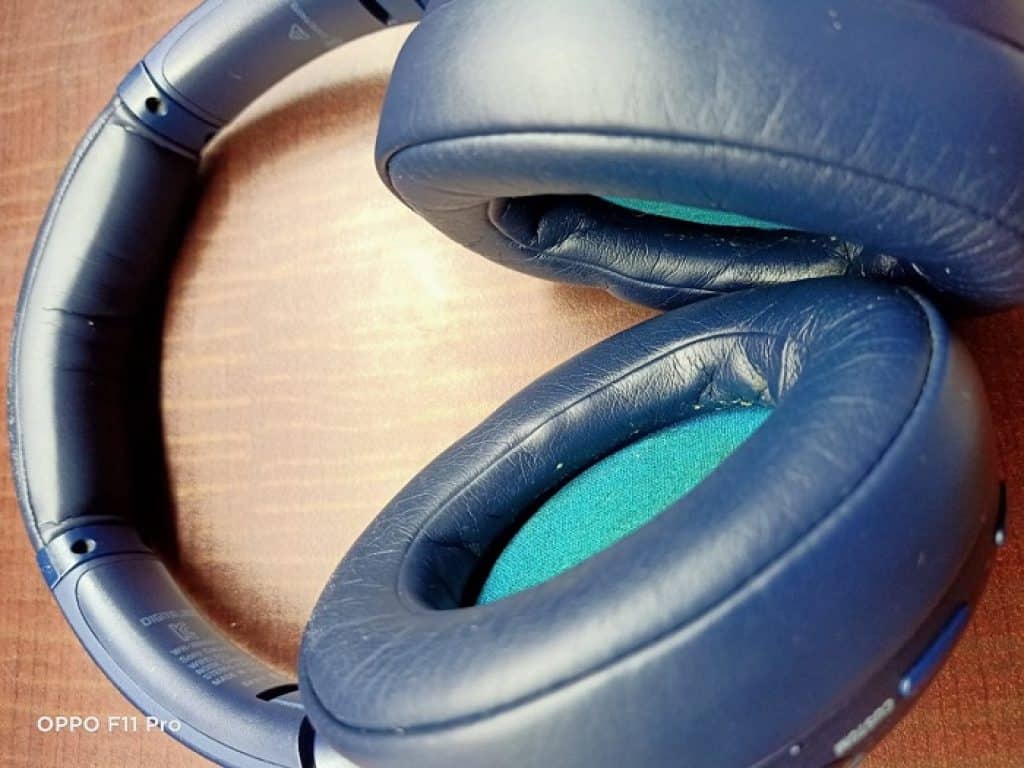 Specifications
Power Source: DC3.7 lithium-ion rechargeable battery 
Driver unit: 40 mm
DSEE yes
Power consumption: 1.5W
weight: 250g
Impedance: 50Ω Wired , 25Ω Wireless
Sensitivity: 101dB/mW
Frequency Response: 3Hz-20,0000Hz
Bluetooth: 4.2
Maximum range: 10m
Also Read : 10 Best True Wireless Earbuds Under Rs. 2000
Conclusion
I was wearing them the entire time I wrote this article and they just feel like an escape from the noisy world, if you ever feel the same like muting the world around you, then these Sony headphones just might do the trick for you.
Despite all the praises I can sing for these headphones, I think it would be fair for me to point out that these headphones go for 18k on amazon. And last year's flagship Sony XM3s cost 22k. so if you can spend 4k more, those are undoubtedly going to be the better option. The Sony XM4s are also in the same range at 25k.
I think stretching to those for the much better noise cancelation and audio quality is worth the price.

Rs.

22,990

Rs. 29,990
2 new from Rs. 22,990
in stock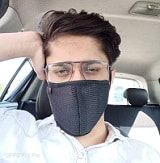 This review is written by Sanat Chaudhry
Photographer by choice, techie by profession. Making technology simpler and easier.
–
---
Also Read :

Best Earphones Under Rs 2000 in India

​​​​​In Ear (IEM) Headphones Under Rs 1500

10 Best Wireless Bluetooth Earphones Under Rs. 2500