We all love our daily cup of tea to keep us refreshed and energized. In fact, a lot of times, tea has been found effective in curing several common illnesses and offers other health benefits. However, since India is one of the prominent tea manufacturers, it can become a little confusing to choose the right tea brand for yourself.
Don't worry, we are here to help you. In this guide, we will be covering a few important aspects of tea such as the types of tea available, health benefits, etc. along with a list of the top tea brands to consider in India.
Benefits of Drinking Tea
There are many health benefits associated with drinking tea which makes it such a popular beverage around the world. Studies show that drinking tea regularly also lowers the risk of heart attacks or other heart-related diseases. That's not all, tea is also known to protect you from different types of cancer, neurological diseases, etc. and also reduces the risks of Parkinson's disease, pollen allergies, and so on.
However, there are many other amazing benefits of drinking tea as well:
Boosting Weight Loss
One of the best advantages of drinking tea is that it helps in weight loss by burning more fat. It also improves your metabolism which further helps in weight loss. So, if you are trying to lose weight then including tea in your diet could definitely help you lose weight faster.
Improved Bones and Body Functions
Studies show that people who drink tea regularly have a better bone density than those who don't drink. So, if you drink tea regularly, you don't have to worry about getting osteoporosis when you grow older.
Apart from making your bones stronger, tea also improves your immunity so you could easily escape common diseases and infections. A few tea varieties are also effective in soothing your digestive system and will make your tummy feel better.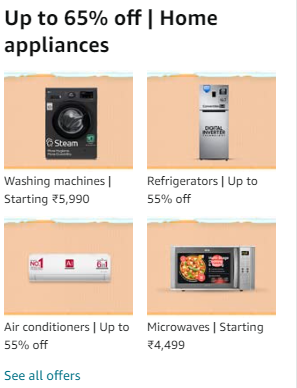 Better Stamina
A few antioxidants in green tea are more effective in burning fat as a source of energy which can improve your muscle endurance during an exercise. So, if you drink a cup of tea before your workout, you can maximize your exercise performance.
Improved Focus
Since tea contains caffeine, although a lesser amount than coffee, it can improve mental alertness in your brain. So, you have an improved memory and attention span and are able to perform the tasks quickly and efficiently.
Great Way to Keep Hydrated
Finally, a cup of tea is a great way to keep your body hydrated while enjoying a more flavored version than plain water. If you add no sugar, then tea acts as a zero-calorie drink and is a great way to keep yourself hydrated when you are hot or have just completed a workout.
Top 10 Best Tea Brands in India
1. Taj Mahal Tea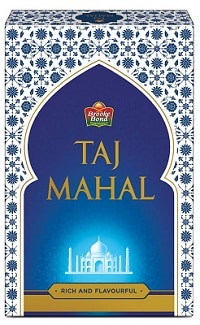 Top tea brand in India that most tea drinkers opt for is the Taj Mahal Tea. This age-old brand offers premium-quality tea with amazing taste and has a good balance of strength and flavor.
You will also find several flavor variants available in the Taj Tea such as Taj Mahal Classic, Taj Mahal Gold, Taj Mahal Nilgiris, and so on.
Apart from amazing quality and taste, the tea is quite reasonably priced as well and is a great choice for families. The orange-gold brew color, the scintillating aroma, and the rich taste separate this tea from all the other tea brands in India.
Also Read: 10 Best Multivitamin Tablets
The tea leaves are sourced from Assam, Darjeeling, and Nilgiris for this premium tea brand and they offer whole leaf tea bags, loose tea, and even gourmet chai collection.
2. Tata Tea Gold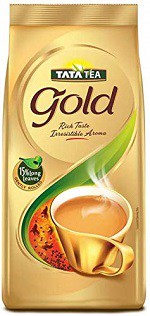 One of the best tea brands in India, Tata Tea offers the best-quality tea in India and offers several tea variants out of which Tata Tea Gold is the most commonly used by tea drinkers.
Tata Tea Gold is a blend of Assam CTC and 15% of hand-picked long leaves which results in a rich flavor and perfect aroma that will leave you wanting more.
Also Read : Best Basmati Rice Brands in India
This perfect blend gets its rich taste from the Assam CTC and the irresistible aroma from the long leaves when the tea is added to boiling water. It is extremely easy to prepare this tea and you will feel refreshed and energized after every sip of this tea.
---
3. Lipton Honey Lemon Green Tea Bags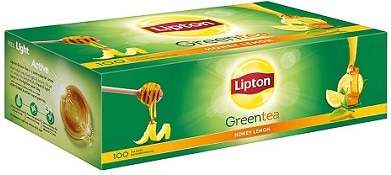 One of the top green tea brands in India, Lipton Honey Lemon Green Tea is a great zero-calorie drink that tastes good without added sugar.
This green tea contains catechin that helps in boosting metabolism and help you lose weight effectively. If you drink this green tea regularly then you can maintain a fit and healthy lifestyle.
One of the best things about this tea is that it doesn't have any calories so you can stay hydrated without worrying about calories.
Also Read : 10 Best Fruit & Vegetable Juicers
Plus, this green tea has a unique non-bitter flavor so you will actually enjoy drinking it. And you have 4 flavor variants available so you can choose the one that you like the most.
---
4. Tetley Long Leaf Green Tea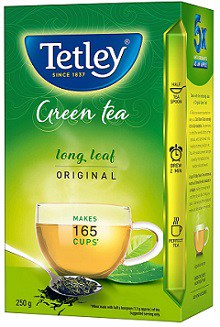 Tetley is one of the bestselling tea brands in India, Canada, and the United Kingdom and is perfect for people who want a healthy and uniquely flavored tea. Tetley Long Leaf Green Tea is a blend of fine, young long tea leaves and buds and offers an amazing, smooth taste with a sweet smell.
This tea is quite easy to make and is best made without milk, you can add honey to sweeten it a little. It is also rich in antioxidants and is helpful in detoxing your body while making you feel relaxed and refreshed.
Plus, it is a great way to keep hydrated with zero-calorie intake and is a great choice as a pre-workout and post-workout drink.
---
5. Red Label Natural Care Tea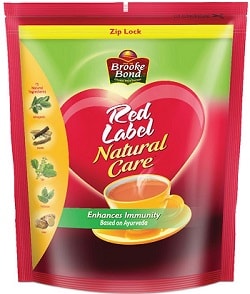 If you are looking for a tea that will improve your immunity then Reb Label Natural Care Tea is the perfect choice for you. Launched in 1969, Red Label is a popular tea brand due to its affordable price and amazing taste.
Using the best quality tea leaves from Assam, Meghalaya, and Coochbehar, Red Label Natural Care Tea contains five Ayurvedic ingredients that protect you from common diseases.
This tea brand contains cardamom that improves digestion, tulsi that boosts body immunity, ashwagandha that manages stress, mulethi for soothing your throat, and ginger that will protect you from cough and cold.
So, if you are looking for a tea that tastes amazing and protects you from illnesses then Reb Label Natural Care Tea is the perfect choice for you.
---
6. Wagh Bakri Premium Leaf Tea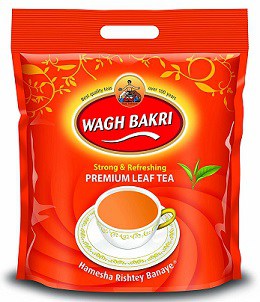 Started in 1892, Wagh Bakri is another popular tea brand in India that is said to be the largest tea house in India. That is not all, this tea brand is exported to around 40 countries and is quite popular among the people of many states in India.
One of the best things about this tea brand is that it offers region-specific tea blends to satisfy the consumers.
Also Read: 10 Best Whey Protein Powder
Wagh Bakri Premium Leaf Tea uses the tea leaves from the best tea gardens in India. A cup of this strong-flavored tea will leave you feeling refreshed and energized which makes it a top choice for most users.
---
7. ORGANIC INDIA Tulsi Green Tea Lemon Ginger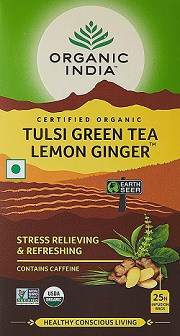 Although it is a little expensive, Organic India Tulsi Green Tea is rich in antioxidants and offers several health benefits to the tea drinkers. One of the best things about this tea brand is that it works with small farmers that use sustainable farmlands for growing tea leaves.
Also, since this tea contains tulsi, ginger, and lemon, it improves your stamina, immunity, and helps in better digestion and higher metabolism as well.
The lemony flavor of the tea also makes you feel calm and relaxed and can refresh you after a long day.
---
8. Typhoo Pure Natural Green Tea Bags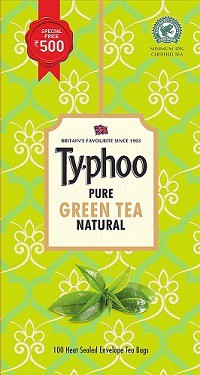 A perfect tea brand for anyone who is looking for good quality green tea to drink regularly, Typhoo Pure Natural Green Tea has a pleasing aroma and a beautiful green color. This antioxidant-rich tea is free from added sugar or preservatives and can help in improving your immunity.
This green tree is organically grown and is rich in catechins that act as a refreshing beverage and keep you hydrated with zero-calories.
Also Read : 10 Disinfectant Floor Cleaner Liquids in India
So, you can use this tea to feel good, energized, and fit as it helps in weight loss as well. Plus, since it comes in the form of tea bags, you can carry it with you on your trips as well to feel refreshed and healthy anywhere you go.
---
9. Amazon Brand – Vedaka Gold Tea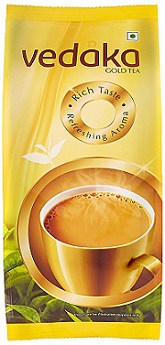 Another great tea brand in India that is cheap and rich in flavor is the Vedaka Gold Tea from the Amazon brand. This tea is made from high-quality tea leaves of Assam and Darjeeling and is a nice blend of hand-picked long tea leaves and CTC.
Since it uses long tea leaves, you are able to enjoy a richer and more enhanced flavor of the tea.
Also Read : Best Instant Noodles in India
So, if you like strong and delectable tea then this is a good choice for you. You can use this tea to make masala tea, ginger tea, and so on to get yourself refreshed and stress-free.
---
10. Society Tea Leaf Tea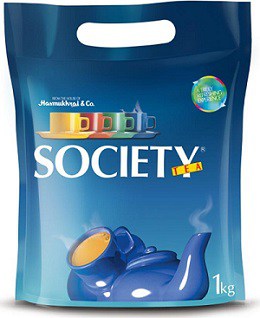 Society Tea Leaf Tea is one of the best tea brands that allow you to make the best milk tea but it can be a little costlier than other popular tea brands in India. However, if you love drinking milk tea then this is a good product to invest in.
This tea brand uses premium quality tea leaves and advance technology to make strong, robust, and flavor-packed tea.
This tea is rich in antioxidants and nutrients so, you will feel revitalized and refreshed after every cup of tea. As a result, this tea feels great after a long and tiring day and can be easily made with milk or lemon.
Also Read : 6 Best Epilator for Women in India
---
Types of Tea
There are mainly four types of tea available – black tea, oolong tea, green tea, and white tea. The main difference in these different kinds of tea is the processing time and the processing technique that, in turn, results in different health benefits.
White Tea
This is the least processed tea which is why it has a high antioxidant level and is said to be good for fighting cancer. This type of tea is picked before the tea buds open and has small whitish hair present at the time. Also, this has the mildest flavor out of all the types of tea available.
Green Tea
After white tea, green tea is the least processed variety of tea and is made by steaming the leaves of Camellia sinesis leaves. Green tea also has a lot of health benefits due to less processing and due to the presence of EGCG which is a powerful antioxidant.
Oolong Tea
Oolong tea has a more intense flavor than a green tea and is prepared through the process of oxidation or fermentation. This type of tea is good for maintaining a good cholesterol method and has a nice taste too.
Black Tea
Finally, there is black tea which is the most processed variety of tea as it goes through the process of fermentation to turn the green leaves to the black color.
This type of tea contains a high level of caffeine which is found to be beneficial in protecting your lungs from cigarette smoke and reduce the chances of a heart stroke. It is also the most strong variety of tea and has quite an intense flavor.
---
Also Read:
1) Top 10 Best Ice Cream Makers in India
2) 10 Best Front Loading Washing Machines in India
3) Top 10 Best 1.5 Ton Energy Saving Split Air Conditioners
4) 10 Best Electric Hand Blenders