For a long time, women have had to follow the ridiculous notion of removing the body hair to look beautiful. And while this is not a compulsion anymore, a lot of us still do it because it makes us feel good about ourselves.
Because when you wear dresses, skirts, sleeveless tees, and all, no one wants to show off their large body growth anymore. But waxing is not only painful but quite time consuming as well. Plus, you need to make an appointment every time at a salon to get this done which is a pain in the ass.
Thankfully, as technology advanced, so have our options now. And one such time-saver has been epilators. A tiny device that can get rid of your body hair at home easily and effectively.
However, choosing the right epilator is still a task which is why we have prepared this guide. In this article, we have mentioned everything you need to know to find the best epilator for yourself in a suitable budget.
Things to Look Out for in an Epilator
Here are a few things to consider when searching for an epilator.
Wet or Dry
The first thing to decide upon is whether you want to get a dry epilator or a wet and dry epilator. A dry epilator will cost you less but it will be slightly more painful to use.
This is because the wet and dry epilator can be used in the shower as well. So, when you take a bath using warm water, it is easier to remove the hair without causing much pain. However, it does cost more than its dry counterpart but, trust me, the cost is completely worth the painless experience.
Corded or Cordless
The next thing to consider is whether you wish to purchase a corded epilator or a cordless one. Both have their own set of pros and cons so it depends on what is more convenient to you.
A corded epilator tends to last longer and offers consistent power. On the other hand, you will need to change the batteries in a cordless epilator but it feels more comfortable and convenient to use.
Also, if it is a dry and wet epilator then a cordless model will be easier to use in the shower. But there are chances that it dies down in the middle of using it.
Purpose of the Epilator
Another thing that you need to consider is the use of your epilator. Most women use it on their arms or legs but a lot of them might want to use it for underarms, face, and bikini area as well. In such a case, you would need additional attachments for the other body parts.
Also, be careful when choosing an epilator for your face because most epilators are too powerful to be used for your face. And most face epilators are battery operated and non-rechargeable so, choose carefully.
Number of Tweezers
Another important thing to consider is the number of tweezers that are present in the epilator. The more tweezers are there in the model means it is quicker in getting rid of body hair. This also means it would pain considerably more but the duration of your pain will be greatly reduced.
However, not all epilators with a greater number of tweezers are effective. So, you need to select an epilator which is powerful and fast in removing the body hair.
Speed Settings
You might also want to look at the speed settings that are available in an epilator. Although most epilators have a single speed setting, many newer models come with multiple speed settings now. This helps you choose the right speed for your hair type and can even be useful in removing hair from different body parts.
Inbuilt Light
Now, this might not seem like an important feature but trust me, this comes in very handy when you are removing your body hair. The inbuilt light allows you to have a clear view of the hair that is being removed which makes the entire process quite easy.
Washable Head
Also, make sure that you choose an epilator that comes with a washable head. This will ensure proper cleaning of the epilator which makes it hygienic to use. Plus, regular cleaning will increase the shelf life of your epilator so that you can use it for more years.
Best Waterproof Epilator
Braun Silk-Epil 7 7-561 Wet and Dry Epilator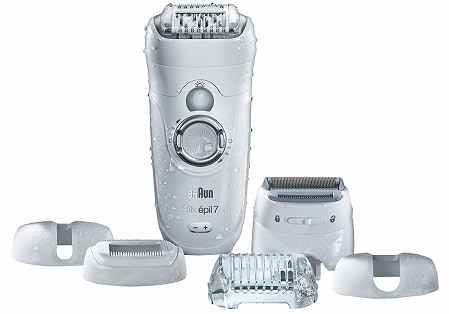 One of the best epilators in the market, Braun Silk-Epil 7 7-561 Wet and Dry Epilator is waterproof. This means that you can use it during a shower as well which makes the entire experience smooth and extremely comfortable. And the warm water makes it almost painless to get rid of the body hair as well.
The close-grip technology used in this product ensures that you can get rid of the smallest hair without having to wait for them to grow. And the high-frequency massage system used in this epilator provides a nice stimulation to your skin which is quite comfortable.
Another commendable thing about this product is that it includes a pivoting head. As a result, it can fit your body contour easily and give you an amazing hair removal experience. And the presence of the smart light helps in observing the small hairs as well to remove them effectively.
But most of all, this epilator is not for just legs and arms use. You can actually use it for underarms, bikini area, and face as well. This epilator works well on all skin types, even sensitive skin and is definitely the best product to purchase.
Best Epilator for Sensitive Skin
Philips Satinelle Epilator HP6421/00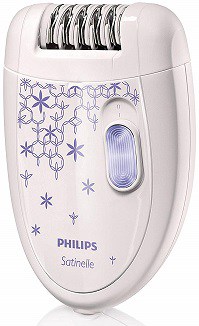 One of my favorite epilators to use is the Philips Satinelle Epilator HP6421/00 which causes the least pain in comparison to all other epilators in the market. This epilator offers you gentle epilation with the help of its gentle tweezing discs. So, it pulls the hair from your body without pulling the skin.
It is quite compact as well and gives you amazing results with the short hair removal as well. Due to the ergonomic design, it is easy to handle and use as well and the two speed settings allow you to switch between gentle and powerful mode quite easily. An all-rounded epilator, you can use this product for both sensitive areas like underarms, bikini line, etc. and normal legs and arms.
Also Read : Best Hand Creams in India
One of the best things about this epilator is the removable head which makes it easy to clean. Also, the cleaning brush with this product allows you to get rid of the loose hair and dust so that you can use this product instantly. The only drawback with this epilator is that it is a corded model so it is not useful in the shower. But apart from that, it works amazingly well and you won't feel any pain while using this.
So, if you want an effective and smooth epilator for daily use then Philips Satinelle Epilator HP6421/00 is the right product for you.
Best Epilator for Emergency Hair Removal
Philips BRE201/00 Satinelle Corded Essential Epilator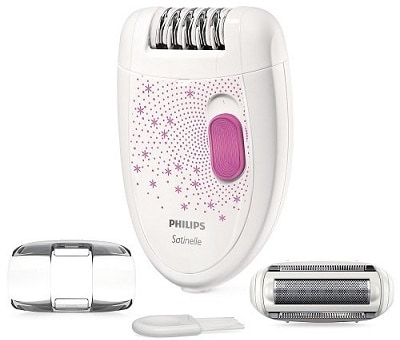 Philips BRE201/00 Satinelle Corded Essential Epilator is another great product from this brand which promises you a hair-free skin for at least 4 weeks after use. This product can easily get rid of the small hair which are 0.5 mm as well. It offers a single speed setting but that is enough to remove the hair from your entire body.
It also includes a cap cover which makes this epilator efficient and safe for use on sensitive skin areas as well. And the shaving head which comes with this model allows you to shave your legs and arms on the go. The product is compact and travel-friendly and is less painful to use than waxing.
Also Read : Best Facewash For Oily, Acne, Sensitive & Dry Skin
Perfect for emergency hair removal, this unit doesn't run out of battery juice quickly and is quick to recharge as well. It works best on dry skin and is quite durable as well. The only drawback is that it doesn't offer a lot of advanced features.
If you are looking for an epilator for emergency situations then this is the best product for you!
Best Multi-Purpose Epilator
Veet Sensitive Touch Expert Electric Trimmer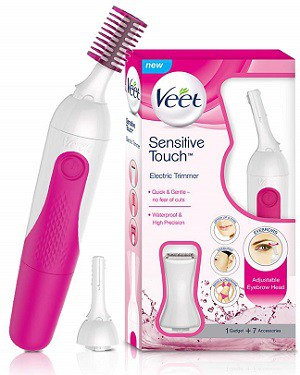 One of the best epilators in the market which can be used for various body parts is the Veet Sensitive Touch Expert Electric Trimmer. This type of epilator is not for getting rid of arm or leg hair but it is perfect for smoothing those underarms and bikini lines.
Apart from that, this product can also be used to shape your eyebrows, remove upper lips, and so on. It is quite easy to handle and safe to use as well since it doesn't come in direct contact with the skin. Also, it is small and compact so you can take it with you while traveling as well. It is also waterproof so you can easily use it while showering which will make the whole process easier and quicker.
Also Read : Best Sunscreens in India To Protect Your Skin
Another great thing about this trimmer is that it comes with 7 accessories for proper shaping and hair removal. And it is super easy to change the trimmer attachment as well. Lastly, this product is quite affordable and perfect for quick touch-ups.
So, if you are looking for an effective epilator/trimmer for sensitive parts of your body then Veet Sensitive Touch Expert Electric Trimmer is the best choice for you.
Best Epilator for Painless Hair Removal
Panasonic ES-WU11G Epilator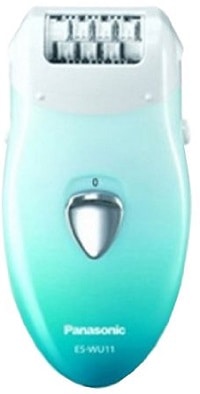 Yet another good corded epilator for daily use is the Panasonic ES-WU11G Epilator. Panasonic is best known for its durability and this epilator from Panasonic is definitely a great way to get rid of the excess body hair.
This epilator is a good choice because it has an improved epilation system with wide and efficient tweezers which make it is easier to use. So, you can cut all that body hair quickly and efficiently whenever you want. One important detail which sets this epilator apart from other products is that it has a rotating disk which moves 30 percent faster. As a result, it can remove the hair quickly while causing less pain.
It also has an ergonomic design which makes this epilator comfortable to use. And since it is a corded epilator, you can use it for a long without having to worry about battery replacement. Overall, this is a good product for efficient use and can get the job done quickly in a painless manner. It is a little expensive but the durability of the product makes it completely worth the high cost.
So, if you are looking for an efficient and fast epilator for yourself then Panasonic ES-WU11G Epilator is the right choice for you.
Cheapest Epilator for Beginners
Kemei KM-280R Rechargeable Shaver Epilators for Women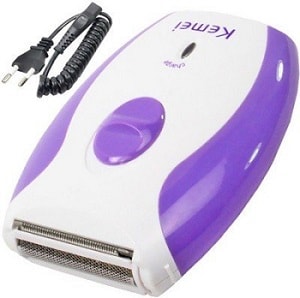 One of the cheapest and most basic epilators in the market, Kemei KM-280R Rechargeable Shaver Epilator is perfect for beginners. If you aren't sure if purchasing an epilator is the right choice for you then you can test the waters with the help of this epilator. This cordless trimmer is small and compact and can easily fit in your bag which makes it travel-friendly as well.
Also Read : 6 Best Hair Conditioner in India
It has a simple yet elegant design which makes this product easy to use as well. It won't give you a smooth finish like other epilators but it is good to trim your hair and keep them neat and clean. One of the major drawbacks of this epilator is that you need to charge it for 8 hours before every use.
Don't think of this product for a long-term investment. It is only for you to understand how using an epilator feels on your skin as it is quite cheap. So, once you understand the working and the results, you can actually invest in a good-quality epilator which will give you a better experience with smoother skin.