If you have been around on our website you must be knowing that we have had a few articles on wireless things. This one here is another installment in the series.
So, the question, why wireless? The answer- Convenience.
And also, it is the future. Now most of the choices that we have made come along with a mouse. But if you want a better mouse, check out our other article on wireless mice.
As this article is about keyboards, all the specs and reviews are only for the keyboards and not the mice.
So, let's start.
Top 10 Best Wireless Keyboards Under Rs. 1000
1 Logitech K230
(🌟🌟🌟🌟🌟)

So, a well-known and trusted brand to start with. Logitech is one of the best brands out there when it comes to computer accessories.
Pros-
Wireless operation range of upto 10m.
128-bit AES encryption helps protect your information by encrypting data transfer between the keyboard and receiver with one of the highest levels of data encryption available.
3 Years Hardware Warranty.
Plug and Use functionality.
Noise-less Keys.
Cons-
Might be a bit small for some people.
Buy Now From : Amazon | Flipkart
---
2 Dell KM117
(🌟🌟🌟🌟🌟)
Another well-known company, Dell. This here is nothing special, just a good quality regular keyboard-mouse combo.
Pros-
Thin and sleek design.
Full size keyboard with nice key layout.
Cons-
Buy Now From : Amazon | Flipkart
---
3 Logitech MK215
(🌟🌟🌟🌟🌟)
Yet another one from Logitech. They are really dominating this space.
Pros-
Has media keys.
2 Year Battery Life.
10m Wireless operation range.
Noise-less Keys.
Cons-
Buy Now From : Amazon | Flipkart
---
4 Lenovo 100 Wireless Combo
(🌟🌟🌟🌟🌟)
Lenovo is a brand you can trust. This is their base offering in this budget. Nothing special. Just a wireless keyboard.
Pros-
Full size keyboard makes it comfortable.
Ergonomic.
Good feedback from keys.
Cons-
Some customers have had issues with CAPS and NUM LOCK.
No clear information on Warranty.
Buy Now From : Amazon | Flipkart
---
5 Zebronics Wireless Combo
The cheaper options from now on provide nothing too much. They are what they say, wireless mouse and keyboard combo.
Pros-
Ergonomic design for better utility and performance & UV coated layout and keys, for better durability.
Power indicator will be on when the battery voltage is too low & Sleep mode for power saving.
Top mounting battery slot for ease of utility and precise mouse with ergonomic and aesthetic design & Plug and play.
Cons-
Buy Now From : Amazon | Flipkart
---
6 Gofreetech GFT-K002/K001
(K001)
7 (K002)
Everything about these two keyboards is the same, except the design and looks. Even the pricing is same.
Pros-
15m Working Range.
Chocolate keycap with Laser carving characters.
104 Keys and 8 Multimedia Keys.
Cons-
Not recommended for hardcore typers.
Buy Now From : Amazon
---
8 Amkette Optimus Wireless Combo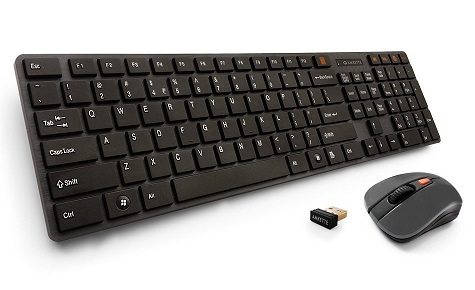 Pros-
Noise-less keys.
Calculator and Multimedia Keys.
3 Years Warranty
Cons-
Buy Now From : Amazon | Flipkart
---
9 Rapoo X1800 Wireless Combo
Pros-
Spill Resistant keyboard.
Comes with media keys.
10-12m Operation Range.
Cons-
Just 1 Year Warranty.
Only 1 Year Battery Life.
A bit over-priced.
Buy Now From : Amazon | Flipkart
---
10 Quantum QHM 9440 Combo

This one here is the cheapest combo of them all.
Pros-
10m Operation Range.
Multimedia Buttons.
Full size keyboard.
Cons-
At a price like this, you can't really complaint.
Buy Now From : Amazon | Flipkart
Please comment below to add suggestions and to tell which keyboard you like most ?
---
Also Read: