A baby swing is a great way to keep your child entertained and secure in a position without having to worry every second for the baby's well being. It can be a lifesaver for most parents as the rhythmic motion of the swing can subdue cranky mood in just a few seconds.
But with so many options, it can become confusing to choose the right baby swing for your home. Also, a swing is not a substitute for human touch so you need to set aside the swing time for your kid. Take a look at the below listed out swings and learn how you can choose the best swing for your baby.
How To Set Baby Swing Up
Most baby swings come with a lot of parts and have to be assembled at home.

Here are a few steps to follow to set up the swing properly:
1) Choose an ideal spot for installing the swing, preferably away from the wall or railing. Make sure there is sufficient space around the swing for your baby to move without getting hurt.
2) Next, you need to find a ceiling joist where you can mount your swing. You can choose to find a joist inside the house or outside, in a tree. But make sure that the joist is strong and will be able to take the weight of the swing with the baby.
3) Once you have found the perfect location and joist support, it is time you assemble the swing and mount it. If you are installing it indoors, you will have to pre-drill the holes and use suitable lag bolts for mounting. And do test it out.
4) After the mount is installed, you can attach the swing. Make sure the ropes or the swing cable are solid.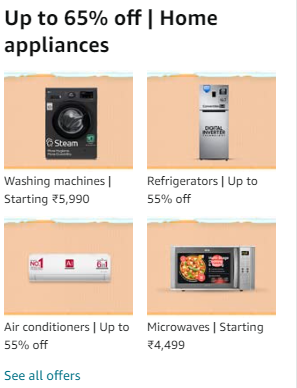 Safety Measures To Take
When you are using a swing, you have to be really careful and follow these safety measures to protect your baby:
Don't leave your baby along on the swing unsupervised.
Make sure the swing is properly set up.
Keep the wing away from a window as your baby could accidentally get caught in the window drapes.
Keep the swing away from electrical cords.
Check the ropes and replace them if they are worn out.
Don't install the swing under a heavy surface that could fall on your baby.
Untie the swing and store them when not in use for long times to increase the lifespan of the swings.
Best Baby Swings in India
1 eHomeKart Swing for Kids
3-in-1 Wave Adjustable Baby Swing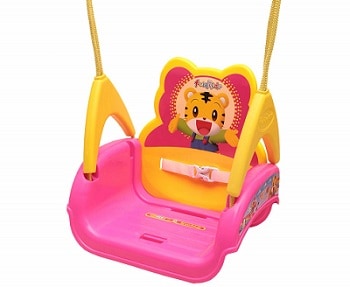 eHomeKart Swing is a great product for kids as it can be used both as a playing swing and a swinging feeding chair. With a sturdy rope, this swing can easily take the weight of your baby while ensuring that your baby stays protected when swinging on it.
The seat has an ergonomic design and is quite comfortable to sit as well and the plastic body of the swing makes it not just lightweight but sturdy too.
Most importantly, this swing comes with a holder and a safety belt and will keep your baby from slipping out. Last, but not the least, the swing has an attractive, colorful design that will make it fun for kids to play with.
Check Cheapest Price : Amazon
---
2 Baybee 3-in-1 Snug Plastic Swing Chair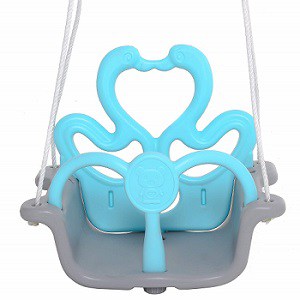 Baybee 3-in-1 Snug Plastic Swing Chair is perfect for different age groups as it has a 3-in-1 design. It can support weight up to 30 kgs and can be detached into 3 different seats. Another great thing about this swing is that it can be used both as an indoor swing and an outdoor swing so you can install it wherever you want.
The front bar included with this swing keeps your baby secure while a specially designed rope buckle prevents the swing from tipping.
The nylon rope is also adjustable so you can change the height of the swing and this detachable swing is quite easy to assemble and install. The seat is also made of plastic that offers durability and longevity and the pricing of the swing is quite affordable too.
---
Also Read:

10 Best Tricycle for Kids in India
3 AKworam™ Cotton Swing for Kids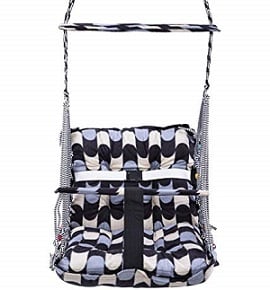 This is yet another great swing that is both affordable and offers a comfortable seat for your baby. Perfect for both indoor and outdoor settings, this baby swing has a two-position reclining back that can be used for both sitting and sleeping.
Secured with a safety belt, the swing comes with all the necessary hanging hardware that is needed to mount the swing in your chosen location.
Made from washable, cotton material, it also has foam padding and cushion covering that makes the seat comfortable for your baby.
---
4 Ashish Baby Swing Indoor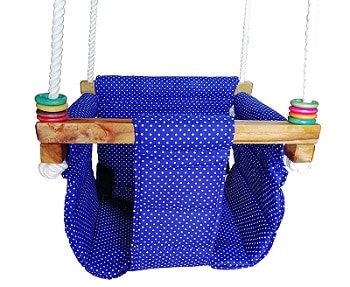 Ashish Baby Swing is another great product made from cotton that makes it more comfortable and fun to play with. This product uses high-quality wood and cotton canvas to offer a secure and durable swing that isn't made of any screws. The swing is ideal for kids between 8 and 36 months and can support weight up to 20 kg.
Lightweight and easy to install, this swing is portable and can be installed both indoors and outdoors. And it comes with an adjustable rope and S hook that ensures the security of your baby and make this swing such a hit among the users.
---
5 WonderKart Panda Baby Swing
With Multiple Age Settings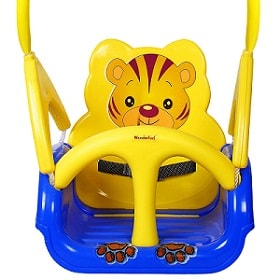 One of the best products in the market, WonderKart Panda Baby Swing can be used by kids of different ages and is available in 4 stages. Stage 1 is perfect for babies that are 9 – 18 months old and includes a front backrest, handlebar, and belt to keep your kid comfortable and secure.
Stage 2 is perfect for kids that are 16 – 26 months and allows you to move the backrest to the back position with similar security features.
In stage 3 (for 3 – 5 years kid), you can use the swing with backrest in the back, and in stage 4 (for kids 4 – 6 years), you can use just the seat for swinging.
This sturdy swing comes with a safety guard to prevent your kid from falling while heavy-duty rope ensures that your child is secure on the swing. And the best thing is that you can use this swing both indoors and outdoors.
So, if you are looking for a versatile swing then this is the perfect choice for you.
Check Cheapest Price : Amazon
---
6 Mothertouch 2-in-1 Swing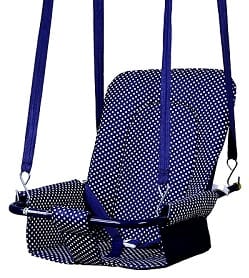 Another great swing for babies is Mothertouch 2-in-1 Swing that is made from premium fabric and is extremely comfortable. This durable baby swing has an attractive and colorful design and is perfect for keeping your baby entertained. The back of the swing can be adjusted in 2 positions so that your baby can sleep or seat, depending on his schedule.
Since the swing offers a back and forth rocking motion, it can act as a lullaby for sleepy children and put them to sleep. You can also seat your baby for a short nap on this swing and don't have to worry about the security as the product comes with a safety swing belt.
Check Cheapest Price : Amazon
---
Also Read:
7 Funride Plastic Musical
3 in 1 Adjustable Swing for Kids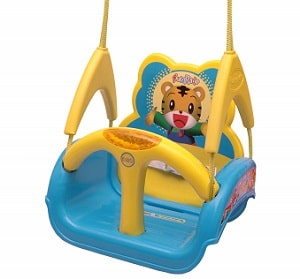 Made up of non-toxic virgin plastic, Funride Swing is non-musical and safe for your kids. This swing can be used for a long time as it features 3 designs that are perfect for kids of different age groups. You can adjust the backrest according to your baby's suitable and can install this swing both inside and outside your house.
The swing rope is 4 feet long and the safety belt on the swing ensures the safety and security of your kids. And the best thing is that this swing is quite easy to install and will provide your kid with a smooth swinging experience.
---
8 Sale Active Cotton Swing Sleepping Jhoola
For Kid's & Baby – 0 to 3 Year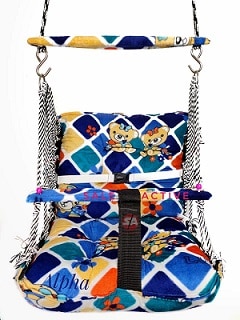 Made from cotton fabric, Sale Active Cotton Swing is safe and comfortable for kids and comes with a backrest to support your baby. With heavy-duty ropes and a wooden safety lock belt for the baby, the swing is safe and durable. It will take just a few minutes to set up this swing both indoors and outdoors and is a perfect gift for your kids.
Perfect for kids between 6 months and 36 months, this swing can be used to entertain your baby or make him fall asleep. Most importantly, the price of this swing is really affordable so if you are on a budget, this is a great choice for you.
---
9 VParents Infant Baby Swing Cradle
with Mosquito net and Spring

This VParents Infant Baby Swing Cradle is the perfect way to keep your newborn baby close to you so that you can tend to the baby's needs at all hours. This swing cradle is inexpensive and is quite stylish too.
It comes with a mosquito net to keep your kid protected from mosquitos so that they can enjoy a goodnight's sleep.
Lightweight and versatile, this bassinet is easy to set up and take down so you can carry it with you wherever you are.
---
Also Read:

Best Baby Bottle Sterilizers in India
10 Goyal's 5-in-1 Baby
Booster Seat Cum Swing with Feeding Tray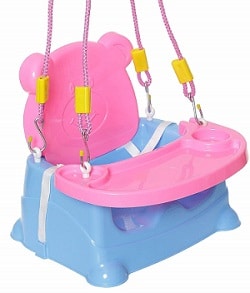 Another cute swing that you can buy for your baby is Goyal's 5-in-1 Baby Booster Seat cum Swing. This product is versatile and can be used in 5 different styles – as a baby swing, car chair, bath seat, on a high seat, and for feeding. The swing features a large food tray, safety belts, and a built-in sipper cup holder so it can be function and fun.
Made out of premium quality plastic, the swing is durable and the folding design makes it easier for you to carry and store this swing.
Things To Consider When Purchasing a Baby Swing
Type of Swing
From basic swing to fully-loaded entertainment centers, you will find a lot of different types of swings available. You can choose a portable travel unit or a full swing-set depending on your use and how much space you have at home.
Battery-Operated or Plug-in Swing: There are several swing models that are battery-operated and will consume a lot of batteries which can be slightly uneconomical. You can opt for a plug-in swing otherwise which is economical but if you aren't careful, the baby might tangle the cord and hurt himself/herself.
Speed and Swing Motion
You will find that generally swings offer a head-to-toe motion but there are a few that offer side-to-side motion which is more soothing to babies. There are a few bouncer hybrid models and newer baby swings that offer an up-and-down motion or a circular motion. So, you can choose a swing whose motion seems more pleasant and calming for your babies.
Also, choose swings with multiple speeds as you can easily choose a speed that suits your baby.
Safety Harness
If you choose a full-sized swing then you will generally a safety harness fixed to the swing to keep your baby protected. Usually, a swing with a 5-point harness that also comes with over-the-shoulder straps is safer than a basic 3-point harness.
Sturdiness
Choose a swing that has a wide, sturdy frame and is close to the ground so that it won't be easy to tip over. This is essential because babies can often lean on a side and accidentally hurt themselves if the swing isn't strong and sturdy.
Comfort
Apart from sturdiness, you also need to check the seats that a swing has. Generally, a baby will feel more comfortable on a cradle-style swing with a reclining seat. Also, ensure that the seat is properly padded so that it is comfortable for your baby to sit.
Easy to Store and Clean
Another important thing to consider is that the swing should be easy to disassemble and store so that you can take it with you on your trips as well. Also, a swing with removable, washable cover will make your life easier when cleaning the swing.
Extra Features
You will find that several swings include extra features such as trays, mobiles, toys, music, and so on. Make sure that the tray in the swing is easy to disassemble so that it isn't a hassle for you to slip your baby in or out of the seat.
Also Read:
Best Convertible Baby Car Seats