Do you sterilize the feeding bottles of your baby regularly? If 'No' is the answer, then you are in trouble. It should be a daily routine for you to clean and sterilize the products that your baby uses. Otherwise, your baby might be at risk of getting affected by harmful germs. Yes, you can wash the bottles from time to time. But it is time-consuming and not suitable for busy parents.
And, that's where the baby bottle sterilizers come into the play. With the help of this piece of useful device, you can sterilize your baby's bottles and other accessories within minutes.
So, it is a must-have product if you are concerned about your baby's health. In this article, we have compiled a list of the best baby bottle sterilizes in India. And, we will share all the information about those sterilizers so that you can choose the best one for you easily.
So, are you up for it?
Reviews of the best baby bottle sterilizers in India:
The Top Pick : Philips Avent 3-in-1 Baby Bottle Sterilizer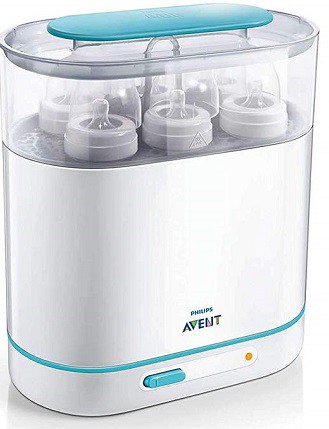 Philips Avent has a myriad of baby products in their collection. Most of these products are so high quality that people seem to like their products.
Matter of fact, it would be okay to say that they are one of the companies which are dominating the baby or toddler product manufacturing industry. So, if you are looking for a bottle sterilizer from Philips Avent, then you can try their 3 in 1 steam sterilizer. This is one of the most popular baby products in India at this point.
But why? Actually, there are few valid reasons for the popularity of this bottle sterilizer from Philips. First off, it is because of the reputation of the company itself. I mean, you would always want to get a new product from a renowned brand, wouldn't you? The other reason is the features it comes with.
It is one of the most feature-rich bottle sterilizers in the Indian market available right now. This is a 3 in 1 sterilizer. That means, the size of this unit can be customized between small, medium, and large.
With the small size, you can sterilize soothers. For sterilizing breast pumps, the medium size is suitable. And, the large size is recommended for sterilizing 6 bottles at the same time. It is perfect for either a wide or narrow neck bottle.
Also Read:
The design is very minimalistic and it is easy to use. First, put the bottles or accessories on it. Then add the water, and press the switch to start the sterilizing process. That means you can also sterilize accessories other than bottles with this one.
Key Features:
It consumes only 650 watts
It comes with a 6-minute timer. That means, it will automatically turn off after 6 minutes
It is only about 1.5 kgs, so it is perfectly portable
You can sterilize up to 6 bottles at once
It is made of BPA free materials
Pros:
It uses steam sterilization process which can kill 99.99% of germs
Easy to use and doesn't take too much space
Can keep bottles sterile for up to 24 hours
It is easy to clean due to the open design
Cons:
---
The Budget Pick — R for Rabbit Peter Electric Baby Bottle 2 in 1 Steam Sterilizer: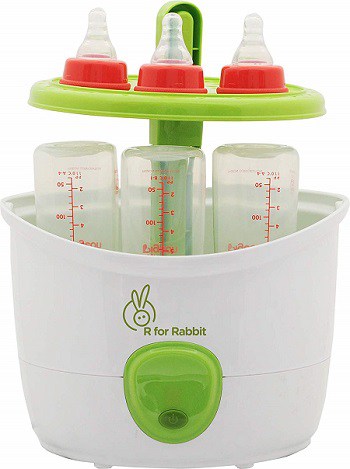 For budget-friendly baby products, R for Rabbit is one of the best in India. While we were researching the bottle sterilizer in the Indian market, we have found tons of cheap and affordable options. But most of them were of low quality.
But, this steam sterilizer from R for Rabbit has a reasonable price with some useful features.
That is why we have included this as the Budget Pick model in today's review. It is very compact and lightweight. You can even toss it in your bag if you're traveling. All the materials used to build this steam sterilizer are free from harmful chemicals.
Also, it comes with a rust-free stainless steel heating plate. You can also sterilize any other accessories with this one as well.
This model has a great design. It comes with only one switch to make the process of operating it as easier as possible. So, you can check this sterilizer out, if you are looking for an affordable and easy to use steam sterilizer.
Key Features:
Comes with a 9-minute auto shutdown timer
You can sterilize 6 bottles at once
It weighs about 1.7 kg which makes it highly portable
It uses steam sterilization which kills 99.99% of the germs
Comes with a shutdown timer display
Pros:
Very affordable price
It is made of BPA free materials
Comes with Energy Saving function
Cons:
The build quality could be better
---
A Great Option—Trumom Electric Steam Sterilizer and Baby Food Steamer: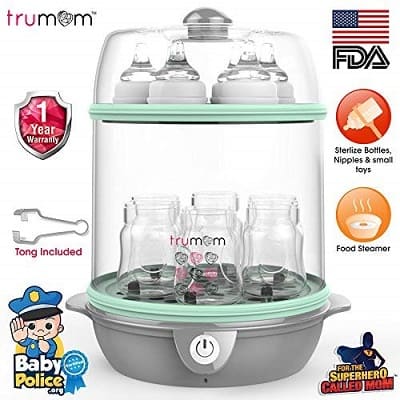 Usually, it is hard to find the original USA made bottle sterilizers in India. But TruMom has made it possible for us.
For instance, you can easily get the TruMom Electric Steam Sterilizer from them which is a USA based company. Not only that, but you will also get a 1-year official warranty with this product in India. On top of these, the price of this one is not that high compared to some other top products.
Also Read:

10 Best Convertible Baby Car Seats
The build quality of this sterilizer is solid. But there is another thing which caught our attention. All of the parts of this product can be disassembled with ease.
That way, you can disassemble it whenever you don't need to use it or if you need to travel and need to take it with you. That way, it will take less space than usual.
Also, it is easy to maintain and take care of this due to the ergonomic design. You can directly wash it with water and vinegar without damaging the unit. It can resist heat up to 110 degree Celsius. So, overheating won't be a problem as well. Overall, we can recommend this to our reader if you are looking for a great sterilizer from a top brand.
Key Features:
It is made of 100% food-grade silicone which is totally safe for your baby
It takes only 9 minutes to sterilize
You can sterilize up to 6 bottles simultaneously
It can be used as a food steamer as well
It is only about 620 gm.
Pros:
You can sterilize small toys, cutleries, spoons, etc. as well
It is easy to assemble and vice-versa which will come in handy while you are traveling
Comes with an intelligent microcomputer controller
Cons:
The heating coil might need to be cleaned frequently
---
The Best Alternatives You Can Get:
Till now, we have included 3 of the best bottle sterilizers in our list. But are there any great alternatives? Actually, there are a few ones available. And in this section, we will introduce you to them. So, let's go…
Avent Philips Microwave Steam Sterilizer: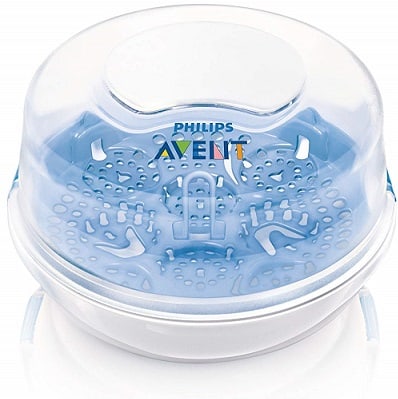 The first alternative best baby bottle sterilizer is from Philips Avent. This is a microwave steam sterilizer. That means you will be able to put it on your microwave to perform the sterilization. As a result, it can speed up the sterilization process by a lot. In fact, it needs only 2 minutes to complete a cycle of sterilization.
So, if you are in need of a fast sterilizer then it is a great option for you. Philips guarantees that their technology can kill 99.99% of the germs. This is a small unit due to that it fits most of the microwaves. Also, it is very easy to carry it with you as this doesn't take up much space. But that doesn't mean that it doesn't have a sturdy build quality. Rather, it is a solidly built sterilizer.
Also Read :
It can keep the accessories sterile for up to 24 hours if the lid is unopened. The unit comes with heat resistant side grips. Using those you can close the lid securely so that warm water doesn't spill while you are moving it in/out of the microwave. Also, as the grips are heat resistant, you can easily carry it without burning your hands.
Key Features:
It can sterilize bottles within just 2 minutes
It is lightweight and portable; the weight is about 750 gms
It has a water capacity of 200 ml
It can hold up to 4 bottles and also can hold up to 2 breast pumps of Philips
Comes with 3 timer settings which are 2 min (needs 1100 to 1850 watts), 4 min(needs 850 to 1000 watts), and 6 min ((needs 500 to 800 watts))
Pros:
It is highly portable
It is made with BPA free materials
Comes with side grips which can be used to close the lid securely
Cons:
It would be better if it could accommodate more than 4 bottles at once
---
Philips Avent Avent 2-in-1 Electric Steam Sterilizer: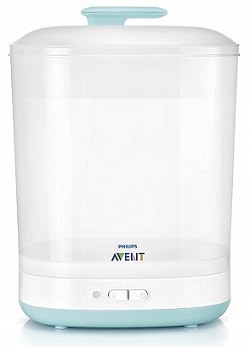 Wait, what? Another baby bottle sterilizer from Philips Avent? Yes, you are correct. Philips has so many premium quality products that it is pretty tough to leave them out. Because of that, we are talking about the Philips 2 in 1 electric steam sterilizer now. It is one of the most efficient and cleverly designed sterilizers as of yet.
Also Read:

10 Best Convertible Baby Car Seats
As it comes from a big brand, you can rely on it without any second thoughts. However, this is also another reason for this sterilizer to be expensive. We have to admit that it is a bit pricey compared to many other electric steam sterilizers available in India.
But in terms of quality, looks, portability, and the features, you can't go wrong picking this sterilizer for you. Consequently, it is the no 1 best seller product in the 'Warmers and Sterilizers' category in Amazon India.
It is a 2 in 1 steam sterilizer. That means you can sterilize baby bottles as well as other accessories like soothers, breast pumps and so on. The lid of this unit is designed cleverly.
After sterilizing, you can stand the bottles and accessories on the lid. This baby bottle sterilizer is compatible with both standard and wide neck bottles. It is actually pretty compact so that it won't take a lot of space on the counter. Also, this slim design makes it highly portable.
Key Features:
It will automatically shut down after 6 minutes
It can accommodate 5 Philips Avent bottles at the same time
It weighs about 1 kg
It comes with an emergency OFF button
It can keep the products sterilized for up to 24 hours if the lid is unopened
Pros:
It is very easy to clean due to the Philips open design
It is made with 100% BPA free materials
It is beginner-friendly
Comes with natural steam sterilization process which kills 99% germs without using any harmful chemicals
Cons:
---
Wrapping it up:
When you are looking for a baby bottle sterilizer, you need to consider a lot of factors. And, it gets daunting to research and find the best of the best sterilizer from all these options.
On account of that, we have written this post including only 5 of the best sterilizers available in India. So that it gets easier for you to decide and purchase the best one for you. And, in the meantime, you can focus on the thing that matters to you the most — taking care of your baby.
So, which one is your favorite baby bottle sterilizer from this list? Do let us know in the comments! We would love to know.
---
Also Read :