Are You Searching For The Best Hair Shampoo in India ?
Search No More!!
Did you know that your hair determines how confident and comfortable you are? Yes, that's right. A lot of us have good hair days and bad hair days and this determines how the rest of our day is going to be.
On a good hair day, we feel that we can conquer the world. But on a bad hair day, it feels like the world is against us as everything goes wrong around us. Honestly, we don't even realize it but our hair play a major role in our mood and psyche. This is why it is important that we take proper care of it and use the right ingredients to keep it strong and healthy.

And one of the most important tool to take care of your hair is a good hair shampoo. Currently, we have so many shampoo brands like Sunsilk, Biotique, Pantene, etc. to choose from. But not all shampoos are suited for your hair type.
This is why we have prepared this guide to help you choose the right hair shampoo for your hair. By the end of this article, you will know what to look for in a good shampoo and will be easily able to choose he best product for your hair.
---
Best Shampoo for Damaged Hair
1. L'Oreal Paris Total Repair 5 Shampoo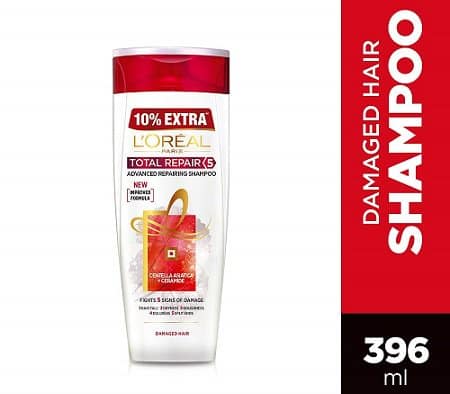 If you are one of those people who make your hair jump through hoops to look good and have damaged it in the process (like me), then you need something really effective. And thankfully, L'Oreal Paris Total Repair 5 Shampoo will provide you just that. This shampoo will not only help you revive your hair from color and styling damage but will also make your hair moisturized and healthy again.
This all-in-one shampoo is well-suited for all kinds of hair and fights against the 5 signs of damaged hair, I.e. hair fall, dullness, dryness, split ends and roughness. The ceramide-cement enriched formula used in this shampoo helps in repairing your limp, weak hair and makes it strong and shiny again. You can also use it daily because it won't dry out your scalp. And its regular use will make your hair supple, smooth, and shiny and will also form protective layering on your hair tips.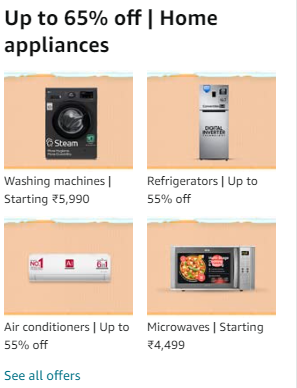 And since this shampoo had a pleasant smell, you would definitely love using it. The only drawback of this shampoo is that it contains SLS which can be irritating if you have a cracked scalp. Also, it is slightly expensive than other shampoos in the market. But if you are looking for the best product for your damaged hair then this is definitely the right choice.
---
Best Hydrating Shampoo for Dry Hair
2. Herbal Essences Hello Hydration Shampoo

Are you tired of your dry, unmanageable hair? If yes, then it is time you check out Herbal Essences Hello Hydration Shampoo which will make taking care of your hair infinitely easier. A miracle worker for dry, frizzy hair, this shampoo will tame down your unruly hair and will make them look smooth and shiny again. It moisturizes and nourishes your hair perfectly and gives off a floral smell which will make you fall in love with your hair again.
This shampoo is slightly expensive but it includes extracts from orchid plant, Hawaiian coconut, etc. which helps in making our hair shiny and soft. Also, you just need to use a small amount of shampoo everytime which helps in making this bottle last longer and makes it not so expensive in the end.
Trust me, once you start using this shampoo, you will see the results in just a couple of washes. Your dry, dull hair will suddenly look healthy and strong again and will become easily manageable.
---
Best Herbal Shampoo for Hair
3. Biotique Bio Kelp Fresh Growth Protein Shampoo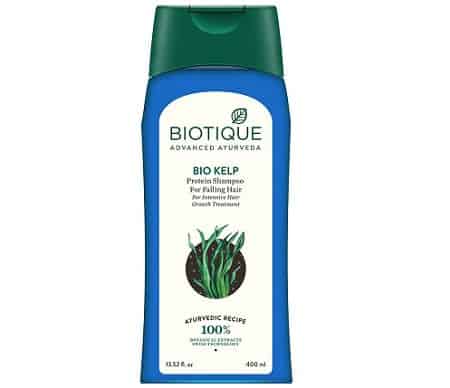 If you are tired of using shampoo a with chemical ingredients which just further damage your hair then Biotique shampoos are the best choice for you. I personally love this shampoo and often use it when I feel my hair need a break from all the chemicals.
Boutique Bio Kelp Fresh Growth Protein Shampoo is a good, natural shampoo which includes ingredients like kelp, peppermint oil, mint leaf extracts, and so on. As a result, it doesn't damage your hair and is actually more nourishing than other products.
Perfect for all kinds of hair, this shampoo gently cleanses your hair and helps in intensive hair growth. It revitalizes your scalp which makes it ready for fresh growth again and strengthens your hair strands. It also makes your hair shine and soft and gives off a pleasant smell at the same time.
Plus, it is not even expensive and is easily available in most stores and e-commerce websites so you can restock it as and when you need it. So, if you are looking for a more hebal shampoo with natural ingredients then Biotique shampoo is a really good choice for you.
---
Best Moisturizing Shampoo for Frizzy Hair
4. Garnier Ultra Blends Shampoo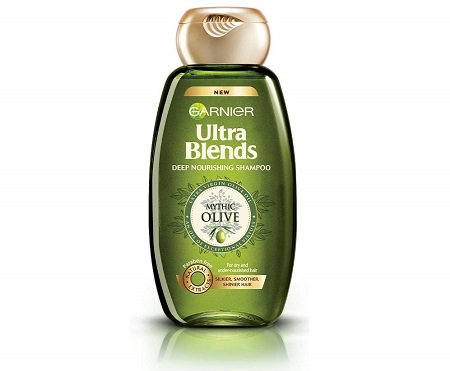 Blended with virgin oil, the Garnier Ultra Blends Shampoo is a nourishing shampoo which will provide proper proteins to your hair to repair it from within. It contains both virgin oil and Vitamin E which helps in nourishing your dry, rough hair and help in reducing the hair fall.
The Mediterranean olive oil used in this shampoo is full of antioxidants which helps in making your hair shiny and smooth.
As a result, your frizzy hair start looking healthy and shiny again and become easier to manage. According to many users, it makes your hair soft and shiny from the first wash itself.
Also, it is paraben-free so it is quite safe to use and won't damage your hair like a few other shampoos. The only drawback is that it can weigh down your hair due to the olive oil extracts. But if you don't have a oily scalp then that is nothing to worry about really.
And its travel-friendly packaging and reasonable pricing makes it a popular product among women.
---
Best Shampoo for Oily Scalp
5. L'Oreal Extraordinary Clay Shampoo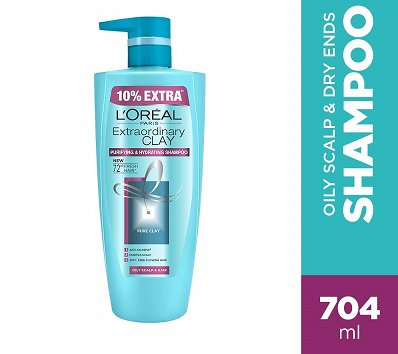 For people who suffer from oily hair, L'Oreal Extraordinary Clay Shampoo is the product that you are looking for. It contains a hydrating and purifying formula which will leave your hair fresh for the next 72 hours. And since it contains 3 types of refined clays, it helps in making your hair not only clean but balanced as well.
The clay used in this shampoo helps in purifying and hydrating your hair and takes care of your oily roots and dry strands. As a result, you feel that your hair and scalp is clean and fresh even 3 days after the wash. This shampoo gets rid of excess oil and any kind of impurities. It also properly hydrates your hair and makes your hair smooth, soft, and bouncy again. So, after every use you will find that your hair are free flowing and not weighed down by the oils anymore.
The only drawback of this shampoo is that it is slightly expensive. But it works quite effectively so it is definitely worth the investment.
---
Best Shampoo for all Hair Types
6. Halo Nourishing Shampoo + Conditioner

One of my favorite shampoos to use is the Halo Nourishing Shampoo because it is not only effective but reasonably priced as well. This product provides proper nourishment to your hair and also makes it look smooth and shiny. It includes egg and protein so it also helps in stopping your hair fall and makes your hair with strong.
The egg extracts in this shampoo also treats dandruff in your scalp and protects your hair from dust damage. And the Vitamin E present in the egg extracts helps in the hair growth making this the ultimate shampoo for strengthening and growing your hair. But unlike most other shampoos which include a natural ingredient, this shampoo smells amazing as well. That's right, you don't have to worry about your hair smelling like eggs.
Finally, it comes in a portable bottle so it is perfect for travel journeys as well. And since it is cheap, it won't create a huge dent in your pocket. So, if you are looking for a good and nourishing shampoo for normal hair then this is the perfect choice for you.
How to Choose a Good Shampoo for Hair
Here is a list of things that you should keep in mind when you are looking for a good hair shampoo.
What type of Hair do you have?
The first thing that you need to understand is the hair type that you own. Do you have a dry scalp or an oily scalp? This is extremely important because this will decide what kind of shampoo you are looking for.
If you have dry hair then you would need a hydrating and moisturizing shampoo. This shampoo should be rich in essential oils like avocado, coconut, argan, etc. This way, your hair will get the proper nourishment and will stay moisturized and hydrated the entire day.
As for oily hair, you will need to look for a shampoo with less moisture. Also, avoid going for shampoos with oil as it will just irritate your scalp and will result in dandruff.
Finally, if you have normal hair then you can choose a mild shampoo. This will keep your hair clean and healthy without too much effort.
Are your hair frizzy or curly?
Another thing that you need to understand is if your hair curly, frizzy or normal. If you have frizzy it curly hair then you would need a shampoo which has conditioning properties as well.
Your shampoo should be able to clean your hair and it should provide moisture and smoothness to it as well.
Is your hair chemically treated?
If your hair have been colored, straightened, etc., then you need to take special care while selecting a shampoo. Often these chemicals can damage the hair strands so you need a moisturizing shampoo formula.
Look for shampoos with dimethicone or cyclomethicone as it can make your brittle hair shine and look healthy. Also, make sure that your shampoo has a built-in conditioner as well. This will help in smoothing of your hair and will make it more manageable.
If your hair breaks too easily due to the damage then you can also choose a strengthening shampoo. This shampoo will offer adequate proteins to your hair and will make it strong and healthy.
What is your hair volume?
One more important thing to look at before choosing a shampoo is the volume of your hair. A lot of us are gifted with thick and shiny hair but others are not as lucky. In such a case, the choice of your shampoo can play a huge role in making your hair look appealing.
If you have thin hair then you need a shampoo with proper cleansing agent. This is because thin hair tend to fall down due to the weight of oil and dirt. You can also go for voluminizing shampoos which will make your hair look lustrous and healthy.
On the other hand, if you have thick hair, then it is likely that your hair will get dirty quickly. So, make sure you choose a shampoo which has both cleansing and conditioning agent. This way, you can wash your hair frequently and get rid of the oil and dirt while keeping it properly conditioned and hydrated.
Choose Shampoos with Natural ingredients
Finally, there are many good shampoos out there with both natural and chemical ingredients.
However, if you wish to protect your hair then stay away from products containing high quantity of sulfates, silicones, alcohol, etc. This is because these kind of shampoos strip away the natural oil from your hair and make them limp and brittle in the long run.
Choose shampoos with herbal ingredients like aloe vera, jojoba oil, soy protein, etc. These ingredients won't harm your hair and will actually prove proper nourishment to it, making it look healthy and shiny.
We believe this comprehensive guide will help you to find the perfect match for you according to your demands.
Lastly, if you have any queries, don't forget to let us know in the comments!