Picking up the best and perfect sanitary pad for you shouldn't be complicated. Because there are plenty of sanitary pad brands available in India. But that might also be a critical issue. For some of us, it might get tough to decide and pick the most suitable sanitary pads. And, we know that shouldn't be the case at all.
As a result, we have assembled a list of the top 10 best sanitary pads and brands in India.
And, we are going to share a brief yet detailed review of each of these sanitary pads in this post. By the time you have read the entire post, you will be able to choose the best fit for you with ease.
Best Sanitary Pads and Brands in India
So, without wasting more of our time, let's just dive right in…
1. Whisper Ultra Soft Sanitary Pads (XL)
Ultra Soft and Value For Money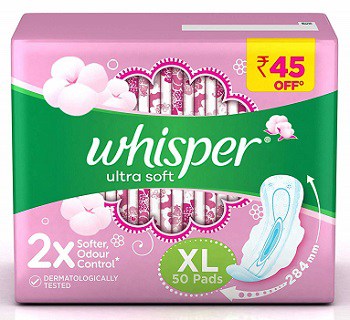 Whisper might be the most popular sanitary brand in India. They are known for offering premium quality pads for a reasonable price.
This brand has plenty of various types of pads in terms of size, features, and quality. But, among them, the whisper ultra-soft pads are on the top of the popularity.
Here, we are talking about the XL size. This particular pack contains 50 pads. Whereas you can also get packs of 110, 15, 30, 7, 51, and 95 pieces.
Also Read : Best Hand Creams in India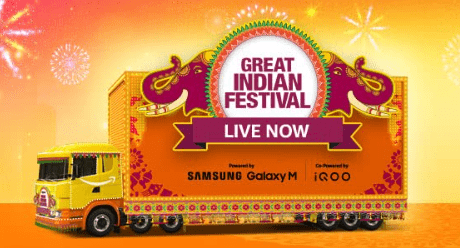 It has a soft sheet on the top which makes it gentle on the skin. And, it does not leave any rash on the skin.
The price is not that high as well. If you are an avid 'whisper' user, you can try this one.
Notable Features:
It is the extra-large size for better coverage
A fragrant cotton cover pad
Absorption power up to 5 hours
20% longer than usual pads, 284 mm in length
Comes with soft pores to lock away liquid and bad odor fast
Check Cheapest Price : Amazon
---
2. Stayfree All Night XL Sanitary Napkins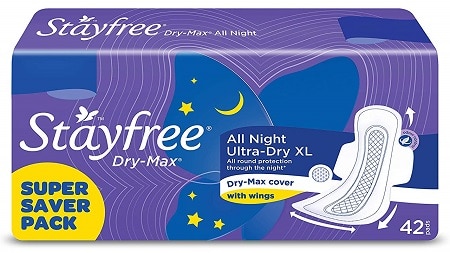 Stayfree is also considered as one of the top sanitary brands in India. This model is the 'Dry-Max All Night'.
Each pack contains 42 pads. It is a pad with stretchable wings. So, it will not leave any marks on your skin. As it is the XL size, it has better coverage than smaller ones.
Also Read : 7 Best Hair Serum in India
It comes with a fragrant of natural plant extracts. So, it will keep the bad odor away.
And, it has up to 100% protection against any spillage or leakage. Overall, for the regular users of Stayfree, you can check this one out.
Notable Features:
It is extra-large and wide
Comes with Dry Max cover which gives extra coverage on heavy flows and night flows
It has super lock pockets which ensures zero leakage
Comes with an odor control system
The Dry-Max Cover gives the best moist free feel
---
3. Airiz Active Oxygen & Negative Ion Soft-Cotton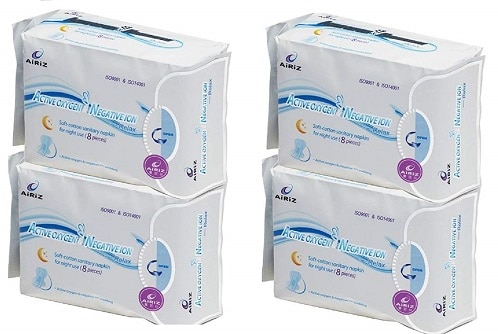 If you have a high budget or want to try a new brand, you can go with Airiz. Each pack contains 8 sanitary pads. You can buy 4 packs at once for a good discount.
These pads come with air breathability technology, which makes it comfortable to wear.
Also Read : Best Hair Straighteners to Buy in India
Added to this, they also implemented a leakage-proof system based upon magic gel technology.
It ensures that there is no leakage. And, it has an odor removing the feature as well. This pads are antibacterial, anti-allergic, and doesn't create skin irritation.
Notable Features:
Keeps you fresh and bad odor free
The pads are very absorbent but ultra-thin
The size of the pads are 280 mm
It's anti-bacterial and rash, itching free
It is a soft cotton pad
---
4. Sofy Antibecteria Overnight Sanitary Pad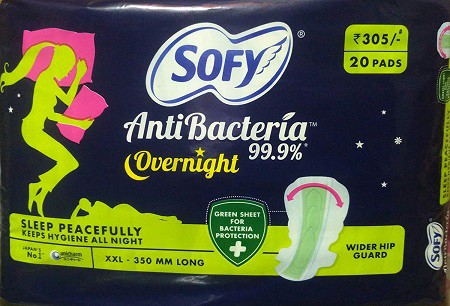 Sofy has been in the feminine hygiene industry for a long time. So, you can rely on the quality of their product. All of their pads are soft and hypoallergenic.
This particular model is better known for its anti-bacterial features. It can kill up to 99.9% of the bacteria overnight.
Also Read : 10 Best Electric Toothbrush in India
It also has natural perfume to tackle the bad odor. The size of this pad is XXL. So, it has better coverage than any other pads in the market.
You will get 20 pads on each pack. If you want more coverage and anti-bacterial sanitary pads, you can go with Sofy.
Notable Features:
Has a wider hip guard for more coverage on heavy flow nights
The length of the pads is 350 mm
Gives 99.9 percent protection from bacteria
It is a cotton-based pad
Comes with the double absorbent core
---
5. Makeasy Premium XL Sanitary Pads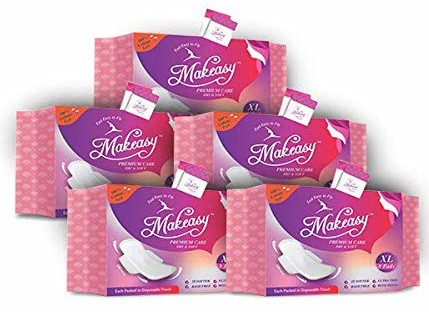 This one comes from Make Easy. Each individual pack contains 8 pads. And, you can get a combo of 5 packs for a great price.
All these pads come with an extra disposable pouch.
The top sheet is made with sterilized air-laid paper. It has breathable technology. This one comes in XL size.
Also Read : Best Hair Curling Irons in India
There are no side effects of these pads. Rather, you can feel comfortable all day long for its soft cotton material.
So, no need to worry about rashes. You also can use it at night for its extra-long size. All in all, it is a great product.
Notable Features:
It comes with longer wings for extra coverage
It is 40 percent longer than usual pads
The gel lock technology will give you 100 percent leakage protection
Comes with 100 percent cotton and you will stay comfortable
It ensures odor-free fresh day and night
---
6. Niine Sanitary Pad XL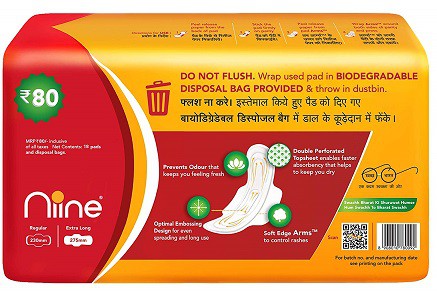 If you want the best value for your money, then this might be the best option for you. This one comes from Niine.
It comes in an extra-large size which is about 45 mm larger than usual pads in length. So, it will give you far better coverage.
The top sheet has dry lock technology. So, there will be no leakage and it will absorb the liquid up to 100%.
Also Read : 6 Best Hair Conditioner in India
Every pack comes with 18 sanitary pads. It comes with soft edge arms and with an optimal embossing design.
That ensures that you will be free from any type of skin irritation. It has a very low price but great quality. So, you can give this one a try.
Notable Features:
The length of the pads are 275 mm
This extra-large pad gives you extra coverage
Comes with free biodegradable disposal bags
Comes with the double perforated top sheet for absorbance
One pad lasts up to 8 to 10 hour
---
7. Bella Maxi Softi Wings Classic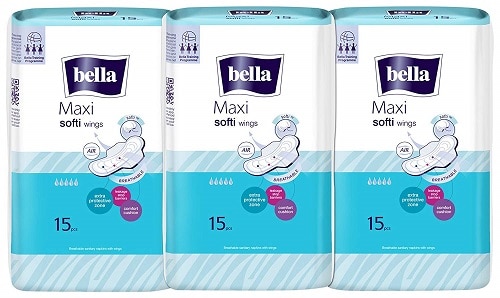 If you want another budget-friendly solution, then the Bella maxi soft wings can be a top pick.
The innovative top sheet makes you feel fresh and comfortable. It comes with an extended back part which ensures additional security during the night.
Also Read : Best Facewash For Oily, Acne, Sensitive & Dry Skin
The top sheet is very delicate and comes with breathable technology. That means, there will be no skin rashes.
There are different types of pads from Bella. But this particular model comes in a combo of 3 packs. And, each pack contains 15 pads.
Notable Features:
It is very comfortable and breathable
Comes with leakage stop barriers
Comes with the non-woven top sheet
Has an extra protective zone
The length of this pad is 280 mm
---
8. Whisper Ultra Sanitary Pads XL Plus Wings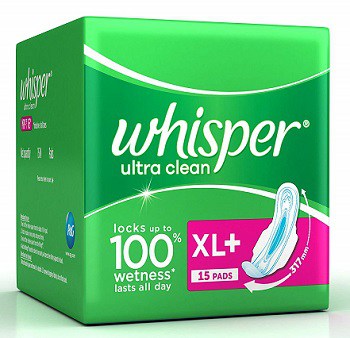 If you need longer sanitary pads, then the whisper ultra XL Plus (+) sanitary pad will be the best choice for you.
The XL Plus size is about 40 percent longer than usual pads. So, you can be worry-free about any type of accidental leakage.
Added to that, this is also more absorbent than normal pads. As a result, it can lock up to 100% of the wetness.
Also Read : 10 Best Sunscreen Lotion in India
It also comes with thousands of suction holes on the top sheet. So, it will get dry very fast.
The dry-weave material provides a soft and comfortable feeling while you are using this sanitary pad.
It is an ideal choice against the heavy flow. One pack of these pads contain 15 sanitary pads.
And, the price is also reasonable. So, if you are in need of a larger size pad, this one from Whisper might come in handy.
Notable Features:
The length of this pad is 317 mm
Can absorb 5 times more than ordinary pads
Its comes extra-large size will give you leakage-free good night sleep
It is hypoallergenic and moist free
Comes with a pleasant scent which protects you from bad odor
---
9. Sirona Biodegradable Super Soft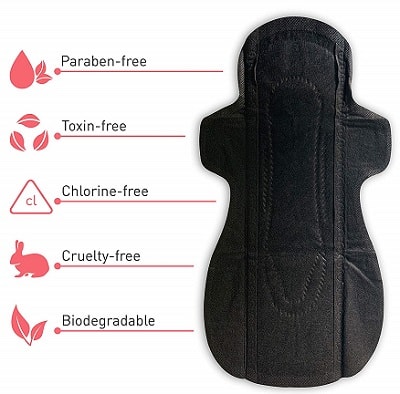 If you want biodegradable sanitary napkins, then you will love these pads from Sirona. These are made from natural resources like sugarcane, corn, cassava, etc.
So, these are 100% eco-friendly. You will be glad to know that these pads area also cruelty-free, toxin-free, paraben-free and so on.
Also Read : Best Sunscreens in India To Protect Your Skin
You will get them in black color. This is a unique take from Sirona. However, the quality of these Sirona biodegradable sanitary pads is great.
And, these have a long-lasting effect as well. It comes in a pack of 10. In that regard, these are a bit pricey.
Notable Features:
The size of these pads is 290 mm
It is super absorbent and biodegradable
Anti-bacterial and rash free
Made from natural resources
Odor and leak proof
---
10. Sirona Reusable Menstrual Cup for Women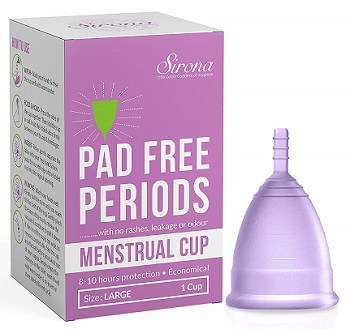 This is the second product from Sirona on our review. However, this is a completely different product than usual sanitary pads.
It is a menstrual cup. It is made with medical-grade silicone.
So, it is totally safe for your body. It is toxin-free, hypoallergenic, and odorless. This menstrual cup is leak-proof.
Also Read : Best Face Masks Available in India
It comes in different sizes. However, the model we are talking about has L size.
Each pack contains only one cup. But as it is a reusable product, it will last longer than any usual pads or tampons.
You can carry on all sorts of daily activities while using it. This has no side effects at all. Yet, if you are new to this, you might feel some discomfort at first. After a few days, it will feel normal.
Notable Features:
Suitable for all ages of women
It is also comfortable, rash free and odor proof
The cup can contain up to 15 ml of liquid
It lasts up to 10 hours without leakage
With good care, this cup can be lasted for up to 15 years
Final Thoughts:
You have found a lot of information about some of the best sanitary pads and brands in India.
We have done our research and shared the information with you. However, the ultimate decision is up to you.
We would recommend choosing a pad that suits your requirements like size, absorption power, softness, and so on.
Also, you will have to take your comfort and hygiene into account to make the final decision. We hope this post will help you to make the process easier to choose the best sanitary pad for yourself.
If you have any queries or opinions, you can leave them in the comments!