Recently updated on December 5th, 2023 at 02:14 pm
Following a daily skincare regime is important if you wish to keep your skin healthy and young. This is why skin experts often tell us not to use soaps on our faces and advice to use face washes and masks instead to keep it clean and healthy.
However, choosing a good and suitable face mask for your skin is easier said than done. With so many options and DIY tutorials available, it can become really hard to find a good, natural face mask for yourself.
And remember, not any face mask will work for your skin too. You will need to choose a face mask that solves your skin troubles and is compatible with your skin type which can make the entire choosing process even more difficult.
Also Read : 10 Best Anti Pollution Face Masks
So, in this article, I have explained how to choose the best face mask for yourself and listed down a few of the top products for you to consider.
Table Of Contents
Best Sheet Face Mask
1. The Face Shop Unisex Glowing Mask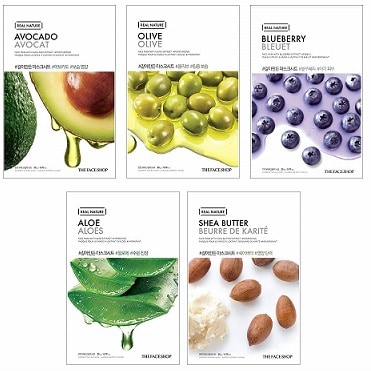 Recently, Korean sheet face masks have become quite popular as they are easy to use and really effective. And so, one of the best face masks to consider for daily use is The Face Shop Unisex Glowing Mask. What I love the most about this mask is that it is easy to apply and can leave you with a radiant and illuminated skin quite easily.
Another great thing is that it comes in different varieties, so you can easily get the one that suits your skin needs. So, you can buy different sheet mask varieties and use them depending on what your skin needs in a day. There are options like lemon, aloe vera, green tea, avocado, olive, shea butter, and so on.
As a result, this is a versatile face mask and can easily turn your dull and oily skin into bright and smooth again. The only drawback is that it is slightly expensive. But if you are looking for the best face mask for your skin issues then The Face Shop Glowing Mask is the best you will get in the market.
---
Also Read : Best Sunscreens in India To Protect Your Skin
Best Peel-Off Face Mask
2. Urbangabru Charcoal Peel-Off Mask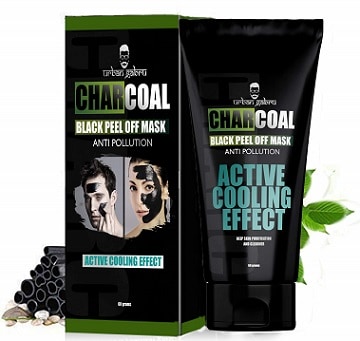 If you are looking for a quick peel-off face mask to restore your skin's lusciousness then Urbangabru Charcoal Peel-Off Mask is the right product for you. This peel-off mask is not only easily affordable but is great for deep cleansing as well. As a result, you get glowing and clear skin after every use.
One of my favorite things about this peel-off mask is that it also clears up blackheads on your skin and cleans your skin pores. Apart from getting rid of the blackheads, it also removes dead skin which makes your skin glow. And since this peel-off mask is made up of natural ingredients, it is safe to use as well.
Perfect for all skin types, this peel-off mask also tightens your pores which makes your skin look great. And since it cools the skin while getting rid of the blackheads and impurities, it turns your skin silky and smooth. Trust me, this is the best peel-off mask and quite effective as well at such a great price! So, if you really care about your skin and want a proven face mask then this Charcoal Peel Off Mask is perfect for you.
---
Best Cream Face Mask for Combination Skin
3. Plum Green Tea Clear Face Mask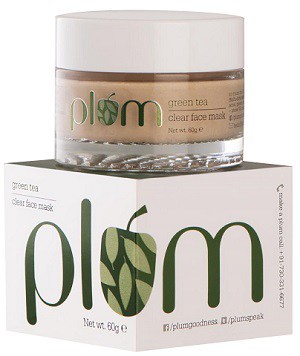 Let's face it, finding the perfect face mask for an oily or combination skin is not easy. This is why Plum Green Tea Clear Face Mask is my favorite. It not only works perfect for oily skin but it also good to combination skin! This face mask has been specifically made for people with oily, acne-prone skin. As a result, this cream mask doesn't just clear the acne on your skin but prevents it as well while being extremely gentle on your skin.
Another great thing about this face mask is that it has a nice fragrance so your skin will smell good after use as well. And it is extremely easy to apply as it spreads on the skin easily. Plus, after every use, you will find your skin smooth and devoid of any oil or impurities. So, apart from controlling the oil, it gives your skin an instant glow and clarity as well.
It is perfect for all skin types as well and is safe to use as there are no parabens in it. So, if you are looking for a good face mask which is affordable and safe to use then Plum Green Tea Clear Face Mask is the right product for you.
---
Best Clay Face Mask
4. L'Oreal Paris Pure Clay Mask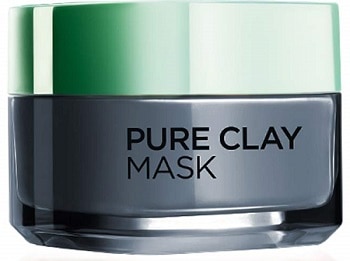 LÓreal is one of the top skin products company and so, it is no surprise that they also have manufactured a top-notch face mask for their customers. What I particularly love about the LÓreal Paris Pure Clay mask is that it completely transforms your face after every use. So, you have an instantly brightened and refreshed skin from a dull and tired-looking one.
This amazing clay mask from LÓreal consists of charcoal which detoxifies your skin and brightens it up in just 10 minutes. And applying this mask feels amazing as well! So, you get an amazing experience while your pores are being deep cleaned and all the dirt, oil, and impurities are being removed from the skin. This cream-based face mask also doesn't dry out your skin and will leave your skin fresh, clean, and supple every time.
So, if you are tired of dull and oily skin then LÓreal Paris Pure Clay Mask is the best way to get that radiant skin. It uses 3 types of pure clays and red algae which help in the detoxification process and brighten up your skin tone as well.
Honestly, LÓreal knows exactly what their customer wants and it delivers every time. So, if you want your skin to look radiant and velvety then start using LÓreal Paris Pure Clay Mask now!
---
Also Read : Best Hair Straighteners to Buy in India
Best Gel Face Mask
5. Greenberry Organics Daily Detox Charcoal Gel Mask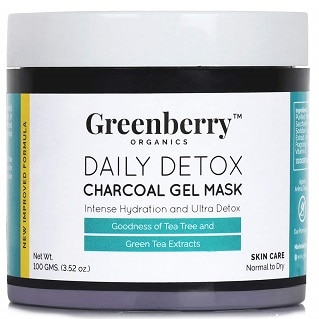 One of the most effective face masks which I personally use a lot is the Greenberry Organics Daily Detox Charcoal Gel Mask. This gel mask consists of mud from the dead sea and activated bamboo charcoal which gets rid of oil and impurities from your skin. It also acts as an exfoliating scrub so it is perfect for skin detoxification and repair.
It deep cleanses your skin and easily removes dead skin cells for amazing looking skin. It is also infused with tea tree oil and natural minerals which leave your skin properly moisturized. The activated bamboo charcoal clears up your clogged pores and works amazingly on city skin as well. Other ingredients like a green tea, aloe vera, etc. also help in treating skin acne and offer adequate hydration to your skin.
Perfect for normal to dry skin, this gel mask is also not expensive and is perfect if you are tired of having dull and dirty skin.
---
How to Choose the Best Face Mask for Your Skin
Here are a few things to look out for when choosing the perfect face mask for yourself.
Choose the Type of Mask
The first thing that you need to understand is that there are different types of face masks available in the market. And each of these face masks type has its own pros and cons so, choose wisely.
Clay Masks
A great way to deep cleanse your face, clay masks are great for getting rid of the oil and impurities while not dehydrating or dulling your face.
It works wonders on oily and acne-prone skin. But be careful while using this face mask. Don't let it dry up completely else it can make your skin dehydrated and irritated.
Also read : 7 Best Hair Serum in India
Peel-Off Masks
One of the best face masks to unclog your skin pores is the peel-off masks. This type of masks usually contains salicylic acid which can also help clear the acne on your skin.
This mask is great for anybody who wants to get rid of their blackheads without going to a salon.
Overnight Masks
If you don't have enough time to spend on applying a face mask during the day time then overnight masks are the perfect choice for you. This type of masks not only save time but offer proper hydration to your skin as well.
So, while you are sleeping, your skin can repair itself and keep itself hydrated for the best results in the morning.
Cream Masks
If you feel like your skin has become too dehydrated or dried up, then a cream mask is the right product for you. Cream masks include rich moisturizers and oils which help in offering a hydration boost to your skin. It replenishes your skin and makes it really soft and plump and also helps in reducing the signs of ageing.
Sheet Masks
Another popular type of face masks which is being used these days is the Korean face masks. These masks consist of cotton sheets that are absorbed in serum instead of creams. This helps in better absorption in the skin and once you are done with the mask, you can easily remove it and wash off the excess serum from your face.
Gel Masks
If you suffer from oily skin like me then gel face masks are the ideal option for you. Since they include fewer oils, they don't leave your skin oily but keep your skin hydrated at the same time.
It is also cool to your skin so if your skin feels hot and irritated, using a gel mask can have a cool and calming effect on your face.
Also read : Best Facewash For Oily, Acne, Sensitive & Dry Skin
Thermal Masks
One of the best face masks for detoxification and deep cleansing your skin is a thermal mask. This type of mask feels warm on your skin and can help in cleaning your pores perfectly.
It also helps in skin cell regeneration which results in you look younger and healthier.
Exfoliating Masks
Finally, if your face has started looking dull to you then you should try using an exfoliating mask. This type of face masks get rid of the top dull layer and makes your face glow effectively.
You will find exfoliating masks that use grains, fruit acids, and enzymes. So, you can easily choose the one which you like texture-wise.
Consider Your Skin Type
Apart from choosing the face mask type, you also need to consider your skin type.
Oily Skin
If you suffer from oily skin then go for clay masks as they can help in getting rid of toxic agents from your skin and clear up clogged pores as well. There are also different types of clay used in these masks like rose clay, rhassoul clay, bentonite clay, and so on for you to choose from.
Choose the best clay mixture for your skin and then apply it regularly to make your face look clear and plump.
Dry Skin
For dry skin, you need a mask which will offer both moisture and hydration. So, look for masks that come with rich moisturizers, oils, and natural humectants.
Look for raw honey as a humectant and for oils like jojoba, coconut, and so on.
Normal and Combination Skin
People with combination skin have to be careful while choosing the perfect product for themselves. Because if you use a clay mask then it could dry out your skin and a moisturizing mask could result in skin impurities.
For combination skin, you need to look for a mask that contains natural humectants. This will not only nourish your skin but won't make it oily or dry at the same time. Look for ingredients like raw, local honey as it can have a calming effect on your skin and improves skin hydration as well.
Also Read :
10 Best Anti Pollution Face Masks (N99)