After thrashing Intel in the desktop CPU space, AMD was looking to spread its dominance even further i.e. by entering the consumer laptop market. And they did that by partnering with ASUS to build the 14″ powerhouse Ultrabook – ROG G14.
My unit came with a Ryzen 7 4800HS processor, a GTX 1660Ti Max-Q graphics card, 16GB of DDR4 RAM and 1TB of NVMe Gen 4 SSD.
Here's a table summarizing the information provided about the ASUS Zephyrus G14 laptop:
| Aspect | Details |
| --- | --- |
| Model | ASUS Zephyrus G14 |
| Processor | AMD Ryzen 7 4800HS |
| Graphics Card | NVIDIA GTX 1660Ti Max-Q |
| RAM | 16GB DDR4 |
| Storage | 1TB NVMe Gen 4 SSD |
| Display | 14″ FHD (1920 x 1080) 120Hz with AMD FreeSync, 100% sRGB color gamut |
| Design & Build | Sturdy magnesium alloy build, ErgoLift hinge, two color variants (Moonlit White, Eclipse Gray) |
| Ports | Power jack, HDMI 2.0b, USB Type-C (DisplayPort 1.4), headphone jack, USB 3.2 ports, USB Type-C, Kensington lock slot |
| Keyboard | Comfortable typing experience, dedicated volume and function keys, white backlighting |
| Touchpad | Glass surface, Windows Precision drivers, accurate tracking |
| Speakers | Two down-firing speakers with Dolby Atmos, good sound quality |
| Performance (Gaming) | Benchmarks for various games at 1080p resolution and Turbo mode |
| Heat Output | Effective cooling, temperatures in high 70s to low 80s while gaming, idle temps around 40-45°C |
| Battery Life | Up to 9 hours for light tasks, 8+ hours for Netflix/YouTube, potential for longer battery life in extreme battery saving mode |
| Webcam | No built-in webcam, external webcam required |
| Verdict | Excellent blend of design and power, portable, golden standard for gaming laptops |
Please note that the table provides a concise overview of the key points. If you need further details or have specific questions about any aspect, feel free to ask.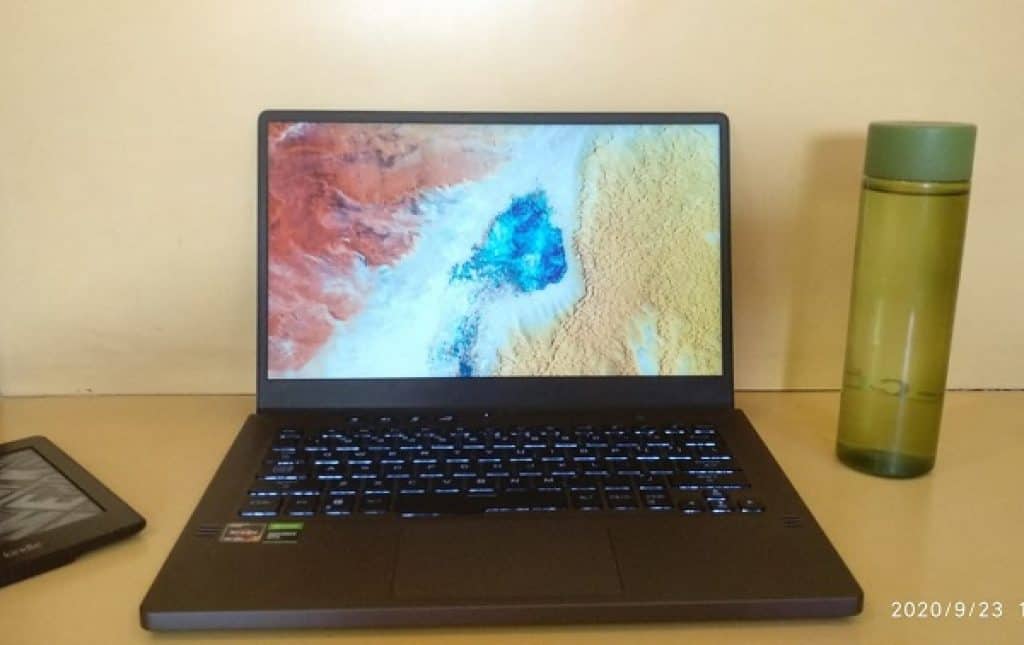 DESIGN AND BUILD
The laptop has a classy, aesthetic build and is built of a magnesium alloy which surprisingly, feels very sturdy.
The metallic Republic of Gamers establishment stamp on the bottom left corner gives the laptop an industrial aesthetic. It comes in two colour variants, Moonlit White and the Eclipse Gray. I have the Eclipse Gray version with the AniMe Matrix LEDs. More on the AniMe Matrix below.
The best design feature of the Zephyrus G14 is the ErgoLift hinge, which tilts the main chassis up off the desk to allow for improved airflow while also positioning the keyboard at a more comfortable angle.
Also Read : Best Gaming Laptops Under Rs 70000 in India
Overall, I love the design of this laptop, ASUS was definitely trying to make it more stealthy with no bleeding red 'gamery' logos or rainbow puked RGB. Its a simple style which will blend in any environment you put it in.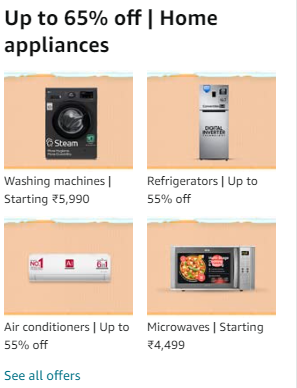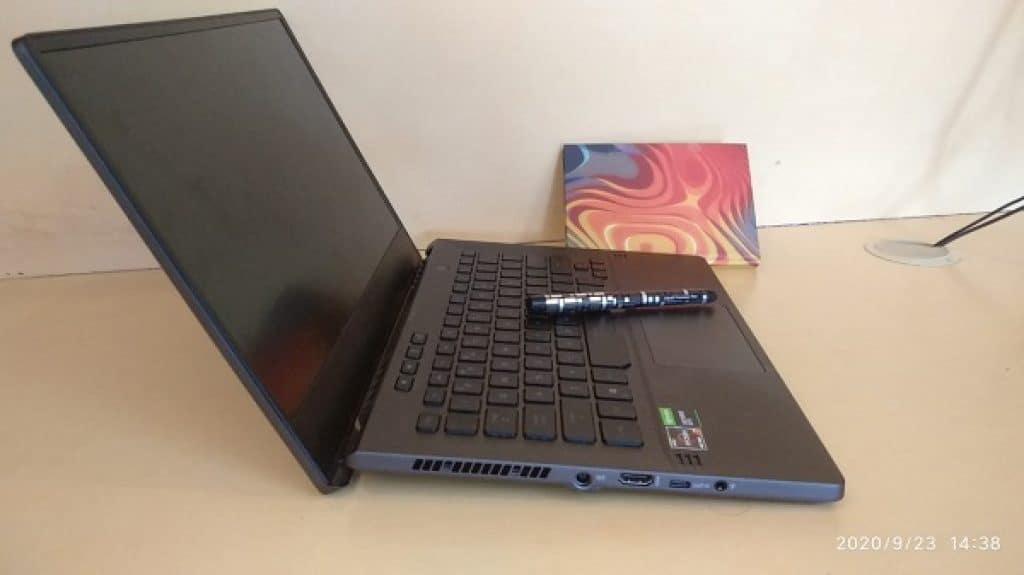 PORTS
On the left, there's the power jack, an HDMI 2.0b port, one USB Type-C port (DisplayPort 1.4) and a headphone jack.
As for the right side, it features a Kensington lock slot, two USB 3.2 ports and a USB Type-C port. I personally would have liked an ethernet port but well, it is what it is.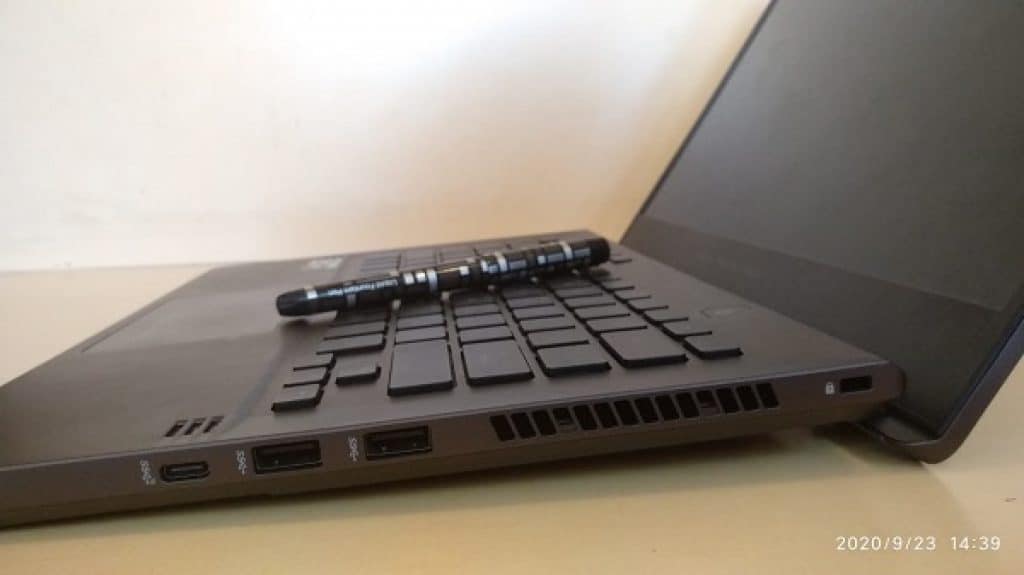 DISPLAY
Moving on to the display, the G14 boasts a 1980 x 1080 resolution 14 inch screen with 120Hz refresh rate along with AMD FreeSync technology which eliminates tearing. Don't need for Johnson's & Johnson's tear free anymore (Sorry, not sorry).
The screen also packs a 100% sRGB colour gamut which is just a godsend for gamers who also want to do some video and photo editing.The colours look sharp and crisp and bright enough at 300 nits of rated brightness which is more than enough for indoor setting and passing for outdoor setting.
Also Read : 10 Best Gaming Laptops Under Rs 50,000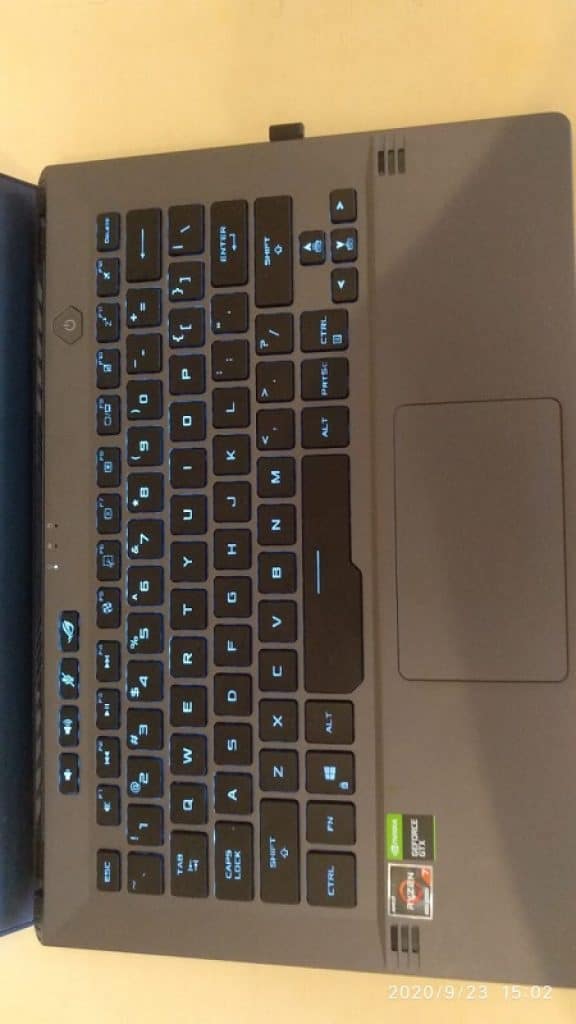 KEYBOARD AND TOUCHPAD
The keyboard here is just very comfortable and satisfying to type on. The provide a deep travel (1.7 mm) and a fair amount of actuation force and its just one of the best keyboards on a laptop out there (I'm looking at you MacBooks).
At the top of the keyboard, you have the dedicated keys for volume, muting/enabling the microphone and a shortcut to Asus' Armoury Crate where you can change the performance settings.
There is no RGB present (RIP Gamers) but it does have white backlighting in three brightness levels which are also present on the function keys, so that's a plus. There have been some complaints over the white version of the laptop having poor backlighting but I can confirm that it has now been fixed by a keyboard firmware update.
Also Read : Gaming Laptop Buying Guide: How To Choose the Right Laptop?
As for the touchpad,it uses Windows Precision drivers and is glass surface. The tracking is perfect, nothing really to say here.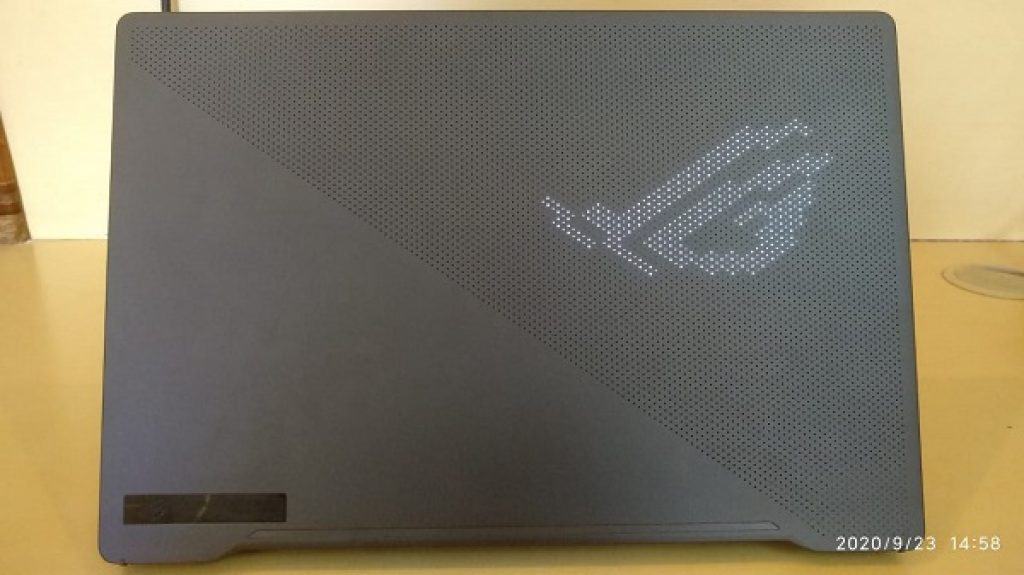 SPEAKERS
There are two down firing speakers present here which honestly, sound amazing. Weird thing to say for a laptop, right? There's a small grill opening on both sides on the top so if you max out the volume, it can feel life as if the speakers are upward firing.
These are not for the bass heads, unfortunately but for average media consumption, they are better than what other gaming laptops. Powered by Dolby Atmos, these speakers are great for movie nights on the bed or presentations in a small room. And also, they get loud, like pretty damn loud.
Also Read : Gaming Laptops Under Rs 90,000
PERFORMANCE
Let's get to the main focus of why you're looking to buy this laptop – the immense power that it packs for its size.
Here are some gaming benchmarks (all at 1920×1080 and Turbo mode) :
Horizon Zero Dawn
Low : 115 fps
Medium : 78 fps
High : 64 fps
Ultra : 49 fps
Red Dead Redemption 2
Low : 112 fps
Medium : 70 fps
High : 47 fps
Ultra: 28 fps
Star Wars Jedi Fallen Order
Medium : 91 fps
High : 78 fps
Ultra: 72 fps
Call Of Duty Modern Warfare 2019
Low : 135 fps
Medium : 88 fps
High : 72 fps
Ultra: 61 fps
Control (without ray tracing)
Low : 157 fps
High : 63 fps
Ultra: 47 fps
Apex Legends
Low : 144 fps
Medium : 120 fps
High : 95 fps
Ultra: 94 fps
Assassin's Creed Odyssey
Low : 67
Medium : 57
High : 50
Ultra: 40
Rocket League
Low : 227 fps
Medium : 186 fps
High : 158 fps
Rainbow Six Siege
Low : 238 fps
Medium : 200 fps
High : 163 fps
Ultra: 148 fps
HEAT OUTPUT
Despite packing a ton of power, the G14 doesn't get that hot as compared to the intel variants which burn at 95+ degree celcius. I had my temperatures in the high 70s and low 80s while playing Rainbow Six at 1080p Ultra settings. In my idle test, I got temperatures in the range of 40 – 45 degree celsius. Great temps for any gaming laptop.
Also Read : 10 Best Gaming Headphones Under Rs 2000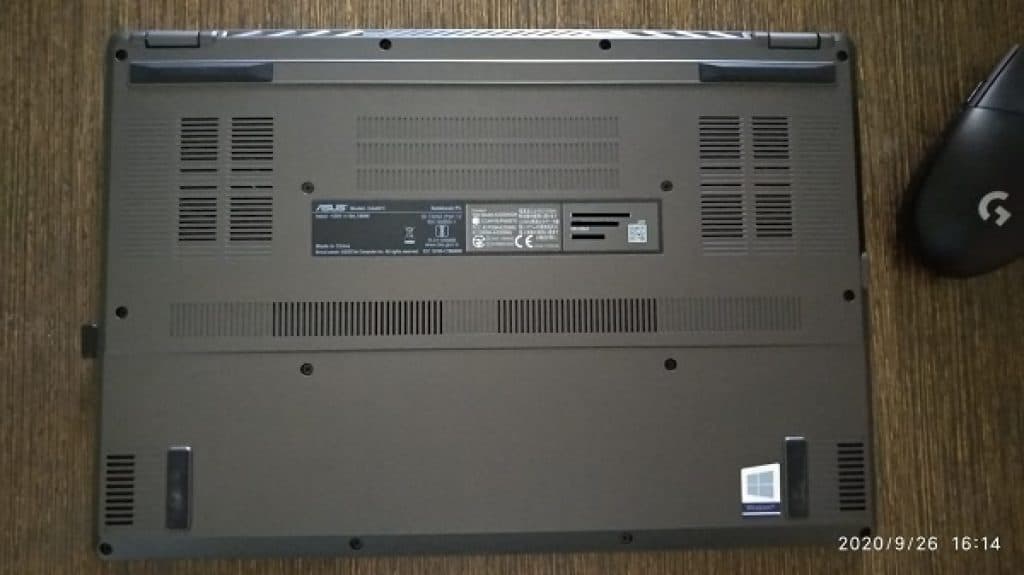 BATTERY LIFE
This is where the G14 kicks serious ass. While other laptops can barely reach the 5 hour mark usually dying at around 4+ hours, this bad boi has the juice to last upto 9 hours on light tasks such as web browsing and typing and 8+ hours for Netflix and Youtube in Chrome.
These are game changing results, gone are days when student gamers had to carry around a thick heavy power adaptor. The Ryzen chips are just that much capable.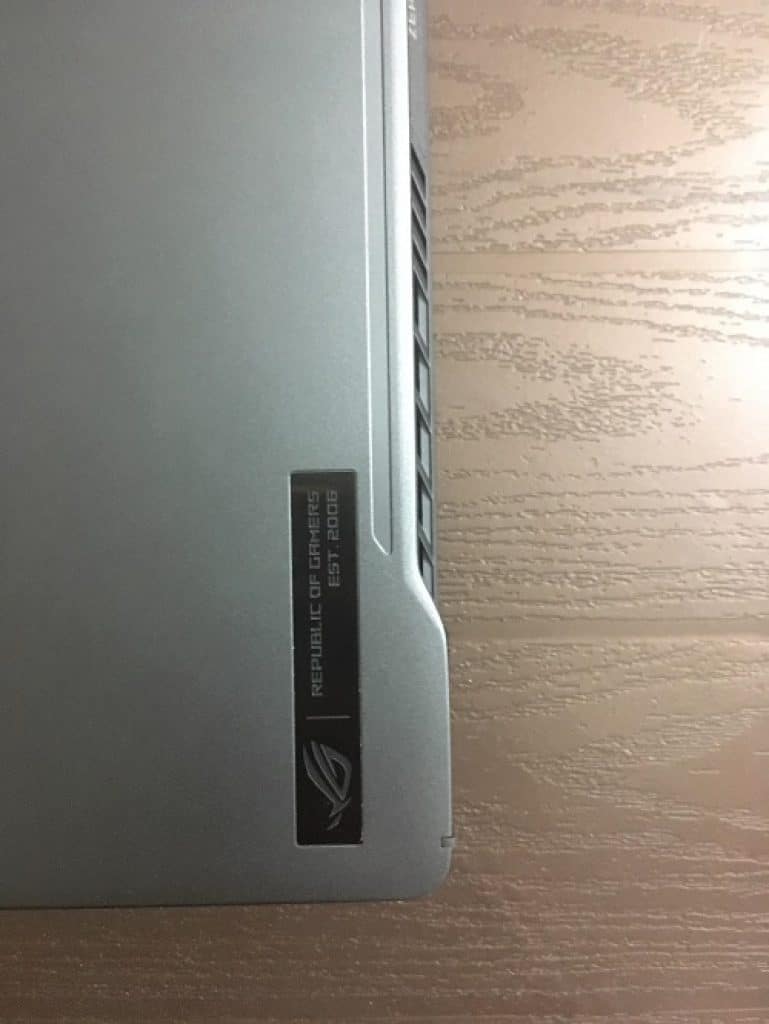 If you want to squeeze out even more battery from this machine, check out the r/ZephyrusG14 subreddit where some users have claimed to get upto 12 hours of battery life on extreme battery saving mode which is just straight up insane.
WEBCAM
A big fat F in the chat for those people who thought they could have bought this to attend meetings or online classes as ASUS doesn't include a webcam of any sort. You're just gonna have to plug in your phone and use it as a webcam.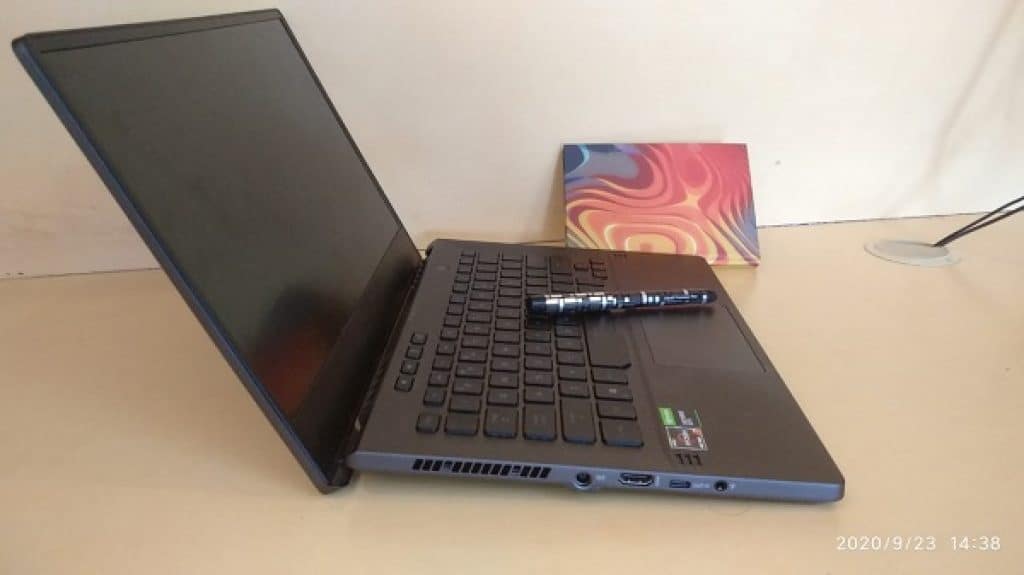 VERDICT
The ASUS Zephyrus G14 may not be the most powerful laptop you can buy but it sure is one of the best with no compromise in design and power, weight similar to ultrabooks at around 1.6 kgs making it highly portable.
We reckon its the new golden standard for gaming laptops with other competitors needing to push really hard just to catch up.

Rs.

108,990

Rs. 165,990
1 new from Rs. 108,990
in stock


Rs.

119,990

Rs. 155,990
1 new from Rs. 119,990
in stock

---
Also Read :
10 Best Laptops Under Rs. 35,000
10 Best Gaming Headphones Under Rs. 5,000