I bought the Audio Technica CLR 100s few months ago. Since then I have been using these earphones daily for various purposes like listening to music, Zoom calls, and gaming. Here is my review of the same.
SOUND
The sound quality of these earphones is it's the strongest asset. The sound signature is geared towards the higher frequencies and they provide extreme clarity as compared to other earphones in this range. Mids and bass frequencies are comparatively balanced although nowhere near neutral. My laptop provided a satisfactory audio output with these earphones and so did my PC. But while using them with my phone, they sounded very treble-heavy and I could hardly hear the bass.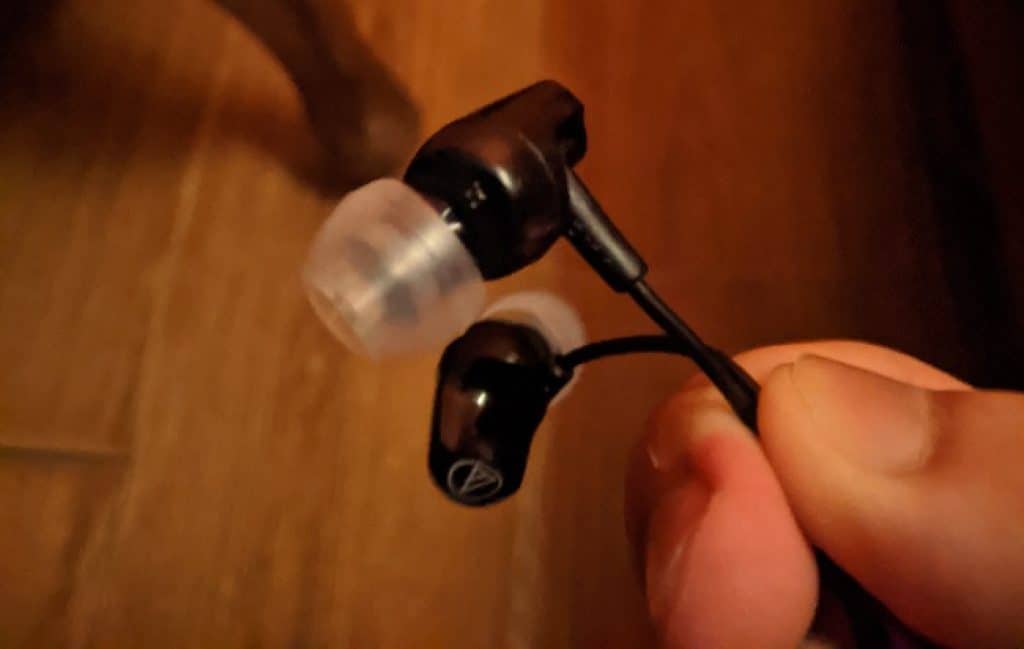 That's a problem that can be attributed to my phone but after eq-ing on my phone, they sounded just fine and I adjusted the bass frequencies to be a little higher and the treble to be slightly lower than the stock sound I was getting on my laptop and PC. The CLR 100 has another model that costs around 100 rs more than the regular model and includes an inline microphone and a single button. The microphone is decent as I have been using it for online classes for a few months now as well as talking to my friends over discord and WhatsApp and have not received any major complaints regarding the mic. A single tap of the inline button is mapped to pausing/playing media and double-tap skips to the next song. I have tried it with music apps like Spotify and Wynk Music and other apps like YouTube. It works well although there is a short delay of a few seconds between pressing the button and when the action takes place. This button can also be used to cut ongoing phone calls.
These earphones are best suited for listening to music. Mainstream trap songs from artists like Travis Scott, Drake, and Lil Uzi Vert sound nice with the punchy 808 basses being slightly subdued but apparent and the overpowering high end providing nice detail to hi-hats and the vocals. Rock and shoegaze tracks from artists like Tame Impala, Slowdive, The Beatles sound also pretty decent. While you may not find the lower frequencies to be extremely detailed, the high end is where the CLR 100's shine the brightest with vocals and other sounds occupying the higher frequencies being very clear for a pair of earphones at this price point. Electronic, EDM, and house tracks also sound good but the hi-hats and high frequencies surely overpower the bass. The soundstage is pretty narrow but that's expected from earphones at this price point. These earphones are good for basic music listening as long as you don't command an audiophile experience which is impossible for this price point. I love listening to music with intricate hi-hat patterns with these earphones as they sound very clear and every single hi-hat is well audible.
For gaming, these earphones aren't the greatest but still pretty decent at this price point. I would consider these to be fine for mobile games like PUBG Mobile and COD Mobile. The stereo separation and panning are decent so directional sounds of gunshots and footsteps can still be made out. However, the soundstage isn't exactly huge and this is especially apparent during playing PC games such as Valiant and CSGO. For casual gaming, these are fine and will do the job decently. These earphones are great for casual games like Among us and scribble.io which are meant to be played with discord voice chats as voices are clear and the mic works decently well for such purposes. 
Also Read : Best Earphones Under Rs 1000 in India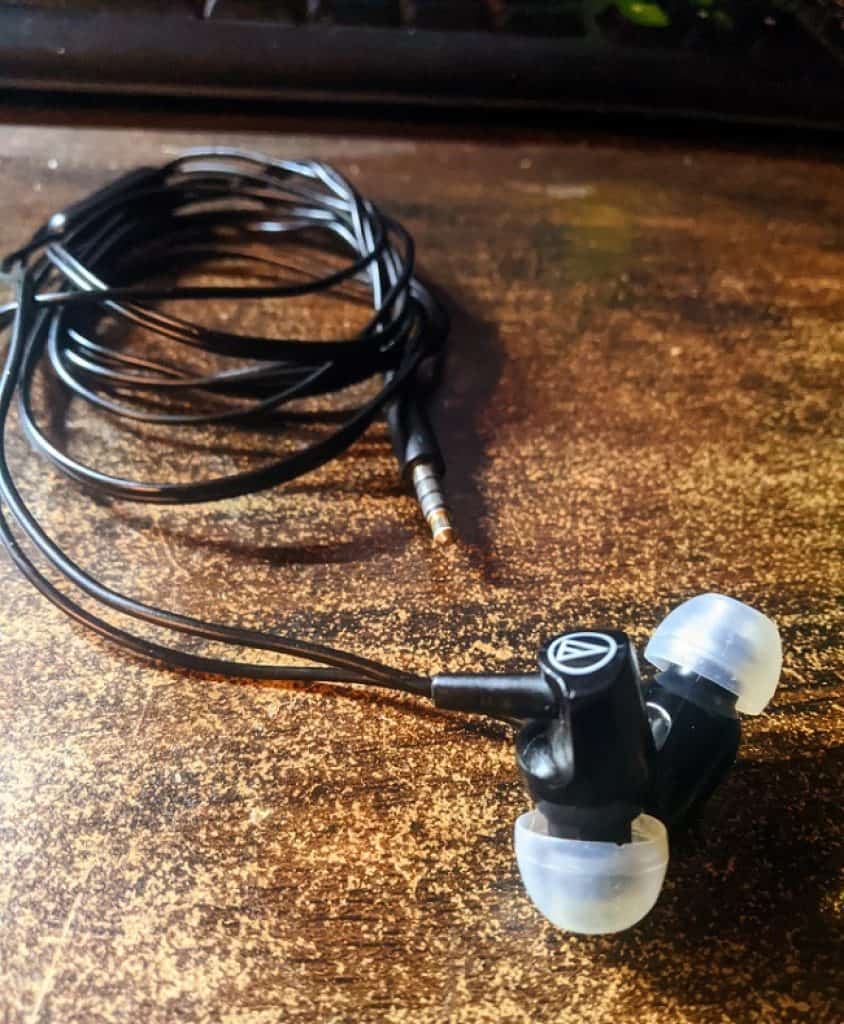 BUILD / LOOKS
These earphones have a fully plastic build. The outer casing of the earphones themselves is glossy. It has an angled shape and has the signature Audio Technica logo in white engraved into it. One feature of the earphones that I've never seen in any other pair before is that the covering which separates the drivers from ears is made of a tight and durable cloth type material. Most earphones have this part made of plastic or a metal mesh. I believe this would prevent ear wax depositing on the drivers and going inside the earphones, thus should theoretically increase the longevity of these earphones.
The wire is roughly 1.2 meters long. Although many reviews said that it was a very thin wire, I found the thickness of the wire to be fine. It does not seem like the most durable wire but it does the job well. One important point is that the wire is mentioned as being tangle-free on the Amazon page of these earphones, however, it is far from tangle-free. It gets tangled pretty easily and is rounded, unlike flat tangle-free wires. 
I have these earphones in the black color though they are available in more catchy colors like pink, orange, etc. The earphones look small and subtle but stylish while wearing them. 
Also Read : Best Earphones Under 500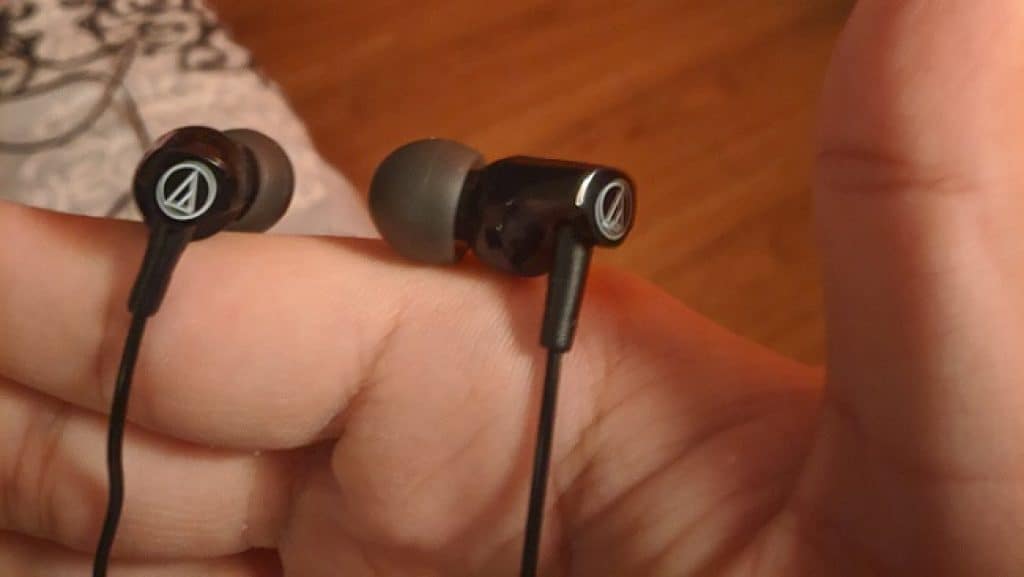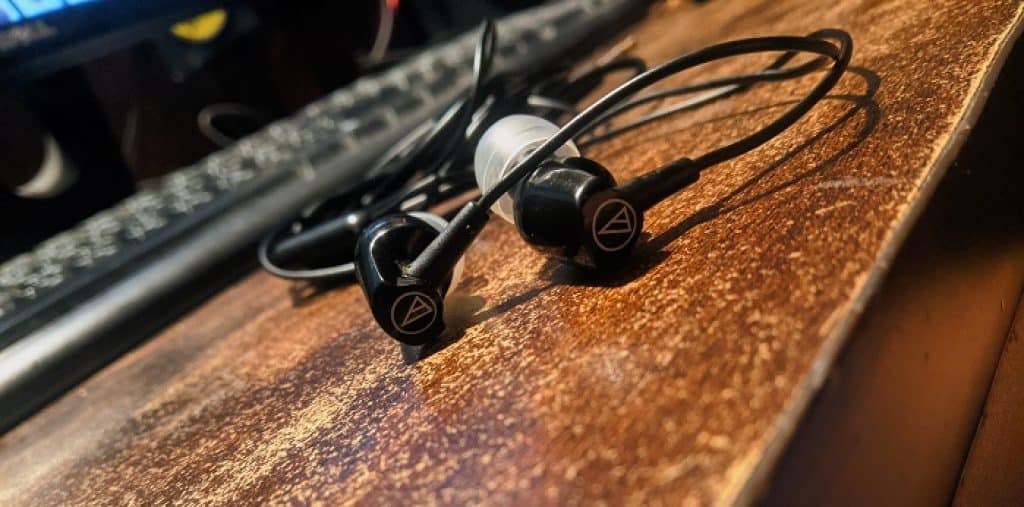 COMFORT
These earphones are decently comfortable. The shape of the earphones themselves is angled so that it doesn't cause discomfort on your ear and it works well because I could hardly feel the glossy plastic irritating my ears. The earphone housing sits flush on my ear and does not feel uncomfortable. The silicone ear tips that come with the earphones by default are of poor quality. They are hard, feel uncomfortable when worn for long periods and the holes in them are very small so they are difficult to install.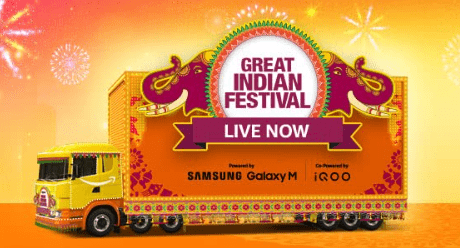 I had a bunch of spare ear tips from old Samsung earphones lying around so I replaced the stock ear tips with those and the difference is immediately noticeable. Although the Samsung ear tips weren't great, they felt much more comfortable and even improved the sound a bit. I would surely recommend swapping the ear tips for another pair, maybe some memory foam ear tips if you prefer that. 
Also Read : 10 Best Bluetooth Earphones Under 2000
CONCLUSION
Pros
Good sound
Amazing treble and mid frequencies
Cheap price
Decent build quality
Cons
Uncomfortable with stock ear tips
Some may find the bass to be lacking
The Audio Technica CLR 100 earphones are proof of the company's excessive spending on research and development over advertising and marketing. These earphones are the best in class at a low price of just 500 INR and I can personally confirm that these are amazing sounding earphones and are pretty good for the price bracket that they lie in. The treble-focused sound may not be for everyone but with a bit of eq-ing, these could be a good option for all kinds of listeners on a budget.
However, compared to slightly more expensive earphones such as Sennheiser CX180 and these are not as good. The CX 180 had more punchy and defined bass, as well as better mids. The CX 180 is the better choice if you have a little more to spend. However, the CX 180 does not have a mic. The Sony ex150ap and JBL C500si are more options that I have not personally tried but have heard good things about. I would suggest checking out the Sennheiser CX 180 over these earphones if you are not on a budget. but for a price of just 500 rs, these earphones are amazing and worth a recommendation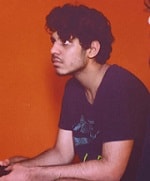 This Review is Written By Bharat Mehra
An audio and tech geek, I live for gaming and music. I also love producing music, clicking photos and anything related to PCs.
Also Read : 

Best Wireless Earphones Under 1000

Wireless Headphones Under INR 2000

​​​​In Ear (IEM) Headphones Under Rs.1500

Gaming Headphones Under Rs 2000 in India