Choosing a good baby cradle is important because that's where your baby will spend the most time in the initial months. It is where they will sleep and play throughout the day, giving you time to work and get done with other office and housework.
So, it is important that you choose a baby cradle that is safe, secure, and will keep your baby protected when you aren't in the same room. Also, you will have to ensure that it is comfortable for your baby. Don't worry, we understand that choosing a baby cradle as first-time parents can be difficult.
So, in this guide, we have listed down the best baby cradle models available in India and a few precautions that you should take when using them.
Quick Navigation
Wooden Vs Modern Cradle?
Now, you might be wondering if you should choose a wooden cradle or a modern cradle. A wooden cradle is sturdier and durable and is usually bigger in size. It has a rocking or gliding feature and can be used for both sleeping and playing babies. However, since they are big in size and heavy, it is difficult to move them around the house. They also don't include a cradle mattress so you have to purchase it separately.
A modern cradle, on the other hand, can often come with a foldable feature and is lightweight which makes it portable. There are different designs available as well and different sizes, depending on your requirements. And it often includes a cradle mattress and some extras such as canopy, mosquito net, music system, and so on.
So, if you are looking for a strong and long-lasting cradle for your baby for a few years then a wooden cradle is a good option. However, if you are looking for a flexible and multipurpose model then a modern cradle fits the bill.
Best Baby Cradles in India
1 LuvLap C-70 Baby Wooden Cot with Rocker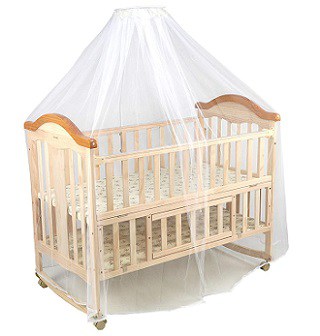 One of the best wooden baby cradles in the market, LuvLap C-70 Baby Wooden Cot with Rocker is made from New Zealand pinewood and is perfect for babies up to 24 months of age. This cot features wheels with a lock so you can move it across the room steadily. And the best thing about this cot is that it can be converted into a rocker cradle by flipping the wheels to keep your baby occupied.
You can also adjust the height of the cot base and lengthen the front railing to accommodate the growth of your baby. And one can open the side railing to attach the cot to the parent bed too. Moreover, there is a lot of storage space beneath the base to keep your baby essentials and there is a detachable mosquito net too to protect your baby from bug bites.
Overall, this is a multipurpose cot and will offer good protection and comfort to your baby.
Check Cheapest Price : Amazon
---
2 Baybee Day Dreams New Born Baby Cradle Cum Rocker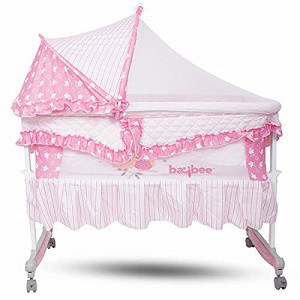 Baybee Day Dreams New Born Baby Cradle Cum Rocker is another great choice that can be used for babies up to 5 years of age and who weigh less than 15 kg. This cradle is extremely safe to use as it is EN 716 certified and follows the European standards of safety. That's not all, it also comes with a canopy and a high-quality mosquito net to allow your baby to enjoy in the cradle while being safe from bug bites.
Since the canopy is adjustable and removable, you can style your bassinet however you like. The cradle frame is made from a strong and sturdy metal alloy and the bed is huge and made of foam to keep your baby comfortable.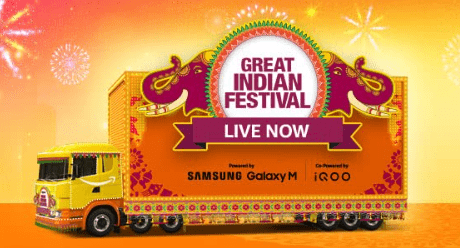 Read : Best Diapers For Baby
There are also four wheels attached to it for easy movement and a stopper to keep the cradle stationary and locked in position. This cradle is easy to maintain and quite affordable too so if you want a cradle with canopy then this is the perfect choice for you.
Check Cheapest Price : Amazon
---
3 R for Rabbit Lullabies New Born Baby Folding Automatic Swing Cradle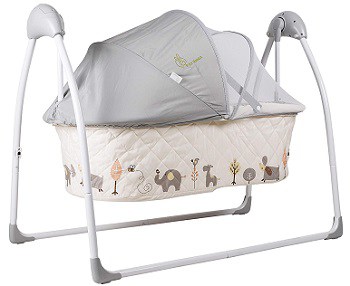 R for Rabbit Lullabies Swing Cradle has a cute design and is also one of the safest products to use as it is EN certified. This cradle comes with an automatic and manual swing mechanism and offers 5 speeds to choose from. Another great thing about this cradle is that it is easy to use and you can use the Smart On/Off technology to set the timer to suit your baby's needs.
The cradle offers around 18 tunes and 6 nature music to put your baby to sleep and can be controlled using a remote controller. Also, it has a 3-point safety harness to keep your baby secured.
Also Read : Best Baby Products in India
It also includes a see-through canopy and mosquito net and has extra cushions so your baby will feel relaxed and comfortable in it. Also, if you aren't using the swing, then you can lock that feature to use the cradle normally.
Check Cheapest Price : Amazon
---
4 LuvLap Royal Cradle for Babies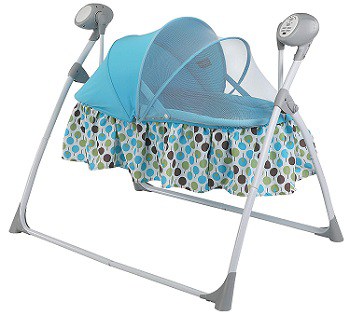 If you are looking for a more compact cradle then LuvLap Royal Cradle for Babies is a great choice. This swing cradle comes with a padded bed mattress with extra cushioning so that your baby is comfortable. It also has a 3-point safety harness so your baby will remain secure and the seat and the restraints are removable and machine washable so you will find it easy to clean too.
With both automatic and manual swinging mechanism and 5-speed modes, you can make your baby fall asleep comfortably in this cradle. And you can even schedule automatic swinging to occur in intervals of 15, 30, and 60 minutes.
Also Read : 10 Best Baby Carrier in India
The seat restraint can be adjusted to hold your baby securely while the cushioned headrest takes care of your baby's delicate head. This cradle is great for babies up to 6 months of age.
Check Cheapest Price : Amazon
---
5 Baybee Classic Baby playpen Playard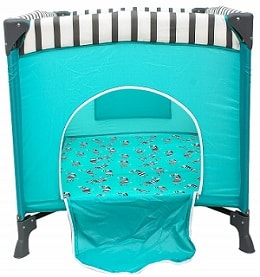 Baybee Classic Baby Playpen Playard is made from non-toxic, breathable mesh material and is available in several different colors. The frame of this playpen is quite sturdy so you don't have to worry about it falling down and injuring your baby. It is also smaller than traditional playards so it can fit in small rooms easily too and since it weighs less than 10 kg, you can carry it wherever you want.
The playpen has an open-view design to allow your baby to look out and enjoy themselves. And there is a pocket at the side of the playpen where you can keep all your baby's essentials such as feeders, diapers, and so on. So, if you are looking for an affordable and compact playpen then this is the perfect choice for you.
Check Cheapest Price : Amazon
---
6 Kiddery Lyra Baby Cradle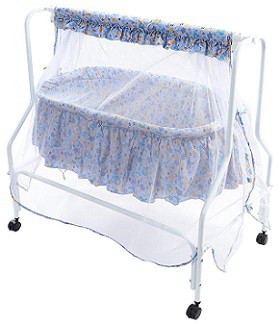 Kiddery Lyra Baby Cradle is a cute and compact model that is made out of premium-quality so it is quite strong and sturdy. This cradle has an amazing swing mechanism and also provides a swing lock when not in use to keep your baby stationery.
The four wheels in the cradle with independent locks make it easier to move the cradle in different rooms.
Read: 10 Best Baby Strollers
The cradle also includes a removable mosquito net that will protect your baby from insect bites so that he/she can sleep peacefully. It is also quite reasonably priced and available in different colors.
Check Cheapest Price : Amazon
---
7 Mothertouch Indo Cradle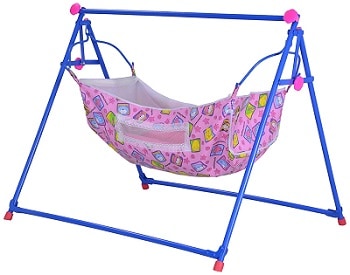 Mothertouch Indo Cradle is a comforting, portable cradle that is made from quality fabric and has an attractive print. This product is lightweight and easy to fold so you can carry it on your trips and install it effortlessly wherever you are. Since it is compact, it can fit in any room and is great for your baby's sound sleep.
It is also equipped with a mosquito net to keep your baby safe from bug bites and is ideal for up to 12 months old babies.
Since it comes with an easily removable cover and washable fabric, it is quite easy to maintain so that your baby can sleep in a hygienic environment. Most importantly, it is quite cheap and won't cause a dent in your budget.
Check Cheapest Price : Amazon
---
8 Multipro Indian Style Ghodiyu Swing Cradle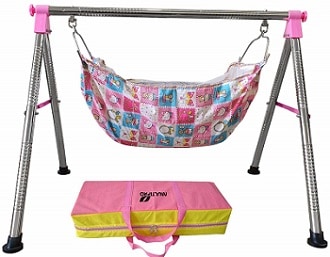 This multicolor traditional cradle is recommended by child specialist doctors and is a great addition to your home. Multipro Indian Style Ghodiyu Swing Cradle has a low gravity center which makes it easy to swing your baby back and forth. Also, the framework of this cradle consists of a rod and two legs on each end to make it strong and sturdy.
Made up of durable stainless steel, this swing cradle can be easily folded too and can be taken anywhere you want. This is a popular cradle design in India as the swinging soothes and calms the babies and makes it easier for them to fall asleep in it.
Also Read : 10 Best Baby Wet Wipes in India
Apart from that, it is really helpful in the baby's digestion and is effective in soothing colicky babies as well.
Check Cheapest Price : Amazon
---
9 Transformium TinyTyke Baby Rocks Standard Auto Cradle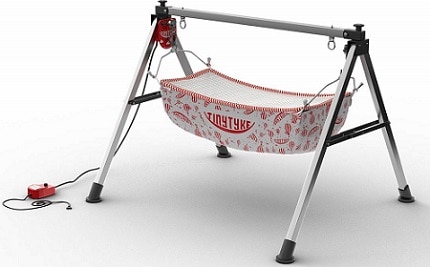 Transformium TinyTyke Baby Rocks Standard Auto Cradle another top cradle recommended by child specialty doctors and is quite easy to use. This cradle is made from high-quality materials and uses sophisticated technology while meeting international safety standards. It is easy to assemble and disassemble as well since it doesn't require any tools.
Also, the frames are coated with mild steel powder to prevent corrosion and make the cradle strong and long-lasting. There is a cotton canopy as well to keep your baby safe from insects and it has an attractive design that will keep your baby occupied.
Check Cheapest Price : Amazon
---
10 Baybee New Born Baby Cradle Cot Metal Hanger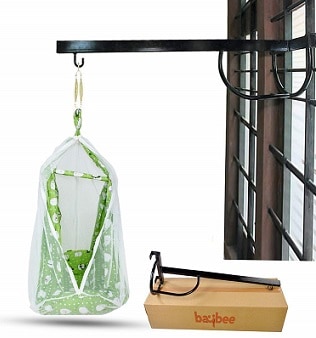 One of the smallest baby cradles with a unique design is the Baybee New Born Baby Cradle Cot Metal Hanger. This portable cradle is perfect for newborn babies and doesn't take up a lot of space in your room so you can take it on your trips as well. The only drawback is that you can use this cradle on window grills only.
The cradle is also strong and uses a GI pipe and has a black coating. The hammock in this cradle keeps your baby safe and secure and is comfortable enough that they fall asleep in just a few seconds.
Also Read : Best Tricycle for Kids in India
Most importantly, this baby cradle is extremely easy to install as you simply need to fix the cradle hook and you are good to use it. It is also the cheapest cradle on our list and is a perfect choice for people who travel a lot.
Check Cheapest Price : Amazon
---
Cradle Mattress
Sometimes, a cradle might include a mattress or you might need to make your baby more comfortable. In such situations, purchasing an extra cradle mattress is a great way to go about it.
Fareto Newborn Baby Lacy Muslin Godari Cradle Bed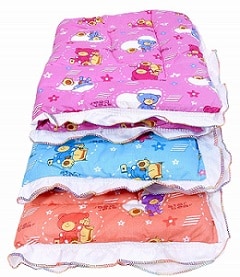 It is a great choice as it is made of 100% safe cotton material and is great for both sleeping and playing. This cradle mattress is perfect for babies up to 6 months of age and the cotton filling inside ensures proper support and swaddling.
The design ensures sound sleep for your baby and is lightweight so it can be carried to any place. It is easy to use and wash and is extremely affordable.
Check Cheapest Price : Amazon
---
Precautions To Take?
Always make sure that you remove soft toys and pillows from the cradle when your baby is sleeping. This can increase the risk of suffocation so remove them from the cradle once your baby is done playing with them.
Remove any decorations that might have come with the cradle as babies can accidentally swallow them and hurt themselves. Keep these decorations only when the baby is in your sight.
Check for sharp edges and loose screws before placing your baby inside the cradle.
Place the cradle away from the windows, wires, or curtains as the baby can accidentally strangle themselves and get hurt.
---
Also Read:

10 Best Baby Massage Oils in India